Setting: Saturday brunch at an outdoor cafe in our neighborhood with Josh and Peach
Scenario: I ask Josh if he will indulge me on a semi-deep dive into an Instagram stranger's finances. My particular questions that I wanted a sounding board revolved around 30-year mortgages and widowhood. This led to a question about how I could continue living if Josh died, financially. Emotionally is another post.
Josh: Would you listen to me? You will be fine for a while, plenty of time to work out a new plan.
Me: My plan needs to be marrying again to have financial security because I have no employment prospects. Look at me! Who is going to swipe for this used meat carcass on Tinder?
Josh: *quietly, not looking at me in the eye, and with a slight head shake* You might want to work on your branding.
Scenario: Josh and I were discussing the delicacies of the social contract when dealing with inequalities in the economy.
Me: If another person brings up [redacted], I will summon the ghost of Frederick Roosevelt on their ass.
Josh: That is an interesting way of pronouncing his [Franklin Roosevelt] name.
Me: Darn it! Frederick Douglass has been in the news, and I just combined the two!
Scenario: Discussing Peach's first birthday
Me: I didn't put contact info on the card for the RSVP, but I assume everyone knows how to contact me. Can you think of anyone we invited who can't reach either of us? Everyone knows how to reach me, right?
Josh: They'll just hit you on your burner.
Me: This is why I married you.
Scenario: Josh received his Bonus Jonas from work, and we were discussing a Fun Thing to purchase with the funds.
Josh: I would like to look into buying a new laptop.
Me: Ok! Go to the Apple store?
Josh: Well, I was thinking we could just get a PC.
Me: A PC? What brand?
Josh: Dell? Dell's the best supposedly.
Me: I think that is because they are all that is left. Name another PC brand.
Josh: HP?
Me: Didn't Dell buy them?
Josh: Acer? Chromebook?
Me: *laughing* A Chromebook doesn't have all the laptop functions.
Josh: I don't know!
Me: Alienware*
Josh: Hey! They are still around!
ACTUALLY, Alienware was purchased by Dell. HP is still standing strong alone.
*Josh had an Alienware computer when we first started dating, and that thing was a beast. But Josh was the envy of all the gamer nerds he encountered.
Jenny Lewis and the Watson Twins with M. Ward opening and Jimmy Buffett appearing
Mitski
Band of Horses
Was it the quality of the touring musical acts or the quantity of mortgage debt we took on in 2016? You decide.
Honorable mentions: We had tickets for a double-header at the 9:30 Club in May to see Titus Andronicus and then Parquet Courts. That is two separate shows, one the early and one the late. ON A THURSDAY! Then Josh had to go to New York for a hearing the next day. This meant he couldn't be club bopping in DC until midnight and still make it to court on time. It was quite a bummer when I had to tell him about the scheduling conflict. Also, we had to eat the tickets because reselling tickets in DC has become impossible. We were even willing to give them away for free!
A continuation from last year's post.
Vistaprint order: 250 for $28.24
2016 Forever stamp rate: $0.47
Professional photo: $200
A retired gentleman in our neighborhood advertised his photography services in the listserv. I was already interested in hiring a professional to carry out my Christmas card vision so I booked a date in October for a session. He was a character and not in a charming way that one could find endearing. He pulled up in his Cadillac and parked it on the wrong side of the street. He then sat in a Redskins camping chair and shot from a seated, relaxed position in our driveway. He called Peach "Pear" and told stories that eventually rambled into him being in the room when the Allman Brothers wrote "Jessica".
Yellow House: $801,000
When we sat down at the realtors' table on March 13 to write an offer for this house, I wrote the offer for $790,000, which was exactly $100 more than the asking price of $789,900. Our realtor looked at the paperwork and said "You aren't going to get this house for that; you need to offer more." I was obstinate. The Yellow house was already $150,000 more than the last house we put an offer on (and lost). I was NOT pleased with giving a penny over $790,000. I told everyone in the room to be quiet (this included Josh and the other half of our realtor team) as a new offer sheet was presented to me for a revised offer. I wrote $801,000, we went to dinner across the street and decided if we didn't win this bid we would take a break from looking for houses. We had only been looking for exactly one month and saw about a dozen houses, most of which were absolute dogs. EXPENSIVE dogs, without garages or just one bathroom for three stories of house. But a very nice family agreed to give us the Yellow House for $801,000.
1990 Jeep Grand Wagoneer: $64.63
The Wagoneer broke down on I-495 a Saturday night in June with me alone at the wheel. AAA towed us out to my mechanic in Chantilly where Josh and Peach arrived in the Volvo. It was one of the most comforting sights I have ever seen in my life: my husband dressed in a madras shirt walking my tiny puppy around the vacant mechanic lot. The automotive diagnosis was that I was out of gas, which is possible since I don't have a working fuel gage. That Tuesday, the Family Nguyen was taking a sick day to help Baby Jane recover from an illness. Tiffany generously drove me to pick up the Wagoneer, and then we all went to get Italian food. Peach hung out at the Nguyen's house while we ate subs. When we piled into the car to drive back home, it did not go well. It all broke in half, actually. The Wagoneer died again, as I was trying to turn it around to head back to the Nguyen's driveway. After two hours, two policeman and a really sour interaction with a neighbor of T's, AAA pulled up towing another car. This did not make Tiffany feel optimistic about the situation; everyone, but I, was sure the Wagoneer was being towed back to Chantilly. This is probably when I should mention that Peach was in her carrier in the yard because she soiled herself as a result of FOMO while we were eating mozzarella sticks. That car-toting AAA mechanic sprinkled some gas on the car filter and the Wagoneer turned on. I did not take the Wagoneer back to the mechanic so the summer total for Wagoneer maintenance was the cost of the empty tank diagnosis, after the use of my $50 Mother's Day mechanic-provided coupon.
Editor's note: the Wagoneer is currently sitting in the driveway with a flat tire.
Cavapoo: $595
Cavapoo knee surgery: $3,637
Luxating patellas are very common in small dogs, especially cavalier spaniels. Peach's loose knee was noted at her very first vet appointment 18 hours after she arrived home. By the end of July, she needed surgery. Usually this is a procedure performed on older dog, at least a year. She had barely turned 5 months when we dropped her off for surgery. She did well, mainly because she was a puppy who didn't really notice she was injured or limited by her cast. She has healed very well, but yes Dad and Mum, now I understand why we never had a dog as children. *flying money emoji*
Bat removal: $995
The Friday night of Memorial Day Weekend, a bat flew around our bedroom ceiling. That lucky bat stayed rent free until August 15, the earliest bats can be removed to protect the bat babies. Our exterminator estimated that 8-12 bats were calling our tiny crawl space of an attic home. The most we ever saw outside the house were three. They all owe us back rent.
Price per card, including postage, for 250 cards: $3,226.50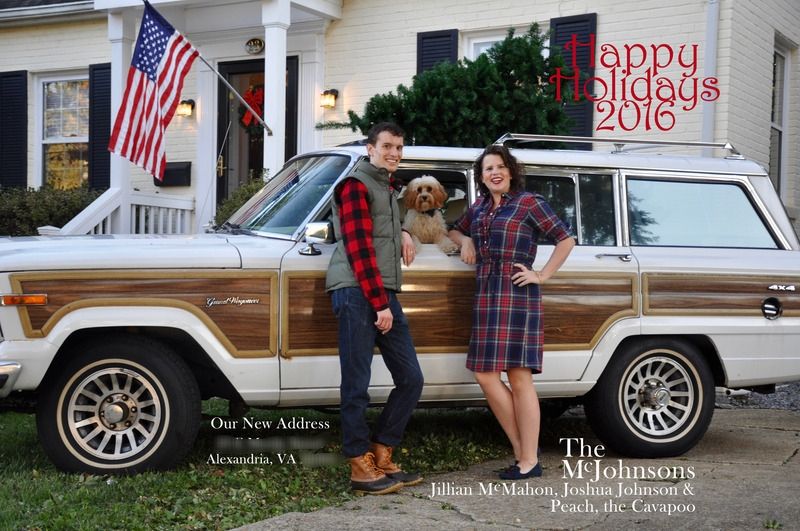 Peach Melba McJohnson
breed Cavapoo (mama: Cavalier King Charles Spaniel, papa: Poodle)
born February 27 (like El Jefe)
in Pennsylvania (like all McMahons of Texas)
adopted May 16, 2016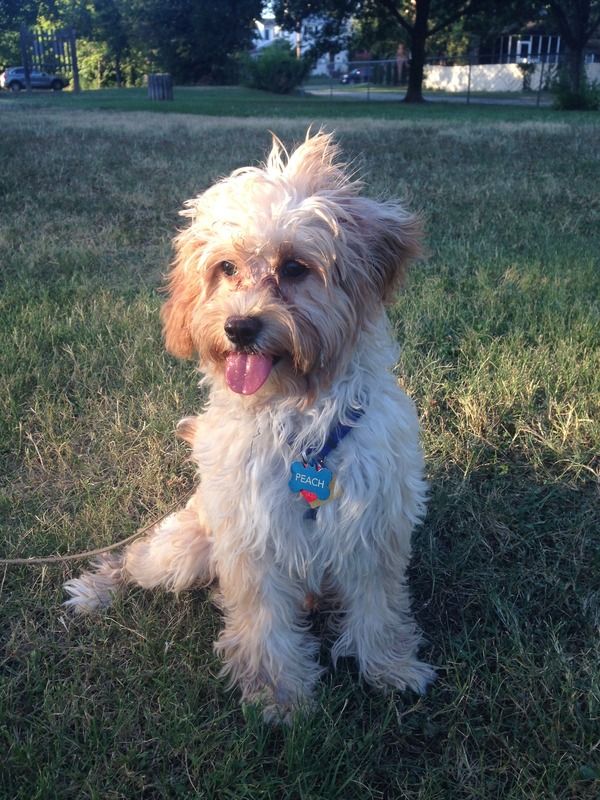 Nicknames:
Peach Melba (usually with an ! at the end)
Ms. Melba
Peachers
Peachy
Peachy Poo
Peach-a-poo
Poo
Poo Bear
Cherry
The next door neighbor, three-year-old Sam, asked his mother one day "Is her name Cherry?" His mother quickly picked up on what he was asking and responded that his neighbor dog is actually named after another fruit, Peach.
Editors Note: I thought everyone knew the title of this post came from Indiana Jones. Our dog is not named Indiana. Will announce her name soon!
Setting: in bed
Scenario: Josh and I don't "chat" in bed after lights are out; that's Josh's sleeping time. But I forgot to discuss the dog names I am kicking around [Newsflash: I bought a dog] and quickly bring up my list before he is sound asleep. I literally had 30 seconds to get this out.
Me: Hey, I consulted some more name lists and here are some ideas:
#1 – [Redacted name that is still on my quirky female human names list that might have to be utilized one day, but wanted to know if Josh could see calling a dog that name]
#2 – [ditto]
#3 – Unity. You know this is still one of my favorite names.
Josh: Was she one of those sisters?
Me: Yes. She was the Mitford sister who befriended Hitler and then tried to blow her brains out at the start of the war and had to be sent back to Britain all hush hush. She really supported Hitler until the end!
Josh: *exhausted* We are not naming our dog after a Nazi sympathizer.
Me: Okay. Fine. I still love that name. What about Decca?
Josh: Your dog name choice is fine. Let's leave it at that.
If you are my friend, and you have fallen in love with someone and decided to be joined in matrimony, I will interject myself and my hot glue gun into the blessed event. You can't stop it, and I won't even apologize for it. This is what comes with a Jillian Sue friendship.
Last April, my dear friend Sarah Tinkler and her longtime beau Timothy O'Reilly decided to get married. Of course, I was ecstatic, but I also knew Sarah would let me railroad her with all my craft ambitions.
The Invitation
This has been my dream forever: design a wedding invitation suite for a friend. Sarah and Tim were married at City Hall on a Friday, but were celebrating with a big family brunch the next day. Sarah wanted to formally invite everyone to the brunch, plus have a tangible keepsake.
Sarah pulled up some watercolor inspiration on an invitation site. I took to my computer and the Internet to figure out how to create the correct effect. Today, one year later, I can tell you I would not be able to recreate the watercolor effect in Photoshop NOR find the tutorial I used to create it. I just wish that Internet browsers had a system for allowing you to collect helpful sites so you can reference them again and again. Wouldn't that be wonderful?
I created the envelope liner with the same watercolor Photoshop technique. Everything was printed at home on my little HP printer. I used leftover cotton cardstock from our wedding programs. That stack of paper has really been a great resource since I over-ordered by about 200 sheets to print 60 programs in 2011. The liner was printed on Paper Source white text weight paper with a textured finish to mimic real watercolor paper. And I know what you are thinking: of course I thought about actually watercolor painting white sheets of paper to create the effect on the liner.  But I figured it would dry wonky to glue into the envelopes.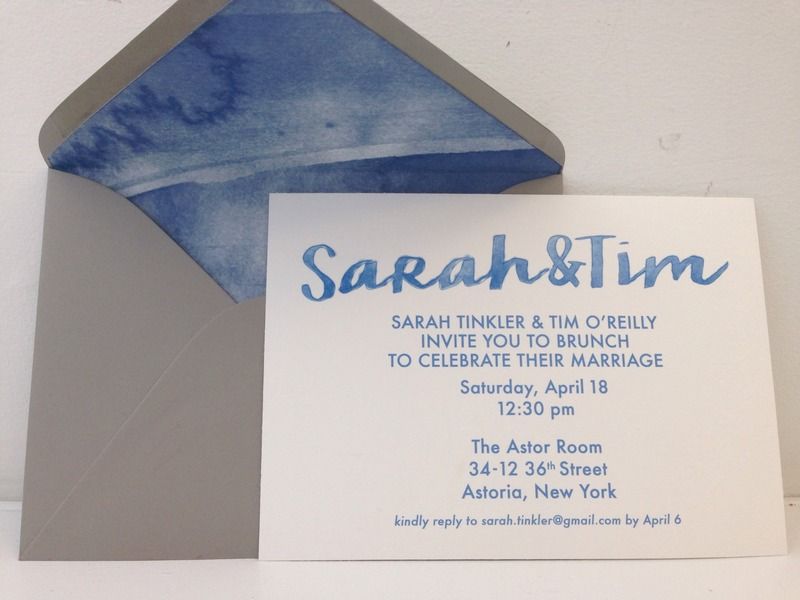 While at Paper Source, I picked up the gravel colored envelopes. I printed Sarah's return address on the back flap and also each mailing address on the front in the same font as the invitation text. Do as I say and not as I do: wedding invitation addresses should aways be handwritten. This one kills me when I see people sending out wedding invitations in envelopes with labels. But! This wasn't a traditional wedding so I printed the addresses directly onto the envelopes. This was tough as my printer liked only every other envelope. I had to print a blank sheet from the printer between envelopes to clean the printer drums. Otherwise, black streaks appeared on the next envelope I printed. Once I figured this out, it was a perfect rhythm.
I am a full service print shop, including postage. I used the Jessica Hische designed Forever postal stamps. Each envelope needed about two and some change stamps, but I wasn't adding metered postage to these beauties. I alternated the red, white, red and white, red, white pattern on each invitation.
I sent Sarah and Tim an invoice for the invitations that Tim complimented as being more professional than some of the vendors he deals with in New York City. I'll be applying for my tax identification number any day now.
Clutch Purse
These purses are my wedding signature. I made Mum, Katie and myself one each for my wedding. Then, five for Tiffany's sister's wedding the next year. The fabric I used for Sarah's was leftover from my wedding, or more accurately, unused from my wedding. This was my wedding color; it matched the ties the guys wore and Katie's dress. But I ended up making Katie and Mum gray purses and lining my own white bag in navy. I have yards of this high quality (read: not purchased at JoAnn's) peachy pink satin still on hand. Luckily, Sarah didn't mind me shopping my fabric stash.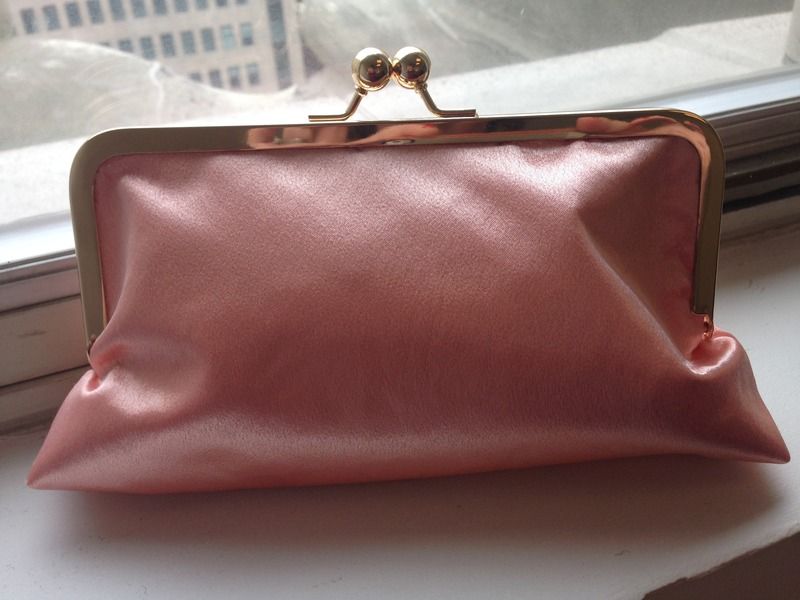 We updated the look for 2015 with gold purse hardware, but lined the bag with gray to keep with the theme.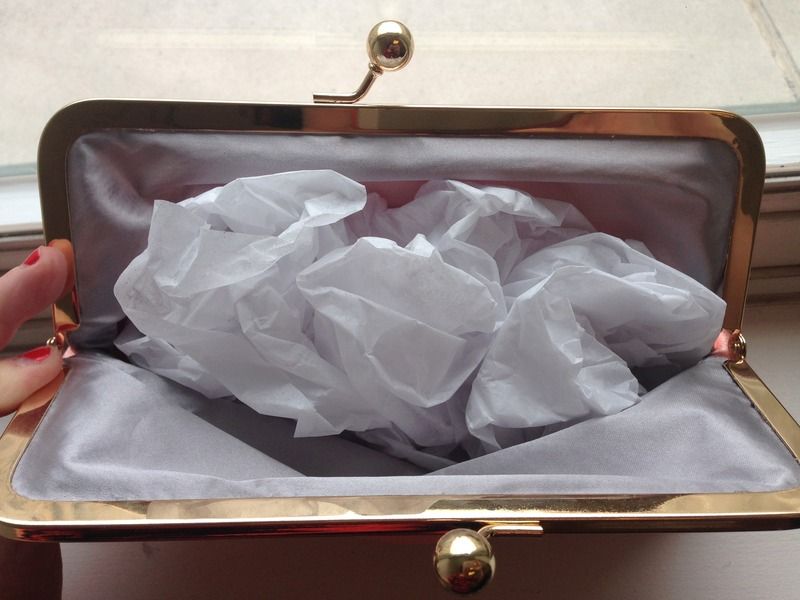 Fauxquet
During my craft research for another project, I found these small pink paper flowers from Paper Mart. I love Paper Mart: they sell things I love to buy, offer no discounts or free shipping, and can't be bothered to update their website past-1998 standards. I ordered three packages of these little flowers for less than $10. I picked up a styrofoam cone at the Dollar Tree for the bouquet base. I took each wire flower and used floral tape to adhere it to a toothpick or bamboo skewer that I cut to size. The domed effect was created by working my way down from tall skewers to smaller toothpicks on the side. I wrapped the styrofoam with green grosgrain ribbon secured with floral pins. Amateur tip: you can't continuously wrap a cone shape with a straight ribbon and have it lay flat. I had to cut little strips, overlap them, and secure them with the pin. This also took a while to figure out.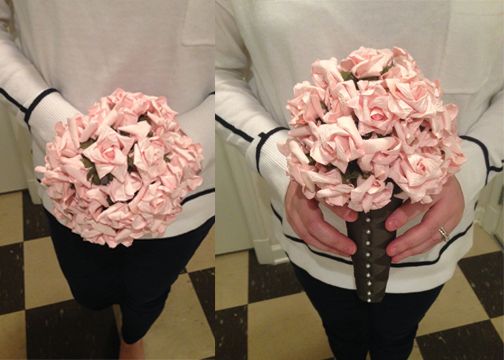 I took a few of the extra flowers and hot glued them onto a pinback for Tim to wear as a boutonniere, which you can see in the photo below. Thanks Paper Mart!
Wedding Announcement
My final wedding paper project was creating a wedding announcement. Sarah wanted to mail these out to friends and family to share the news of their union. Classier than a Facebook post.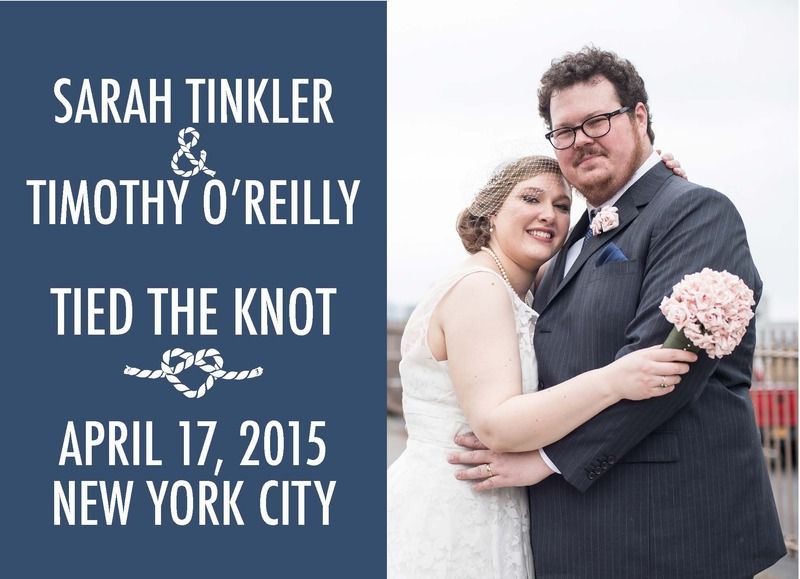 Here is where things got even worse than my printer streaking the envelopes. I could not get the image to size correctly for my design. We all know I have issues with printing resolution. I reached out to the instructor who taught the Photoshop class I took in 2009. He gave me some helpful tips (move this production into InDesign from Photoshop). Once everything was clear, I printed them at Vistaprint (what would I do without them?) as glossy postcards. These were mailed out by Sarah in plain white envelopes. As a finishing touch, I created and had Vistaprint produce coordinating address labels, with the rope "&" used again. This was my first project where I purchased and used vector images. Best part is the images fit perfectly with my personal brand.
In the grand tradition of me biting off more than I can chew for my friend's weddings, I was very relieved when I uploaded the final announcement design to Vistaprint and did not receive a low resolution error. Fist pumps!
Happy one year anniversary Sarah & Tim! Thank you so much for letting me be a part of your special day! (Like you had any choice!)
Here is the only tolerable Beatles song!
Come at me, bro.
I respect The Beatles but feel like there are much more interesting groups of four musical men (Minutemen, Mission of Burma, Minor Threat, Hüsker Dü, The Replacements, Dinosaur Jr., Fugazi, Wilco, Maroon 5) ((not all those bands have four men in them, but just go with it.)) (((All of those are real bands))). And today's Band: Boyz II Men.
Didn't we all own the II blue covered album between 1994 and 1996? Best track. But this is the best video from that album.
I have a soft spot for cover songs that I think are better than the original song with the original artist. I have a list of favorites, so I'm going to link a few every now and again as I procrastinate on finishing my portfolio and packing. There is no particular order.
"Knife" by Grizzly Bear
I don't really like Grizzly Bear, but this is the best male collegiate a cappella performance of an indie song, IMHO. (Sorry, Whiffenpoofs.)
I bought a piece of nostalgia: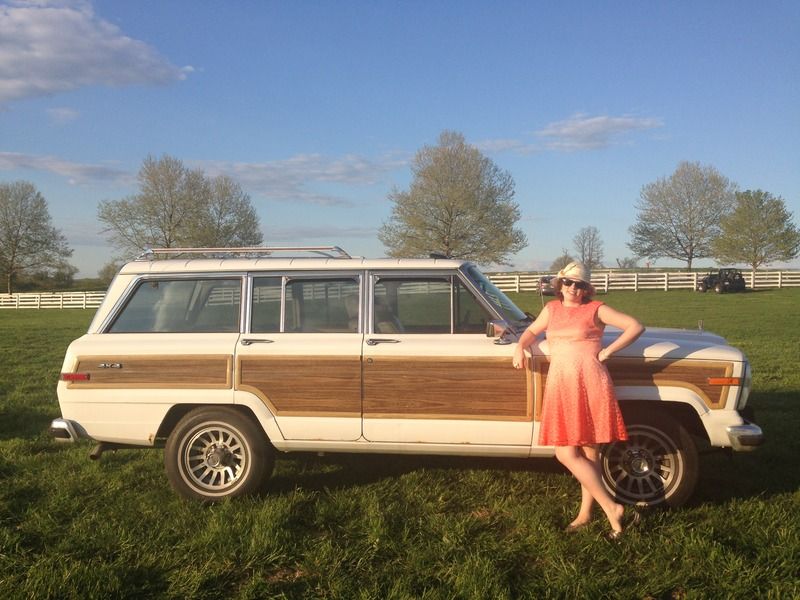 Last fall, we were out to drinks with a co-worker of Josh's and his wife. During a discussion about vehicles, my want of the Wagoneer came up. We showed them photos from last year when we first seriously looked to buy a Wagoneer. The wife asked why I wanted this car.
Why?
Why not?
It was the first time I had to articulate why I wanted to own a late 80s/early 90s 4×4. Josh has always known this to be my "dream car". I always thought everyone had a "dream car" that they would purchase if possible. Sure, theirs might be a newer vintage than my beloved, but cars are an object of desire. Where did my desire come from?
Looking at this car (scroll up! LOOK AT IT!), I first see beauty. It is just a beautiful vehicle. Josh said that I should go down to the garage every morning before work to look at the car just because it makes me so happy. This car looks like a different time, or now, lifestyle. And that is where my desire comes from. When I was a child and this was a new car on the market, I thought "That is the car I will have when I am a grownup." As I child, I made a lot of goals or predictions like this. I wouldn't call myself sentimental, but I am nostalgic. I actually think that a lot of people my age are nostalgic. This explains the popularity of Old Loves and My Parents Were Awesome. There was a line in the last season (or season before last?) of Girls where Hannah says to Elijah something like "All I want to do is go home and Google that one week in the 80s when Glenn Close and Woody Harrelson were a couple." THIS! But instead of petitioning to bring back Crystal Pepsi, I googled for a Jeep Wagoneer.
This car was listed on the Richmond Craigslist but was actually in Sterling, Virginia, right up the road from us. Josh and I looked at it on a Saturday before we had to go to a wedding reception conveniently in the same neighborhood. The color was right (I was more drawn to the white Wagoneers, but was willing to have any color) and the price was right-ish. Of course, there was "someone else" interested in the vehicle, and the original price was reasonable/affordable, so negotiations did not happen. I did the same as last time we bought a car and picked up a money order from the Bank of America down the street from my office. We bought the Volvo in April, and it was April again when the Wagoneer came into our lives.
I didn't know Josh was filming me during our test drive. I thought he snapped some photos and then I went into the zone of focusing on driving a new-to-me-25-year-old car. Later, when viewing the footage, I loved Josh a little more for capturing such an important moment in my life: making the decision to buy this car already!
I want to also thank the following people for their support, in absolutely no particular order:
Alicia Pappas, for riding anywhere and everywhere in the Wagoneer with me and delicately correcting my driving
Jeffery Nelson, for his Photoshop skills
Emilia Gershon, for being unemployed and able to drive out to past-Dulles Virginia and visit the DMV with me
Alan, who I bought the car from, for being that mix of crazy and weird that makes adventures memorable (and for the $200 in cash he gave me once he found out the radio didn't work before the sale)
The lady at the DMV who processed the paperwork in about 4 and half minutes, the entire time musing about what she would get for lunch ("Tuna sandwich")
Kacey, the AAA mechanic who serviced the vehicle when it had its first issues and gently pointed out some of the problems under the hood ("Fixing the exhaust would cost more than the car is worth *beat* I KNOW this is worth a lot sentimentally.")
Dan and Caroline, for being the first backseat passengers who patiently helped find the seatbelts
Tiffany, for once having a dream that Josh would buy the Wagoneer for me (full disclosure: I bought this for myself and only I own it)
As we were getting ready for bed the night I brought the Wagoneer home, I remembered something I had for Josh.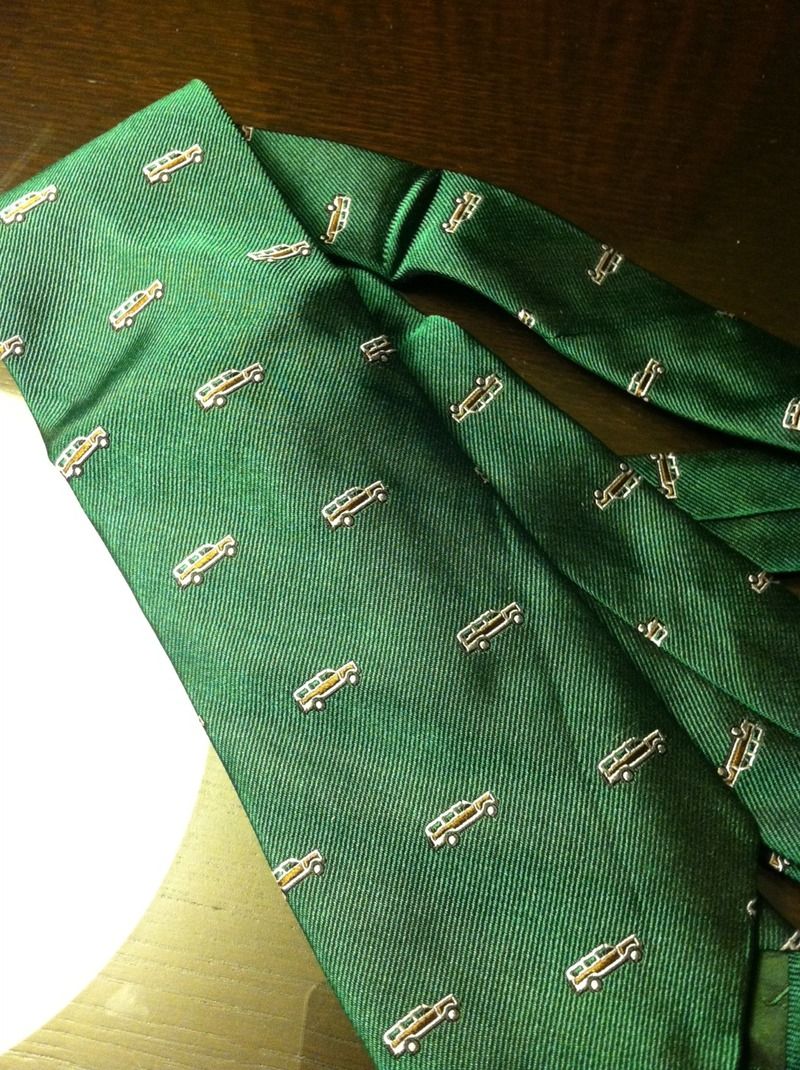 This is a J.Crew tie, that according to the tag, was part of the Holiday 2007 collection. I purchased it sometime around there, maybe at an after-Christmas sale. I intended on giving it to Josh as a gift. It came with me when I moved to DC in May of 2008, tucked safely into the interior zip pocket of my largest suitcase. In January 2014, that suitcase went to San Francisco, full of binders for a trial my office was participating in (winter storms prevented us from shipping all the important documents). My co-worker Kirstin sent me the photo above with the question "Missing something?" I let her in on my two habits: 1. buying gifts when I see them and 2. hiding them everywhere in the apartment.
I meant to pull this out of the suitcase before Josh got home on the Wagoneer's adoption date, but I didn't remember until we were brushing teeth. I ripped open the suitcase, which because we live in a one bedroom urban apartment serves as a supplemental closet full of other items, unzipped all the interior pockets and pulled out the tie.
It was only then that I realized the color of the Wagoneer on the tie was white, just like the one I bought.
Josh laughed one of the best laughs I've heard him giggle in the 10 years of our relationship.
And in closing, a gem I found on YouTube this week when looking for something else:
The Wagoneer definitely has a beautiful soul.