Disposed Income
Last month, I bought a few spring wardrobe pieces. I have plans for that $10 purple dress. It includes me, near a beach in California, hanging out with Bradley in a week.
That is a lot of pressure for a dress, especially one from Old Navy. Probably the pressure comes from how I imagine styling the dress.
I would wear the lightweight cardigan over the dress, open, securing it with the skinny belt. Then the scarf would be loose around my neck. The nude color flats would be the perfect beachy accent.
Let's just add up the accessories in this outfit, none of which I currently own:
J.Crew Shoes: $79.99
J. Crew Belt: $29.99
J. Crew Sweater: $49.99
Forever 21 scarf: $5.50
Total: $165.47
So not going to happen. But a girl can dream, right?
Last weekend was the Get&Give promotion for GAP, Inc. stores. The customer received 30% off whatever they purchased and five percent of the proceeds went to a non-profit of choice. I chose the Leukemia & Lymphoma Society.
Not pictured
black capri length work out pants from Old Navy
red cotton pajama pants from Old Navy
another pair of those GAP pants in a white and tan lawnstripe
Justifications abound
Purple dress: $10 to wear in California next month
Pink shirt: $11
shoes: $15
Not so justified
The jacket: I really wanted this in yellow since it was cheaper, and I liked the color. But the GAP we went to didn't have it in yellow in my size. I may have pouted in the Georgetown GAP. Then the Boyfriend admitted he didn't really like the yellow but knows I "like color".
The other issue is that it doesn't have full length sleeves. That was a downside since all the girls in D.C. have full length sleeves on their trenches. Since I paid about $20 more than I wanted to for this, it's on the bubble.
The pants: I got an ink stain on my favorite pair of J.Crew work khakis. I was replacing them with the pair picture above and also like the other color combo for Spring. They were a great price on sale, but do I need two new pairs of pants when both look very similar to pants I own (ink stained and seersucker respectively)?
Also, let me just say this, your boyfriend may not be the best person to help you pick out pants.
Me: Do these look too big?
BF: Kind of. Want a size smaller?
Me: Yes, and if I can fit into those we are doing a happy dance!
*puts size smaller on*
Me: Does it look like I am stuffed into a size too small pair of pants?
BF: Kind of. *silence* what do you think?
Me: I think that wasn't the correct answer.
I'm bringing them with me to Texas this weekend so Katie can be the judge. She'll know the correct answer.
March- Amanda's Wedding (DFW)*
March/April- Yale Law School Prom (CT)
March/April- Visit Bradley at USC (CA)
May- the Boyfriend's graduation (CT)
August- the Boyfriend's move to Boston (MA)
August- my co-worker's wedding (Toronto, Canada)
*Purchased last week for $200. That's a deal when the going rate had been $374 for a 3 day weekend; the same price I paid for a 7 day trip in December.
I used Farecast to monitor fares for that weekend. I highly recommend this website. It works best if you know the EXACT date you need to travel. They will send you an e-mail everyday with the current price and their prediction on where fares are headed. I watched the price drop over $100 in one day. I immediately bought my ticket then saw it go back over $300 the next day. I was amazed.
Thanks, Farecast!
First, these now live with me: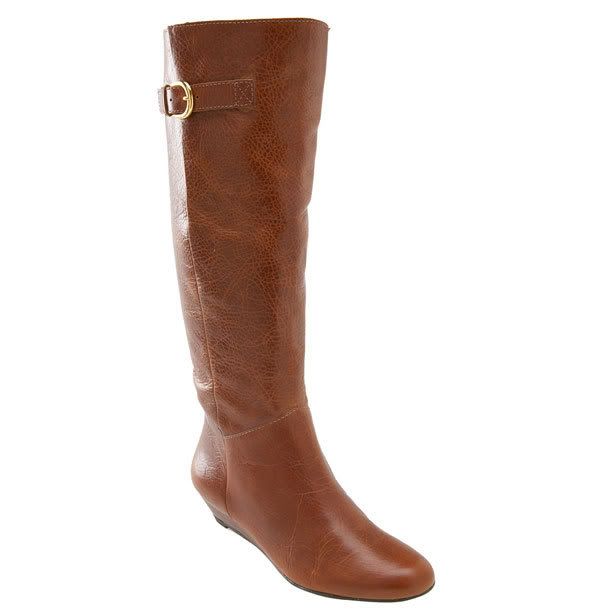 Purchased last weekend at the Nordstrom Half Yearly sale. This is a big deal because the McMahon women do not purchase Steve Madden shoes, do to Mr. Madden's unfortunate incarceration.
I tried them on, after just browsing through the Nordstrom shoe department (which the Boyfriend knows I refer to as one of the best places on Earth) on Saturday. They looked good. They made me feel like Whoorl and Betty Draper about to go riding* all at one time. I came back on Sunday and spent 30 minutes with them in my lap and made two phone calls for advice before buying them.
I don't regret it.
Second, I ordered this tonight online in Honey Glaze (not pictured below):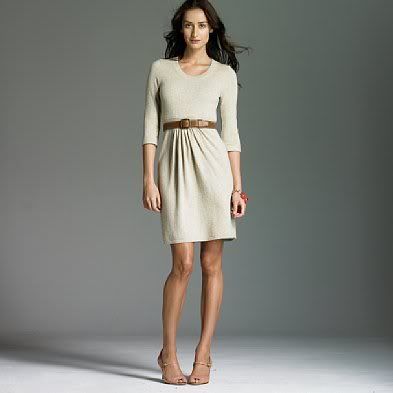 From the 'Crew. I used a 20% off discount (EXTRA20). I've wanted this dress for months, since it was full price. I didn't buy it about a month ago in another sale at the brick & mortar store because I thought the price would drop. Then it was sold out at my two local stores.
I was sad.
Then I bought the boots and regretted not having the dress to match. I took the plunge tonight. ONLY to have the dress DISAPPEAR when I went back after placing my order to make a Polyvore of the ensemble. And I hadn't received a confirmation e-mail.
So I panicked.
I called a lovely J.Crew customer service rep who gave me my confirmation number and explained that the e-mail servers were going slow. I then confessed that my true reason for calling was because I read the blogs and know the horror stories of costumers placing orders just to receive an e-mail that the order is cancelled. She knew exactly what I was talking about, and that they wouldn't know if they had the dress in stock until they went to pull it off the shelf.
Let's keep the (shopping) hope alive!
*When I brought the boots home, I tried them on with the second outfit here. My roommate laughed and called me Betty Draper. It's too much "look" to wear all together, and besides I don't have the blonde hair.
Motts Natural apple juice
San Pellegrino
Minute Maid lemonade juice boxes
Minute Maid fruit punch juice boxes
12 pack case of Coke
latex gloves
Spray 'n Wash stain stick
scouring sponges (two types)
regular sponges
Bon Ami ( I really wanted Bar Keeper's Friend)
clothes pins (to use as chip clips, best.use.ever.)
Basically, I was thirsty and in the mood to clean yesterday.
I usually don't like buying cleaning products at the grocery store because they are more expensive than Target or my favorite place, the Dollar Tree. It was either buy them at Harris Teeter or wait to hire a maid.
$4 sponges it was!
My July credit card bill is not outrageous, but it hit the magical number that makes me closely exam where the money is going. Just to recap, I put everything on my credit card and pay it off at the end of the month. The credit card I use gives me rewards, so it's not in vain.
My credit card billing period runs the 15th to the 15th. Since I'm almost at the end of my billing cycle I'm comparing August with July. It's over half less.
At first, I thought the solution was not eating out for lunch. I started working June 16; I haven't had a take out lunch since July 9. That's a month of working and taking my lunch. So I added it up. I only spent $52.96 on take out during roughly three weeks of work, $17.65 per week. When you look at it like that, it's really not that much money.
This is the point where I'll be honest. The Boyfriend has bought the big grocery loads. So I can't do any comparison with the cost of the food in my lunchbag. But on trips to Trader Joe's and meals with The Boyfriend out, I spent $121.72.*
The question, as I'm preparing to move, pay rent, and watch the Boyfriend return to CT to finish his law degree: is grocery shopping worth it?
I'm starting to have doubts. I'm bored with food from home, and I'm mixing it up people! Leftovers! Sandwiches! Frozen Pizzas! Ugh. I'm starting to view food only as nutrition, and I should stop caring about how interesting it is or how it tastes to me.
I'm NOT going to eat out all the time, every meal. The Boyfriend and his family do that, and I can't handle it. My waistline has dealt with numerous expansions because the Boyfriend has the metabolism for that type of behavior, and I do not. Also, I like cooking. So dinner will continue to be at home.
I e-mailed all this information to my work buddy Paul, who brings his lunch everyday. His response was: "I guess the only way to save on the cost of food in D.C. is to not eat at all."
* Blogger Note:*I should also note that Katie visited for 4 days during this period. Some of the expenses were higher because we were hanging out doing vacation type things.
Dress: free (a gift from my parents two years ago for my birthday)
Shoes: $12 (on sale after Christmas from $80)
Punching extra hole in shoe strap at shoe repair shop: $1
Foot Petals to keep straps up: $7 (good for 4 pairs of shoes)
Strapless bra: $5 (on sale at GAP Body)
Pashmina: free (bought on eBay 2 years ago for $0.99)
Inserts for bra: $12 (I'm considering these a lifetime investment)
Evening bag: free (a gift from Mum, purchased for the last wedding)
Black evening jacket: $10 on clearance (didn't wear because it looked to "businessy" with the dress)
1. initial necklace at Urban Outfitters: Bought with Grammie's Christmas money
2. brown top with floral embroidery at Antrhopologie
3. Velvet brand sparkly, cleavage producing, going-out-top at Antrhopologie: ON SALE! Plus make-up on the front discount!
5. Small Object Loop Trouper at Antrhopologie: ON SALE!
4. Nine West moccasins (coveted since October): ON SALE!
5. navy blue "formal" tie from Nordstrom (for the Boyfriend to wear at a wedding)*: ON SALE!
6. necklace at Madewell (for McKatie)*: ON SALE!
This post brought to you by the kismet of Melanie having Thursday off of work, and my first ever "You don't need to come in tomorrow." day at the law firm.
*You guys are going to pay me back, right?