Wedding Bells
I made a rule to not purchase wedding magazines before I was engaged. But I think many women, and some long-married, feel like the latest issue of
Martha Stewart Weddings
doesn't count as a "wedding magazine". It's more a perfect bound slice of heaven.
The first summer I lived in Washington, D.C., I purchased the Summer 2008 issue of Weddings at the now defunct Olsson's Books in Dupont Circle. I think the Fiancé was out of town for work, and it was cheap entertainment while I was alone.
I have never regretted this purchase.
It was here that I found Lily and John. There has not been a wedding in the last few years that inspired more brides than Lily and John's Santa Barbara nuptials. At least two Weddingbee bloggers wrote posts about their love of Lily's wedding look. I know that her dress was so sought after that Once Wed sent out an A.P.B. looking for brides willing to sell the same dress.
There aren't a lot of elements that can transfer between a backyard fete in Southern Califonia and a downtown D.C. wedding. But every time I have to make a wedding decision, I flip through the pages of that magazine looking for the answer: What did Lily do?
What will the men in the wedding wear? And what ties?
Their own gray suits with matching pink ties.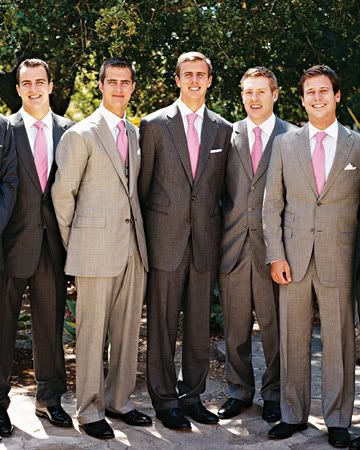 Source
What should we have on our cocktail napkins?
Our initials in pink.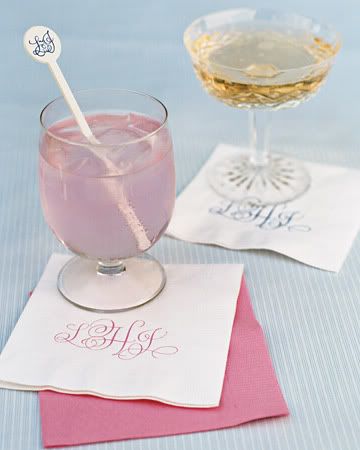 Source
I recently found Lily on Twitter, and I extended by gratitude for all the inspiration.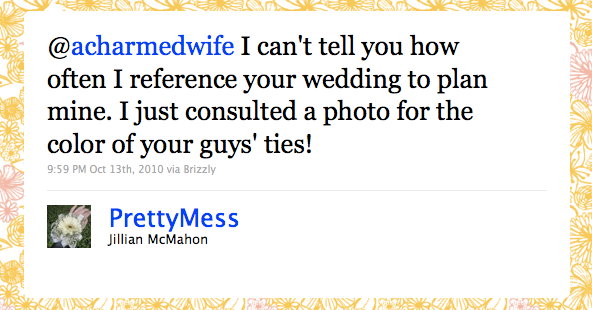 She re-tweeted and repsonded!

Before moving to New York City, Colleen (a.k.a. Mrs. Ribbons) needed someone to take her old issues of Weddings. Now, I have two copies of the Summer 2008 issue.
I will be tucking one away in my hope chest for my daughter's wedding. I just have to get a hope chest first.
The rich navy blue walls of our reception venue posed a color wheel challenge. Yellow was a little too primary for my taste. And my signature color of chartreuse-y green was out because it doesn't exactly compliment McKatie's skin tone. I was hopeful that our wedding col-ar could work for a bridesmaid's dress.
One night last July, after McKatie and Mum's wedding visit, I was sipping on my favorite drink: a greyhound. There, in the Simply Grapefruit bottle, I saw our wedding color.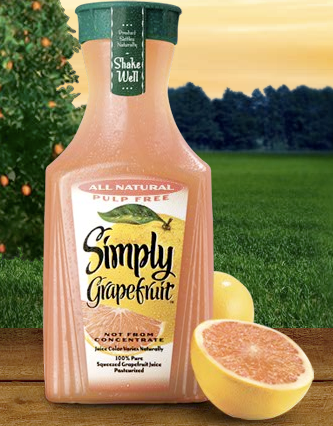 Not as purple as fuschia: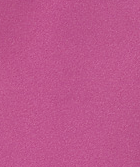 Not bubblegum pink:

Pink Grapefruit!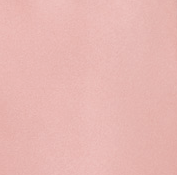 I even found a color palette on a wedding blog that incorporated my beloved green.
I didn't need to have special carpet laid in my color of pink grapefruit, but I wanted to include a punch of pink in specific places. And as you all know, I looked to Lily for that inspiration. So, the next task was to find ties for the men in our wedding in this hue. Via a lucky Google search, I found Ties-Neckties.com. The site looks a bit sketch, I know. But their array of colors included the perfect pink grapefruit.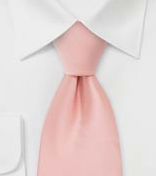 I ordered six of these ties, one as a sample and then the other five when Ties-Neckties posted their monthly coupon code on their blog. We got all of our ties (and a spare!) for the price of one Brooks Brothers tie. I was riding high on my frugal find until I brought a tie home for Christmas, and Bradley commented that it looked like something you would rent with a tux to wear to prom.
Thanks, Bud!
To dispel any doubts, here is a photo of the Fianc&eacute wearing the tie with his wedding suit.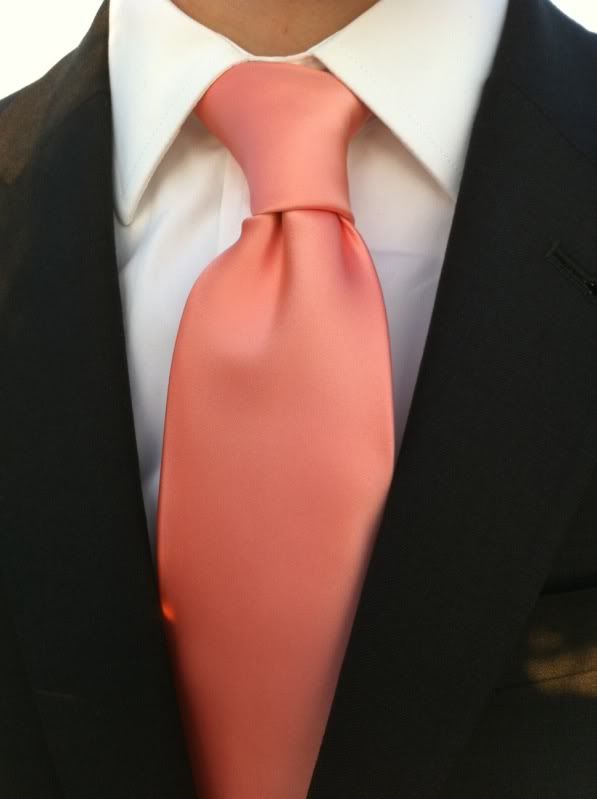 Finally, I felt pretty smug when the Spring 2011 Pantone color was announced as Honeysuckle. It's close enough to my beloved pink grapefruit that was chosen months earlier that I'll take credit for setting a trend.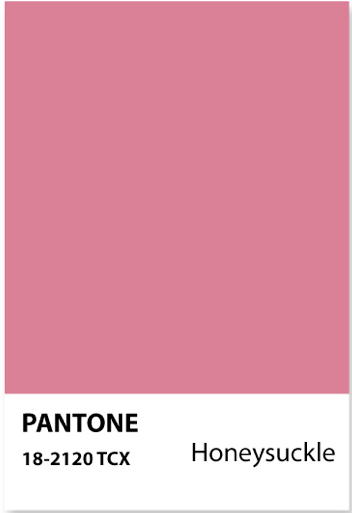 Yesterday, I was on a quest to stuff as many items as possible into my smaller-than-average carry-on size rolling suitcase. Even after my mother said she would mail me a box with anything I couldn't pack, including my white winter coat that the magical elves at Bibbentuckers cleaned for me, I wasn't getting on that plane without my CD boxset of The Magnetic Fields 69 Love Songs.
The Fianc&eacute and I have decided that this would be the music for our cocktail hour. We tossed around the idea of editing it into a playlist that doesn't include the songs about underwear and other sordid things you don't really need to have mentioned at a wedding reception. But I've since decided we should play it the whole way through like it's Pink Floyd's The Wall or some other rock opus.
This decision has been made in the same manner as many of the other decision regarding this wedding: Hey, that's a good idea! Let's do that! As it stands, our most complicated decision has been our wedding cake, and mainly because my immediate family loves cake and is very worried we won't have enough slices.
Bradley inquired about the sound system that will be playing 69 Love Songs at our reception venue:
Do they have speakers?
– Yes
But are they, like, good speakers?
– Yes . . .
What is the equipment like?
– That's a problem for Future Jillian.
After the Fianc&eacute spent Boxing Day with his extended family, many of whom sound excited to spend July 23, 2011 in Washington, D.C., I realized we are having a wedding. And it looks like there will be more than 10 people there. Future Jillian's problems aren't so far away. Perhaps it is time to make real decisions, like finalizing a guest list.
Playlist 1, Guestlist 0
Over the holiday weekend, actually while we were getting ready to go out Black Friday shopping, the Fiancé and I discussed wedding registries. We specifically discussed what stores we would like to spend a Saturday at with a price gun and reckless ambition. The standards, at least for people in our socio-economic group, are Bed, Bath and Beyond, Macy*s, and Target. I would like to branch out to Crate & Barrel and a store that has an outpost in Western Pennsylvania since none of the above do and that's where my extended family lives.
On the list of wedding worries, registering is so far down that I can't even put a number on it. All I want is for people to come to our wedding. Having a destination wedding during the peak summer vacation season, I have no expectations for gifts. I spend most of my time stressing that there will be enough guests to meet my venue's minimum head count.
Shortly after we were engaged in June, I had a conversation with Mum about the fact that I don't need anything from anyone. I don't need a toaster, or ice cream maker, new towels, or a wastepaper can. As a couple, we are at a point where we (mostly me) own necessary kitchen/housewares, and more importantly we can buy things if we need them. Mum has taken a slightly reserved approach and won't let me buy items that are traditionally gifts to the new couple, like a cake serving set. I've passed up a few bargains waiting her to gift us.
But on Cyber Monday, Oneida was having a 15% off sale on their already reduced flatware sets. I couldn't help it. For $63 shipped, I picked up a 65 piece everyday service for 12 . This same set retails for $230.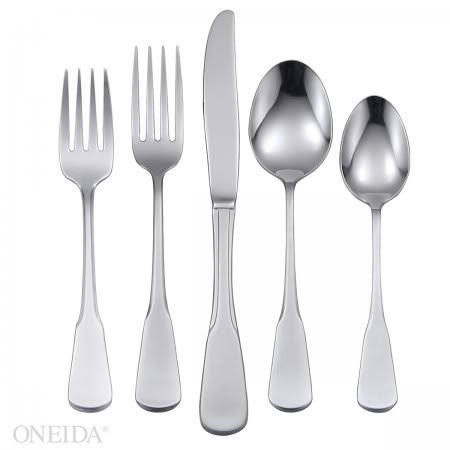 Oneida Colonial Boston
The Fiancé was very confused and thought I was buying this as a gift for someone. When I told him it was for us, he responded "We have grown up silverware!" with genuine enthusiasm.
I can't wait until we return from our honeymoon and his mismatched Ikea silverware goes directly into a pile for Goodwill donation.
On Saturday, Becky, Alicia and I went to get birthday pedicures in Dupont Circle. As we were about to leave, I threw away my pedicure flip flops and mentioned how we might have flip flops for guests at the wedding.
Their response: No need! We'll bring our own flip flops in our bags to change into. We were going to do that already! No big deal!
This is why they are my friends; they're not idiots.
Related: I'm the creator of this. (Kinda NSFW)
Franck: So dis ees a vary popular keck with the many of the foshinable woddings, you know. And this is, I jus don't do any more. And this is fabulliz.
Annie: Oh! Oh! That is incredible!
Nina: Annie, that's just like the one we saw in the magazine.
Annie: Do you like it, Dad?
George: Well, what is that? Is that–is that dollars? $1200?
Franck: Vel, Moster Bonks, dis ees a vary raisonable price for a keck of dis magnootud.
George: A cake, Franck, is made of flour and water. My first car didn't cost $1200.
The Fiancé and I had our first cake tasting over the weekend at a bakery in Maryland. The cakes were delicious, the staff was wonderful and we were quoted a price that was within budget. We left elated and confident that another wedding decision had been made.
Yesterday the proposed contract was e-mailed to us, with the pastry chef's apologizes. You see, she misquoted us: delivery from Bethesda to D.C. is actually $150. My cake is travelling 7 miles down the road, and it is basically one road they have to drive down. For you with liberal arts degrees, the math works out to over $20 a mile to just have the cake delivered to our reception venue.
The cake now totals more than my wedding dress cost.
Setting: my apartment
Scenario: the Fiancé walked in the door tonight for dinner, I was fretting on the couch
Me: Hi! I did something crazy today.
Him: Did you freak out at work?
Me: NO! I read the reviews for the *insert wedding related item here* we ordered this week and they aren't good. Here! Photographic evidence. *I show him a photo*
Him: It's not that bad. What's the alternative?
Me: We could buy this instead. *I show another picture* What would you do?
Him: *hesitant* I . . .
Me: Ok, what should WE do. Think of the team Johnson!
Him: I think if it is causing you doubts, cancel the order.
Me: I'm sitting in the middle of Party Pig with this, aren't I?
Him: Not quite.
I like to call this "debating a shade of peach". Because this decision really won't matter on July 23, 2011, but is absolutely paralyzing on November 4, 2010.
I'm not hiring a personal trainer to prepare my bridal bod after all. Sessions were $79 each, with a minimum commitment of 2 a month. For those of you playing at home, that amounts to $1422 for the nine months leading up to our wedding.
The photographer we decided on is $1000 more than we had budgeted for.
And the church (for now, at least) is going to be $500 more than I plugged into our Google doc spreadsheet budget estimator.
So I'm being an adult and not partaking in the indulgent, but probably really beneficial, training sessions. The Fianc&eacute, who is always supportive of spending money for things that will be useful, cringed at the thought of spending the exact same amount of money we needed to find for our budget shortfalls on toning my gut.
Honestly, this is the first thing that has bummed me out about paying for the wedding. I wish we could afford both: personal training so I can look amazing in the pricey photographer's pictures.
It's now all up to me to lose the 13 pounds I want to by July 23.
According to a wedding budget estimator, that was built into a Google Doc spreadsheet that we modified to use as our wedding budget, we should spend 8% of our budget on photography. I played with the numbers a bit, taking from other categories, to give us 16% for photography.
As it stands today, the photographer we like and the combination of services we want amounts to 25% of our budget. And that's without an album. Because her albums are $1800 for 100 pages.
We might spend more on photography at our wedding than food and drink.
May I suggest wedding photographer if you are looking for a career change? I am only assuming it is quite profitable.
I have shared with the other brides on the Washington D.C. Weddingbee board my extensive Google doc of D.C. area photographers. I have contacted 99% of those 40 photographers and sent inquiries to 3 New York City based photographers, one in Southern California and one in Atlanta. In the words of Julia Sugarbaker, I have completely lost my mind.
Photography is the most important wedding day element for me, as mentioned before. We aren't having a videographer, so the professional photos will be the only tangible memories. But this isn't the Fiancé's most important element; he just wants a honeymoon. He wants a vacation, period, desperately. I'm afraid the more money we spend on pictures, the less there is to spend on a week at a sandy beach.
Bridal guilt, I have it bad.
The Fiancé's parents visited from Texas this weekend. It's their first time visiting him on the East coast since his law school graduation almost a year and a half ago. I think they skipped a Boston visit to get to see me AND the Fiancé in one stop.
Or they waited to visit D.C. so we could do a White House tour together. I encouraged the iPhone Johnson Family Calendar picture taking outside the White House north portico. Watch out 2011!
After said tour on Saturday, we walked to our wedding ceremony and reception sites. On the way we stopped by the Tabard Inn where I will be spending my last night as a single lady. Across the street is the Iron Gate Inn Restaurant where we wanted to have our rehearsal cocktail hour. I had worked really hard the last two weeks to find a place in D.C. to hold an informal get together after our rehearsal Friday night. Most places in D.C. have $1500-$2500 minimums for such events. And those are prices for cocktails, not full meals. The thought of planning and paying for a second wedding-reception-caliber event was overwhelming.
Iron Gate has a beautiful outdoor patio and bar that we were going to have appetizers and drinks at, all based on consumption. No deposit, minimum, bar fee, or site fee.
When we crossed N to take a closer look at the place, there was a banner across the iron gates (yes, it has actual iron gates) that was falling down. Something about "closing" "last chance" "October". Surely they weren't going out of business! They were just closing the patio for the winter, as many area restaurants do.
Ha, ha, ha.
The beautiful place I was going to sip my last single gal cocktails at, the oldest continuously operating restaurant in Washington, D.C. where the manager and I confirmed my event not 7 days earlier, is closing at the end of October. And the Fiancé's mother even took our photo in front of it!
The Fiancé slept over on Saturday night because he was afraid I would stay up all night Googling for alternatives. Bradley had the best response of all when I told the news, "That's about right." Because something had to go wrong! And I am counting all my blessings that it wasn't my reception space the went defunct.
I think I should mention now that I have the penthouse suite at the Tabard Inn. Pizza and beers in my room Friday night, everyone!?