PrettyLittleMess Product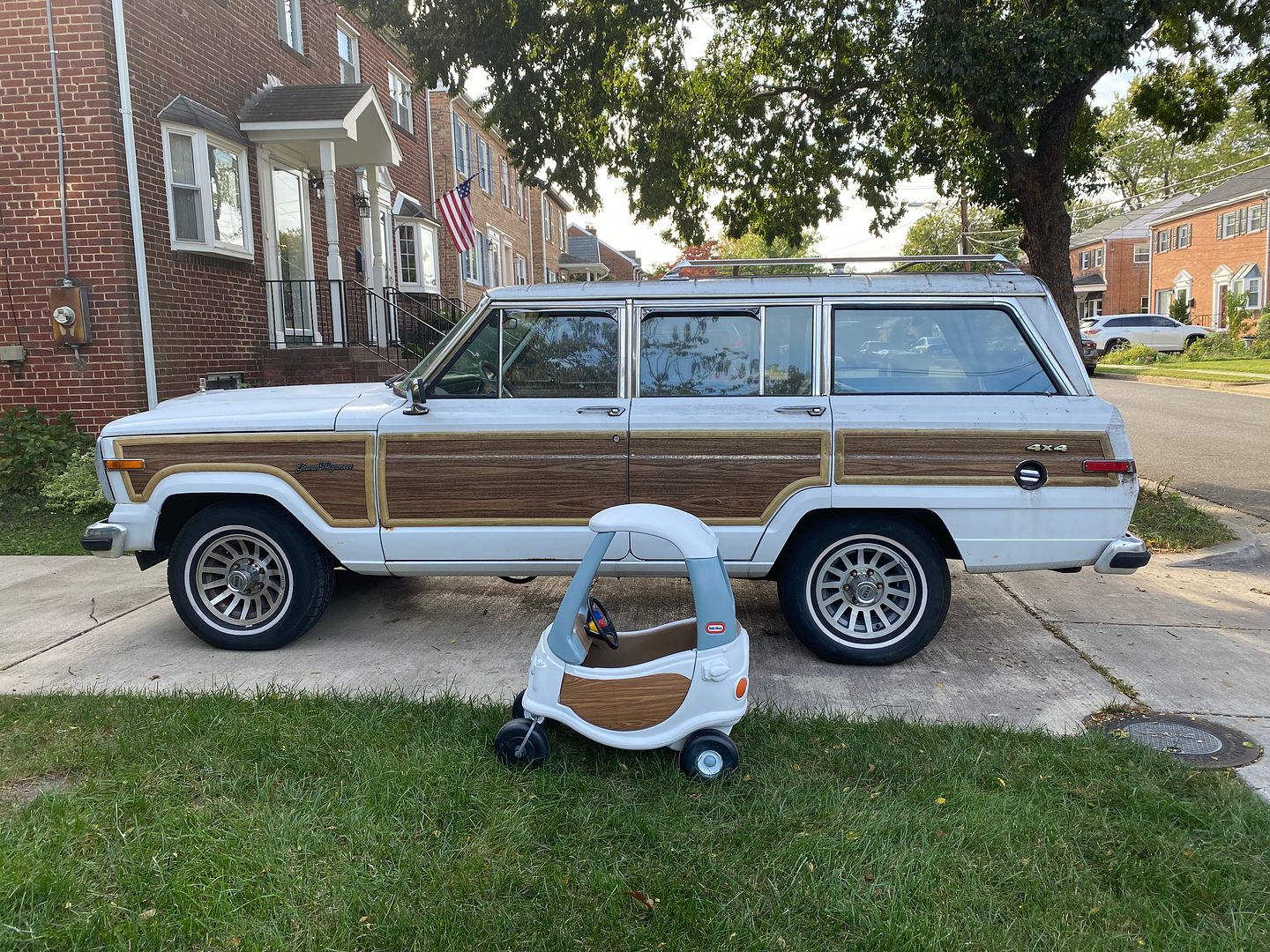 I spent the weekends of September huffing spray paint to create a replica Wagoneer for my favorite 2 year old. This was my gift plan since he turned 1, but I am very bad at time management. I sprung into action to ensure I had proper time for this to off-gas before it was street ready. Give your coupe a solid 7 days to dry before it leaves your dealership lot.
My biggest inspiration for this was Tiffany's sister Natalie who took a well loved pink & blue Cozy Coupe and turned it (unfortunately) into a maroon A&M-obile. I also Googled for additional details. That's why I fired up the WordPress to add my tale to the SEO.
Before anyone makes a joke, this makeover did cost significantly less than buying a restored Wagoneer from the Wagonmaster. I know that is surprising.
Nuggets of Cozy Coupe Makeover Wisdom:
1. Start with an old, used Coupe. The older and  sunfaded it is, the better. If you can find an old pink & blue model, that would be ideal. Little Tikes actually makes a DIY version that comes in white. With the current supply chain issues this is impossible to find. As soon as it is back in stock, I'm buying two.
2. I did not take my Coupe apart because the version I bought secondhand off of NextDoor was assembled with irreversible plastic pins. Some models are screwed together. Investigate your version before you paint. Many online suggest to spray the pieces individually. I had to paint mine assembled and didn't really mind.
3. Car wash. Cleaning a Coupe is a time consuming process. You want every cranny to dry before you start painting. Give yourself time. I did not because I was not born with patience. Mine was dry to the touch when I started spraying. Just be careful!
4. I did very light sanding on the roof and the hubcaps. I did not seal the Coupe with any product.
5. My original plan was to paint everything white and add the wood paneling. This just didn't look right. I chose to paint the seat and dash brown and add the gray/silver accents for the sidebars. More color looks better on a Coupe. Take a note from the original!
6. Remove the weird eyes. They just screw on.
7. I used the bags Old Navy packages my online orders in to tape off the wheels and steering wheel. The most intense taping was for the key on the dashboard, the gas cap, and the headlights/taillights. Using bags as much as possible insured everything stayed protected for the duration of the project and cutdown on taping time.
8. I didn't tape off the white to nutmeg transitions. I used the spray nozzle to control  the line. I felt just like I was tagging public property. For the line from the dashboard to the hood, I did use tape and more of my clear clothing bags to get a more crisp line. This took several attempts.
9. If you don't own a Cricut, Etsy is a great place to turn for the personalized details like the license plate. You can also get decals if you were turning this into a Batmobile or other well known vehicle.
10. The paint will scrap off of the door frame where the little stop button scraps into place. I used 3M Plastic Tape in brown to help protect the door frame longer. I don't believe there is anything you can do for the button losing paint. Take this into your DIY heart and release the fear of judgment from this slight imperfection in a toy that lives outside.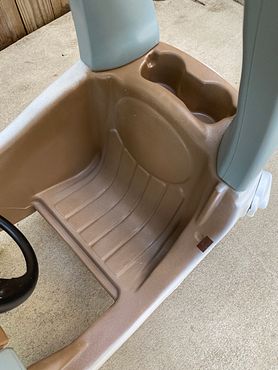 Supplies:
I am not linking because this blog is not monetized and links die. All supplies purchased at The Home Depot and Ace Hardware.
3 cans Rust-Oleum Painter's Touch 2x Primer in White (for every surface)
1 can Rust-Oleum Painter's Touch 2x Primer in Gray (for the part that went silver)
2 cans Rust-Oleum Painter's Touch 2x Spray Paint in White semi-gloss
1 can Rust-Oleum Painter's Touch 2x Spray Paint in Nutmeg satin
1 can Rust-Oleum Painter's Touch 2x Spray Paint in Winter Gray gloss (I originally purchased a Aluminum in Metallic finish for the silver parts. It was the only time the paint peeled from the Coupe. I am not sure why this happened. Winter Gray was the only gray my local store had. There are other gray glosses that go less blue if your store has them!)
1 roll Con-Tact Creative Covering Light Oak Wood Grain Self-Adhesive Shelf Liner (smallest roll available)
1 can Gorilla Heavy Duty Super Strength Spray Adhesive (I chose this because it was the only permanent, heavy strength choice at the store. I do not know its longevity.)
Oracal 651 sheets for all details (this is the easiest to find permanent vinyl at Michaels)
Let's look at this beauty from all angles.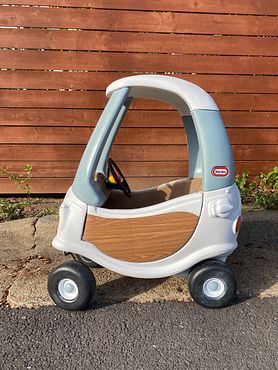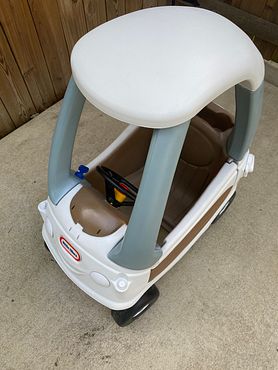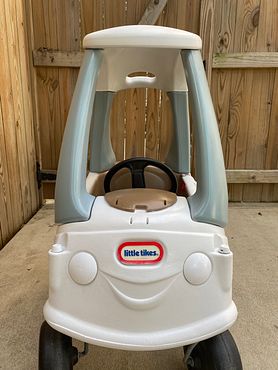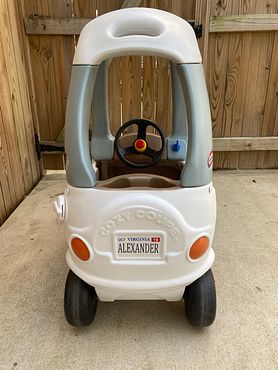 If you are my friend, and you have fallen in love with someone and decided to be joined in matrimony, I will interject myself and my hot glue gun into the blessed event. You can't stop it, and I won't even apologize for it. This is what comes with a Jillian Sue friendship.
Last April, my dear friend Sarah Tinkler and her longtime beau Timothy O'Reilly decided to get married. Of course, I was ecstatic, but I also knew Sarah would let me railroad her with all my craft ambitions.
The Invitation
This has been my dream forever: design a wedding invitation suite for a friend. Sarah and Tim were married at City Hall on a Friday, but were celebrating with a big family brunch the next day. Sarah wanted to formally invite everyone to the brunch, plus have a tangible keepsake.
Sarah pulled up some watercolor inspiration on an invitation site. I took to my computer and the Internet to figure out how to create the correct effect. Today, one year later, I can tell you I would not be able to recreate the watercolor effect in Photoshop NOR find the tutorial I used to create it. I just wish that Internet browsers had a system for allowing you to collect helpful sites so you can reference them again and again. Wouldn't that be wonderful?
I created the envelope liner with the same watercolor Photoshop technique. Everything was printed at home on my little HP printer. I used leftover cotton cardstock from our wedding programs. That stack of paper has really been a great resource since I over-ordered by about 200 sheets to print 60 programs in 2011. The liner was printed on Paper Source white text weight paper with a textured finish to mimic real watercolor paper. And I know what you are thinking: of course I thought about actually watercolor painting white sheets of paper to create the effect on the liner.  But I figured it would dry wonky to glue into the envelopes.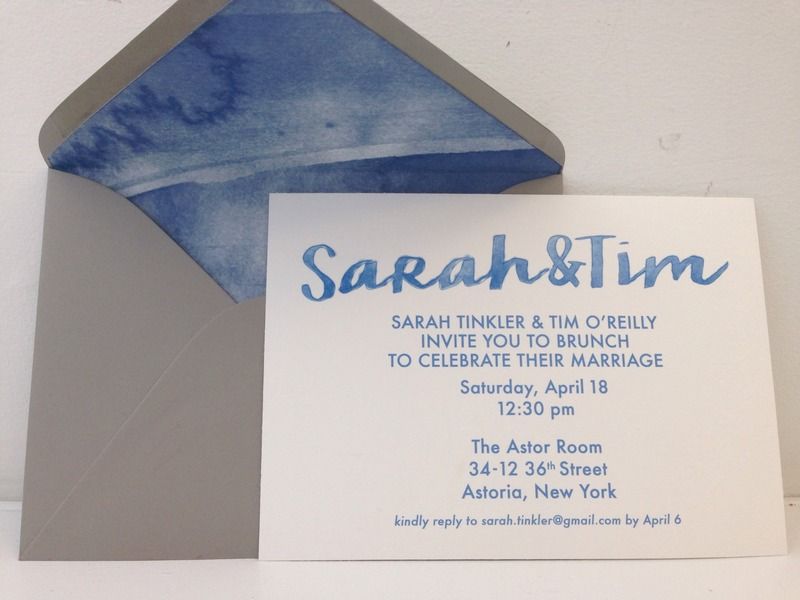 While at Paper Source, I picked up the gravel colored envelopes. I printed Sarah's return address on the back flap and also each mailing address on the front in the same font as the invitation text. Do as I say and not as I do: wedding invitation addresses should aways be handwritten. This one kills me when I see people sending out wedding invitations in envelopes with labels. But! This wasn't a traditional wedding so I printed the addresses directly onto the envelopes. This was tough as my printer liked only every other envelope. I had to print a blank sheet from the printer between envelopes to clean the printer drums. Otherwise, black streaks appeared on the next envelope I printed. Once I figured this out, it was a perfect rhythm.
I am a full service print shop, including postage. I used the Jessica Hische designed Forever postal stamps. Each envelope needed about two and some change stamps, but I wasn't adding metered postage to these beauties. I alternated the red, white, red and white, red, white pattern on each invitation.
I sent Sarah and Tim an invoice for the invitations that Tim complimented as being more professional than some of the vendors he deals with in New York City. I'll be applying for my tax identification number any day now.
Clutch Purse
These purses are my wedding signature. I made Mum, Katie and myself one each for my wedding. Then, five for Tiffany's sister's wedding the next year. The fabric I used for Sarah's was leftover from my wedding, or more accurately, unused from my wedding. This was my wedding color; it matched the ties the guys wore and Katie's dress. But I ended up making Katie and Mum gray purses and lining my own white bag in navy. I have yards of this high quality (read: not purchased at JoAnn's) peachy pink satin still on hand. Luckily, Sarah didn't mind me shopping my fabric stash.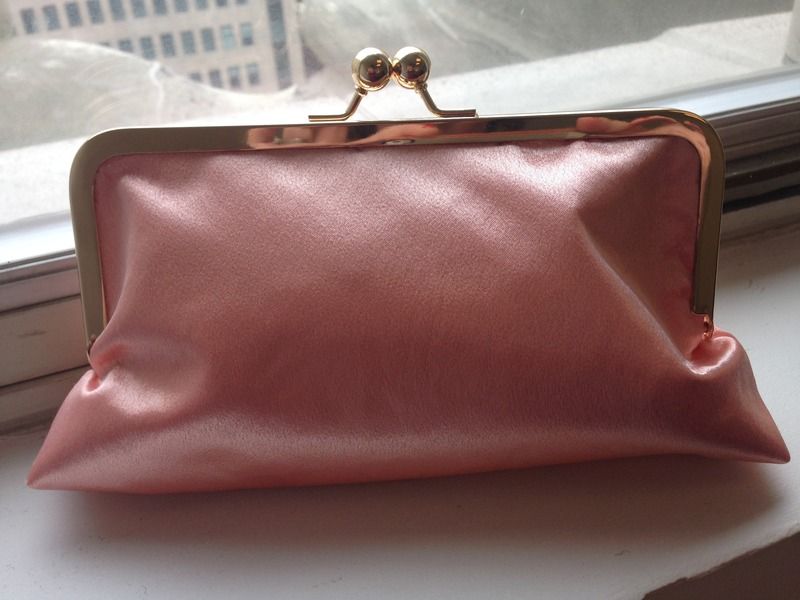 We updated the look for 2015 with gold purse hardware, but lined the bag with gray to keep with the theme.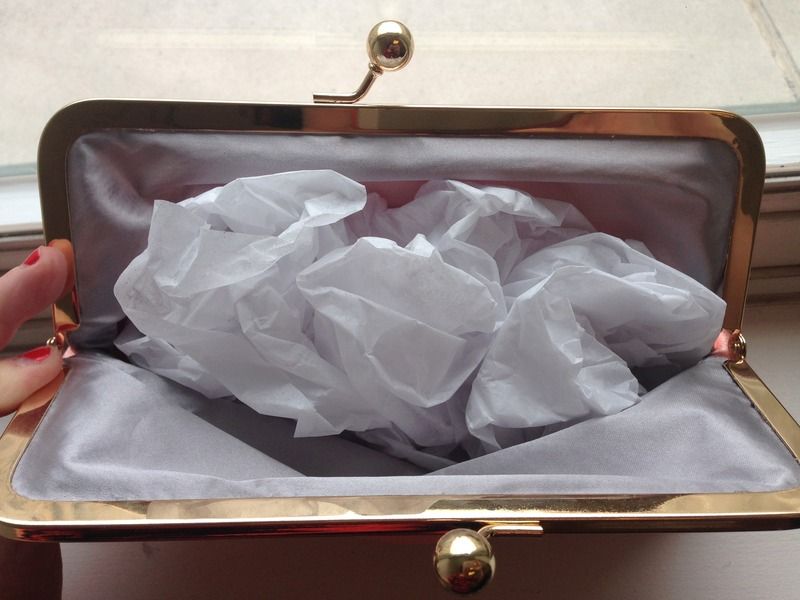 Fauxquet
During my craft research for another project, I found these small pink paper flowers from Paper Mart. I love Paper Mart: they sell things I love to buy, offer no discounts or free shipping, and can't be bothered to update their website past-1998 standards. I ordered three packages of these little flowers for less than $10. I picked up a styrofoam cone at the Dollar Tree for the bouquet base. I took each wire flower and used floral tape to adhere it to a toothpick or bamboo skewer that I cut to size. The domed effect was created by working my way down from tall skewers to smaller toothpicks on the side. I wrapped the styrofoam with green grosgrain ribbon secured with floral pins. Amateur tip: you can't continuously wrap a cone shape with a straight ribbon and have it lay flat. I had to cut little strips, overlap them, and secure them with the pin. This also took a while to figure out.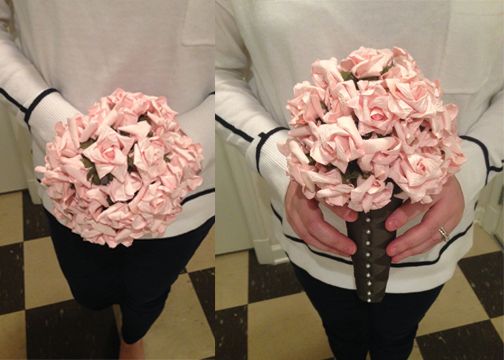 I took a few of the extra flowers and hot glued them onto a pinback for Tim to wear as a boutonniere, which you can see in the photo below. Thanks Paper Mart!
Wedding Announcement
My final wedding paper project was creating a wedding announcement. Sarah wanted to mail these out to friends and family to share the news of their union. Classier than a Facebook post.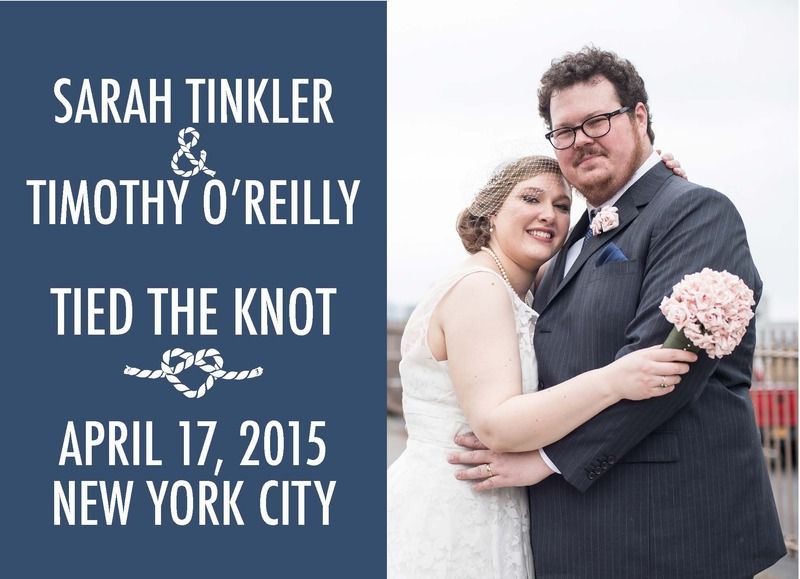 Here is where things got even worse than my printer streaking the envelopes. I could not get the image to size correctly for my design. We all know I have issues with printing resolution. I reached out to the instructor who taught the Photoshop class I took in 2009. He gave me some helpful tips (move this production into InDesign from Photoshop). Once everything was clear, I printed them at Vistaprint (what would I do without them?) as glossy postcards. These were mailed out by Sarah in plain white envelopes. As a finishing touch, I created and had Vistaprint produce coordinating address labels, with the rope "&" used again. This was my first project where I purchased and used vector images. Best part is the images fit perfectly with my personal brand.
In the grand tradition of me biting off more than I can chew for my friend's weddings, I was very relieved when I uploaded the final announcement design to Vistaprint and did not receive a low resolution error. Fist pumps!
Happy one year anniversary Sarah & Tim! Thank you so much for letting me be a part of your special day! (Like you had any choice!)
With less than 80 days to my own wedding, the details are starting to get to me. I ordered a sample out of town tote last week, when I had already decided I wasn't going to have out of town totes. There is a simple, yet labor intensive escort card display to assemble. All of these projects are just to prove to the Wedding Industrial Complex that my wedding has the all important "details".
But as we all know, I can do wedding details. Below are a few pro photos from Chashley's wedding photographer Nathan Kula highlighting the little touches I created to make their New Orleans nuptials unique.
I can totally use these photographs as proof of my ability to create wedding details, right? But really, I should be asking who I exactly need to prove my wedding skills to . . .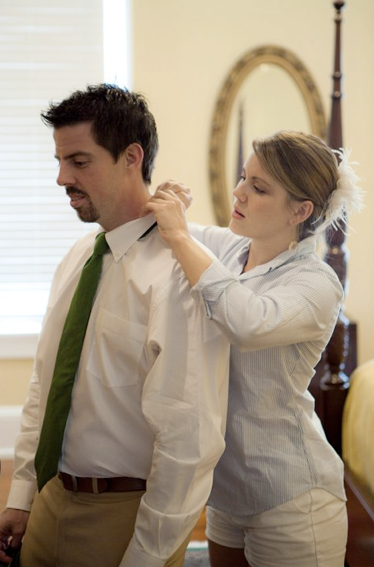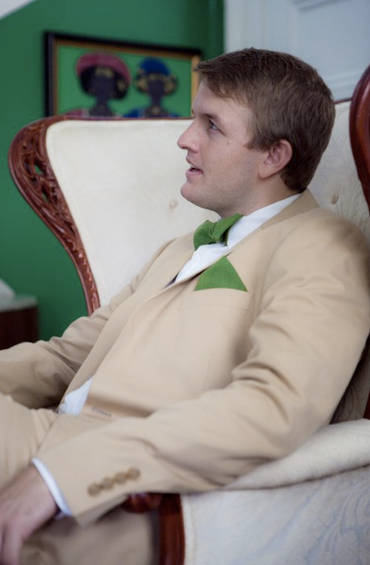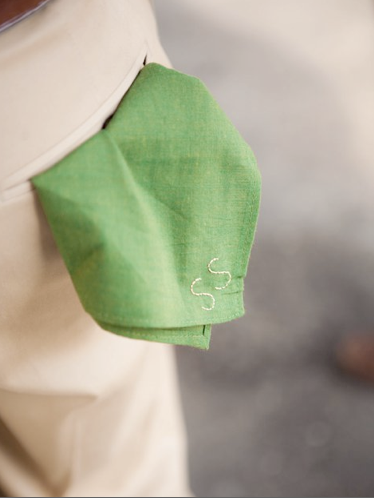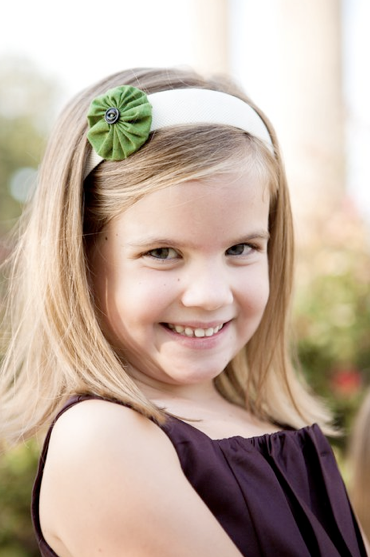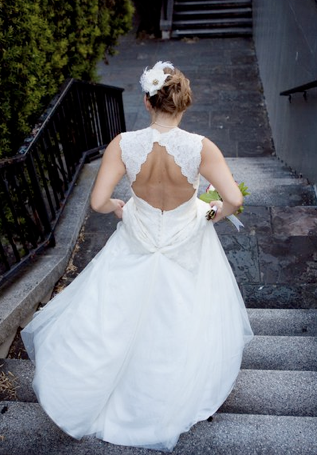 I didn't purchase the fabric for the ties from Purl Soho. I found a better deal at Hart's Fabric. Each tie needed 3/4 of a yard of fabric, so I ordered 4 yards to be safe. After I placed the order, Hart's called to say they only had a little over 2 and 3/4 yards of the Kaffe Fasset Moss fabric. I asked if they could give me a discount since it wasn't a full yard; they did. I then proceeded to freak out for a good 6 weeks about not having enough fabric.
I carefully (and a bit creatively) cut all three ties and the bowtie on the bias from that 2.88 yards of fabric. So imagine my surprise when I had a TON of fabric left. Because I felt guilty for the additional cost of the now extraneous fabric, I proceeded to whip up a few goodies.
First up were the fabric yo-yos for the gentleman of the wedding to wear in lieu of fresh floral boutonnieres. I had to convince the groom that this wasn't too frilly or feminine. It's quite a popular look on the more "rustic" weddings featured on wedding blogs.
I made 7 in total. 5 for the fathers and grandfathers:
2 for the little boys who escorted the flower girls:
Lastly, the men in the bridal party each received a handkerchief. I just took a simple 14 inch square and hemmed the sides.
I embroidered their initials. One groomsman's initials were "SS", and he chose to hang his hankie outside his back pants' pocket. If you didn't know those were his initials, it was awkward.
The ladies each received a small pouch purse based on the pattern in Amy Karol's Bend-the-Rules Sewing.
I lined each with a yellow fabric from my stash. It actually has little white polka dots on it. The button was again from my stash and the elastic to create the closure I saved from a package, so it was free! (The book also recommends using a hair elastic for this project.)
The bride used her purse on the wedding day to keep her diabetic testing supplies.
I sent the remaining bits of fabric and all the items in labeled bags. The ties were each packaged with their coordinating handkerchief in a brown envelope with gift tag, ready to be passed out.
I waited until close to the last minute to send the package as I was still creating things. It cost me $35 to 2-day FedEx this all to Chad in Texas. I hope they thought it was worth it!
Chad chose to wear one of J.Crew's Italian chino suits for his wedding apparel. His three groomsman followed suit (ha!) and paired the same chino pants with white shirts for the outdoor, early fall wedding in New Orleans.
Right before Chad and Ashley moved back to Texas in the summer, we stopped by J.Crew where Chad picked up a chambray bowtie like the tie below.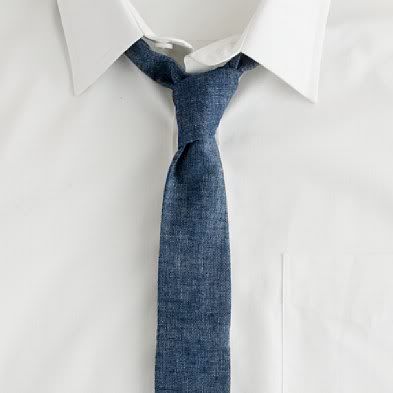 He wanted a similar look, but in green. And not $45-85 each.
I took the biggest challenge of my novice sewing career by committing to make three standard straight men's ties and Chad's bowtie.
I started this adventure in June, when I went to visit Melanie in New York City. At the newly revamped Purl Soho, I picked up a sample of Kaffe Fassett's shot cotton in moss. The staff advised using this over a chambray. I trusted their judgment since the pattern I was using to create the ties was their own.
The pattern was not the best, but it was free. None of the ties turned out the same. At least they looked professional!
I stressed for about a month about finishing the ties, and knocked them mostly out in one intense sewing weekend. The last thing on my to-do list was the bowtie. And that was my sewing Everest. I sat down on Labor Day and wouldn't let myself do anything else except finish this project using the Burda Style bowtie pattern.
A gentleman I work with donated one of his old bowties for me to hack apart for the hardware. These sliding mechanisms are hard to come by, so I was really grateful for his generosity.
The pattern, instructions and tips from Burda Style made this tie go together within a matter of hours.
The Fiancé was nice enough to come over and let me practice my newly-acquired-via-YouTube-tutorials bowtie tying skills out.
A bowtie should look slightly uneven. This way a self-tied bowtie will not be confused with a pre-tied tie. I received high praise for my tying skills from some experts.
I have never felt anything as wonderful as the relief that washed over me once I finished these ties. I pumped my fists in the air and shouted "yes! yes! yes!" as soon as I saw the bowtie completed on the Fiancé.
The groom gave me a thumbs up post-ceremony for his tie. That's all the praise I needed.
The two hair accessory projects I made for the ladies of the wedding are nice bookends: Ashley's hair flower was the first project I did and the headbands for the flower girls were a last minute project right before I shipped everything off.
Ashley found the hair flower below from Brass Paper Clip on Etsy for around $40. She asked if I could do better.
Together we went to Eastern Market in DC and found a vintage brooch for $6. I would like to give Ashley a lot of credit for finding this little gem. I then bought the magnolia and feather trim from two different Etsy sellers for $11. This is one of the few times when not having a car or a Metro accessible craft store makes things difficult. This project would have cost significantly less if we could run to Michaels.
I had the hair clip in my craft stash. So for around ~$20, here is the flower I was able to create:
I would like to take a brief moment to discuss the integrity of the Internet. I know a lot of crafters and artist argue the integrity of creating a product that is a direct copy of another's work. I would not encourage others from doing what I did. This flower was a gift for personal use.
Chad and Ashley have four nieces who were going to be flower girls at their ceremony. I took my own advice and ran to Forever 21 after work and bought 4 headbands on sale for $2 each. (Shocking, right? Nothing ever seems to be on sale at F21.)

I made a simple fabric yo-yo with the leftover green fabric from making the men's ties (to be revealed tomorrow) and finished them with buttons from my stash. Buttons I bought for about 35 cents a package when the Jo-Ann Fabrics on Burnet Road in Austin closed four years ago. Yes, I hesitated about loosing using them on this project.
I removed the original tulle bow from the headband and sewed on the fabric yo-yo.
Three out of the four flower girls successfully wore their headbands on the wedding day. I complimented one of the little ladies on such a beautiful hair accessory. She politely thanked me.
And the Fiancé totally called me out on complementing my own work.
Chad and Ashley were working with a limited budget for their invitations and were searching for invitations they could print themselves. They also wanted to incorporate elements of their New Orleans nuptials, specifically magnolias.
Ashley found a template on Sweet Penelope for a magnolia invite, but just the digital file was $50. They would still need to buy paper, envelopes and pay to print them.
I stumbled upon Download & Print via one of the numerous wedding blogs. Basically, this site offers simple invitation templates that you can edit yourself in Word. No need for advanced graphic design programs!
I took Download & Print's Fall Magnolia template, added their information and whipped up an accompanying reception card. See the results below!
A word from the bride herself on the budget breakdown:
Chad and I went to Papersource and spent less than $75 on our envelopes and paper for the invitations. How you ask? We bought a pack of 250 sheets of star dust opal paper for $15! I printed them for free, at work and took them to Kinko's to get cut (less than $20 total). All that's left is postage ($66.00) bringing our total invitation cost to ~ $161 dollars. That's half of what we budgeted, and we budgeted on the super cheap side. I'll momentarily mourn the lack of letterpress, but only as long as it takes me to spend the $140 we saved (which wouldn't have even bought letterpress…) on something else. Thank you so much for a) finding this free little gem b) doing all the work ups to make it perfect. They look so good!
This week, I'm going to highlight a few of the projects that I produced for our good friends Chad and Ashley's wedding this past September in New Orleans. A little programming note:
Tuesday – the invitation
Wednesday – the hair accessories
Thursday – the ties
Friday – the bridal party accessories
But first, a grainy BlackBerry photo of the newlyweds leading the Second Line post reception:
Mere days before Christmas, Ms. Melanie received two job offers. I was over the moon ecstatic for her.
I had always wanted to give her the gift of personalized pencils for her classroom. Given the timing of her employment, I couldn't order pencils to present to her at Christmas. Instead, I recalled this tutorial and created personalized pens.
I did a few things different than the tutorial:
1. I used the dimensions in the tutorial for the paper pieces to create a template in Word. I created text boxes in that size, typed "Ms. Graves" and added backgrounds and colors. That meant I had everything for all the pens on one sheet of paper and personalized!
2. I tried using double sided tape, but it was kind of a fail. So I used a trusty UHU glue stick.
This also ended up being the only Christmas gift actually delivered on Christmas Day since the USPS failed to deliver my package from Virginia on time.
Like last year, my co-workers received a calendar from me as a holiday gift. I tackled the design this year instead of buying from Etsy, since I took both an Adobe class and inherited a MacBook in 2009.
It's a pretty simple design, using two types of Rockwell font. I downloaded the Sketch Rockwell for free online. It added visual interest with no additional labor on my part.
Four months were printed on each page . . .
. . . then cut into fourths.
Since most people were receiving their second Pretty Little Mess calendar this year, I didn't have to make as many covered bull clips. I made the necessary few using some scraps (literally scraps, you know how I do it) of Martha Stewart Crafts paper that was in my stash.
Look how the sketch hash marks match?
The final product.
And in action on my bulletin board at work, shot taken by my new BlackBerry(!!!)
Up next: calendar Pretty Packaging