May 13, 2010 Boston to Madrid 6 p.m.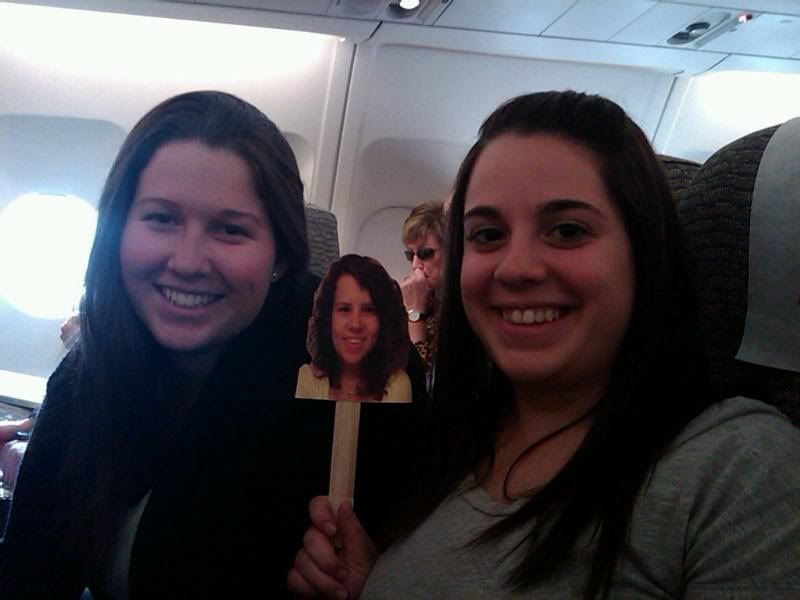 My awesome friends took me Flat Stanley style on their European adventure.
May 14, 2010 D.C. to Boston 7:30 p.m.
There isn't a picture because a photo can not accurately capture sitting on a plane for three hours during a lightning storm and then pushing back from the gate only to have the crew expire their "crew day" while waiting for the flight path to clear. Did you really want to see a picture of me crying (on an empty stomach) as I heard the news? Or would you rather have seen a photo of the line of people from the TWO cancelled flights waiting to be reticketed at the US Airways counter?
Actually, I could have taken a picture of my Glamour magazine I finished reading on the non-flying plane.
May 15, 2010 D.C. to Boston 4:30 p.m.
The earliest U.S. Airways could get me to Boston was 2 p.m. I needed to be there by 11 for a brunch meeting we had. I decided it wasn't worth it to go. I asked for a refund of my flight and called the Boyfriend to say I wasn't coming.
And that's when I learned what it's like to disappoint the Boyfriend, the man who has sat through snow storms, delayed flights, re-routed flights, nights in airport hotels, pricey tickets and early morning wake-ups just to see me.
I felt like shit.
So at 1:30 Saturday afternoon, I bought a last minute ticket to spend 36 hours with the Boyfriend eating Hamburgers on the Harvard campus and touring the JFK museum.
One of the best things I've done during this four year, eleven month long-distance relationship.