Two years ago, Tiffany was a godparent for a young woman joining the Catholic faith. The Catholic Standard ran a photo of her catechuman's baptism with their article on the Archdiocese of Washington Easter events.
This year, The Catholic Standard chose the following photo of myself and my catechuman Aimee to run with the article: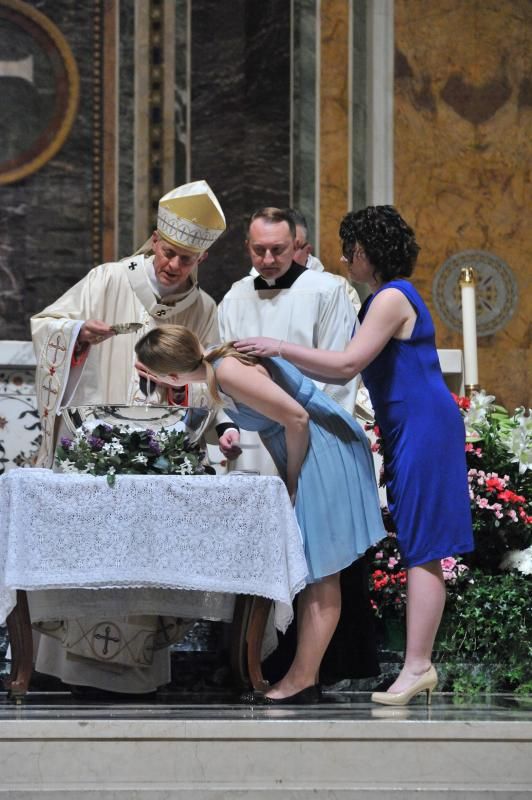 I'm the one in the royal blue holding her hair back so it isn't dunked in the baptismal font.
A little bit about my outfit: So, I've gained some weight. A lot of weight. Enough weight that people are asking when I am due. This, logically, means that a lot of my dresses don't fit. It has gotten stressful. Josh has imposed a "No Fashion Show after Midnight" rule at our house, meaning I can't start trying on clothes and putting together outfits that late in the day. Nothing good happens after midnight, anywhere usually, but especially in my closet.
The dress I am wearing above was $10 from H&M, purchased on a lunch time trip in December. It has ruching in the front, which I think you can kinda see in the photo. I'm wearing a full body Spanx situation underneath, mainly to reduce VPL but also to hold in my new back fat. The heels were debatable until about 15 seconds before we lined up for the vigil procession. A lot of the women switched into cute flats since there was so much standing on the marble altar. I did not have "cute" flats to change into; I had packed everything for the vigil mass with me when I left the house at 10:30 that morning and changed at my office. The only nice shoes I had were the heels. My black walking flats have holes on the sides from said walking.
If I had to wear a $10 dress because it was the only thing in my closet that fit (I wish this was being dramatic, but not really), I was not going to stand three feet from a man who just elected a pope wearing shoes with holes in them.
Aimee, on the other hand, looks completely lovely. Doesn't she?
One Response to A Holy Tradition