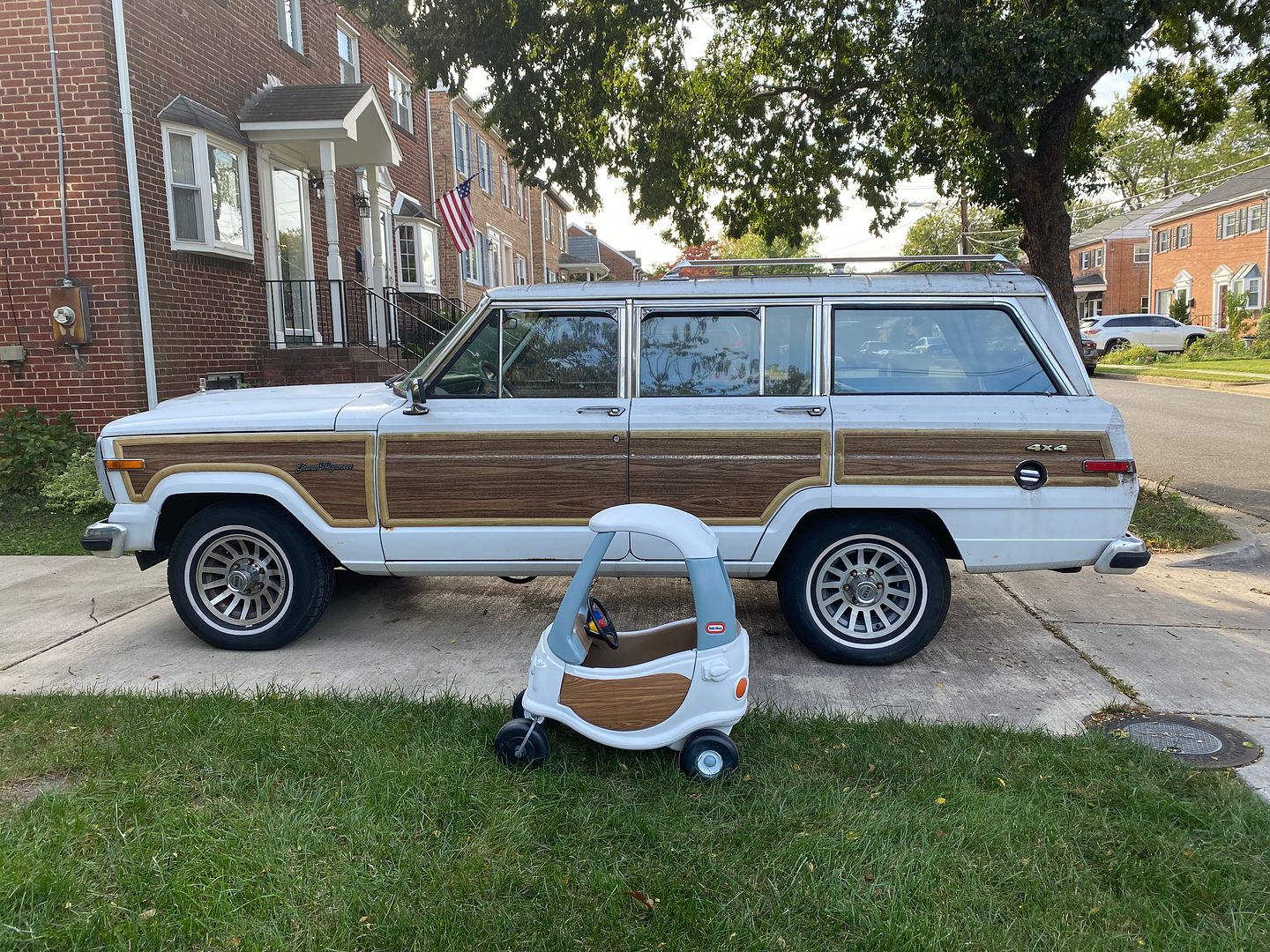 I spent the weekends of September huffing spray paint to create a replica Wagoneer for my favorite 2 year old. This was my gift plan since he turned 1, but I am very bad at time management. I sprung into action to ensure I had proper time for this to off-gas before it was street ready. Give your coupe a solid 7 days to dry before it leaves your dealership lot.
My biggest inspiration for this was Tiffany's sister Natalie who took a well loved pink & blue Cozy Coupe and turned it (unfortunately) into a maroon A&M-obile. I also Googled for additional details. That's why I fired up the WordPress to add my tale to the SEO.
Before anyone makes a joke, this makeover did cost significantly less than buying a restored Wagoneer from the Wagonmaster. I know that is surprising.
Nuggets of Cozy Coupe Makeover Wisdom:
1. Start with an old, used Coupe. The older and  sunfaded it is, the better. If you can find an old pink & blue model, that would be ideal. Little Tikes actually makes a DIY version that comes in white. With the current supply chain issues this is impossible to find. As soon as it is back in stock, I'm buying two.
2. I did not take my Coupe apart because the version I bought secondhand off of NextDoor was assembled with irreversible plastic pins. Some models are screwed together. Investigate your version before you paint. Many online suggest to spray the pieces individually. I had to paint mine assembled and didn't really mind.
3. Car wash. Cleaning a Coupe is a time consuming process. You want every cranny to dry before you start painting. Give yourself time. I did not because I was not born with patience. Mine was dry to the touch when I started spraying. Just be careful!
4. I did very light sanding on the roof and the hubcaps. I did not seal the Coupe with any product.
5. My original plan was to paint everything white and add the wood paneling. This just didn't look right. I chose to paint the seat and dash brown and add the gray/silver accents for the sidebars. More color looks better on a Coupe. Take a note from the original!
6. Remove the weird eyes. They just screw on.
7. I used the bags Old Navy packages my online orders in to tape off the wheels and steering wheel. The most intense taping was for the key on the dashboard, the gas cap, and the headlights/taillights. Using bags as much as possible insured everything stayed protected for the duration of the project and cutdown on taping time.
8. I didn't tape off the white to nutmeg transitions. I used the spray nozzle to control  the line. I felt just like I was tagging public property. For the line from the dashboard to the hood, I did use tape and more of my clear clothing bags to get a more crisp line. This took several attempts.
9. If you don't own a Cricut, Etsy is a great place to turn for the personalized details like the license plate. You can also get decals if you were turning this into a Batmobile or other well known vehicle.
10. The paint will scrap off of the door frame where the little stop button scraps into place. I used 3M Plastic Tape in brown to help protect the door frame longer. I don't believe there is anything you can do for the button losing paint. Take this into your DIY heart and release the fear of judgment from this slight imperfection in a toy that lives outside.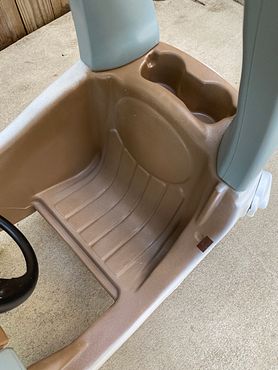 Supplies:
I am not linking because this blog is not monetized and links die. All supplies purchased at The Home Depot and Ace Hardware.
3 cans Rust-Oleum Painter's Touch 2x Primer in White (for every surface)
1 can Rust-Oleum Painter's Touch 2x Primer in Gray (for the part that went silver)
2 cans Rust-Oleum Painter's Touch 2x Spray Paint in White semi-gloss
1 can Rust-Oleum Painter's Touch 2x Spray Paint in Nutmeg satin
1 can Rust-Oleum Painter's Touch 2x Spray Paint in Winter Gray gloss (I originally purchased a Aluminum in Metallic finish for the silver parts. It was the only time the paint peeled from the Coupe. I am not sure why this happened. Winter Gray was the only gray my local store had. There are other gray glosses that go less blue if your store has them!)
1 roll Con-Tact Creative Covering Light Oak Wood Grain Self-Adhesive Shelf Liner (smallest roll available)
1 can Gorilla Heavy Duty Super Strength Spray Adhesive (I chose this because it was the only permanent, heavy strength choice at the store. I do not know its longevity.)
Oracal 651 sheets for all details (this is the easiest to find permanent vinyl at Michaels)
Let's look at this beauty from all angles.