On Saturday afternoon, I had time to kill before the Fiancé and I were meeting for my quarterly supply run to Target. I happened to be downtown, on the corner of K and 17th to be exact. I decided to cross the street and stop in at Mervis Diamond where the Fiancé purchased my engagement ring.
The store is fancy; you have to be buzzed in and then you have to be buzzed in again from the lobby. I announced that I didn't have an appointment but was interested in getting my ring cleaned and pricing the matching wedding band*.
The manager lead me to a room and took my ring. I could hear the whirling of the cleaning apparatus. She walked back into the room examining my ring.
"Well, it's clean, but I think we are missing a diamond."
If you don't know what my ring looks like, here is a photo courtesy of Heather Ryan Photography: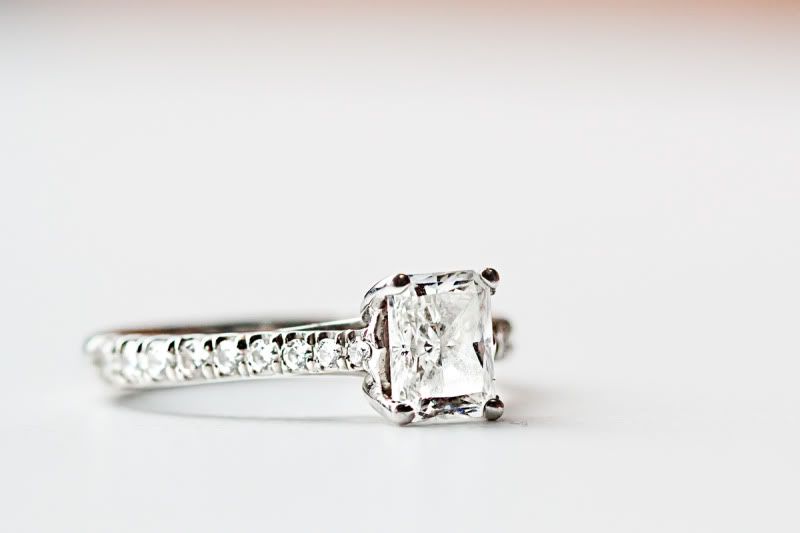 This is a photo of the engagement band from the designer's website, pictured with the matching wedding band and a center stone of a different shape:
Source
The stone that was missing is one of the two little round ones that are on the setting itself. Here's a close-up:

Source
I'm about 95% sure I walked in that day with the stone still in the band. I have heard that these tiny little diamonds fall out easily, especially after being cleaned. But I didn't need to argue that point; Mervis is replacing the stone for free regardless. I could have had it done that day in about three hours, but I didn't want to postpone my Target adventure on account of a silly little diamond. I'm dropping it off today for the repair.
On the very bright side, my ring has never looked so good. It is so sparkly now that my roommate, who didn't know I had my ring cleaned, commented from across the room the other night as I gestured with my hands "Wow! I can see your ring shining in the light from here!"
*Blogger's note: I already have my wedding band from somewhere else, but that is a post for another day.