The following discounts/freebies were e-mailed to my junk e-mail account beginning November 1:
Sephora – free Nars lip product sample with purchase
Tory Burch – $50 credit
Victoria Secret – $10 off
L'Occitane – free gift with $20 purchase
Rent the Runway – $25 off, but only good until the 9th of the month (my birthday is the 18th)
Kiskadee (local shop I like) – $25 off
UPDATE
Additional birthday treats that arrived via the United States Post Office:
Sunglass Hut – $25 off or $50 off a purchase of a certain amount
Fresh – free gift with purchase, but only redeemable in store? (wasn't clear)
But my Anthropologie birthday discount hasn't arrived yet, and that is the one I use every year. My Anthropologie birthday discount NEVER ARRIVED, so I didn't use it this year.
A decade ago today, June 23, Josh and I started dating. To help put that in perspective, these were the top entertainment stories of 2005 according to CNN. To make it seem even further away, these were the songs we were listening to that summer/year:
The one that really got me was that "Bad Day" song. Doesn't that feel like it was an anthem just yesterday? I am sure there are more important historical contexts I could include, but let's not dampen this celebration with anything too serious.
June 23, 2005 was a Thursday and today June 23 is a Tuesday. That night, we went to Whole Foods and watched Rear Window. Today, we are going to see the Nationals play the Braves. Then tomorrow, we hop on a plane for an adventure in Maine. In honor of that adventure, and the number of times I had to say to Josh on June 22 "Why are you packing winter dress pants?" "Why are your critter shorts not packed?" "I need to walk away from you now", I'm posting a picture from our first trip, to San Antonio in July 2005.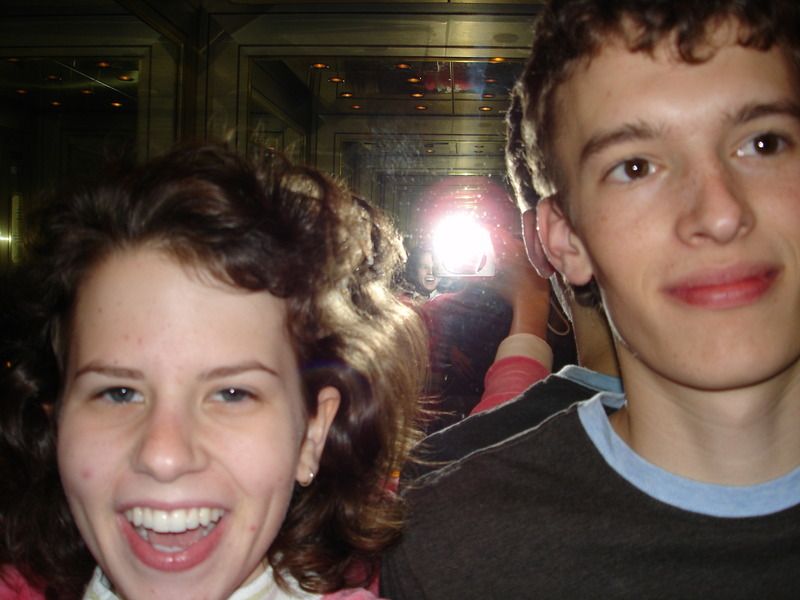 This is from the adventure within an adventure to find a vending machine at a hotel, mentioned in this post. I have on a velour shorts tracksuit from Victoria Secret and have some really horrible blemishes that are uncharacteristic for my normally porcelain skin. Josh purchased that shirt from Express earlier that month, and I pretty sure it is still in his wardrobe now.
This is where it started. In the archives, you can read how we got to today. As to where we are going, you will just have to keep reading to find out!
Confidential to Josh:
Happy Anniversary! I love you muchly.
Setting: kitchen, last night
Scenario: Josh has been working for about 6 weeks on a brief that is due tomorrow, June 12. He worked for about two-three weeks on the draft and has spent four weeks editing it. He has been coming home close to midnight for the last 10 or so working days, but made it home by about 9 last night! We were prepared for this and have been setting our expectations low until noon tomorrow when the brief needs to be at the printer. Then, we will get back to the business of being a functioning adult couple in civilized society.
Josh: I see we are out of dinner plates. Would you like me to run the dishwasher?
Me: *turns to clock and sees it is 10:30pm. I don't like hearing the dishwasher run while trying to fall asleep.* Nah. We'll just eat out of our hands until Sunday. I also don't have any clean underwear! We are making effing due this week, Johnson!
Josh: How's that Duane Reade bag working out for you?
Me: Chaffing. So.much.chaffing.
And when I stopped watching them:
Mad Men, Season 5 Ep 2
Downton Abbey, Season 5 Ep 3
Orange Is The New Black, Season 2 Ep 1
House of Cards, Season 1 Ep 1
But I've watched all of The Newsroom, twice. ¯\_(ツ)_/¯
Setting: bedroom, bedtime
Scenario: We are both in bed, and I have just turned off the bedside lamp.
Me: Ugh, this is the second night this week that I forgot to take my wedding rings off before going to bed! *I reach over to turn the light back on* I need to take them off because if my fingers swell in the middle of the night, you do not have time in the morning . . .
Josh: *interupts* for a little light amputation?
Me: *hysterical laughter*
Things I do when I am avoiding reality:
– Check our/my Capital One 360 savings accounts balances
– Move or plot moving money into said accounts
– Plan an impromptu trip/vacation
– Shop for a Jeep Wagoneer
Setting: our bathroom
Scenario: getting ready for bed, playing music
Josh: What is this?
Me: Two guesses, first guess doesn't count. Just listen and you'll get it.
Josh: *doesn't get it*
Me: It's the new Matt and Kim.
Josh: Ah!
Me: His voice is so distinctive. After this, we are going to listen to the new Alabama Shakes. *Matt and Kim continue to do their peppy dance thing* I don't love them, like I would never buy a whole album. But they are the band that comes up on your Pandora that you don't mind listening to.
Josh: I agree. They are just good enough to not waste a skip on them.
Me: It is like they are sponge worthy.
Josh: That's kinda like the opposite of sponge worthy.
*Matt and Kim ends, Shakes begin*
Josh: Is this the Alabama Shakes?
Me: Listen to the programming notes, Josh! I don't curate this Tiny Desk Concert in the bathroom for anyone else but you!
Josh: NPR loves the Alabama Shakes.
Me: I think they are the worst band that white people like.
Josh: Worse than O.A.R.?
Me: *sincere pause to weigh what he has just said* Yes. Worse than O.A.R. because you know you are getting a bro-gimmick with O.A.R. Alabama Shakes think they are earnest. *shuts off song after 20 seconds*
Kim's dancing in that video is pretty great, tho.
In 2014, I employed 4 women to help me become a better woman myself. I call them "The Professionals" when speaking of them collectively. Individually, they each have a purpose. I'm going to devote a post to each. This is to 1.) promote them as professionals (duh) so others might seek them for their services, and 2.) remember what this period of growth felt like.
The Professionals are:
The Enabler: My talkie therapist
The Muscle: My personal trainer
The Practitioner: My acupuncturist
The Dealer: My psychiatrist
My goal is to write one post per week about each, and the hardest to articulate is definitely my relationship with my talkie therapist.
A little background on why I am in need of so much therapy:
I am very hard on myself. I think everyone knows this, but the standard I set for myself in utero (it seems) is at a bar my 5'2″ self can never reach. I hold a lot of anger towards certain elements of my childhood: Dad's Quaker State job loss years, the car accidents, pretty much despising every educator I had at Flower Mound High School, not getting into a better college, getting majorly depressed at UT and always sorta kinda judging all those around me because I thought they were judging me.
Take all that, which exists in my brain, and add the weight gain from Josh's Supreme Court year. Then, sprinkle on top my biological clock wanting to have a baby.
I needed to take charge of all my emotions and find ways to just be. Still working on it, but here are the people who helped.
Self-improvement: it does a body good.
Pour some out for things that left me in 2015:
Emily, my work spouse, to live in Ethiopia
Emily, my personal stylist at the M Street Brooks Brothers, to live with her boyfriend in Portland, OR
Sanam, Josh's hairstylist of almost 4 years, to live with her boyfriend in Wisconsin (these boyfriends are ruining my life . . .)
The Majestic, my favorite restaurant in Old Town, Alexandria
C. Wonder, the best gift store
Centro-matic, the best ever death metal band out of Denton
1. Get LASIK
Or at least go in for the consultation to see if I am a candidate for the procedure. After scratching my cornea in 2014, I would like to wake up every morning without having to poke myself in the eye with contacts to be able to see. But yes, the trade-offs (unable to drive at night, constant dryness) might not be worth it.
2. Lose 10lbs, develop abs
I lost 20 pounds in 2014, but I am still so soft in the middle. Why am I so soft in the middle now?
3. Survive January 2015 at work, then not collapse in February
22 IRS filings due by February 2. And my therapist is taking all of February off for training and travel. *insert panic smiling face emoji*
4. Never mindlessly watch an episode of The Big Bang Theory again
Read a book, you lazy trashbag. (No, we still don't have cable.)
5. Go to London with Josh in October
And maybe Scotland afterwards, if we have time.
6. Teach Alicia how to make an American quilt
I see a stash-busting Amy Karol easy lap quilt in our future. Just for starters!
7. Sell that pile of eBay/consignment store merchandise holding space in the bedroom
Then give the rest to the DAR rummage sale.
8. Finish the classes for my George Washington University certificate program, complete half of my practicum hours, and pick my portfolio project
I have until August 2016 to finish the program. Currently, I have 4 out of 7 classes finished and a smattering of practicum hours. I want to receive my certificate, and 2015 is when the bulk of the work should happen since they suggest you give yourself 6 months to complete your portfolio.
9. No Coke, no cookies during work and evaluate that ice tea with ice cubes habit
I am such a broken record on this. I spent a LOT of 2014 off of the Coca-cola. It's time to stop the (not really an addiction because I don't drink one every day and haven't bought cans to keep at home in the fridge in years) addiction. As for the cookies, did you know that Pret A Manger sells warm chocolate chip cookies? My late-2014 lunch became a Pret half sandwich, chips, ice tea and cookie. That little meal deal rings up at north of $10. THAT IS INSANE, MCMAHON. This has to stop in 2015.
Also, maybe this is why I am so soft in the middle.
10. Buy a Jeep Wagoneer
Beep, beep. Who got keys to the Jeep?
Artwork by the lovely and talented Jeffrey M. Nelson