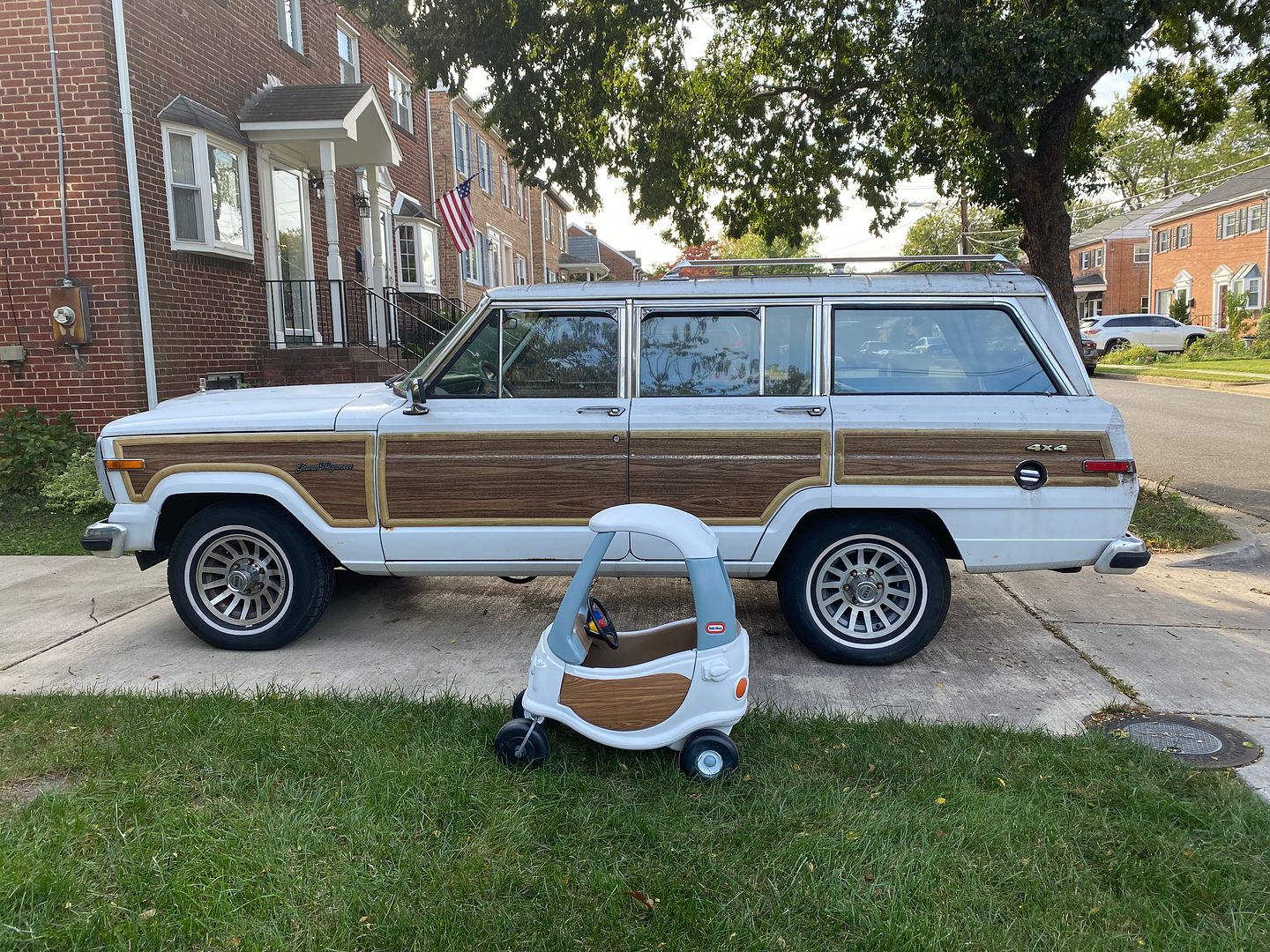 I spent the weekends of September huffing spray paint to create a replica Wagoneer for my favorite 2 year old. This was my gift plan since he turned 1, but I am very bad at time management. I sprung into action to ensure I had proper time for this to off-gas before it was street ready. Give your coupe a solid 7 days to dry before it leaves your dealership lot.
My biggest inspiration for this was Tiffany's sister Natalie who took a well loved pink & blue Cozy Coupe and turned it (unfortunately) into a maroon A&M-obile. I also Googled for additional details. That's why I fired up the WordPress to add my tale to the SEO.
Before anyone makes a joke, this makeover did cost significantly less than buying a restored Wagoneer from the Wagonmaster. I know that is surprising.
Nuggets of Cozy Coupe Makeover Wisdom:
1. Start with an old, used Coupe. The older and  sunfaded it is, the better. If you can find an old pink & blue model, that would be ideal. Little Tikes actually makes a DIY version that comes in white. With the current supply chain issues this is impossible to find. As soon as it is back in stock, I'm buying two.
2. I did not take my Coupe apart because the version I bought secondhand off of NextDoor was assembled with irreversible plastic pins. Some models are screwed together. Investigate your version before you paint. Many online suggest to spray the pieces individually. I had to paint mine assembled and didn't really mind.
3. Car wash. Cleaning a Coupe is a time consuming process. You want every cranny to dry before you start painting. Give yourself time. I did not because I was not born with patience. Mine was dry to the touch when I started spraying. Just be careful!
4. I did very light sanding on the roof and the hubcaps. I did not seal the Coupe with any product.
5. My original plan was to paint everything white and add the wood paneling. This just didn't look right. I chose to paint the seat and dash brown and add the gray/silver accents for the sidebars. More color looks better on a Coupe. Take a note from the original!
6. Remove the weird eyes. They just screw on.
7. I used the bags Old Navy packages my online orders in to tape off the wheels and steering wheel. The most intense taping was for the key on the dashboard, the gas cap, and the headlights/taillights. Using bags as much as possible insured everything stayed protected for the duration of the project and cutdown on taping time.
8. I didn't tape off the white to nutmeg transitions. I used the spray nozzle to control  the line. I felt just like I was tagging public property. For the line from the dashboard to the hood, I did use tape and more of my clear clothing bags to get a more crisp line. This took several attempts.
9. If you don't own a Cricut, Etsy is a great place to turn for the personalized details like the license plate. You can also get decals if you were turning this into a Batmobile or other well known vehicle.
10. The paint will scrap off of the door frame where the little stop button scraps into place. I used 3M Plastic Tape in brown to help protect the door frame longer. I don't believe there is anything you can do for the button losing paint. Take this into your DIY heart and release the fear of judgment from this slight imperfection in a toy that lives outside.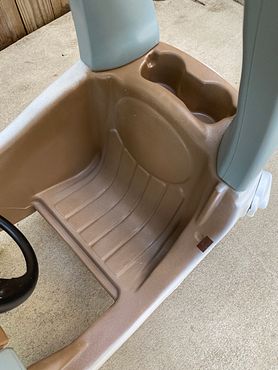 Supplies:
I am not linking because this blog is not monetized and links die. All supplies purchased at The Home Depot and Ace Hardware.
3 cans Rust-Oleum Painter's Touch 2x Primer in White (for every surface)
1 can Rust-Oleum Painter's Touch 2x Primer in Gray (for the part that went silver)
2 cans Rust-Oleum Painter's Touch 2x Spray Paint in White semi-gloss
1 can Rust-Oleum Painter's Touch 2x Spray Paint in Nutmeg satin
1 can Rust-Oleum Painter's Touch 2x Spray Paint in Winter Gray gloss (I originally purchased a Aluminum in Metallic finish for the silver parts. It was the only time the paint peeled from the Coupe. I am not sure why this happened. Winter Gray was the only gray my local store had. There are other gray glosses that go less blue if your store has them!)
1 roll Con-Tact Creative Covering Light Oak Wood Grain Self-Adhesive Shelf Liner (smallest roll available)
1 can Gorilla Heavy Duty Super Strength Spray Adhesive (I chose this because it was the only permanent, heavy strength choice at the store. I do not know its longevity.)
Oracal 651 sheets for all details (this is the easiest to find permanent vinyl at Michaels)
Let's look at this beauty from all angles.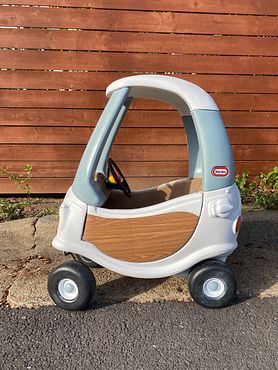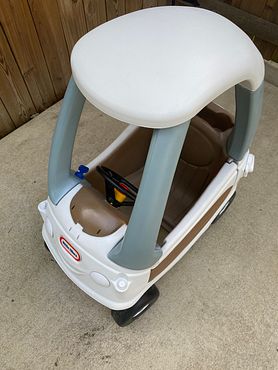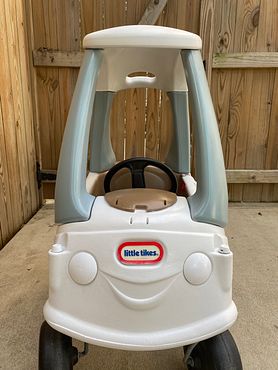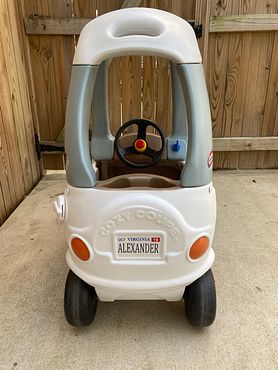 Past-Jillian wrote goals for each year and then did a recap of what she accomplished. I haven't done it since I stopped working, but I want to reflect on 2018. 2015-2017 were kinda crazy around here, but every year here is crazy. Josh and I end each year asking how we made it through. I would like to remember the highs of 2018:
1. I cooked every Blue Apron/Hello Fresh box we received save for ONE MEAL
In 2017, I didn't make 14 meals. That is over 3 boxes! I made it my mission to cook dinner. Also, sometimes lunch and lunches that could become dinners.
2. Got on an airplane and went to Europe (twice!)
It has to be mentioned we were to have a one week Canadian adventure that Delta couldn't get us to. Always a little low with the high.
3. Bought a car made this Millennium
Owning a 2000 Volvo station wagon was very on brand for me, so we kept pouring money into it. It had less than 85,000 miles on it! This new car has headlights that illuminate the road (did you know they help you see at night?), SiriusXM radio that has many stations that play my 70s favorites and Josh's indie college rock, built in navigation system, and the list goes on. I loved that 18-year-old Volvo so much, but having a modern car is just kinda amazing.
4. Found a mascara my eyelashes could wear
I found out about "tube" mascaras on the Internet. I have deep-set, close-set eyes. Mascara transfers under my eyes as though I just applied charcoal pencil to my eyelashes. Dear friends have let me know at events when I start rockin' the raccoon; professional makeup artists have wiped my undereyes and started again numerous times for one makeup application. This mascara makes me confident enough to wear mascara during the day. When it naturally starts to wear off, it is easy to sweep clean. Obviously I am panicked Almay will cease production on this product because that is what always happens to women and makeup. Def the patriarchy's fault.
5. Peach milestone, Financial milestone
I didn't lose my sense of superstition in 2018. I just want to let Peach and my bank account know I am proud of them.
Setting: Unpacking Christmas luggage in Virginia
Scenario: Bradley purchased athletic gear from Outdoor Voices as a Christmas gift for me. A great gift because I buy all my athletic gear on sale at J.C. Penney.
Josh: Are you going to wear your Guided By Voices to the gym tomorrow?
Me: How long have you been waiting to say that?
Josh: It just occurred to me.
Setting: Our living room
Scenario: Josh's brother gifted us a Furbo so their mother can see and interact with Peach. I was working on setting it up.
Josh: Peach, now Ms. Linda can talk to you from Texas!
Me: She's "Grandma Linda."
Josh: Oh! I forgot.
Me: Your mom is "Grandma Linda," my mother is "Debbie Sue," and Zendaya is "Meechee."
Setting: Saturday brunch at an outdoor cafe in our neighborhood with Josh and Peach
Scenario: I ask Josh if he will indulge me on a semi-deep dive into an Instagram stranger's finances. My particular questions that I wanted a sounding board revolved around 30-year mortgages and widowhood. This led to a question about how I could continue living if Josh died, financially. Emotionally is another post.
Josh: Would you listen to me? You will be fine for a while, plenty of time to work out a new plan.
Me: My plan needs to be marrying again to have financial security because I have no employment prospects. Look at me! Who is going to swipe for this used meat carcass on Tinder?
Josh: *quietly, not looking at me in the eye, and with a slight head shake* You might want to work on your branding.
Scenario: Josh and I were discussing the delicacies of the social contract when dealing with inequalities in the economy.
Me: If another person brings up [redacted], I will summon the ghost of Frederick Roosevelt on their ass.
Josh: That is an interesting way of pronouncing his [Franklin Roosevelt] name.
Me: Darn it! Frederick Douglass has been in the news, and I just combined the two!
Scenario: Discussing Peach's first birthday
Me: I didn't put contact info on the card for the RSVP, but I assume everyone knows how to contact me. Can you think of anyone we invited who can't reach either of us? Everyone knows how to reach me, right?
Josh: They'll just hit you on your burner.
Me: This is why I married you.
Scenario: Josh received his Bonus Jonas from work, and we were discussing a Fun Thing to purchase with the funds.
Josh: I would like to look into buying a new laptop.
Me: Ok! Go to the Apple store?
Josh: Well, I was thinking we could just get a PC.
Me: A PC? What brand?
Josh: Dell? Dell's the best supposedly.
Me: I think that is because they are all that is left. Name another PC brand.
Josh: HP?
Me: Didn't Dell buy them?
Josh: Acer? Chromebook?
Me: *laughing* A Chromebook doesn't have all the laptop functions.
Josh: I don't know!
Me: Alienware*
Josh: Hey! They are still around!
ACTUALLY, Alienware was purchased by Dell. HP is still standing strong alone.
*Josh had an Alienware computer when we first started dating, and that thing was a beast. But Josh was the envy of all the gamer nerds he encountered.
Jenny Lewis and the Watson Twins with M. Ward opening and Jimmy Buffett appearing
Mitski
Band of Horses
Was it the quality of the touring musical acts or the quantity of mortgage debt we took on in 2016? You decide.
Honorable mentions: We had tickets for a double-header at the 9:30 Club in May to see Titus Andronicus and then Parquet Courts. That is two separate shows, one the early and one the late. ON A THURSDAY! Then Josh had to go to New York for a hearing the next day. This meant he couldn't be club bopping in DC until midnight and still make it to court on time. It was quite a bummer when I had to tell him about the scheduling conflict. Also, we had to eat the tickets because reselling tickets in DC has become impossible. We were even willing to give them away for free!
A continuation from last year's post.
Vistaprint order: 250 for $28.24
2016 Forever stamp rate: $0.47
Professional photo: $200
A retired gentleman in our neighborhood advertised his photography services in the listserv. I was already interested in hiring a professional to carry out my Christmas card vision so I booked a date in October for a session. He was a character and not in a charming way that one could find endearing. He pulled up in his Cadillac and parked it on the wrong side of the street. He then sat in a Redskins camping chair and shot from a seated, relaxed position in our driveway. He called Peach "Pear" and told stories that eventually rambled into him being in the room when the Allman Brothers wrote "Jessica".
Yellow House: $801,000
When we sat down at the realtors' table on March 13 to write an offer for this house, I wrote the offer for $790,000, which was exactly $100 more than the asking price of $789,900. Our realtor looked at the paperwork and said "You aren't going to get this house for that; you need to offer more." I was obstinate. The Yellow house was already $150,000 more than the last house we put an offer on (and lost). I was NOT pleased with giving a penny over $790,000. I told everyone in the room to be quiet (this included Josh and the other half of our realtor team) as a new offer sheet was presented to me for a revised offer. I wrote $801,000, we went to dinner across the street and decided if we didn't win this bid we would take a break from looking for houses. We had only been looking for exactly one month and saw about a dozen houses, most of which were absolute dogs. EXPENSIVE dogs, without garages or just one bathroom for three stories of house. But a very nice family agreed to give us the Yellow House for $801,000.
1990 Jeep Grand Wagoneer: $64.63
The Wagoneer broke down on I-495 a Saturday night in June with me alone at the wheel. AAA towed us out to my mechanic in Chantilly where Josh and Peach arrived in the Volvo. It was one of the most comforting sights I have ever seen in my life: my husband dressed in a madras shirt walking my tiny puppy around the vacant mechanic lot. The automotive diagnosis was that I was out of gas, which is possible since I don't have a working fuel gage. That Tuesday, the Family Nguyen was taking a sick day to help Baby Jane recover from an illness. Tiffany generously drove me to pick up the Wagoneer, and then we all went to get Italian food. Peach hung out at the Nguyen's house while we ate subs. When we piled into the car to drive back home, it did not go well. It all broke in half, actually. The Wagoneer died again, as I was trying to turn it around to head back to the Nguyen's driveway. After two hours, two policeman and a really sour interaction with a neighbor of T's, AAA pulled up towing another car. This did not make Tiffany feel optimistic about the situation; everyone, but I, was sure the Wagoneer was being towed back to Chantilly. This is probably when I should mention that Peach was in her carrier in the yard because she soiled herself as a result of FOMO while we were eating mozzarella sticks. That car-toting AAA mechanic sprinkled some gas on the car filter and the Wagoneer turned on. I did not take the Wagoneer back to the mechanic so the summer total for Wagoneer maintenance was the cost of the empty tank diagnosis, after the use of my $50 Mother's Day mechanic-provided coupon.
Editor's note: the Wagoneer is currently sitting in the driveway with a flat tire.
Cavapoo: $595
Cavapoo knee surgery: $3,637
Luxating patellas are very common in small dogs, especially cavalier spaniels. Peach's loose knee was noted at her very first vet appointment 18 hours after she arrived home. By the end of July, she needed surgery. Usually this is a procedure performed on older dog, at least a year. She had barely turned 5 months when we dropped her off for surgery. She did well, mainly because she was a puppy who didn't really notice she was injured or limited by her cast. She has healed very well, but yes Dad and Mum, now I understand why we never had a dog as children. *flying money emoji*
Bat removal: $995
The Friday night of Memorial Day Weekend, a bat flew around our bedroom ceiling. That lucky bat stayed rent free until August 15, the earliest bats can be removed to protect the bat babies. Our exterminator estimated that 8-12 bats were calling our tiny crawl space of an attic home. The most we ever saw outside the house were three. They all owe us back rent.
Price per card, including postage, for 250 cards: $3,226.50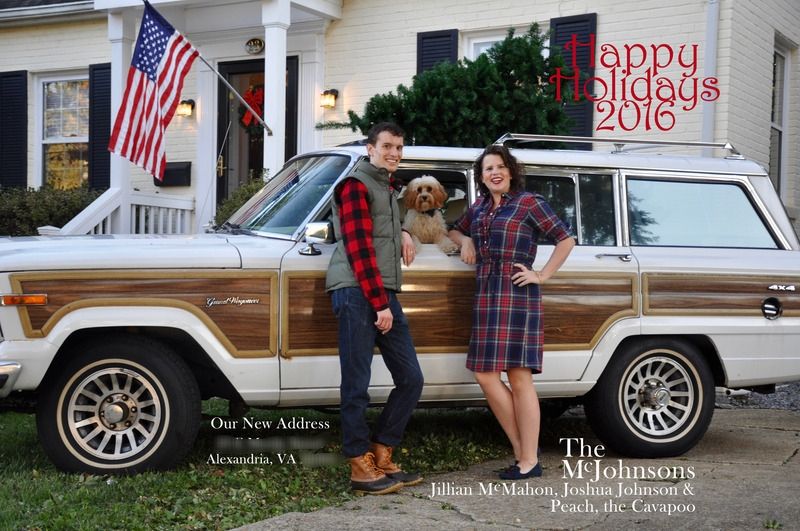 Peach Melba McJohnson
breed Cavapoo (mama: Cavalier King Charles Spaniel, papa: Poodle)
born February 27 (like El Jefe)
in Pennsylvania (like all McMahons of Texas)
adopted May 16, 2016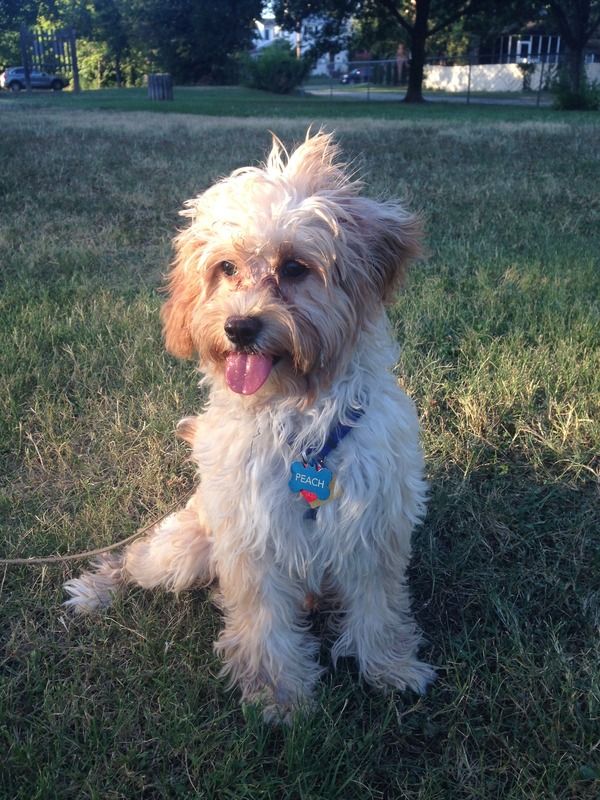 Nicknames:
Peach Melba (usually with an ! at the end)
Ms. Melba
Peachers
Peachy
Peachy Poo
Peach-a-poo
Poo
Poo Bear
Cherry
The next door neighbor, three-year-old Sam, asked his mother one day "Is her name Cherry?" His mother quickly picked up on what he was asking and responded that his neighbor dog is actually named after another fruit, Peach.
Editors Note: I thought everyone knew the title of this post came from Indiana Jones. Our dog is not named Indiana. Will announce her name soon!
Setting: in bed
Scenario: Josh and I don't "chat" in bed after lights are out; that's Josh's sleeping time. But I forgot to discuss the dog names I am kicking around [Newsflash: I bought a dog] and quickly bring up my list before he is sound asleep. I literally had 30 seconds to get this out.
Me: Hey, I consulted some more name lists and here are some ideas:
#1 – [Redacted name that is still on my quirky female human names list that might have to be utilized one day, but wanted to know if Josh could see calling a dog that name]
#2 – [ditto]
#3 – Unity. You know this is still one of my favorite names.
Josh: Was she one of those sisters?
Me: Yes. She was the Mitford sister who befriended Hitler and then tried to blow her brains out at the start of the war and had to be sent back to Britain all hush hush. She really supported Hitler until the end!
Josh: *exhausted* We are not naming our dog after a Nazi sympathizer.
Me: Okay. Fine. I still love that name. What about Decca?
Josh: Your dog name choice is fine. Let's leave it at that.
If you are my friend, and you have fallen in love with someone and decided to be joined in matrimony, I will interject myself and my hot glue gun into the blessed event. You can't stop it, and I won't even apologize for it. This is what comes with a Jillian Sue friendship.
Last April, my dear friend Sarah Tinkler and her longtime beau Timothy O'Reilly decided to get married. Of course, I was ecstatic, but I also knew Sarah would let me railroad her with all my craft ambitions.
The Invitation
This has been my dream forever: design a wedding invitation suite for a friend. Sarah and Tim were married at City Hall on a Friday, but were celebrating with a big family brunch the next day. Sarah wanted to formally invite everyone to the brunch, plus have a tangible keepsake.
Sarah pulled up some watercolor inspiration on an invitation site. I took to my computer and the Internet to figure out how to create the correct effect. Today, one year later, I can tell you I would not be able to recreate the watercolor effect in Photoshop NOR find the tutorial I used to create it. I just wish that Internet browsers had a system for allowing you to collect helpful sites so you can reference them again and again. Wouldn't that be wonderful?
I created the envelope liner with the same watercolor Photoshop technique. Everything was printed at home on my little HP printer. I used leftover cotton cardstock from our wedding programs. That stack of paper has really been a great resource since I over-ordered by about 200 sheets to print 60 programs in 2011. The liner was printed on Paper Source white text weight paper with a textured finish to mimic real watercolor paper. And I know what you are thinking: of course I thought about actually watercolor painting white sheets of paper to create the effect on the liner.  But I figured it would dry wonky to glue into the envelopes.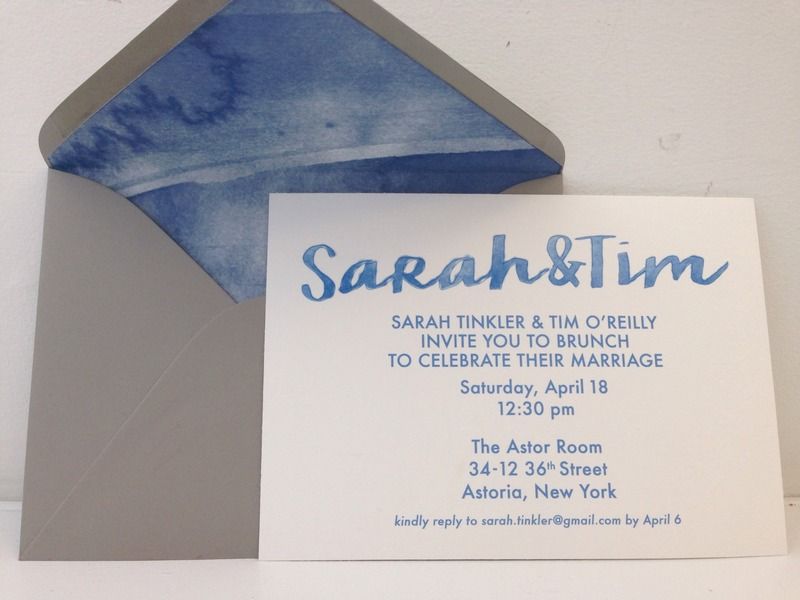 While at Paper Source, I picked up the gravel colored envelopes. I printed Sarah's return address on the back flap and also each mailing address on the front in the same font as the invitation text. Do as I say and not as I do: wedding invitation addresses should aways be handwritten. This one kills me when I see people sending out wedding invitations in envelopes with labels. But! This wasn't a traditional wedding so I printed the addresses directly onto the envelopes. This was tough as my printer liked only every other envelope. I had to print a blank sheet from the printer between envelopes to clean the printer drums. Otherwise, black streaks appeared on the next envelope I printed. Once I figured this out, it was a perfect rhythm.
I am a full service print shop, including postage. I used the Jessica Hische designed Forever postal stamps. Each envelope needed about two and some change stamps, but I wasn't adding metered postage to these beauties. I alternated the red, white, red and white, red, white pattern on each invitation.
I sent Sarah and Tim an invoice for the invitations that Tim complimented as being more professional than some of the vendors he deals with in New York City. I'll be applying for my tax identification number any day now.
Clutch Purse
These purses are my wedding signature. I made Mum, Katie and myself one each for my wedding. Then, five for Tiffany's sister's wedding the next year. The fabric I used for Sarah's was leftover from my wedding, or more accurately, unused from my wedding. This was my wedding color; it matched the ties the guys wore and Katie's dress. But I ended up making Katie and Mum gray purses and lining my own white bag in navy. I have yards of this high quality (read: not purchased at JoAnn's) peachy pink satin still on hand. Luckily, Sarah didn't mind me shopping my fabric stash.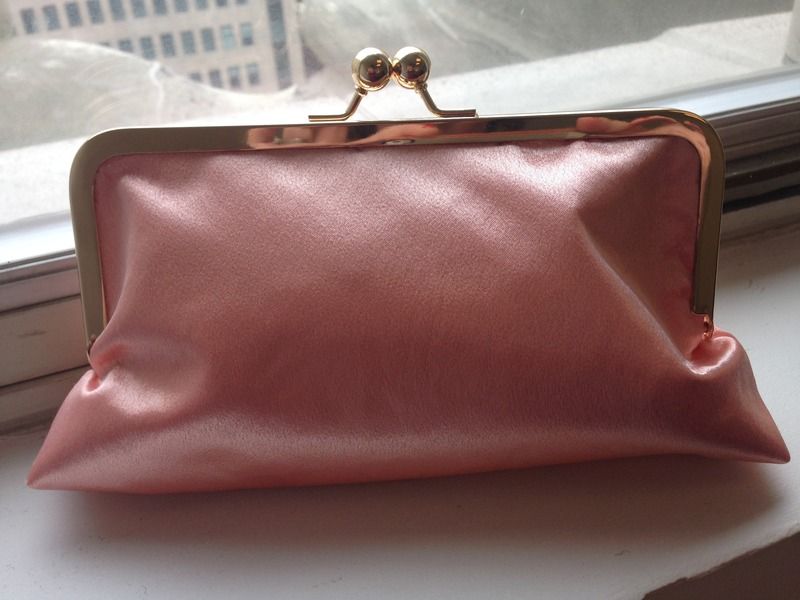 We updated the look for 2015 with gold purse hardware, but lined the bag with gray to keep with the theme.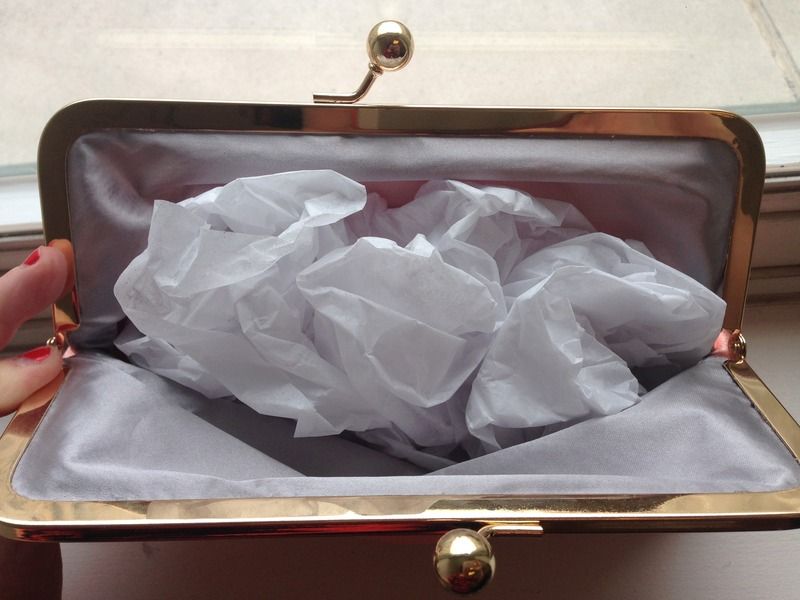 Fauxquet
During my craft research for another project, I found these small pink paper flowers from Paper Mart. I love Paper Mart: they sell things I love to buy, offer no discounts or free shipping, and can't be bothered to update their website past-1998 standards. I ordered three packages of these little flowers for less than $10. I picked up a styrofoam cone at the Dollar Tree for the bouquet base. I took each wire flower and used floral tape to adhere it to a toothpick or bamboo skewer that I cut to size. The domed effect was created by working my way down from tall skewers to smaller toothpicks on the side. I wrapped the styrofoam with green grosgrain ribbon secured with floral pins. Amateur tip: you can't continuously wrap a cone shape with a straight ribbon and have it lay flat. I had to cut little strips, overlap them, and secure them with the pin. This also took a while to figure out.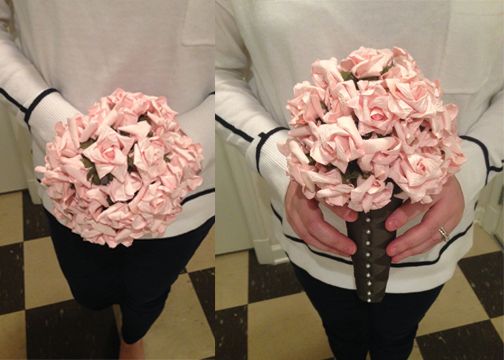 I took a few of the extra flowers and hot glued them onto a pinback for Tim to wear as a boutonniere, which you can see in the photo below. Thanks Paper Mart!
Wedding Announcement
My final wedding paper project was creating a wedding announcement. Sarah wanted to mail these out to friends and family to share the news of their union. Classier than a Facebook post.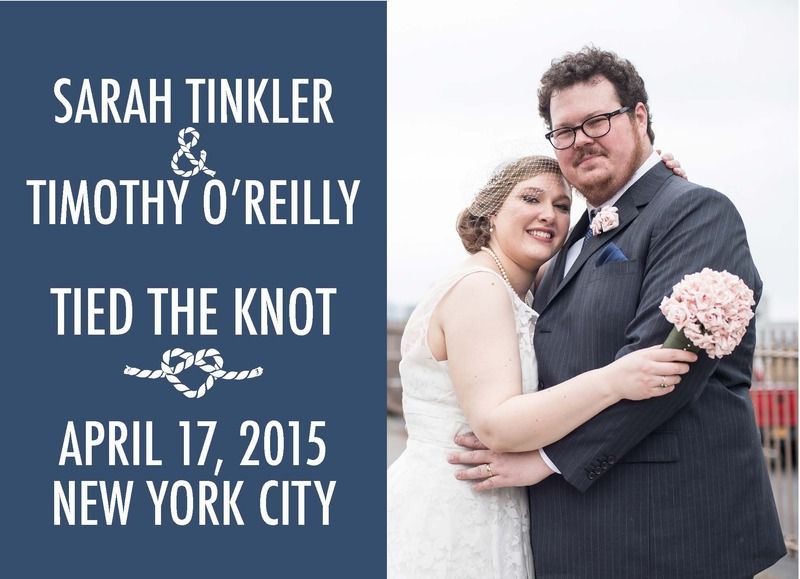 Here is where things got even worse than my printer streaking the envelopes. I could not get the image to size correctly for my design. We all know I have issues with printing resolution. I reached out to the instructor who taught the Photoshop class I took in 2009. He gave me some helpful tips (move this production into InDesign from Photoshop). Once everything was clear, I printed them at Vistaprint (what would I do without them?) as glossy postcards. These were mailed out by Sarah in plain white envelopes. As a finishing touch, I created and had Vistaprint produce coordinating address labels, with the rope "&" used again. This was my first project where I purchased and used vector images. Best part is the images fit perfectly with my personal brand.
In the grand tradition of me biting off more than I can chew for my friend's weddings, I was very relieved when I uploaded the final announcement design to Vistaprint and did not receive a low resolution error. Fist pumps!
Happy one year anniversary Sarah & Tim! Thank you so much for letting me be a part of your special day! (Like you had any choice!)