PrettyLittleMess Product
Goal number 4
here
 was to have an original craft project featured on a blog.
My cousin Michelle married this past Columbus Day weekend in Western Pennsylvania. Unfortunately, again, I couldn't make the event because the Boyfriend was coming to D.C. that weekend. We actually made those plans sometime in May.
My cousin Michelle was a high school senior the year I was born and would skip school to come out to Grammie's house to play with me. I have some very awesome black & white photos of myself as a baby taken on those hooky days. I was then the flower girl in her first wedding, 20 years ago.
I've been wanting to make a swatch portrait since Alicia Paulson did the Purl Bee's project. I added the embroidery aspect after being inspired by ChezSucreChez embroidery hoop art on Etsy.
I did only the first initial of the bride and groom since there was some married name+nickname confusion that made one initial much easier.
The wedding date.
On a separate piece of muslin, I stitched a heart and my signature. An artist must always leave their mark.
The floral stitched piece of fabric was then laid on top of the back of the muslin piece. The two places were then placed into the hoop. This is a 9 inch hoop, which I thought was too big when I purchased it. Now, I wish I had gone larger.
I trimmed the excess fabric as close to the hoop as I could get. There is no adhesive keeping the fabric in the hoop.
I did glue one of my PrettyLittleMess Product fabric labels to the inside bottom of the hoop.
The completed front.
The completed back.
Michelle was so excited to finally receive some of my handmade goodiness that the swatch portrait was hanging on their wall before the ceremony had even taken place!
Up next: as always, the Pretty Packaging
My cousin Amber married last month in Pittsburgh. I was invited to the wedding via my own personal invitation mailed to Virginia! Sadly, I couldn't go because of work obligations.
But of course I sent some of my handmade goodiness to the Keystone state. This project was inspired by a set of linen cocktail napkins I admired at a distinguished couple's house in Austin when Angela and I volunteered at a charity dinner a few years ago. Plus, you know I love a monogram.
I bought a dozen white hemstitch cocktail napkins from this eBay seller. I actually found this seller through Googling "hem stitch napkins" so please don't think that my first stop when shopping for my relatives is eBay. (It's usually the second and last stop.)
Ho, boy did I get what I paid for here! Out of the 12 napkins, 10 were of the same/size shape. I chose to do the design in black, since their wedding invite was black and white. It was the only clue I had on what her "colors" were.
I wove a piece of black embroidery floss through the hem stitch detailing.
Then I freehanded a satin stitched little "P"s for their new married name on one corner.
Up next: the Pretty Packaging!
Melissa's bridal shower was held during lunch on a Thursday afternoon. Below is the top half of the invite, made in Word since that's what my office has to work with. Hence, the quality of this jpeg. My theme was her color of aqua plus red and some hearts.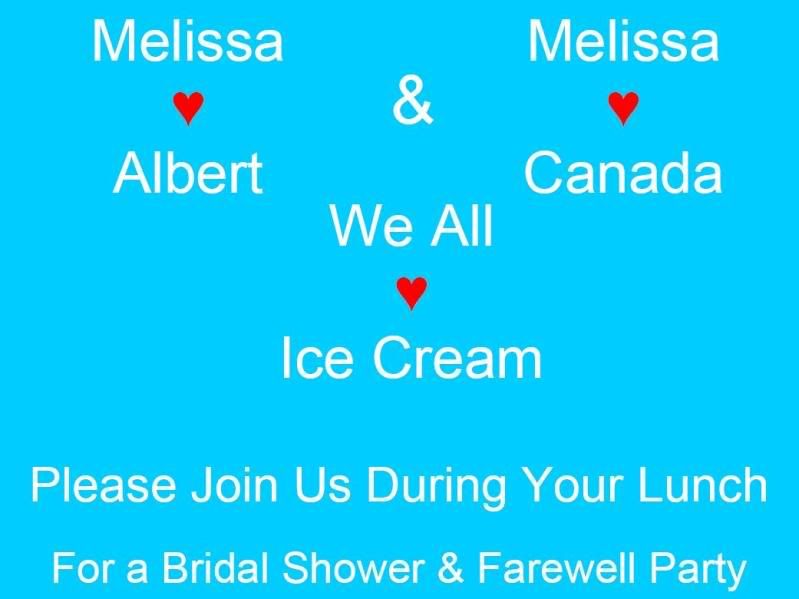 The conference room we used was the smallest in my office, which worked out well. I made two paper pennants, one that spelled out "M + A = ♥". The plus signs were just an outline; I got artsy and it bit me in the butt when we hung them in a window.
The other garland was just blue and red and white patterns strung on blue string. I printed these at work, and then the wonderful Boyfriend helped me assemble.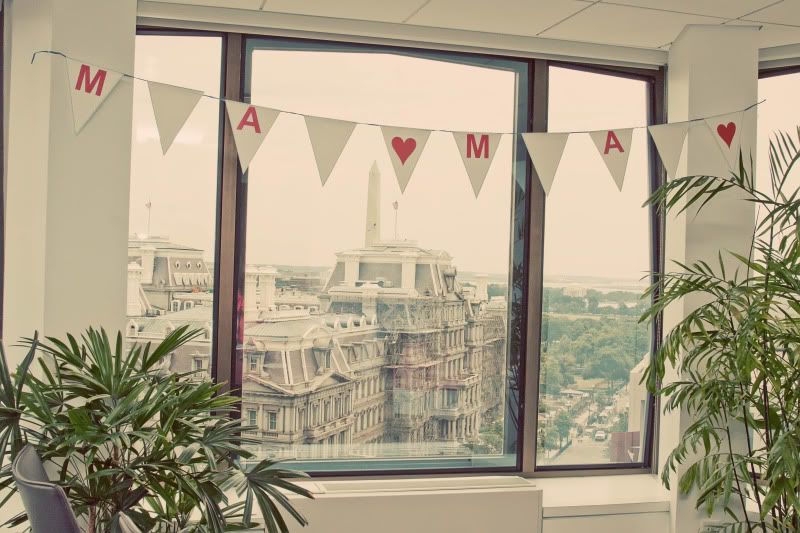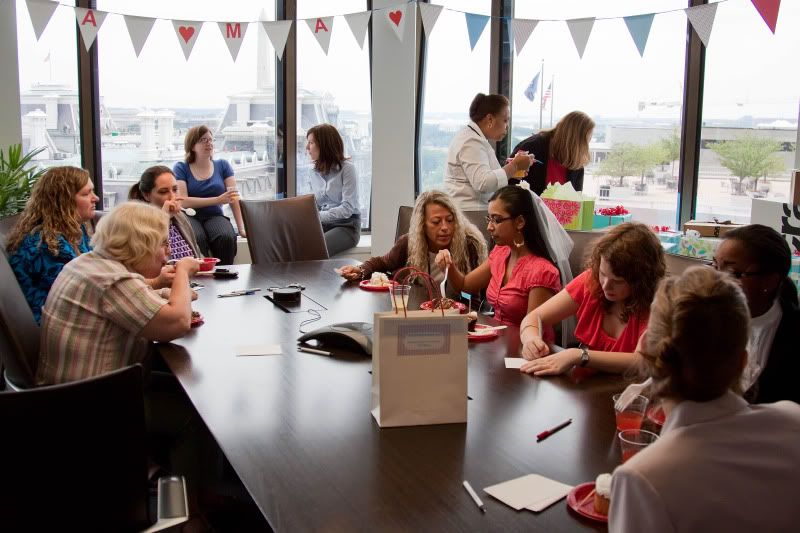 You can see the patterned pennants above as everyone worked on my party game. I designed and printed out cards (see below) that matched my M ♥ A theme in the party colors. I asked everyone to write a helpful hint or piece of advice for either moving or marriage. Then they were to drop the hints in a Anthropologie bag that I made a coordinating label to hide the Anthropologie design.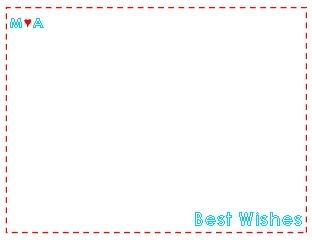 The one element that every bridal shower needs is a veil on the guest of honor. I whipped this up one night as the Boyfriend and my roommate watched a James Bond movie in the living room. I had the tulle scraps (literally scraps) and hair comb in my stash. The flower and pearl accents were from the second boutonniere I purchased for Yale Prom. It was just as ugly as it looks in the picture, so I hacked it apart and gave it a second life.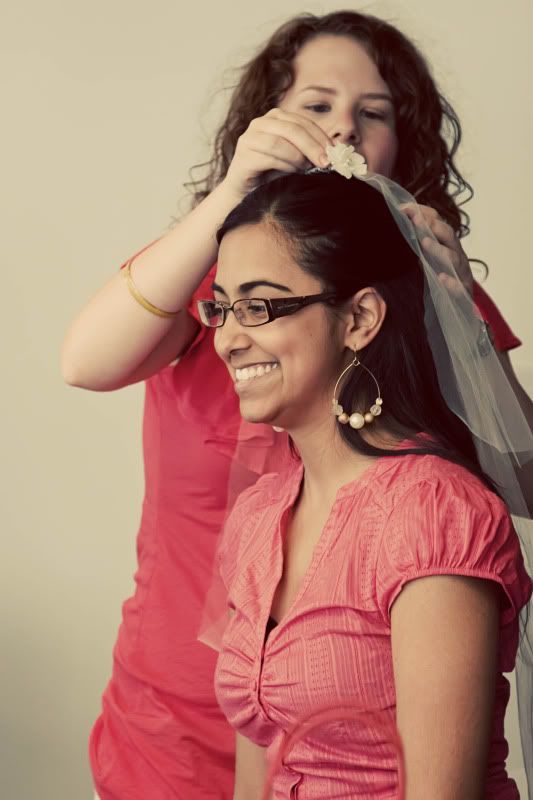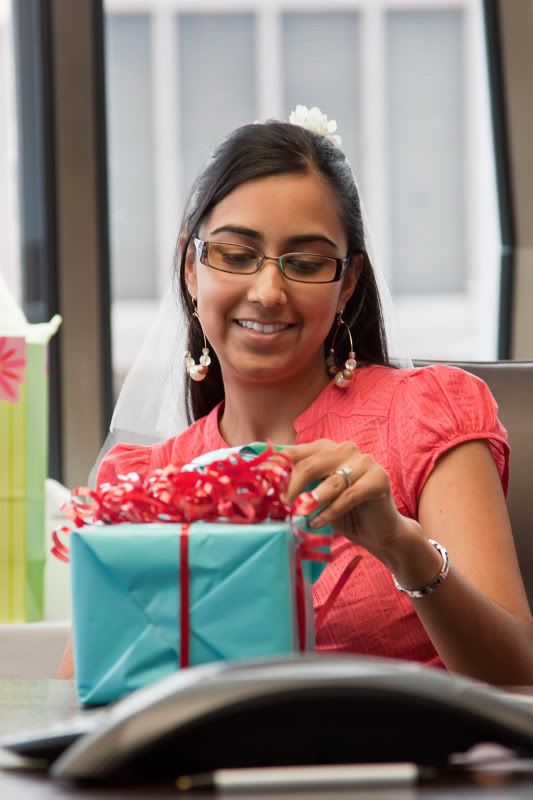 Our party budget was small, so we couldn't order lunch for everyone. Instead we had the GINORMOUS Costco cupcakes and ice cream. These cakes are amazing and delicious. I received compliments about them the next day like I was the baker!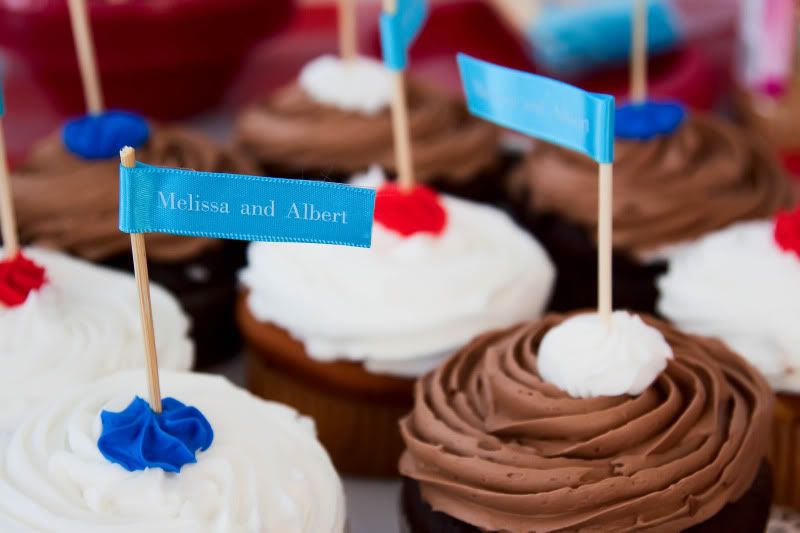 As you can see, the frosting coordinates with my colors. I made the flags from ribbon I purchased (again in the aqua color) from Namemaker. They send me coupons all the time since they make my Prettylittlemess Product labels. The ribbon purchased with a coupon is not as much as you would think (and perhaps I ordered this as a trial run for my own wedding).
I made 40 flags and there were still yards left of the 10 yard spool. Another shout out to the Boyfriend for helping make cupcake flags.
For beverages, I bought Italian soda from World Market and created my own labels using full size sheets of Avery label paper. See the gingham plastic picnic tablecloth peeking out? Just like a summer picnic.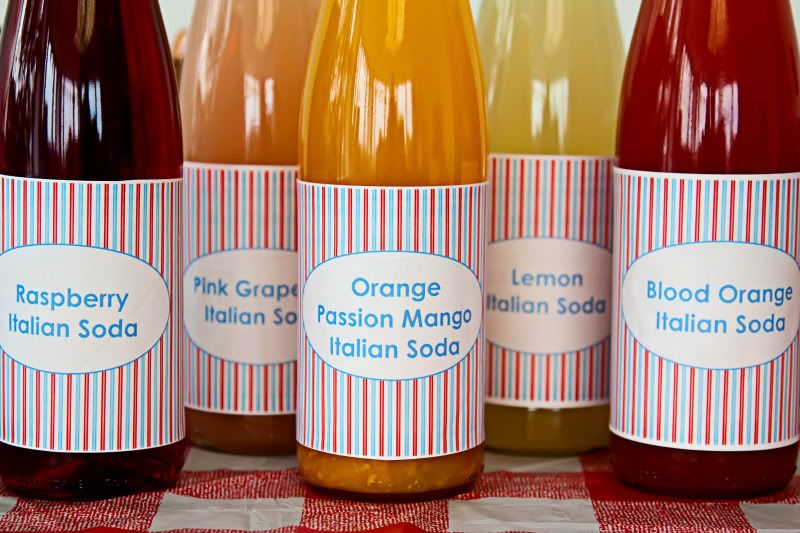 A party isn't a party without a party favor. I designed and made mini matchbook notebooks utilizing the scraps of patterned paper from the pennants. I ordered golf pencils to use as mini writing utensils. The cellophane bags were from an Etsy supply seller, and I created the packaging label.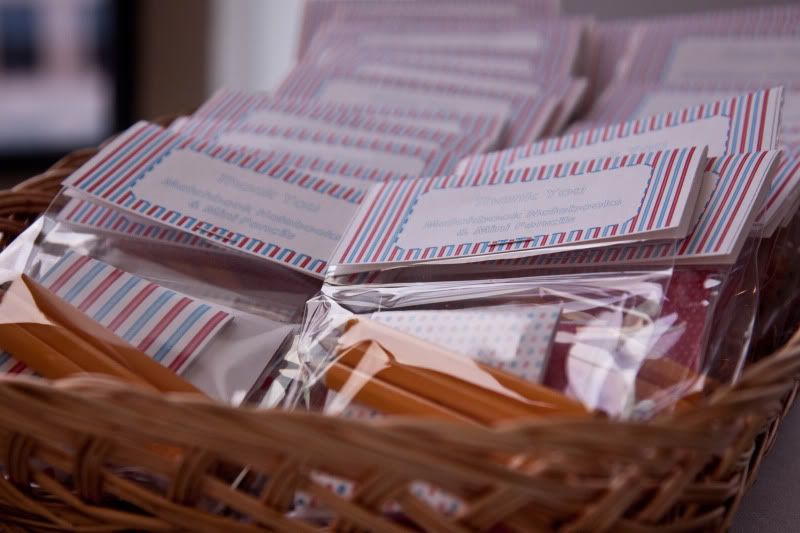 I'm working on posting downloadable patterns for all the paper products I created. And the party photography is courtesy of my new personal event photographer Heather Ryan Photography.
I recently hosted a bridal shower at work for one of my co-workers who is getting married and moving back home to Canada. This is the gift I made for the happy couple.
I started making these embroidered dishtowels last summer, but only had Monday finished. I used the Pleasant Kitchen Dishtowels pattern from Alicia Paulson. Since I am too cheap to buy floursack dishtowels, I took a yard of muslin and cut it into quarters. This determined the size of my towels and the number I could make. Hence, Melissa and Albert only being able to dry their dishes on weekdays.
I transferred the designs from the printouts using a pencil. I chose to do the designs in a variety of embroidery floss colors instead of just black like the original design. If I was going to do all this work, I wanted it to be colorful!
I embroidered Tuesday and Wednesday on the train ride up to the Boyfriend's graduation.
Thursday and Friday were finished on the ride back to D.C..
I backed the towels with this yellow mock linen fabric I had in my stash.
I added little loops out of twill tape so the towels can be hung from a hook in the kitchen.
The requisite Pretty Little Mess Product tag.
Here is Monday stretched out for your viewing pleasure.
A close up of the design while hanging.
Up next: the Pretty Packaging!
When Amanda was married in March, I made another quilt. This was the best of the three I've made so far, and I'm only repeating the compliment Katie gave me. And you know she doesn't just give those out freely.
This may be the best quilt, but it has the worst pictures. It rained the entire weekend before Amanda and Paul's wedding, and the Boyfriend helped me take pictures inside. It actually pains me to post these because this quilt deserved more than the fluorescent lighting in my apartment's kitchen.
The pattern was again from Amy Karol's Bend-the-Rules Sewing.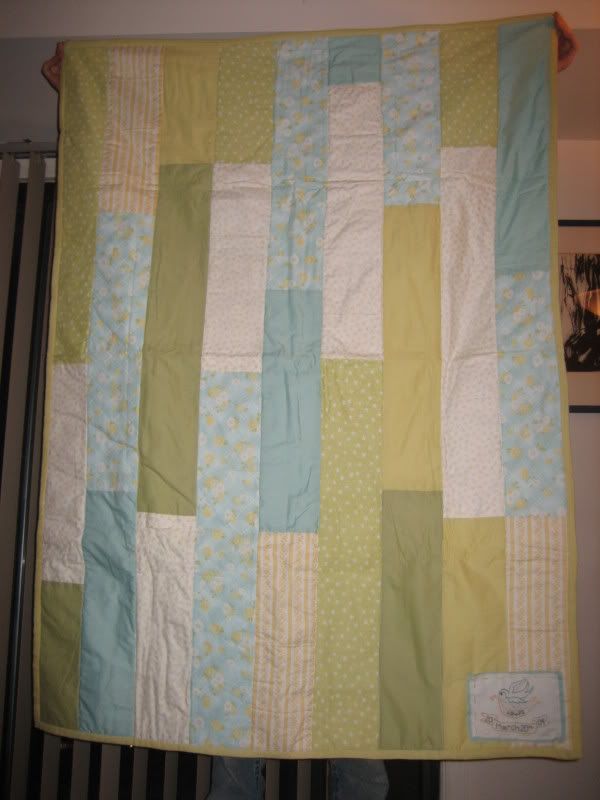 The fabric on the back was bought on super sale at Joann's and hung around for over a year before being made into this quilt. Every last inch of it was used to make this quilt.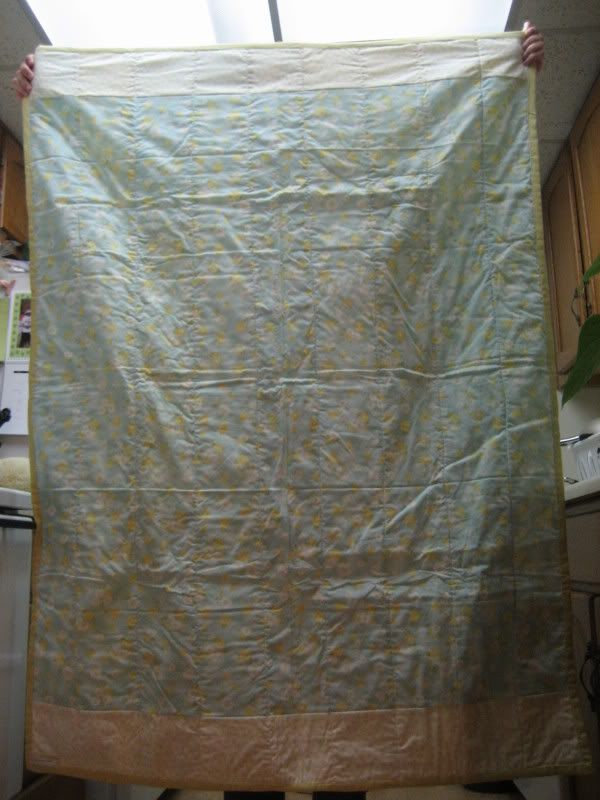 I used this ivory fabric as a border to stretch every last bit of that blue lattice fabric. I kind of hated that pattern, and now I love it in this quilt.
(Hey, ever heard of a macro setting? God I hate these pictures.)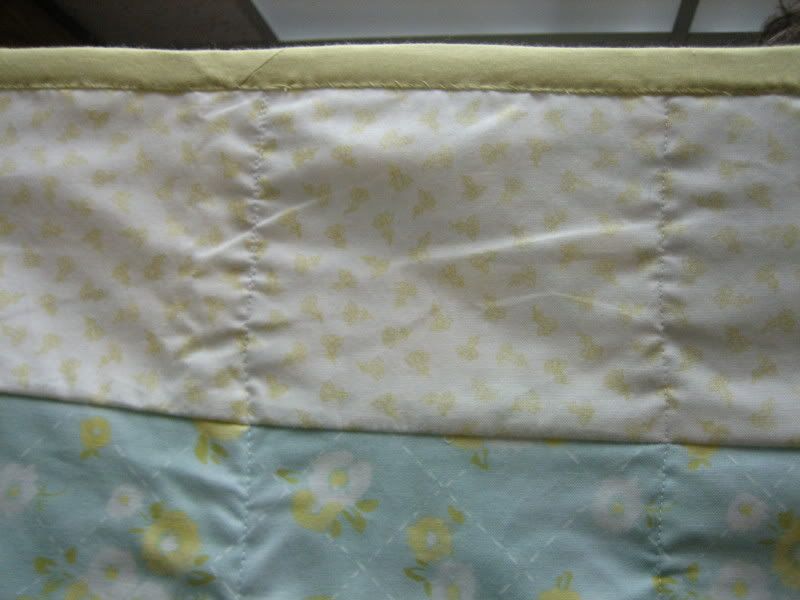 Now comes the fun part! The embroidery of their wedding date! Ignore the faint pencil marks. I think I need to start using a water soluble pen so I'm not desperately erasing on fabric.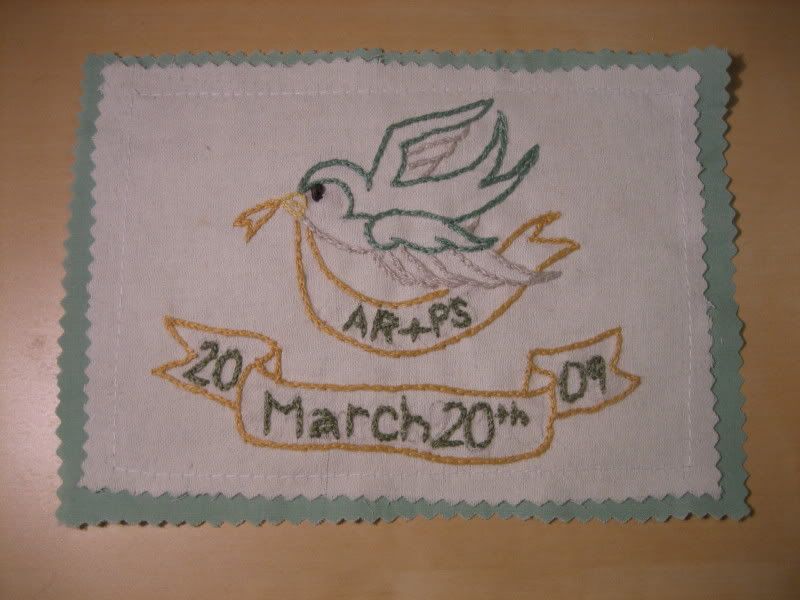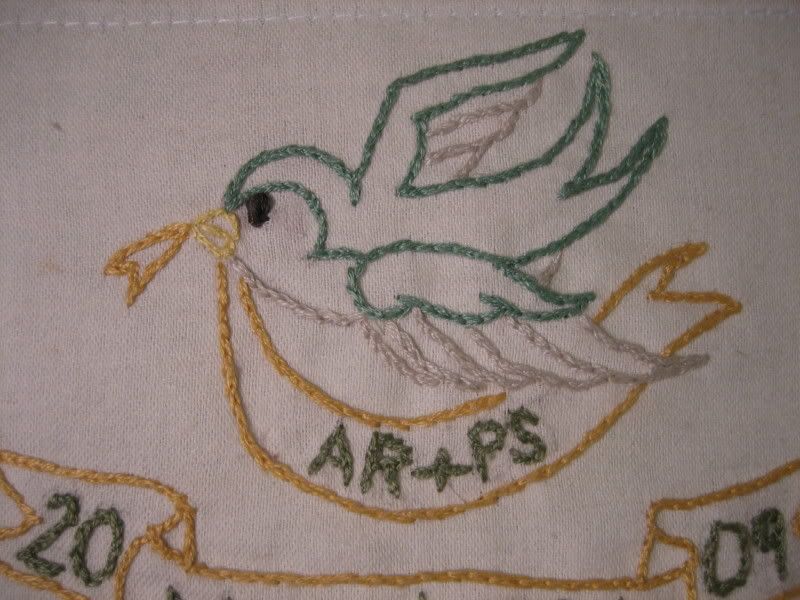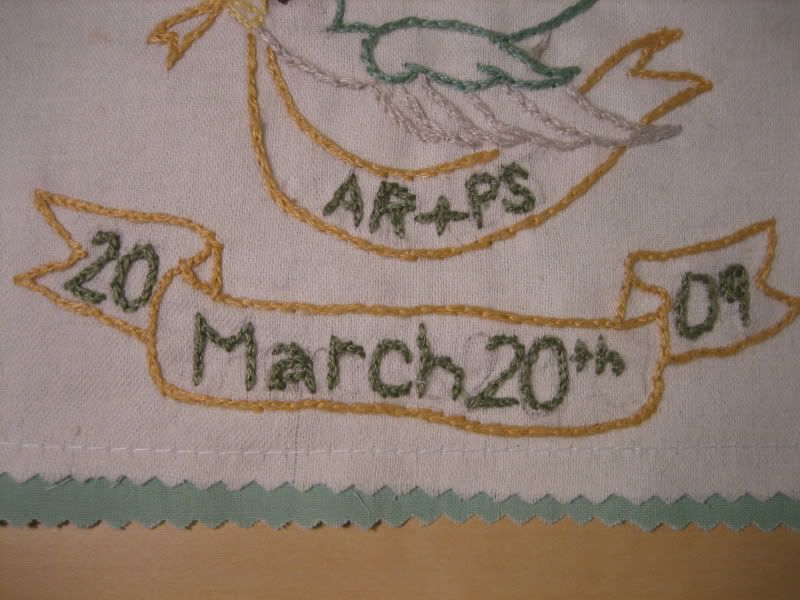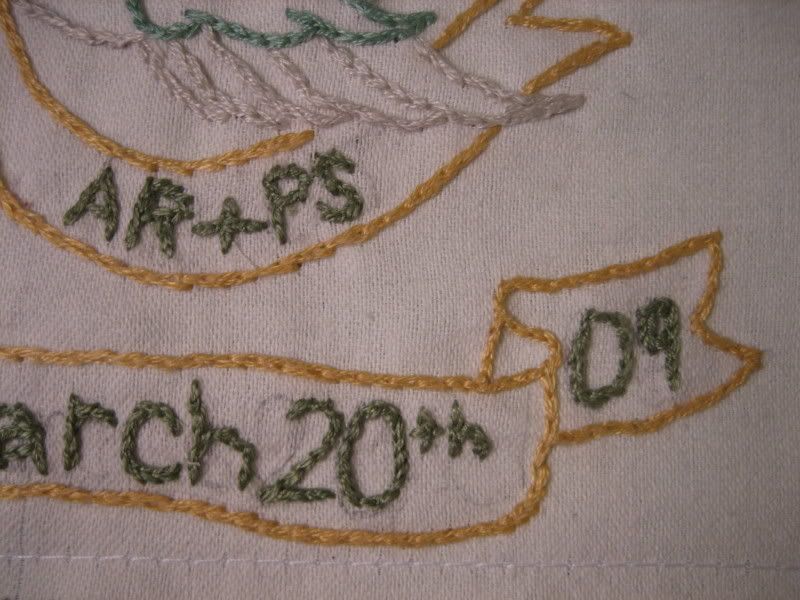 The bride wrote a gushing thank you note saying she ESPECIALLY liked the embroidery.
I was unable to make Amanda's stagette night on Wednesday before she married. But because I would have been right there next to her as she drank her last single gal drinks if I were in town, I sent a little gift along in my stead.
It was a cutie patootie pair of underwear from Victoria Secret. I'm not going to show them here, since I'm a lady, and Amanda is even more of a lady than I am. I had a hard time choosing since Vicky's has a lot of cute spring items right now.
Continuing with "packaging things like they do on the Internet", I made another bag like the one I made for Kathleen and Carter's coasters. This time the fabric was white, and I used a scrap of thin, pink grosgrain ribbon for the drawstring.
The pink tag is something else I had in my stash. I used my stampers and added the "something blue and new" and on the back I added the "to and from" stamp.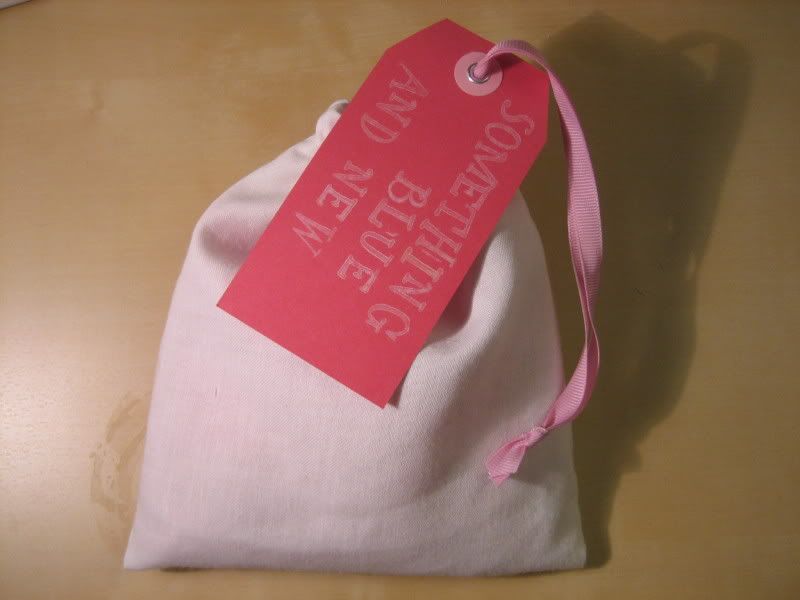 I mailed it to Texas for the Matron of Honor to pass along. I heard that it was a hit.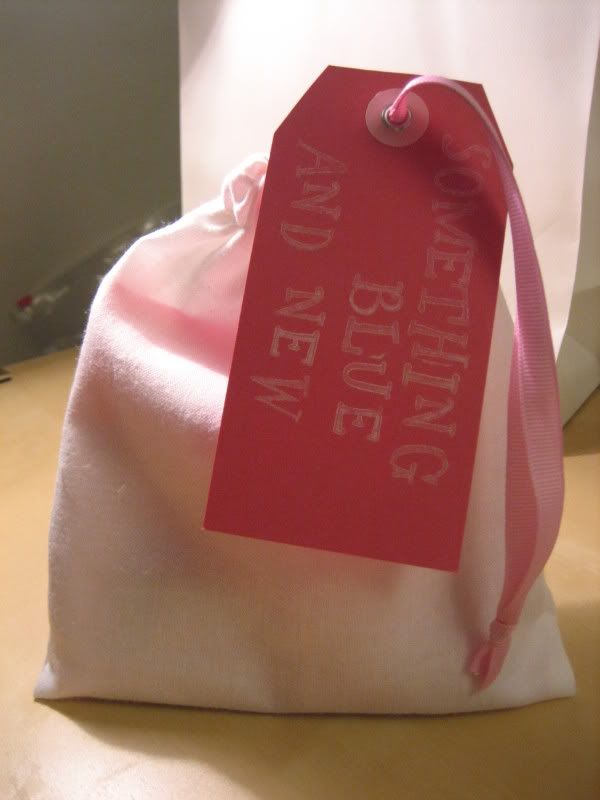 McKatie and my college roommate Leigh Ann's sister Kathleen was married last weekend. I sadly did not get to go to the wedding since I will be coming to Dallas THIS weekend for Amanda's wedding.
McKatie said she was going to give them a tea set, and I had already been planning on making them coasters. So we sort of serendipitously planned a themed gift.
I loosely used the guidelines in Amy Karol's Bend-the-Rules Sewing book: cut eight squares, fold in sides, sandwich, sew.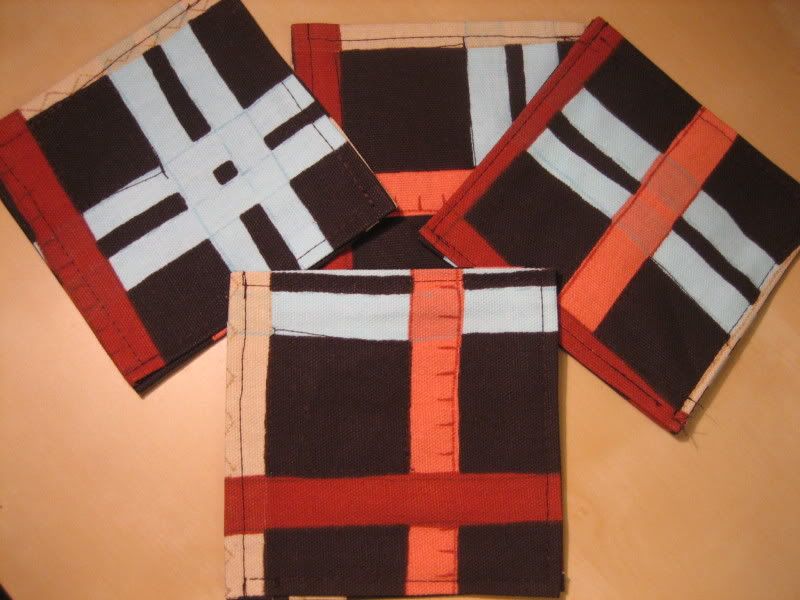 To continue with my new personal challenge, as Katie likes to call it "packaging things like they do on the Internet", I made a belly band to hold the four of them together. I stamped their initials on it and put my Pretty Little Mess tag on the back.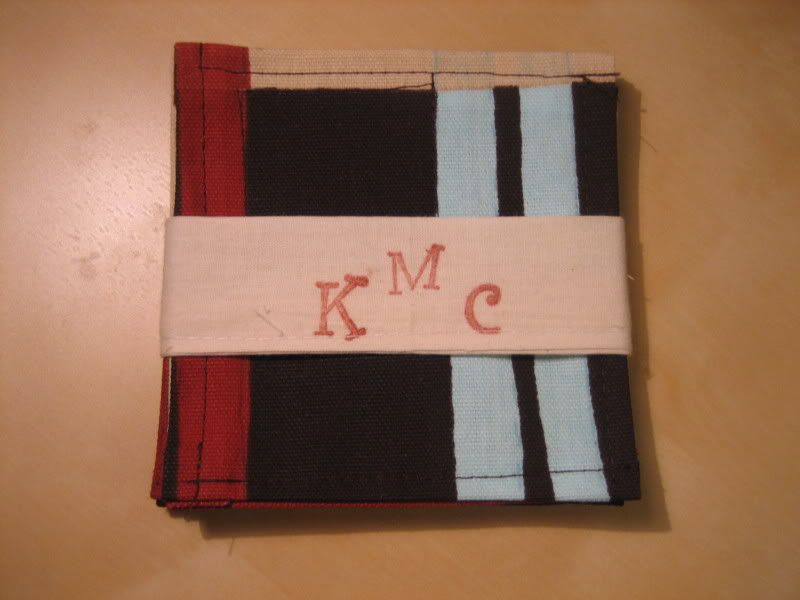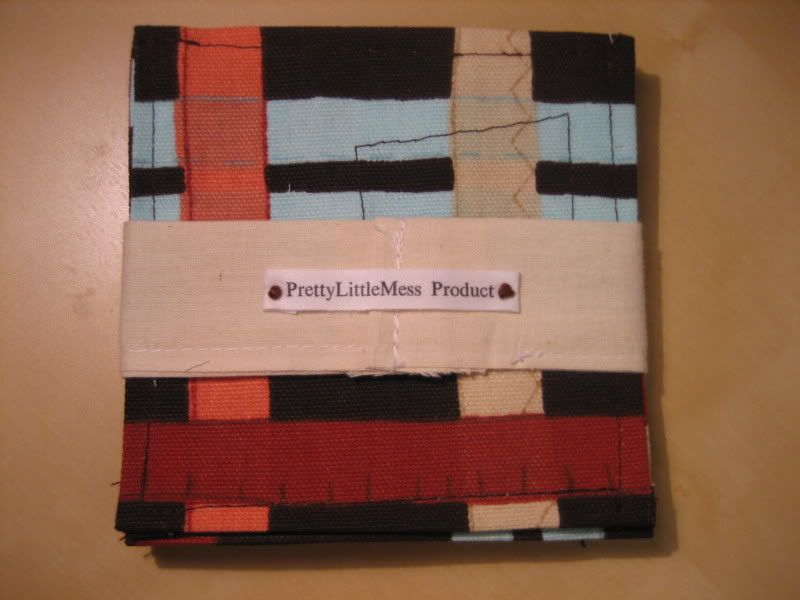 I then made the bag as a sort of "gift wrap" that would allow Katie to look at them before giving them to the bride and groom. I followed Betz White's tutorial on making a bag. I would like to point out that the ribbon I used as the drawstring is actually something I thrifted from a Christmas package. There are no bounds to my crafty cleverness.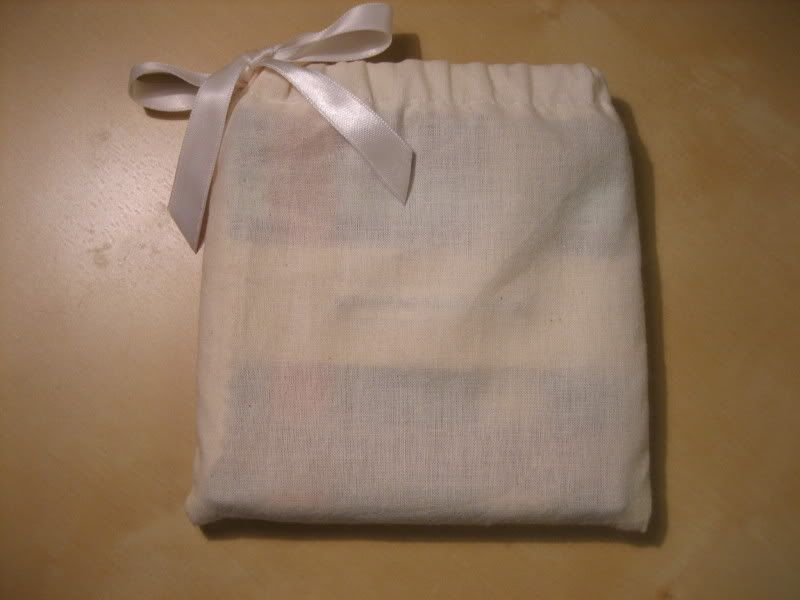 Once again, this gift cost zero dollars. But I think it's something the newlyweds will use. And that to me is most important when gift giving.
One of the attorneys at my office is having a baby. A baby girl in two weeks to be exact. The firm held a baby shower for her that was pretty swank. I may or may not have said as I got a piece of one of the two cakes with yellow storks on them "I should get knocked up so someone throws me a party like this!"
For a gift, "Aught Nine, Save a Dime" met the "Buy Handmade" pledge because I made her a baby kimono. I found the pattern here at the Habitual blog via the CRAFT Magazine blog.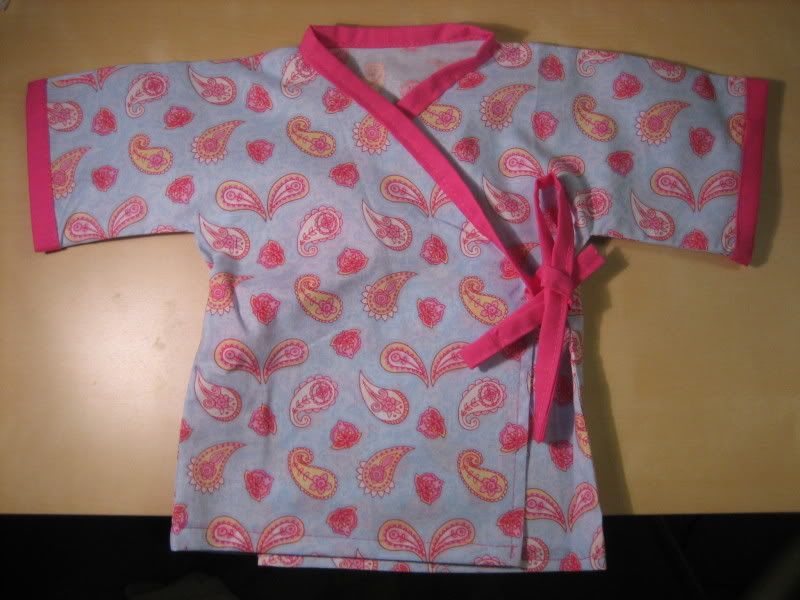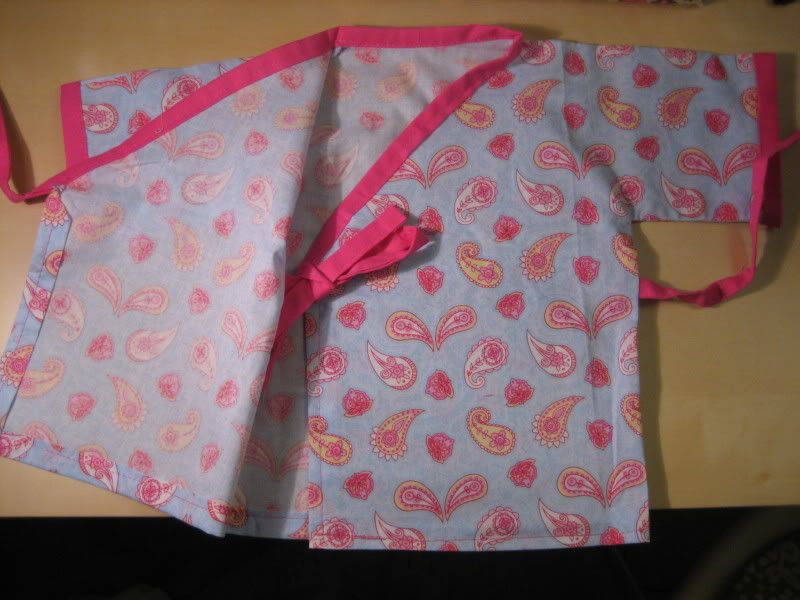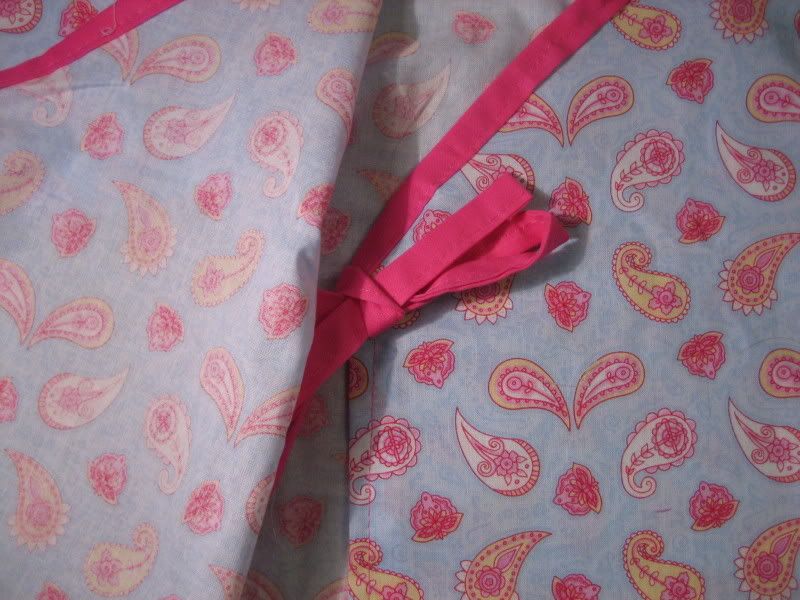 Then for a little something extra, I made a matching headband using the Hooray for Headbands pattern from Heather Bailey.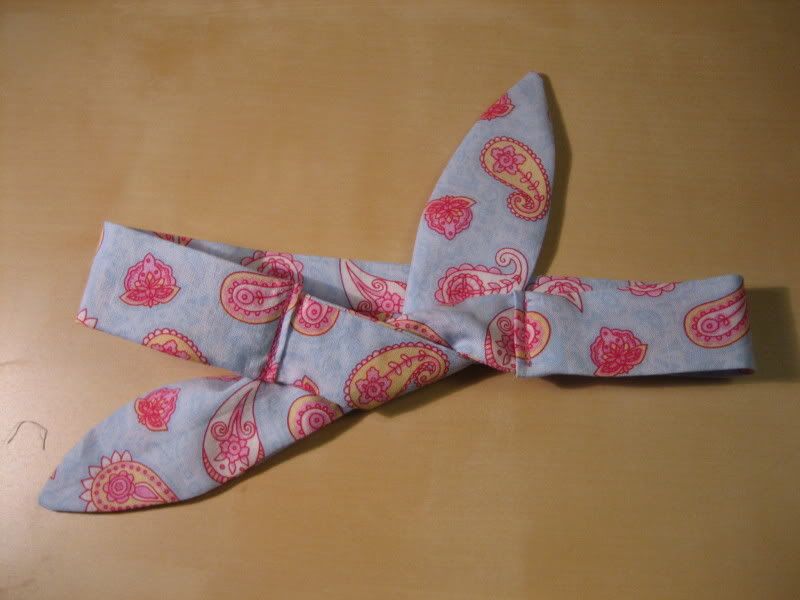 To package the whole thing, I used a box that I had recycled from work. We get our stationery in these slim white boxes. Someone threw one in my trash can, and I quickly said "Wait! That could be used for something!" They responded with "Only you would think of that."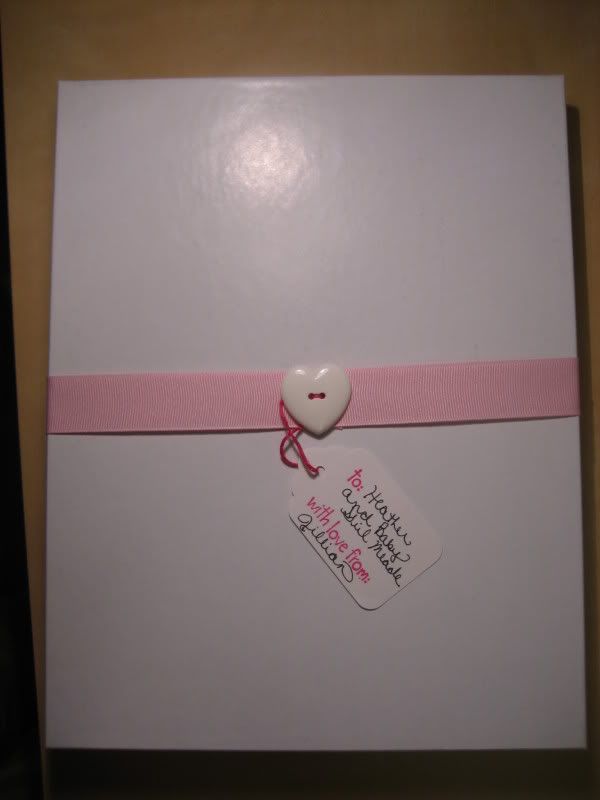 The pink belly band is just a scrap of grosgrain ribbon I had in my stash. The heart was also something I had in my button collection. I sewed the button to the ribbon and slipped it onto the box.
The white tag came from McKatie and my Pretty Little Things Club membership from Jordan Ferney. December's PLT was a package of gift tag supplies, including some of her Stuck Labels. I stamped the plain white tag with my own stamp and added the pink string instead of white.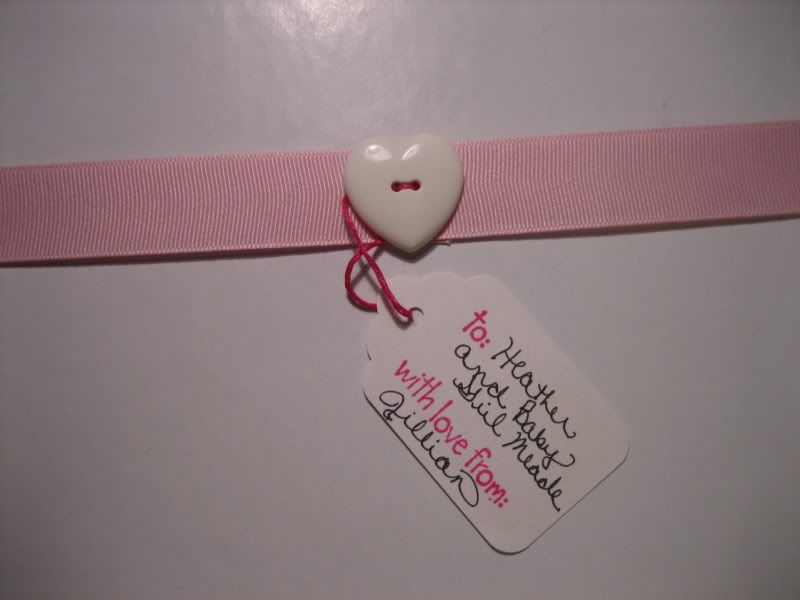 Some of the leftover Valentine's Day tissue paper, and the package was complete.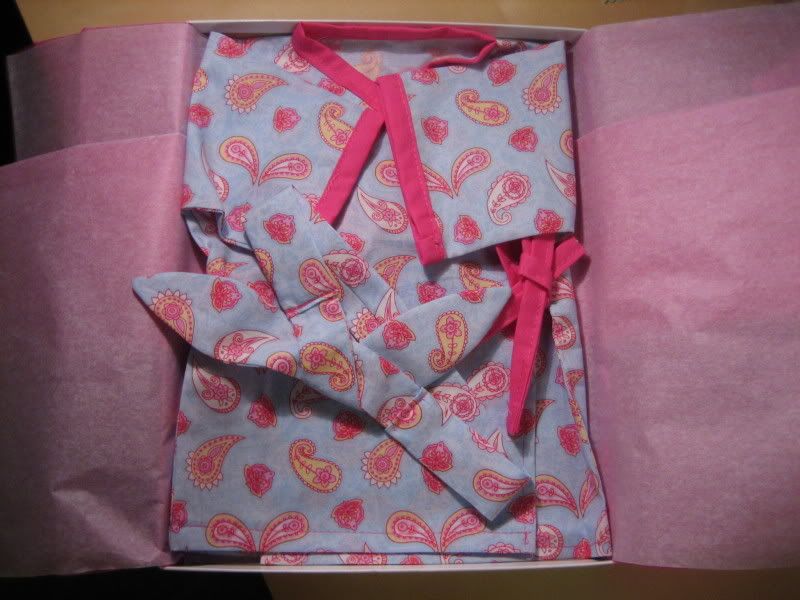 When the Mama-to-be was handed my gift during the gift giving extravaganza (she will not need to buy her child anything for the next year of its life after that one shower), she said "I don't think we are using the talents of our staff fully. Look at this wrapping!"
Later in the day after everyone oooohhh'd and ahhhh'd that I can sew something, one of my co-workers came up to me and said "I've been elected by the firm to tell you to quit it. You MADE SOMETHING. For an attorney you DON'T EVEN WORK FOR!" He was only joking and told the same thing to the girl who made the diaper cake.
But here's the best part: this cost me NOTHING monetarily. Sure, it took some time to make the kimono (one evening), but I had all the supplies on my craft shelf. Sometimes it pays to be a craft supply hoarder.
I'm continuing my two new traditions:
1. handmade gifts
2. quilts as wedding gifts
One of the Boyfriend's oldest friends married this weekend. I made a quilt to celebrate the occasion.
Since you Pretty Little readers don't click over to Flickr to look at my pictures, I created a nifty little slideshow, built into the blog. That way you don't have to go to another website! I know that is hard.
Click to activate. Pictures with notes will display the notes if you move your cursor over the "Notes" button on the bottom right corner. I know they aren't in oder; I didn't pay the Flickr Troll enough to organize my photos as I uploaded or photographed them. Anyone know the solution to this?
Enjoy! Also, if you are getting married in the next calendar year, act surprised when you see your gift!