Goals
Past-Jillian wrote goals for each year and then did a recap of what she accomplished. I haven't done it since I stopped working, but I want to reflect on 2018. 2015-2017 were kinda crazy around here, but every year here is crazy. Josh and I end each year asking how we made it through. I would like to remember the highs of 2018:
1. I cooked every Blue Apron/Hello Fresh box we received save for ONE MEAL
In 2017, I didn't make 14 meals. That is over 3 boxes! I made it my mission to cook dinner. Also, sometimes lunch and lunches that could become dinners.
2. Got on an airplane and went to Europe (twice!)
It has to be mentioned we were to have a one week Canadian adventure that Delta couldn't get us to. Always a little low with the high.
3. Bought a car made this Millennium
Owning a 2000 Volvo station wagon was very on brand for me, so we kept pouring money into it. It had less than 85,000 miles on it! This new car has headlights that illuminate the road (did you know they help you see at night?), SiriusXM radio that has many stations that play my 70s favorites and Josh's indie college rock, built in navigation system, and the list goes on. I loved that 18-year-old Volvo so much, but having a modern car is just kinda amazing.
4. Found a mascara my eyelashes could wear
I found out about "tube" mascaras on the Internet. I have deep-set, close-set eyes. Mascara transfers under my eyes as though I just applied charcoal pencil to my eyelashes. Dear friends have let me know at events when I start rockin' the raccoon; professional makeup artists have wiped my undereyes and started again numerous times for one makeup application. This mascara makes me confident enough to wear mascara during the day. When it naturally starts to wear off, it is easy to sweep clean. Obviously I am panicked Almay will cease production on this product because that is what always happens to women and makeup. Def the patriarchy's fault.
5. Peach milestone, Financial milestone
I didn't lose my sense of superstition in 2018. I just want to let Peach and my bank account know I am proud of them.
I bought a piece of nostalgia: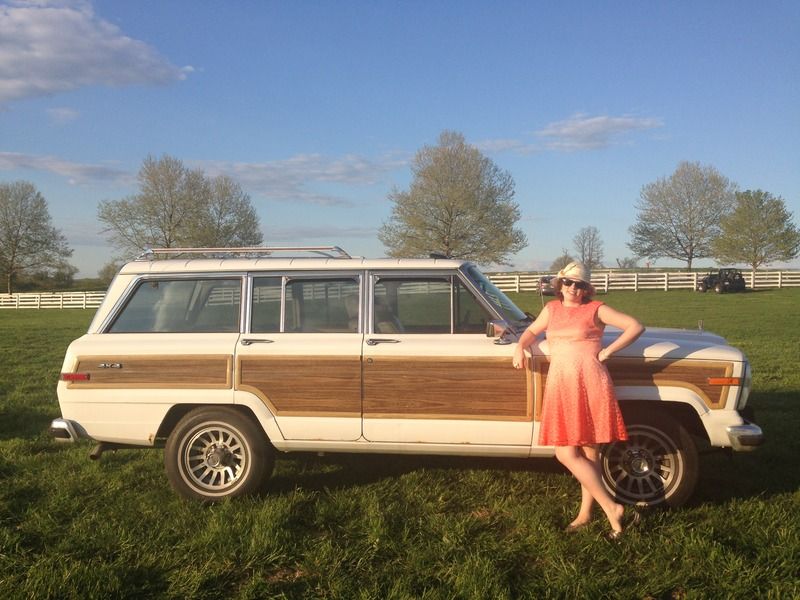 Last fall, we were out to drinks with a co-worker of Josh's and his wife. During a discussion about vehicles, my want of the Wagoneer came up. We showed them photos from last year when we first seriously looked to buy a Wagoneer. The wife asked why I wanted this car.
Why?
Why not?
It was the first time I had to articulate why I wanted to own a late 80s/early 90s 4×4. Josh has always known this to be my "dream car". I always thought everyone had a "dream car" that they would purchase if possible. Sure, theirs might be a newer vintage than my beloved, but cars are an object of desire. Where did my desire come from?
Looking at this car (scroll up! LOOK AT IT!), I first see beauty. It is just a beautiful vehicle. Josh said that I should go down to the garage every morning before work to look at the car just because it makes me so happy. This car looks like a different time, or now, lifestyle. And that is where my desire comes from. When I was a child and this was a new car on the market, I thought "That is the car I will have when I am a grownup." As I child, I made a lot of goals or predictions like this. I wouldn't call myself sentimental, but I am nostalgic. I actually think that a lot of people my age are nostalgic. This explains the popularity of Old Loves and My Parents Were Awesome. There was a line in the last season (or season before last?) of Girls where Hannah says to Elijah something like "All I want to do is go home and Google that one week in the 80s when Glenn Close and Woody Harrelson were a couple." THIS! But instead of petitioning to bring back Crystal Pepsi, I googled for a Jeep Wagoneer.
This car was listed on the Richmond Craigslist but was actually in Sterling, Virginia, right up the road from us. Josh and I looked at it on a Saturday before we had to go to a wedding reception conveniently in the same neighborhood. The color was right (I was more drawn to the white Wagoneers, but was willing to have any color) and the price was right-ish. Of course, there was "someone else" interested in the vehicle, and the original price was reasonable/affordable, so negotiations did not happen. I did the same as last time we bought a car and picked up a money order from the Bank of America down the street from my office. We bought the Volvo in April, and it was April again when the Wagoneer came into our lives.
I didn't know Josh was filming me during our test drive. I thought he snapped some photos and then I went into the zone of focusing on driving a new-to-me-25-year-old car. Later, when viewing the footage, I loved Josh a little more for capturing such an important moment in my life: making the decision to buy this car already!
I want to also thank the following people for their support, in absolutely no particular order:
Alicia Pappas, for riding anywhere and everywhere in the Wagoneer with me and delicately correcting my driving
Jeffery Nelson, for his Photoshop skills
Emilia Gershon, for being unemployed and able to drive out to past-Dulles Virginia and visit the DMV with me
Alan, who I bought the car from, for being that mix of crazy and weird that makes adventures memorable (and for the $200 in cash he gave me once he found out the radio didn't work before the sale)
The lady at the DMV who processed the paperwork in about 4 and half minutes, the entire time musing about what she would get for lunch ("Tuna sandwich")
Kacey, the AAA mechanic who serviced the vehicle when it had its first issues and gently pointed out some of the problems under the hood ("Fixing the exhaust would cost more than the car is worth *beat* I KNOW this is worth a lot sentimentally.")
Dan and Caroline, for being the first backseat passengers who patiently helped find the seatbelts
Tiffany, for once having a dream that Josh would buy the Wagoneer for me (full disclosure: I bought this for myself and only I own it)
As we were getting ready for bed the night I brought the Wagoneer home, I remembered something I had for Josh.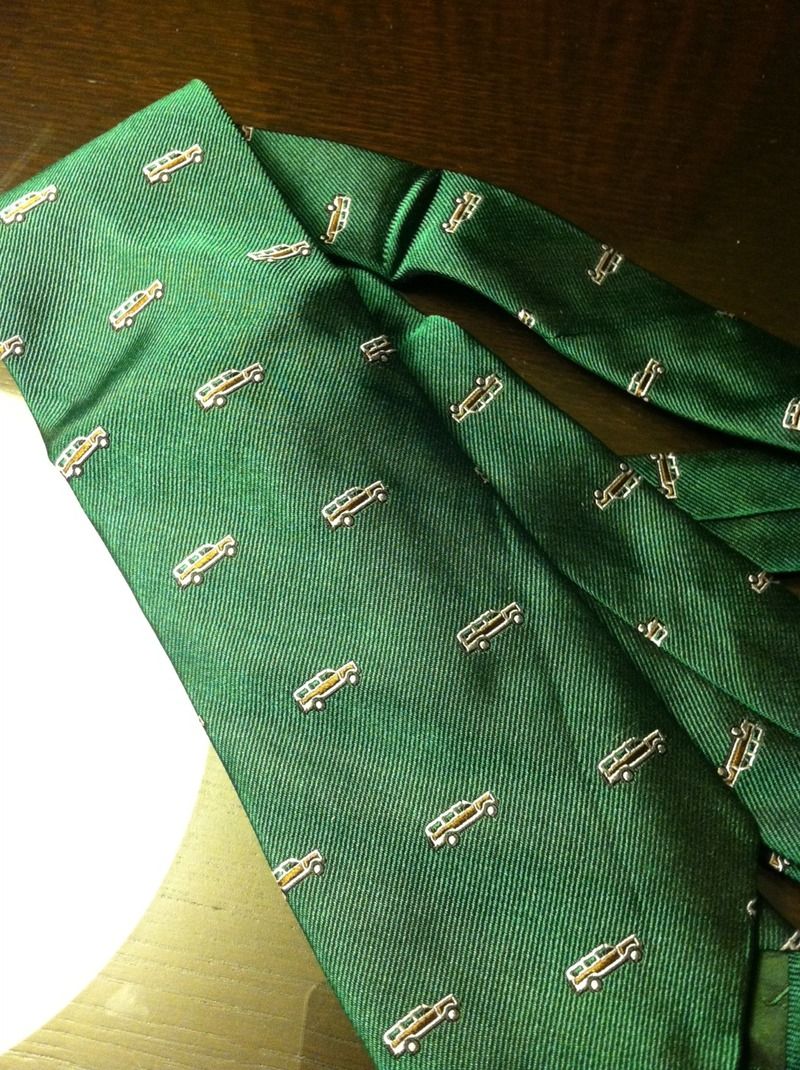 This is a J.Crew tie, that according to the tag, was part of the Holiday 2007 collection. I purchased it sometime around there, maybe at an after-Christmas sale. I intended on giving it to Josh as a gift. It came with me when I moved to DC in May of 2008, tucked safely into the interior zip pocket of my largest suitcase. In January 2014, that suitcase went to San Francisco, full of binders for a trial my office was participating in (winter storms prevented us from shipping all the important documents). My co-worker Kirstin sent me the photo above with the question "Missing something?" I let her in on my two habits: 1. buying gifts when I see them and 2. hiding them everywhere in the apartment.
I meant to pull this out of the suitcase before Josh got home on the Wagoneer's adoption date, but I didn't remember until we were brushing teeth. I ripped open the suitcase, which because we live in a one bedroom urban apartment serves as a supplemental closet full of other items, unzipped all the interior pockets and pulled out the tie.
It was only then that I realized the color of the Wagoneer on the tie was white, just like the one I bought.
Josh laughed one of the best laughs I've heard him giggle in the 10 years of our relationship.
And in closing, a gem I found on YouTube this week when looking for something else:
The Wagoneer definitely has a beautiful soul.
1. Remove the superfluous Facebook accounts
Back in the day, roughly 2011-2013, I was involved in volunteer activities at the church where Josh and I were married. I was added as an administrator to their main Facebook account and the young adults account. I am not involved in these activities any longer, but I am also not involved in Facebook much, period. When I log in now, the most activity/notifications I see are for the Cathedral, not my actual social life. I need absolved of my Catholic Facebook.
2. Graduate from my program
Portfolio due May 1.
3. No black dresses
In 2015, I bought:
The Limited black polka dot dress because I liked it (didn't know this was going to create a slippery slope)
Target black dress for Hamlet
Lord & Taylor black dress for a wedding (yes, I wear black to weddings, etiquette be damned)
Ann Taylor black dress at a thrift store for $6
JCP fancy black dress for $30 that I had pinned at a higher price
I am usually known for wearing brighter colors, patterns and stripes. Enough with the black dresses.
4. Improve my vocabulary
I am on two medications to help my brain. The combo does make me a better person, but stunts my mental relay on vocabulary retrieval. The other day, I used about 25 words to describe the one word I was thinking of but couldn't retrieve; that word was "responsibility." I have discussed this with my psychiatrist and my therapist; they suggest reading the dictionary to help. I am a pretty voracious reader, but I agree that I could use some vocabulary support. Flashcards might be utilized.
5. Be able to do percentages mentally
I can't calculate percentages in my head, at all. I have never been able to and would like to. When my children are shopping with me, I want to be able to calculate 40% off sale items at the GAP without pulling out my phone.
6. Visit a museum a month
We live in the capital of free museums, and I volunteer at the National Museum of Women in the Arts. But I don't feel like I take advantage of all the museum cult-chur available. I already went to the National Gallery in January for the Louise Bourgeois exhibit. Check!
7. Buy new Apple products
Josh and I started dating in the summer of 2005, about three weeks after my parents purchased a car for me to have at UT. It was a 1996 Volkswagen Jetta. A few weeks after our relationship started, the car started beeping. I don't remember why it beeped, but Dad might remember. I think it was the security/stereo wiring causing issues. It was a persistent beeping that would start unexpectedly and not turn off until you turned the car off. Josh isn't really a car guy, which means two things: 1. he had no way of helping me with this car issue and 2. he also thought the 9 year old car was brand new. *insert rolling eye emoji*
Josh later had a conversation with his father and mentioned the beeping. I am assuming that they had run out of all other conversation topics in the world, and my broken car came up. Mr. Johnson replied with something like "that would drive me crazy." I responded to this conversation rehash with something like "Well, not everyone fixes broken things immediately." I obviously was not sensitive at all to the different reactions in our families of origin to spending money on broken things.
In the almost 11 years that have followed the beeping Jetta, Josh has evolved in two ways 1. he doesn't always repeat conversations to me that I shouldn't know took place and 2. he now lives with broken things. Josh's iPhone 5 (purchased September 2012) charger port has been delicate for the last year? or so? He has to insert the charger cord just so to ensure it charges. I am typing this post on a MacBook Pro that Josh received as a generous law school graduation gift from Mr. Johnson in May 2009. My goal for 2016 is to replace Josh's iPhone, my iPhone and the MacBook. *insert flying money emoji*
8. No Subway sandwiches
I made this announcement around Christmas when brainstorming on 2016 goals. Josh asked how many times I ate Subway in 2015: 2. But the last time was super depressing for a million reasons. No more depressing sandwiches!
9. Travel

Girls' trip?
Provincetown?
Five year (!) wedding anniversary trip
Alicia's 30th birthday trip
10. Get a haircut
Job = haircut
1. Get LASIK
I went in for the consultation and BOOKED THE APPOINTMENT! Then Bradley, who is his own breed of Debbie Downer, said that I shouldn't do it. He went to college with a girl who really couldn't be in dark rooms because her Lasik made her blind in low-light situations. (His version of this story is more brilliant.) ((Light pun, get it?!)) I cancelled the appointment and bought a second pair of glasses at Warby Parker.
2. Lose 10lbs, develop abs
I am still so soft in the middle.
3. Survive January 2015 at work, then not collapse in February
I collapsed in February, on Presidents Day to be exact. It was a bad scene but really REAL too. A lot of 2015 illustrated how well I know myself and how much I can suck at self care. It was a weird year for me producing for the American economy. But I am extremely grateful for everything that happened because I needed it. I needed to experience something new.
4. Never mindlessly watch an episode of The Big Bang Theory again
No Big Bang Theory, lots of Law & Order episodes. This would be the time to insert my personal story on how I use television to cope with some mild depression, starting with watching QVC as a child. (No one needs to read that; I pay my therapist to listen to it!) Last night Josh said he doesn't like it when he comes home from work, and I have the television on. Well, I hate that he always has Pandora or NPR on when he is home alone, and I come into an apartment with ALL THE LIGHTS ON and something BLARING.
No one is perfect, and we all have our own coping mechanisms. If it isn't doing drugs, we should probably just leave everyone be.
5. Go to London with Josh in October
This trip was wonderful. Josh, unfortunately, experienced his first car accident within four hours of landing in England. We survived it so well! We are both really proud of ourselves. Also, 3/3 of our hotels had pools so we swam outside in England in October, and it was pretty great.
6. Teach Alicia how to make an American quilt
We didn't even attempt this, but I did take a craft shopping trip with McKatie when she spent $26,000 on quilt fabric. Quilting by osmosis.
7. Sell that pile of eBay/consignment store merchandise holding space in the bedroom
Separate post coming on this (for real, it is in draft), but I really cleaned the junk out.
8. Finish the classes for my George Washington University certificate program, complete half of my practicum hours, and pick my portfolio project
I finished all my classes during the fall (thanks, unemployment!) and did the portfolio project. I need to write it up. I am actually getting a little panicky about this, so I am sorry if I jump at you if you ask about it between now and May 1 (graduation deadline). I really appreciate you caring, but those 60 pages aren't going to write themselves.
9. No Coke, no cookies during work and evaluate that ice tea with ice cubes habit
I had one Coca Cola in all of 2015 on December 26. It was a glass bottle Mexican Coke, and it was worth it. I might be addicted to restaurant ice tea, and I need help. Consuming nasty liquid chemicals that someone pours from a pitcher that is probably improperly sanitized and then I pour white sugar packets into for the price of $3.00 a glass needs to STAHP. Drink water like a fish, McMahon.
10. Buy a Jeep Wagoneer
Another post is coming about this (agin, in draft!), but when 2015 is remembered, it will be remembered as the year I brought this home. It has made me so happy to drive and own and look at and talk about and spend money on (seriously).
Also, what a great time to buy a gas guzzler when oil prices are in the toilet. It was all meant to be.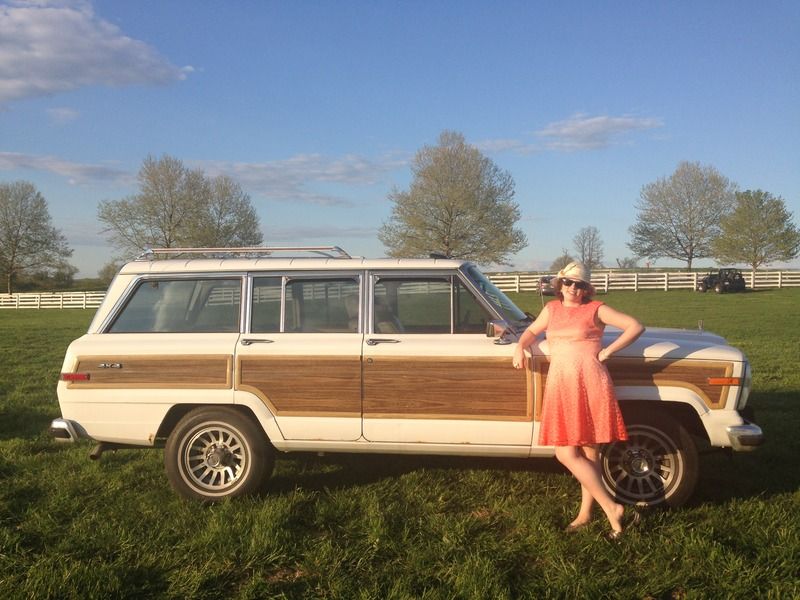 Photo by Alicia M. Pappas
1. Get LASIK
Or at least go in for the consultation to see if I am a candidate for the procedure. After scratching my cornea in 2014, I would like to wake up every morning without having to poke myself in the eye with contacts to be able to see. But yes, the trade-offs (unable to drive at night, constant dryness) might not be worth it.
2. Lose 10lbs, develop abs
I lost 20 pounds in 2014, but I am still so soft in the middle. Why am I so soft in the middle now?
3. Survive January 2015 at work, then not collapse in February
22 IRS filings due by February 2. And my therapist is taking all of February off for training and travel. *insert panic smiling face emoji*
4. Never mindlessly watch an episode of The Big Bang Theory again
Read a book, you lazy trashbag. (No, we still don't have cable.)
5. Go to London with Josh in October
And maybe Scotland afterwards, if we have time.
6. Teach Alicia how to make an American quilt
I see a stash-busting Amy Karol easy lap quilt in our future. Just for starters!
7. Sell that pile of eBay/consignment store merchandise holding space in the bedroom
Then give the rest to the DAR rummage sale.
8. Finish the classes for my George Washington University certificate program, complete half of my practicum hours, and pick my portfolio project
I have until August 2016 to finish the program. Currently, I have 4 out of 7 classes finished and a smattering of practicum hours. I want to receive my certificate, and 2015 is when the bulk of the work should happen since they suggest you give yourself 6 months to complete your portfolio.
9. No Coke, no cookies during work and evaluate that ice tea with ice cubes habit
I am such a broken record on this. I spent a LOT of 2014 off of the Coca-cola. It's time to stop the (not really an addiction because I don't drink one every day and haven't bought cans to keep at home in the fridge in years) addiction. As for the cookies, did you know that Pret A Manger sells warm chocolate chip cookies? My late-2014 lunch became a Pret half sandwich, chips, ice tea and cookie. That little meal deal rings up at north of $10. THAT IS INSANE, MCMAHON. This has to stop in 2015.
Also, maybe this is why I am so soft in the middle.
10. Buy a Jeep Wagoneer
Beep, beep. Who got keys to the Jeep?
Artwork by the lovely and talented Jeffrey M. Nelson
Below are things that I did not accomplish and didn't even really try. I've provided updates for those that I accomplished post-30th birthday.
Gettin' Physical, Physical
1. Lose 20 pounds
By the end of June 2014, I reached this goal. But, that isn't completely true. During my 29th year, I gained a lot of weight. So, 20 pounds from what I weighed when turning 29 (and making htis list) was not the same digit on the scale as 20 pounds from my all time high reached in December 2013. I have a post coming about my weight loss and fitness. For now, I will say I weigh less than I did on my wedding day, and it feels good.
3. Eat breakfast at home for two weeks
I just don't like breakfast at breakfast time. AND! My doctor said he didn't give a sh*t if I ate breakfast or not. I do have a morning banana everyday at my desk once I get to work.
5. Go swimming for exercise, not fun
Too fat for my Speedo.
6. Spend a week not eating after 7pm
Again, by the end of June 2014, I reached this goal. I actually did it for 21 days straight, before breaking the fast for a World Cup watching party. Worth it.
Be a Grown-up
10. Get out of bed before 8am on weekdays and get to work before 10 (yes, I know)
Yeah, I really gotta work on this. Still.
11. Leave the house with dry hair, always
See above.
For Something Completely Different
25. Keep a gratitude journal for a month and write one thing I was grateful for that day
Oof. My therapist even assigned this to me as a therapeutic practice and I couldn't do it. I'm thinking of adding journaling, with paper and pen, to my 2015 resolutions list.
Below are the items that I didn't quite eek out before November 18, but made progress on:
Gettin' Physical, Physical
4. Finish C25K
We got to about week 4 or 5 and I just gave up. It was the combination of early mornings + physical exertion. My two least favorite things put together. Josh then subsequently threw out the progress chart that was on the fridge. This is a new slightly annoying element of our relationship: Josh is now throwing away things that I do not want him to. I get it; I'm a mess.
7. Stop drinking from plastic water bottles at work
I tried to order branded waterglasses for my firm, but they were $$$$ when I wanted them to be $. This is why I say I "attempted" this.
Be a Grown-up
15. Go to one quarterly meeting for my union
I didn't attend a meeting but participated in CBA negotiations.
Disposed Income
18. Buy underwear that fits and toss the old that was purchased on sale at Victoria's Secret during college
Rumbly In My Tumbly
21. Make a monthly meal plan with 30 dinners that aren't BLTs and fresh tacos
I have a list of recipes saved in another post, but for some reason they don't have links. I don't know what happened there, BUT! 30 year old Jillian LOVES Blue Apron.
I'm turning 31 in five days. I've had my final Thirty Before Thirty posts sitting in draft since before I turned 30. To be honest, I grew more as a person in the 360 days of November 18, 2013 until now than I did the entire year of being 29. But that is another set of posts for later. Don't worry; they are also sitting in the draft folder. At this rate, I'll publish them by Hillary's reelection. (No, this joke is not old yet.)
I am very proud of all my accomplishments and failures before I turned 30, but it was a year. This list helped me stay somewhat grounded as Josh finished his Supreme Court clerkship. There is a beautiful symmetry in the fact that I completed 18/30 and I was born on the 18th day of the month.
And now, the official list of things I accomplished, crossed off and finished before turning 30:
Gettin' Physical, Physical
2. Go soda free for three months
I Am Not A Robot
8. Visit the new dermatologist with the new insurance before July 1
9. Go in for a regular physical not an OB/GYN appointment and make sure my shots are up to date
Be a Grown-up
12. Go to an open house in DC with Josh to look at local real estate
13. Pay off at 1/4 of my student loan with money that is solely mine and not combination Mc/Johnson (actually paid off my entire loan with another work bonus and my student loan savings. Posted about it in the comments here)
14. Combine all McJohnson financial accounts, including investments, in Mint.com
16. Work, at work, and not use it as a headquarters for my volunteering activities
17. Start implementing a career plan (see link above)
Disposed Income
19. Get a blowout at Drybar
20. Redesign this blog
Rumbly In My Tumbly
22. Make definitive plans to dine at a restaurant that requires advanced reservations and funds for my 30th birthday: Minibar, Inn at Little Washington, etc.
23. Eat at Little Serow
For Something Completely Different
24. Write a piece and submit it to the Hairpin/Awl/Billfold
Visitors & Travel
26. Get Dad (and Mum, but mostly Dad) to come to a Supreme Court oral argument
27. Go to Europe with Josh, go to Europe with Josh, GO TO EUROPE WITH JOSH
Wait, Why Did This Get All Serious?
28. Find a life coach/therapist that doesn't start a session with "I want to talk about how something you said last session upset me personally" and talk about all my feelings at least four times
29. Stop doing things I no longer want to be doing and have no desire to be doing just because I have some sort of death-wish or guilt complex that I can't even identify the source of
Youth, My Youth
Accomplished:
22. Make definitive plans to dine at a restaurant that requires advanced reservations and funds for my 30th birthday: Minibar, Inn at Little Washington, etc.
One night in late October, early November, I called Josh at home and asked if he would be willing to make a quick date night in the city to cross another item off my Thirty Before Thirty list. Perhaps I had on a cute outfit that day or just wanted to go drinkin'. City Eats had an open slot at Barmini, and I thought we should seize the day!
We didn't.
Instead, we planned on a normal date night the week before my birthday and went to Barmini like civilized adults. Well, civilized adults who chase their craft cocktails with Shake Shack.
Barmini is the cocktail laboratory associated with Minibar, José Andrés' $225 per person tasting table restaurant in downtown DC. Team McJohnson is no stranger to the cuisine of Chef Andrés. My favorite is Oyamel, but we frequent Jaleo as well. It should be noted here that this item probably deserves an asterisk for authenticity. I really wanted to try a new restaurant, eat a whole meal, at a place that is capital F-ancy. The short list included The Ashby Inn, Inn at Little Washington, Minibar and maybe Komi. Most of these restaurants are known for their reservation process, requiring planning months in advance. As my 29th year rolled along, some of those restaurants had chef shuffles or the Washington Post released ridiculous videos of their cheese carts. (Srsly, watch that video and wonder why people would drive an hour outside of the city and spend hundreds of dollars for that experience.) I just thought saving our pennies until we were older and more of the ilk that typically dines at these establishments might be for the best.
So, enter Barmini! I made a reservation for 7pm on a Wednesday night through the City Eats website (Ugh, City Eats. Open Table 4evr!). That move right there probably negates even labeling this experience under the "advanced reservations" category. Lesson learned: getting reservations at Barmini is not like trying to plan a birthday trip around reservations at The French Laundry. (Not that I am trying to do such a thing.) ((I am totally trying to do such a thing.)) Minibar and Barmini are connected, but Barmini has a nondescript entrance around the corner from Minibar. Oh yes, this is one of those chi-chi experiences. We entered, and Josh immediately ran into a couple from law school. This is DC in a nutshell: you are spending crazy money for cocktails in a tiny reservation-only bar, and you see two people you know. What are the odds? Only in DC.
We were seated at first on the couches, not at the bar. And no, not on the cactus couch. This was not pleasing to me, as it seemed to take away from the intimate experience of being in connection with the mixologist. Also, I felt like a lot of the furnishings were a bit worn and not as fresh as they should look considering this place has been open less than a year. I didn't want to spend the night sitting on a dirty couch. Conveniently, after Josh's law school friends left, we were able to snag their seats at the bar.
We each ordered three cocktails and a few bites:
Hers:
French 75
Paloma
Moscow Mule
His:
Old Pal – rye, gran clasico, vermouth
Manhattan
Another whiskey cocktail that was concocted for Josh off-menu
Bites:
Grilled cheese
$14 Lobster roll the size of a cocktail wiener
Ice cream sandwich
All the cocktails were delicious and prepared with care. I was a little bummed that there was not more engagement with the mixologist about the process. I wasn't looking for Tom Cruise in Cocktail levels of excitement, just a little more about our alcohol/cocktail interests might have been nice.
As we were finishing our happy hour, the first seating of the night (only seating of the night?) migrated over from Minibar into Barmini for desserts. Our check came presented in a little metal pill. Josh asked, "What's this?"
After we finished up, we scooted further up the street to continue what has become a yearly birthday tradition of drinking and absorbing those cocktails with some Shake Shack crinkle fries (R.I.P. soon, crinkle fries!).
Accomplished:
Youth, My Youth
30. Go to one concert and enjoy myself like it's 2003
December 2012:
The Evens
May 2013:
Lindsey Stirling
Solange
Haerts
Gary Clark, Jr.
Yeah Yeah Yeahs
Kendrick Lamar (no.)
Passion Pit
Phoenix
June 2013:
Mates of State
The Postal Service
July 2013:
Emblem3
Boyz II Men
Jonas Brothers (RIP)
TLC
New Kids on The Block
September 2013:
The Knocks
Little Green Cars
Gary Clark, Jr. Black Joe Lewis
City and Colour (no.)
MGMT (boo.)
The Avett Brothers
Vampire Weekend
Saves the Day
Clap Your Hands Say Yeah
October 2013:
Built to Spill
Fang Island