Fly Around
A continuation from last year's post.
Vistaprint order: 250 for $28.24
2016 Forever stamp rate: $0.47
Professional photo: $200
A retired gentleman in our neighborhood advertised his photography services in the listserv. I was already interested in hiring a professional to carry out my Christmas card vision so I booked a date in October for a session. He was a character and not in a charming way that one could find endearing. He pulled up in his Cadillac and parked it on the wrong side of the street. He then sat in a Redskins camping chair and shot from a seated, relaxed position in our driveway. He called Peach "Pear" and told stories that eventually rambled into him being in the room when the Allman Brothers wrote "Jessica".
Yellow House: $801,000
When we sat down at the realtors' table on March 13 to write an offer for this house, I wrote the offer for $790,000, which was exactly $100 more than the asking price of $789,900. Our realtor looked at the paperwork and said "You aren't going to get this house for that; you need to offer more." I was obstinate. The Yellow house was already $150,000 more than the last house we put an offer on (and lost). I was NOT pleased with giving a penny over $790,000. I told everyone in the room to be quiet (this included Josh and the other half of our realtor team) as a new offer sheet was presented to me for a revised offer. I wrote $801,000, we went to dinner across the street and decided if we didn't win this bid we would take a break from looking for houses. We had only been looking for exactly one month and saw about a dozen houses, most of which were absolute dogs. EXPENSIVE dogs, without garages or just one bathroom for three stories of house. But a very nice family agreed to give us the Yellow House for $801,000.
1990 Jeep Grand Wagoneer: $64.63
The Wagoneer broke down on I-495 a Saturday night in June with me alone at the wheel. AAA towed us out to my mechanic in Chantilly where Josh and Peach arrived in the Volvo. It was one of the most comforting sights I have ever seen in my life: my husband dressed in a madras shirt walking my tiny puppy around the vacant mechanic lot. The automotive diagnosis was that I was out of gas, which is possible since I don't have a working fuel gage. That Tuesday, the Family Nguyen was taking a sick day to help Baby Jane recover from an illness. Tiffany generously drove me to pick up the Wagoneer, and then we all went to get Italian food. Peach hung out at the Nguyen's house while we ate subs. When we piled into the car to drive back home, it did not go well. It all broke in half, actually. The Wagoneer died again, as I was trying to turn it around to head back to the Nguyen's driveway. After two hours, two policeman and a really sour interaction with a neighbor of T's, AAA pulled up towing another car. This did not make Tiffany feel optimistic about the situation; everyone, but I, was sure the Wagoneer was being towed back to Chantilly. This is probably when I should mention that Peach was in her carrier in the yard because she soiled herself as a result of FOMO while we were eating mozzarella sticks. That car-toting AAA mechanic sprinkled some gas on the car filter and the Wagoneer turned on. I did not take the Wagoneer back to the mechanic so the summer total for Wagoneer maintenance was the cost of the empty tank diagnosis, after the use of my $50 Mother's Day mechanic-provided coupon.
Editor's note: the Wagoneer is currently sitting in the driveway with a flat tire.
Cavapoo: $595
Cavapoo knee surgery: $3,637
Luxating patellas are very common in small dogs, especially cavalier spaniels. Peach's loose knee was noted at her very first vet appointment 18 hours after she arrived home. By the end of July, she needed surgery. Usually this is a procedure performed on older dog, at least a year. She had barely turned 5 months when we dropped her off for surgery. She did well, mainly because she was a puppy who didn't really notice she was injured or limited by her cast. She has healed very well, but yes Dad and Mum, now I understand why we never had a dog as children. *flying money emoji*
Bat removal: $995
The Friday night of Memorial Day Weekend, a bat flew around our bedroom ceiling. That lucky bat stayed rent free until August 15, the earliest bats can be removed to protect the bat babies. Our exterminator estimated that 8-12 bats were calling our tiny crawl space of an attic home. The most we ever saw outside the house were three. They all owe us back rent.
Price per card, including postage, for 250 cards: $3,226.50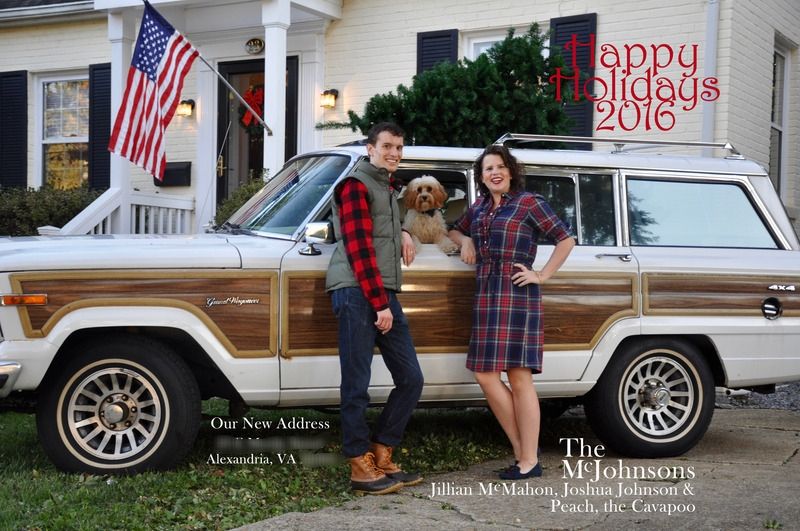 If you are my friend, and you have fallen in love with someone and decided to be joined in matrimony, I will interject myself and my hot glue gun into the blessed event. You can't stop it, and I won't even apologize for it. This is what comes with a Jillian Sue friendship.
Last April, my dear friend Sarah Tinkler and her longtime beau Timothy O'Reilly decided to get married. Of course, I was ecstatic, but I also knew Sarah would let me railroad her with all my craft ambitions.
The Invitation
This has been my dream forever: design a wedding invitation suite for a friend. Sarah and Tim were married at City Hall on a Friday, but were celebrating with a big family brunch the next day. Sarah wanted to formally invite everyone to the brunch, plus have a tangible keepsake.
Sarah pulled up some watercolor inspiration on an invitation site. I took to my computer and the Internet to figure out how to create the correct effect. Today, one year later, I can tell you I would not be able to recreate the watercolor effect in Photoshop NOR find the tutorial I used to create it. I just wish that Internet browsers had a system for allowing you to collect helpful sites so you can reference them again and again. Wouldn't that be wonderful?
I created the envelope liner with the same watercolor Photoshop technique. Everything was printed at home on my little HP printer. I used leftover cotton cardstock from our wedding programs. That stack of paper has really been a great resource since I over-ordered by about 200 sheets to print 60 programs in 2011. The liner was printed on Paper Source white text weight paper with a textured finish to mimic real watercolor paper. And I know what you are thinking: of course I thought about actually watercolor painting white sheets of paper to create the effect on the liner.  But I figured it would dry wonky to glue into the envelopes.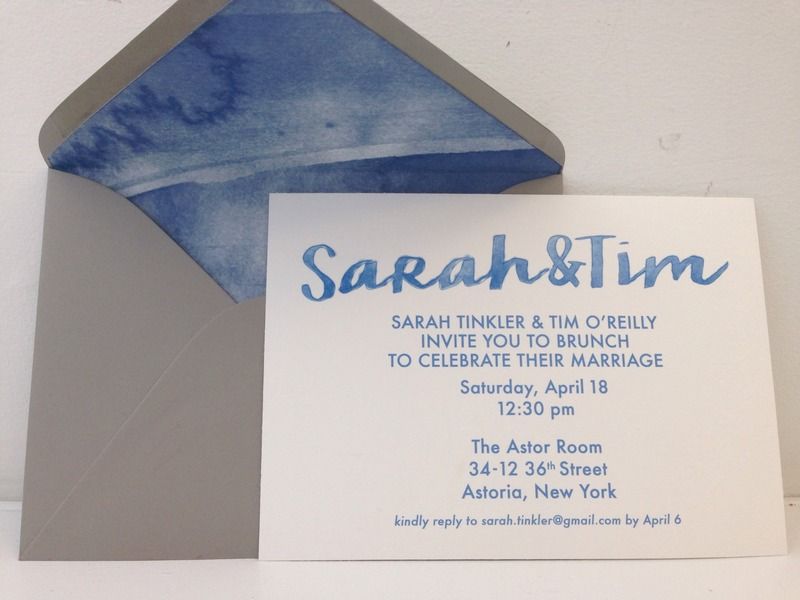 While at Paper Source, I picked up the gravel colored envelopes. I printed Sarah's return address on the back flap and also each mailing address on the front in the same font as the invitation text. Do as I say and not as I do: wedding invitation addresses should aways be handwritten. This one kills me when I see people sending out wedding invitations in envelopes with labels. But! This wasn't a traditional wedding so I printed the addresses directly onto the envelopes. This was tough as my printer liked only every other envelope. I had to print a blank sheet from the printer between envelopes to clean the printer drums. Otherwise, black streaks appeared on the next envelope I printed. Once I figured this out, it was a perfect rhythm.
I am a full service print shop, including postage. I used the Jessica Hische designed Forever postal stamps. Each envelope needed about two and some change stamps, but I wasn't adding metered postage to these beauties. I alternated the red, white, red and white, red, white pattern on each invitation.
I sent Sarah and Tim an invoice for the invitations that Tim complimented as being more professional than some of the vendors he deals with in New York City. I'll be applying for my tax identification number any day now.
Clutch Purse
These purses are my wedding signature. I made Mum, Katie and myself one each for my wedding. Then, five for Tiffany's sister's wedding the next year. The fabric I used for Sarah's was leftover from my wedding, or more accurately, unused from my wedding. This was my wedding color; it matched the ties the guys wore and Katie's dress. But I ended up making Katie and Mum gray purses and lining my own white bag in navy. I have yards of this high quality (read: not purchased at JoAnn's) peachy pink satin still on hand. Luckily, Sarah didn't mind me shopping my fabric stash.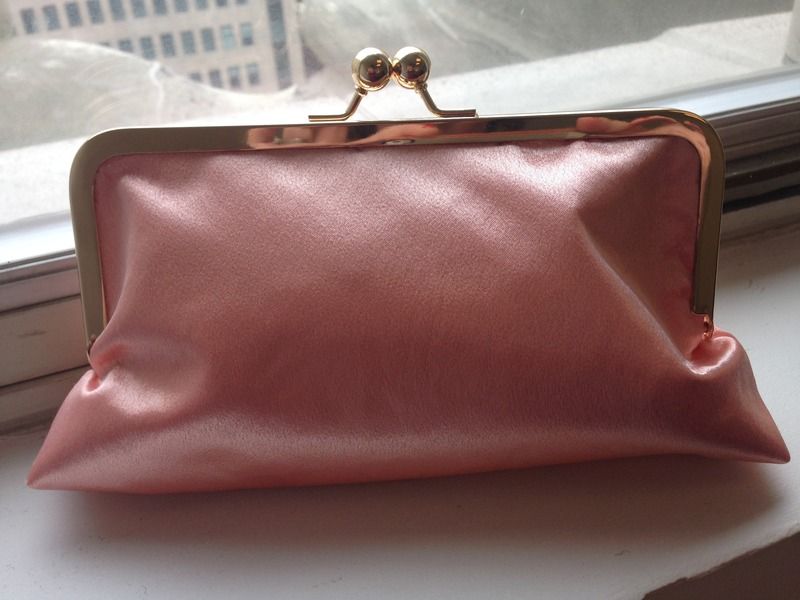 We updated the look for 2015 with gold purse hardware, but lined the bag with gray to keep with the theme.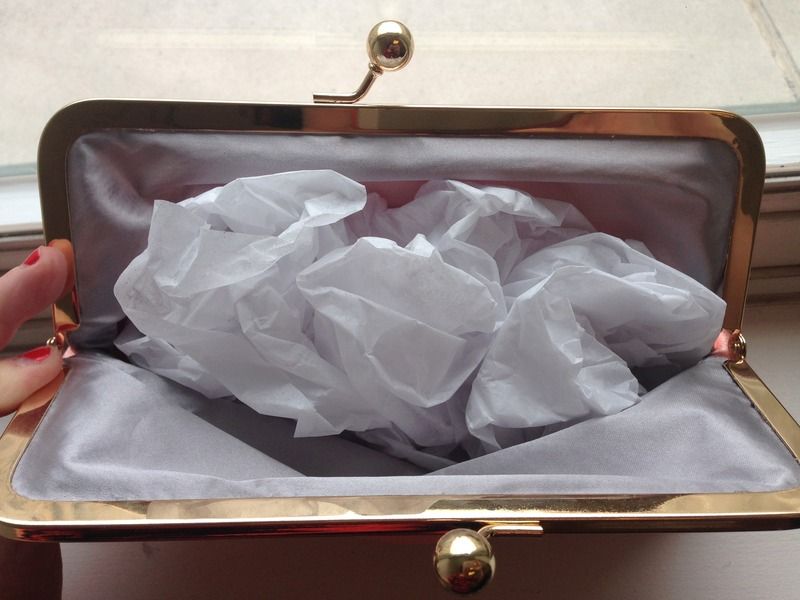 Fauxquet
During my craft research for another project, I found these small pink paper flowers from Paper Mart. I love Paper Mart: they sell things I love to buy, offer no discounts or free shipping, and can't be bothered to update their website past-1998 standards. I ordered three packages of these little flowers for less than $10. I picked up a styrofoam cone at the Dollar Tree for the bouquet base. I took each wire flower and used floral tape to adhere it to a toothpick or bamboo skewer that I cut to size. The domed effect was created by working my way down from tall skewers to smaller toothpicks on the side. I wrapped the styrofoam with green grosgrain ribbon secured with floral pins. Amateur tip: you can't continuously wrap a cone shape with a straight ribbon and have it lay flat. I had to cut little strips, overlap them, and secure them with the pin. This also took a while to figure out.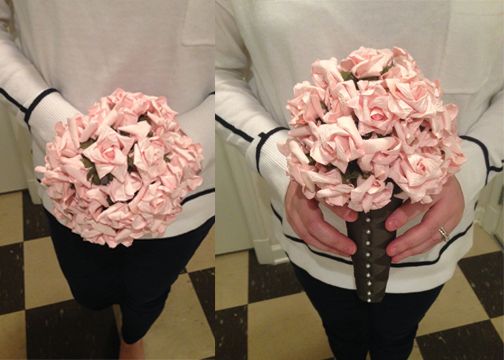 I took a few of the extra flowers and hot glued them onto a pinback for Tim to wear as a boutonniere, which you can see in the photo below. Thanks Paper Mart!
Wedding Announcement
My final wedding paper project was creating a wedding announcement. Sarah wanted to mail these out to friends and family to share the news of their union. Classier than a Facebook post.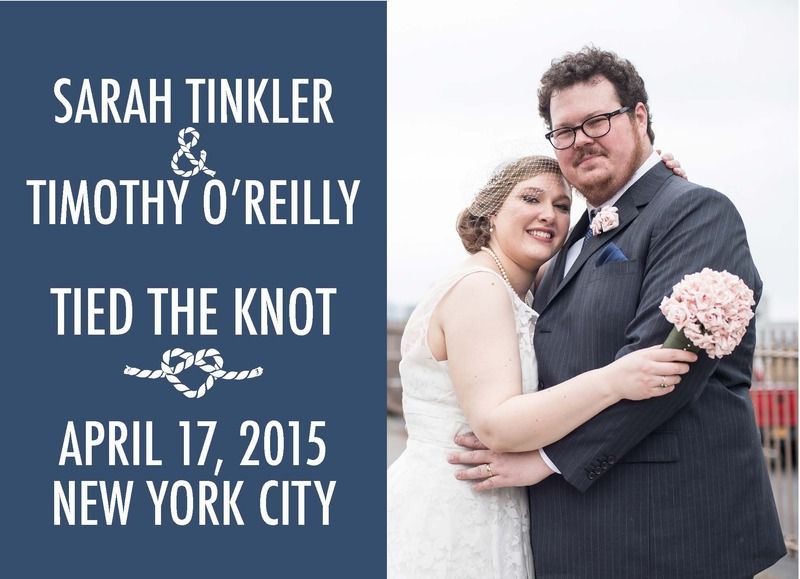 Here is where things got even worse than my printer streaking the envelopes. I could not get the image to size correctly for my design. We all know I have issues with printing resolution. I reached out to the instructor who taught the Photoshop class I took in 2009. He gave me some helpful tips (move this production into InDesign from Photoshop). Once everything was clear, I printed them at Vistaprint (what would I do without them?) as glossy postcards. These were mailed out by Sarah in plain white envelopes. As a finishing touch, I created and had Vistaprint produce coordinating address labels, with the rope "&" used again. This was my first project where I purchased and used vector images. Best part is the images fit perfectly with my personal brand.
In the grand tradition of me biting off more than I can chew for my friend's weddings, I was very relieved when I uploaded the final announcement design to Vistaprint and did not receive a low resolution error. Fist pumps!
Happy one year anniversary Sarah & Tim! Thank you so much for letting me be a part of your special day! (Like you had any choice!)
I bought a piece of nostalgia: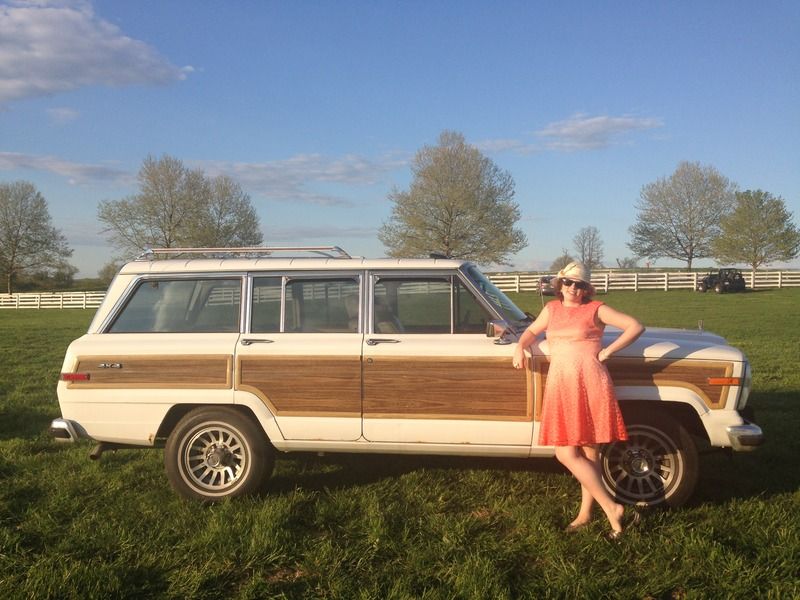 Last fall, we were out to drinks with a co-worker of Josh's and his wife. During a discussion about vehicles, my want of the Wagoneer came up. We showed them photos from last year when we first seriously looked to buy a Wagoneer. The wife asked why I wanted this car.
Why?
Why not?
It was the first time I had to articulate why I wanted to own a late 80s/early 90s 4×4. Josh has always known this to be my "dream car". I always thought everyone had a "dream car" that they would purchase if possible. Sure, theirs might be a newer vintage than my beloved, but cars are an object of desire. Where did my desire come from?
Looking at this car (scroll up! LOOK AT IT!), I first see beauty. It is just a beautiful vehicle. Josh said that I should go down to the garage every morning before work to look at the car just because it makes me so happy. This car looks like a different time, or now, lifestyle. And that is where my desire comes from. When I was a child and this was a new car on the market, I thought "That is the car I will have when I am a grownup." As I child, I made a lot of goals or predictions like this. I wouldn't call myself sentimental, but I am nostalgic. I actually think that a lot of people my age are nostalgic. This explains the popularity of Old Loves and My Parents Were Awesome. There was a line in the last season (or season before last?) of Girls where Hannah says to Elijah something like "All I want to do is go home and Google that one week in the 80s when Glenn Close and Woody Harrelson were a couple." THIS! But instead of petitioning to bring back Crystal Pepsi, I googled for a Jeep Wagoneer.
This car was listed on the Richmond Craigslist but was actually in Sterling, Virginia, right up the road from us. Josh and I looked at it on a Saturday before we had to go to a wedding reception conveniently in the same neighborhood. The color was right (I was more drawn to the white Wagoneers, but was willing to have any color) and the price was right-ish. Of course, there was "someone else" interested in the vehicle, and the original price was reasonable/affordable, so negotiations did not happen. I did the same as last time we bought a car and picked up a money order from the Bank of America down the street from my office. We bought the Volvo in April, and it was April again when the Wagoneer came into our lives.
I didn't know Josh was filming me during our test drive. I thought he snapped some photos and then I went into the zone of focusing on driving a new-to-me-25-year-old car. Later, when viewing the footage, I loved Josh a little more for capturing such an important moment in my life: making the decision to buy this car already!
I want to also thank the following people for their support, in absolutely no particular order:
Alicia Pappas, for riding anywhere and everywhere in the Wagoneer with me and delicately correcting my driving
Jeffery Nelson, for his Photoshop skills
Emilia Gershon, for being unemployed and able to drive out to past-Dulles Virginia and visit the DMV with me
Alan, who I bought the car from, for being that mix of crazy and weird that makes adventures memorable (and for the $200 in cash he gave me once he found out the radio didn't work before the sale)
The lady at the DMV who processed the paperwork in about 4 and half minutes, the entire time musing about what she would get for lunch ("Tuna sandwich")
Kacey, the AAA mechanic who serviced the vehicle when it had its first issues and gently pointed out some of the problems under the hood ("Fixing the exhaust would cost more than the car is worth *beat* I KNOW this is worth a lot sentimentally.")
Dan and Caroline, for being the first backseat passengers who patiently helped find the seatbelts
Tiffany, for once having a dream that Josh would buy the Wagoneer for me (full disclosure: I bought this for myself and only I own it)
As we were getting ready for bed the night I brought the Wagoneer home, I remembered something I had for Josh.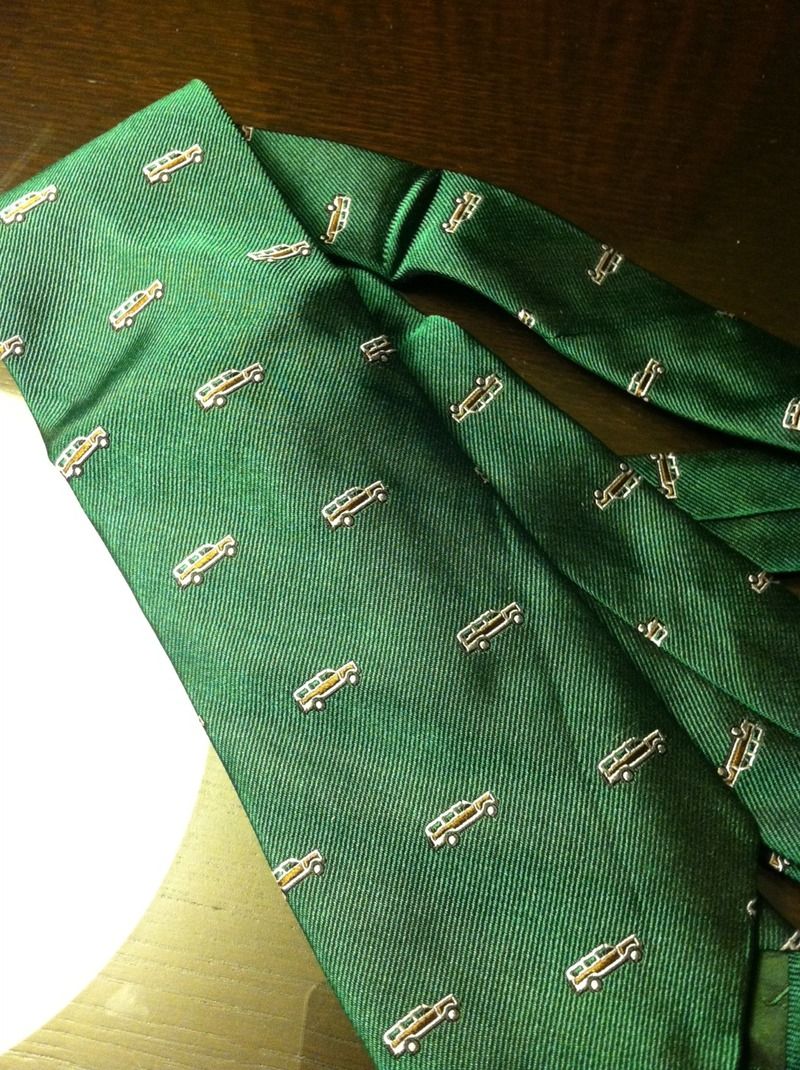 This is a J.Crew tie, that according to the tag, was part of the Holiday 2007 collection. I purchased it sometime around there, maybe at an after-Christmas sale. I intended on giving it to Josh as a gift. It came with me when I moved to DC in May of 2008, tucked safely into the interior zip pocket of my largest suitcase. In January 2014, that suitcase went to San Francisco, full of binders for a trial my office was participating in (winter storms prevented us from shipping all the important documents). My co-worker Kirstin sent me the photo above with the question "Missing something?" I let her in on my two habits: 1. buying gifts when I see them and 2. hiding them everywhere in the apartment.
I meant to pull this out of the suitcase before Josh got home on the Wagoneer's adoption date, but I didn't remember until we were brushing teeth. I ripped open the suitcase, which because we live in a one bedroom urban apartment serves as a supplemental closet full of other items, unzipped all the interior pockets and pulled out the tie.
It was only then that I realized the color of the Wagoneer on the tie was white, just like the one I bought.
Josh laughed one of the best laughs I've heard him giggle in the 10 years of our relationship.
And in closing, a gem I found on YouTube this week when looking for something else:
The Wagoneer definitely has a beautiful soul.
Preservation Hall Band
Kacey Musgraves
Stars
Ex Hex
Sufjan Stevens
Neko Case
Best Coast
Morrissey
Pentantonix
Kelly Clarkson
Watson Family Hour
Band of Horses
Chvrches
Telekinesis
Hottwire (RIP)
Marina & the Diamonds
Joanna Newsom
Honorable mention to concerts that didn't happen in 2015:
Bette Midler (never went cheap enough day of on resale sites)
Everything at the Landmark Music festival that wasn't Band of Horses or Chvrches. I was in a mood that weekend and couldn't deal with a festival environment. Sorry Miguel, Drake and The Strokes.
Built to Spill (we were on our way to England that day)
Dale Earnhardt Jr. Jr. (tickets were purchased, but went to Marina instead)
The cost of sending out holiday cards, since 2011:
2011
This was the first year of our marriage, and I used a Groupon for Picaboo. I only ordered 50 cards, which was definitely not even close to the amount needed (foreshadowing). I had to order 20 more photocards from Snapfish to finish spreading holiday cheer.
Picaboo Order: 50 for $25 (Groupon price)
Snapfish Order: 20 for $14.19
2011 Forever stamp rate: $0.44
Price per card, including postage, for 70 cards: $0.99
[Printed copies of these cards are hiding somewhere in our 700 sq. ft. apartment, but after searching every logical place Sunday afternoon, I came up empty handed.]
2012
This is the year I took a Adobe Creative Suite class and got fancy with my own personal design using an engagement photo from Spring 2011 ¯\_(ツ)_/¯. I printed them at Vistaprint, using their standard postcard size. They sell matching plain white envelopes for a small additional charge. It's a great deal as long as your design and production are perfect from the start (foreshadowing).
Vistaprint order with envelopes, including shipping & handling: 100 for $29.51
2012 Forever stamp rate: $0.45
Price per card, including postage, for 100 cards: $0.75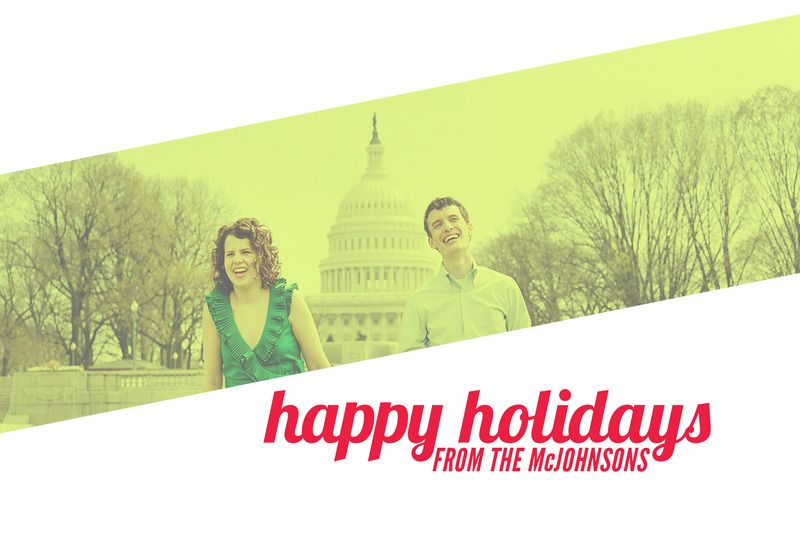 2013
This is the first year I don't use a professional photo. We asked another tourist to take a photo of us in front of the Eiffel Tower when we went to Paris that October. I had been dreaming of this card since we made the decision to go to Paris sometime in 2012.
Vistaprint order with envelopes, including shipping & handling: 100 for $27.86
2013 Forever stamp rate: $0.46
Price per card, including postage, for 100 cards: $0.74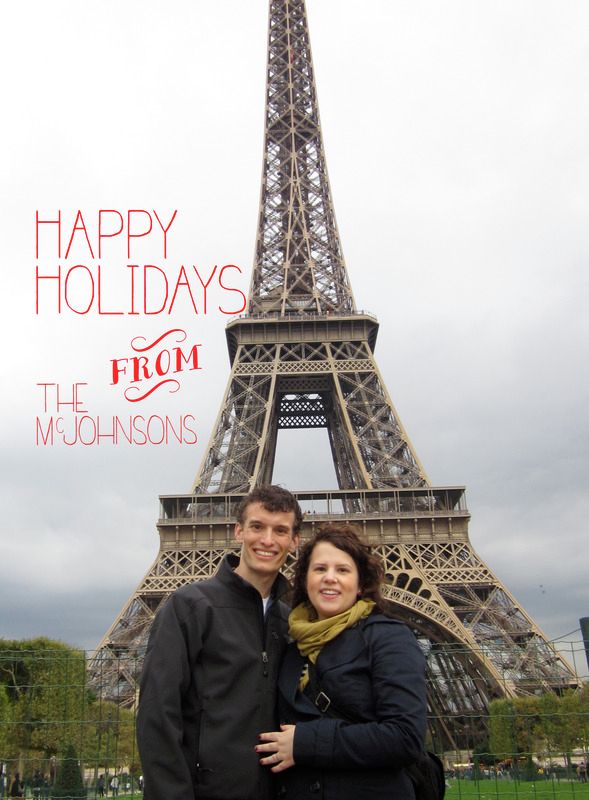 2014
It all broke in half.
2014 brought us back to a professional photo, using a photo taken by Tiffany's wedding photographer. When I uploaded my design the first time, I received the "low resolution" error on Vistaprint. This was a warning that my design might not print clearly. I ignored it because I am an arrogant idiot 90% of the time. Only after hitting submit on my order, I realized that the picture of Josh & I didn't fill the entire square I had created in the design; there was a little white sliver visible at the top. Rats!
A Vistaprint order is like an Amazon order: you can't stop it for anything. I should also mention that I was doing this uploading and ordering after midnight, but I am sure that is obvious from my precision work. I immediately fixed the picture alignment and purchased again, without envelopes. This is where I should note that Vistaprint shipping isn't pricey, but every mistake adds up in the shipping column.
Both orders arrived and looked like #1 blurry, crooked mess and #2 just a blurry mess.
#1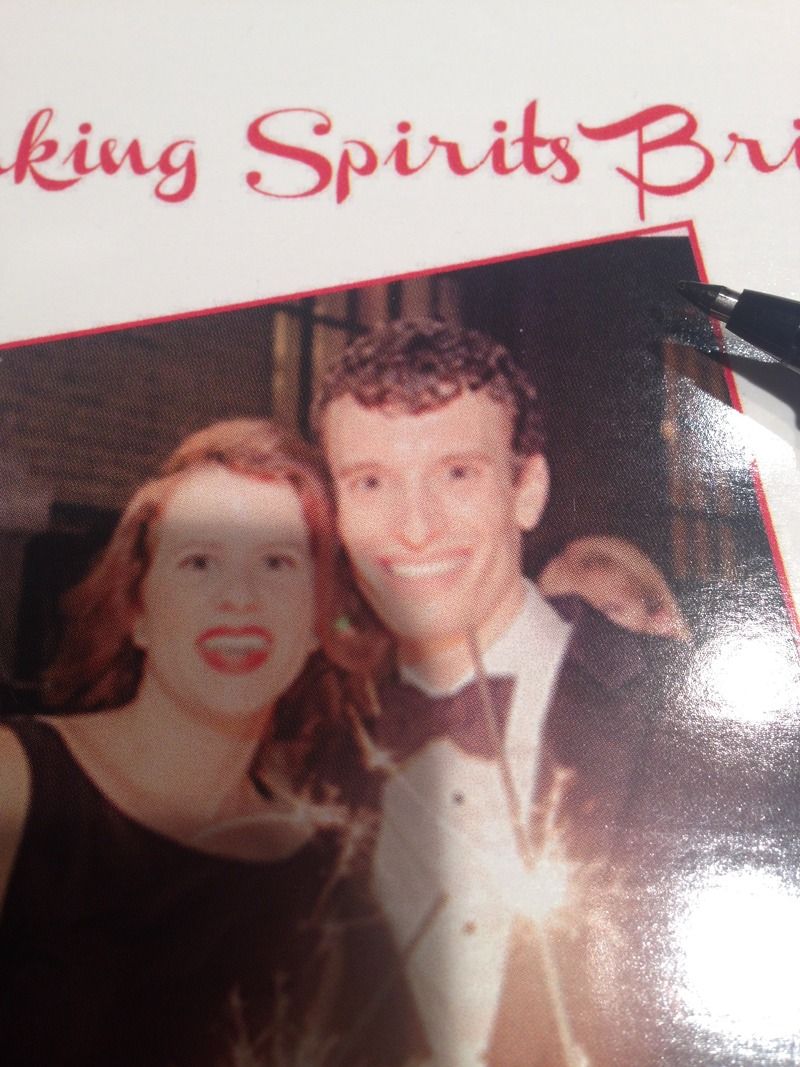 Pen is for spotlighting my Photoshop fail
#2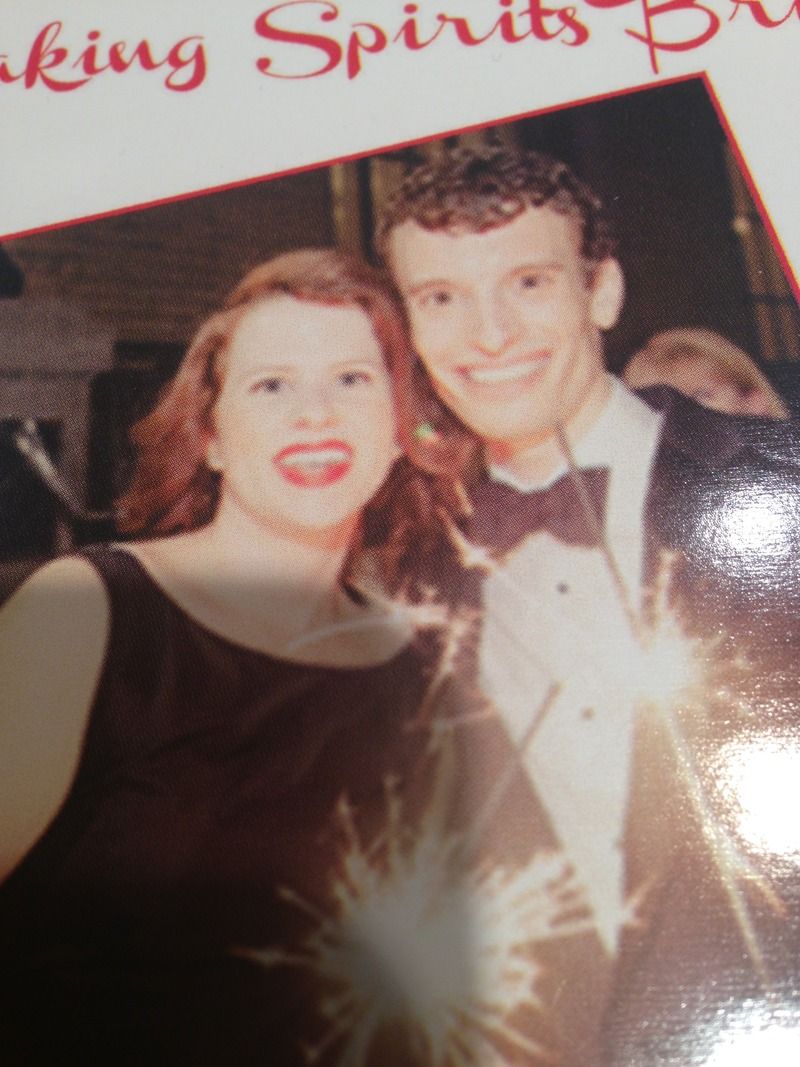 I realize these photos don't highlight the blurriness of the low resolution, but in person it is like looking at a photo when someone smeared Crisco all over the picture frame glass.
I took a few days, consulted some Adobe tips, fixed my resolution issues and ordered again.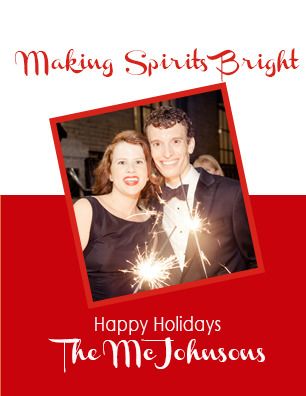 Josh and I got super popular in 2014, and I ran out of cards with people left to receive by hand delivery. (I sometimes use a card or two for attaching to a gift or as a thank you note for co-workers and such). I didn't need 100 more postcard prints from Vistaprint, and no way would I give out one of the 200 uggo misprints. I decided to upload my design and have FedEx Office (RIP Kinkos) print some more cards. I *thought* I ordered 8 postcard size prints. Instead, I ordered 8 glossy 8x10s.
Quarter for scale; I can sign one and send it to you if you provide a self-addressed stamped envelope!
I asked the FedEx clerk for ordering assistance when I picked up my glamour shots. They told me how to properly order 8 postcard size prints (you ask for 4 prints on one 8.5×11 piece of card stock, then they cut them into four postcard sizes for you). Totally logical!
Vistaprint order #1 with envelopes, including shipping & handling: 100 for $25.72
Vistaprint order #2 without envelopes, including shipping & handling: 100 for $19.98
Vistaprint order #3 without envelopes, including shipping & handling: 100 for $14.98
FedEx Office order #1: $8.41
FedEx Office order #2: $7.84
2014 Forever stamp rate: $0.49
Price per card, including postage, for 108 decent cards: $1.17
2015
This year, we returned to the normalcy of 2012 & 2013, with the addition of some prints from Snapfish to bulk up the reserves. I got a little click happy on the order page and said, out loud, "I am not dealing with this again" and ordered 25 photo prints to make sure I did not have to return to the FedEx office on 14th Street.
I really only needed 8 additional cards, just like 2014. Oops! At least each print was only $0.15 each!
Vistaprint order with envelopes, including shipping & handling: 100 for $18.72
Shutterfly order of 25 photocard prints: $3.75
Package of 10 Paper Source envelopes: $3.50
2015 Forever stamp rate: $0.49
Price per card, including postage, for 108 cards: $0.69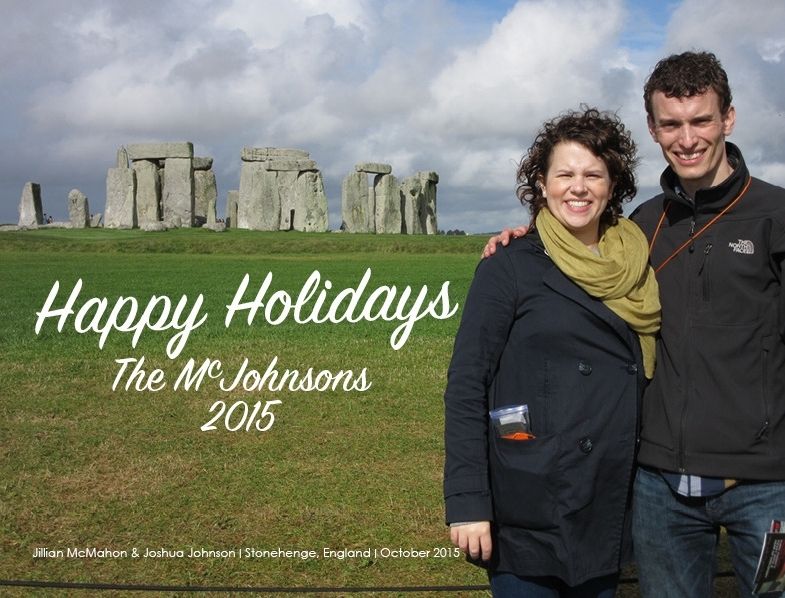 See you in 2016 Vistaprint!
Sporting goods of Hung N. Nguyen I helped pack and move during the Nguyen Family Move 2015:
2 sets of golf clubs*
3 pairs of golf shoes
1 pair of soccer cleats
1 karate dojo outfit
140 tennis rackets
racket restringer
fishing pole
bicycle tire pump**
pair of hiking boots caked in mud
2 kites
8 lb. medicine ball
10 lb. medicine ball
softball/baseball mitt***
3 guitars
3 laptop computers
* 1 set was Tiffany's
** But not the bikes themselves, because I packed the container with the bike locker key in a fit of "we really need to be packing things!" at 9am on Saturday. Only later was it discovered 1. The bikes should probably leave the apartment for the new house and 2. The box with the container had long been packed, taped and loaded to the truck.
*** Possibly Tiffany's but Hung owns one
I haven't been employed since sometime in September. I'm handling this really well for who I am — someone who has panicked about finding myself unfortunately unemployed since I started working steadily at age 19. I would like to give all the credit to the hard work I put in with the Professionals over the last two years. Also, Josh is supportive both financially and emotionally. For someone who isn't feeling super religious currently, I believe that not working was the right thing because it enabled me to be in the right places this October and November. I definitely feel like there was a greater plan at work, and I feel so grateful.
#blessedtobeunemployed
But, I'm still Jillian Sue, and worrying about finances is just part of my personality. (As you would be aware if you have read this blog for more than a hot second.) I'm keeping track of my spending in a more unusual way now. It is a bit of a "one in; one out" policy. Below is a list of "outs" that were unnecessary and avoidable. I am not happy about these "purchases."
-$134.95: Losing my five year old Ray-Bans in Barnsley, England
-$135: Having the Wagoneer towed from Baby Jane's apartment's parking lot for parking without a permit even though I had been told multiple times I didn't need a permit for that lot. Grrr, punch!
-$50: tickets to see Dale Earnhardt Jr. Jr. at 9:30 Club. I couldn't sell these OR GIVE THEM AWAY FOR FREE on Craigslist when I ended up double booked that night (the show I went to instead was awesome and I have no regrets)
-$50: I let ANOTHER free gift card expire in September and didn't realize it until November
That is roughly $370 in unnecessary loses.
BUT! I didn't take this sitting down (in front of the ION Television Law & Order marathon on Wednesdays). Here is how I saved us money, or the "ins."
+$471.95: Hotels.com for 3 nights in a hotel in New York City. Josh's friend had a gorgeous wedding at the Ritz-Carlton Battery Park City this past weekend. The very nice, heavily discounted wedding rate at the hotel was $279 a night. Back in July, when a younger and more fancy-free Team McJohnson booked the hotel, $970.96 (total with taxes) seemed like a reasonable treat. Last week's unemployed half of Team McJohnson went to Hotels.com and booked 3 nights at the DoubleTree, which was just a 7 minute walk from the Ritz. The pre-paid rate was $517 (total with taxes), but Hotels.com was 4% back on Ebates. We saved any additional $17.99 with Ebates cashback.
+$42.28: speaking of Ebates, my November payment came. This payment was for all items that were "necessary" — Halloween costume suppplies, Wagoneer supplies. Sometimes I feel like my Ebates cashback check just rewards my frivolous spending, but not this time.
+$42.25: (why are so many of the amounts in this post the same/similar?) In July, I took a load of clothes to Mint Condition, a resale shop in Old Town Alexandria. EVERYTHING.I.BROUGHT.THEM.SOLD!!! (Separate post coming on that.) They sent me a paper check for the last item that sold since I spent the rest of my credit in August on new work clothes for the job I no longer have.
+$200 (at least): I get a cut 'n color every 6-8 weeks on a pretty regular schedule. I've had this routine since 2009. In September, before we went to London on our adventure, my salon closed temporarily for renovations. I knew this in August, when I had my hair done for the Grand Canyon adventure. My plan, while still employed, was to box dye my roots the week before going to London and then get a cut at the famed Deva Curl salon in New York City while we were in town for the wedding. I didn't get a quote on the Deva cut 'n color, but I pay $175 (went up $25 this year after holding steady for many) + 20% tip in DC. After the unfortunate unemployment, that fancy salon appointment was cancelled. Now I dye my roots in the comfort of my own home with Clariol Natural Insticts and a paint brush form Lowe's. I use #24 Clove/Medium Cool Brown. I also might write a post on dying your own hair at home, but I've done this twice at about $8 a box for the dye with pretty good results. I can't continue doing this forever because I will look a hot mess. But for now, it is covering grays. As for the cut, I can go 12 months without a haircut. We'll see how far I go this time.
+$200: Because I am nothing if not a Basic of a certain modern preppy-ilk, I was also going to treat myself to a pair of Sabahs while in New York. I e-mailed for a fitting and everything. The only thing I treated myself to while on this New York City adventure were 4 $15 flannel buttondowns at Uniqlo. All the more cozier to watch my TV marathons in!
This equates to probably $1000 saved. With the roughly $400 in "outs," I am still about $600 in the black. Which is fantastic since the Volvo needs $2500 of maintenance.
The following discounts/freebies were e-mailed to my junk e-mail account beginning November 1:
Sephora – free Nars lip product sample with purchase
Tory Burch – $50 credit
Victoria Secret – $10 off
L'Occitane – free gift with $20 purchase
Rent the Runway – $25 off, but only good until the 9th of the month (my birthday is the 18th)
Kiskadee (local shop I like) – $25 off
UPDATE
Additional birthday treats that arrived via the United States Post Office:
Sunglass Hut – $25 off or $50 off a purchase of a certain amount
Fresh – free gift with purchase, but only redeemable in store? (wasn't clear)
But my Anthropologie birthday discount hasn't arrived yet, and that is the one I use every year. My Anthropologie birthday discount NEVER ARRIVED, so I didn't use it this year.
And when I stopped watching them:
Mad Men, Season 5 Ep 2
Downton Abbey, Season 5 Ep 3
Orange Is The New Black, Season 2 Ep 1
House of Cards, Season 1 Ep 1
But I've watched all of The Newsroom, twice. ¯\_(ツ)_/¯
Things I do when I am avoiding reality:
– Check our/my Capital One 360 savings accounts balances
– Move or plot moving money into said accounts
– Plan an impromptu trip/vacation
– Shop for a Jeep Wagoneer