Fly Around
I'm working on a series of posts about my new favorite mental health professionals. In the meantime, I wanted to put up a poem that I have loved since a child. My word for 2014 is definitely gentleness.
Into Their True Gentleness
by Pearse Hutchinson
for Katherine Kavanagh
If love is the greatest reality,
and I believe it is,
the gentle are more real
than the violent or than
those like me who
hate violence,
long for gentleness,
but never in our own act
achieve true gentleness.
We fall in love with people
we consider gentle,
we love them violently
for their gentleness,
so violently we drive
them to violence,
for our gentleness
is less real
than their breaking patience,
so falsely we accuse
them of being false.
But with any luck,
time half-opens our eyes
to at least a hundredth
part of our absurdity,
and lets them travel back,
released from us,
into their true gentleness,
even with us.
This morning, Team McJohnson went in for their mole checkup, as a family. A family that takes preventative skin cancer measures together, stays together.
We now go to Josh's dermatologist because in 2013, I had Josh's health insurance. In 2014, I have health insurance via my employer. This was a financial decision, since economically it does not make sense for us to be on a family plan at either employer. As we checked in at the receptionist, I was told that I needed a referral. This was news to me, but I handled it well. I handled it like how we always handle things in this family: I threw money at it.
Instead of trying to get my primary care physician, who I had only seen once last July, to date a referral for today, I just decided to pay for the appointment out of pocket. We were quoted $80. A big fat SELF label was now adhered to my file. The doctor was concerned that I was paying out of pocket while my husband had health insurance. I explained the situation and literally motioned like the baby throwing money out the window. He said he understood and would not do any procedures that day and wait until I had my referral. I did not need any procedures so he, again, mentioned today should not cost more than $85.
When I checked out the total was $110. All paid for via a combo of my remaining FSA money and $5 from Josh's HSA.
I recently lost $7.36 and I am mad as hell about it. I also recently spent $1000 to fly across the country last minute and go to a wedding and consider that one of the best decisions I have made recently. What's the difference? Well, the $7.36 was on a gift card that I earned via a very specific grocery discount program. The trip was paid for from the travel savings account that grows via an automatic deduction from our bank account each month. That money is only used on travel, not touched for anything else.
I am very weird about coupons and gift cards. A gift card you are given can only be used to treat yourself. Don't buy a gift with it or something that is a necessity. Coupons should always be used. If you let a coupon expire, you are throwing away money. I just sent an e-mail to my entire family this weekend telling them not to use my $7 ExtraBucks on my CVS card. I have something special in mind for that!
I will stand outside a restaurant and make an OpenTable reservation via the app, then walk in and eat. A coworker, older, more established, once claimed OpenTable dining points useless. Every 100 points is only $1 in rewards, she said. EXACTLY! That is a $1 I didn't have before. Our anniversary dinner will be (partially) paid for with a nice $100 OpenTable Dining Cheque.
But yet, when it comes to services, sometimes Team McJohnson is just ¯\_(ツ)_/¯. We have to go to a car wash to wash the Volvo, since we live in an apartment complex. And for some reason, Northern Virginia doesn't have very many self serve car washes. We have to pay people to wash the car. This last time, there was still bird poop on the window shield as we drove away. I asked Josh if we should mention it. He started to, then thought better of it. You just don't want to be that guy who complains when you can take Windex to it at home. They did the hard part! Washing and vacuuming!
This brings us back to today. Josh didn't want to go through the hassle of contacting insurance when we had the money to just pay for the appointment. But that just irks me, especially since the same thing happened to me earlier this year at our dental office. I feel like our health insurance is only for a catastrophe. If you couldn't tell, one part of this relationship is quicker to the window with piles of cash than the other. Perhaps you would say we balance each other out.
But I, of course, will still be fuming about that $7.36.
What it is like when you are in a relationship that is at its weakest point in nine years, but biologically, your body is ready to have a baby.
On Mother's Day, I called home to discuss buying a new point-and-shoot camera for Bradley's graduation trip with Dad. We chatted for a few minutes, and before saying goodbye, Dad said:
I thought you were calling to tell me you were going to be a mother yourself.
I laughed, really hard. I think it hid my pain pretty well.
* * *
Bradley and I are discussing adopting dogs. A reminder: the McMahon's never had a dog when we were children. Bradley agrees that everyone would be excited if a puppy were to enter our lives now, everyone except mom. Dad would especially enjoy it. Bradley lists Dad's wants in life:
1. M&Ms
2. Grandchild
3. Dog
* * *
Josh came home at his normal time, 9:30pm with groceries. He kissed me hello. I bought new sandals that night because I needed new sandals. I had just taken them off from breaking them in on the carpet. I was barefoot.
Josh said he had something to tell me, and like a Bandaid, he should just rip it off. I thought of the limited possibilities that this could be, and due to his facial expression, I knew it wasn't any of his current family drama bubbling up. I thought he was going to tell me that he had to work on Fourth of July, when we have tickets for the Nationals game. He then told me his co-clerk from last year is pregnant. Then he followed up with his other female co-clerk from last year is pregnant. There was an e-mail chain that he saw on his way home from work.
I stand up from the couch. I have to leave here for a bit, I said out loud. Then I remembered I didn't have on shoes. I took three steps towards the bedroom and realized my shoes weren't in there, they were by the dining table. I turned towards my shoes and broke in half. I doubled over and started to cry. Sob. Wail.
That's probably the hardest thing Josh has ever had to tell me in the nine years of our relationship.
* * *
People who have announced their pregnancies or had children in the last twelve months:
Seven OT12 clerks or spouses (that we know of)
A guy I dated in college
Chelsea Clinton
Professional make-up artist who prepped attorneys for headshots at my office: What make-up are you wearing? You have looked glowing all day!
J. Crew manager (who you may remember for the tuxedo adventure), while trying to find pants to wear to Bradley's Chicago graduation: You two (Josh and I) are adorable, by the way!
Bavette's manager, after our party of 6 sat down for dinner at a more dinner appropriate hour of 6pm and not 9:30pm: (To Bradley, the graduate) Your sister is just. . . awesome!
Background #1: At the Nationals Opening day, a lot of women had cute little tote bags with Nationals fabric on the trim. On closer inspection, I saw it was this tote from Vineyard Vines for $95 US dollars. I need another tote bag like I need a hole in the head (I actually ordered another one last week from J. Crew. For use as my gym bag! So practical!), but I had free time on Saturday and popped into the VV store in Georgetown for the first time ever. IT WAS AN EXPERIENCE. Men with Kennedy hair and pastels on everywhere, shoppers and customers! I actually think they just employee people to sit in the Adirondack chairs at the front of the store wearing the VV look. But part of me loves that experience. It's very 90s East Coast prep, as though the economy never really tanked. In my head, everyone drives a Jeep Wagoneer. And if you know me at all, you know that is my secret desire.
Setting: Saturday evening
Scenario: I'm telling Josh about my trip to the Vineyard Vines store. He kinda knows the brand, but I realize he would understand it even better after watching their official history Emoji video.
Me: *while queuing up the video* Ok, so their whole thing is "Every day should feel this good", but they abbreviate it: E D F T G. It's like the letters they give you for the bonus round on Wheel of Fortune.
Josh: You left out the S.
Me: Right! Because every time I see that hashtag on Instagram, I have to google it to come up with the words it represents. I can never remember it! AND! Usually when I see it, it looks like someone had a hashtag stroke while posting to Instagram. #edsftg
Josh: *laughing pretty hard* You think someone got the #-sign down before falling ill and then their fingers just rubbed on the screen to display EDSFTG, and they were still able to press post?
Me: It's what it looks like to me!
We finished watching the video (it's 48 seconds and you need to watch it to understand the next bit) and no $95 totebags were purchased.
Background #2: There was a semi-serious work situation happening. Like actually serious, and not in the way that I can sometimes make a paper jam seem like the end of the world. Of course, Josh's solution was for me to quit my job.
Setting: Last night before bed
Scenario: Josh actually came home early from work (8:30pm!) to coach me on how to respond to this work situation. Right before going to bed, he kisses me goodnight.
Josh: And remember, quit before they can fire you*. Always. And I'll come pick you up from the train station afterwards.
Me: *laughing ridiculously hard* You can't! Someone has to keep working, and you won't be able to get off work!
Josh: True. You are lucky we live within walking distance of the train station.
I am really lucky I have him in my life for two reasons: 1. I'm pretty sure my own parents would have made me walk home from the train station if I quit my job and 2. I am pretty sure he is buying me that totebag. Just because he loves me.
* Josh was being slightly dramatic, so please don't worry. During the night's pep talk he also used the Eliot Spitzer edition of that classic discretion motto: Never talk when you can nod and never nod when you can wink and never write an e-mail.
How to outfit your handsome, but slender, husband in a tuxedo in less than 4,000 infuriating steps:
1. Look at a calendar and realize that Sir Fancy Pants has invites to two formal events in 2014.
2. Remember that the last time your husband wore a rented tux, it looked like this:
Far right. Even though he is jumping in that photo, that's where the sleeves hit him while at his sides.
3. Commence tux buying in late December for late February event. First option, order custom from Indochino, the same place he purchased his wedding suit.
4. While trying to decide the correct lapel type and other jacket details from the Indochino website, read Put This On's Black Tie Guide. Take their recommendation and order the Tommy Hilfiger slim fit tuxedo from Macy's with peak lapels. It's worth giving it a shot at that price.
5. It arrives and the pants fit great! The jacket is a little less than desirable but serviceable for the occasion.
6. Macy's discounts the price of the jacket by about $30. Re-order it, plus the notched lapel to see if that looks better.
7. In the meantime, order a custom tuxedo shirt from Indochino.
8. Purchase a cummerbund and self-tie bowtie set from Geoffrey Lewis near my office.
9. Realize that the shoes purchased at the same time as the first Macy's tuxedo have not arrived even though UPS said they were delivered to our door.
10. Lose it about the shoes, but calmly place an online inquiry as to the package's whereabouts with UPS and write a note for the UPS man about it AND chat with him about it.
11. The Indochino shirt arrives, and it is a disaster. The sleeves are too short.
12. Panic, because Indochino has never failed before so now where can we order a custom tuxedo and shirt from?
13. Send Indochino an e-mail with copious photos of the subpar tuxedo shirt.
14. Return the Macy's double order, keeping the pants that still fit great and the not so great jacket. Something is better than nothing.
15. Forget about this for a few days. Regain strength to finish.
16. Call Macy's, which is a labyrinth of phone menu options that necessitate various hangups and redials after hitting deadends, and ask for another pair of shoes. Have the shoes shipped to your office this time.
17. Go on a mini-date day in Georgetown with you husband and swing by J. Crew. Try on their Ludlow tuxedo. Even though it is $300+ more than you wanted to spend, ignore that and buy the J. Crew tux online, so you can use Ebates.
19. Don't like any of the tuxedo shirt options in the J. Crew store.
20. Buy a tuexdo shirt and another bowtie from Charles Tyrwhyt. (Plus a dress shirt that was on sale for him to wear to work!)
21. Hear back from Indchino, who offers to remake the shirt. Tell them thanks, but no thanks, we would like to return the shirt for a refund. Mail the shirt to Canada.
22. J. Crew tuxedo arrives. Angels sing.
23. Charles Tyrwhit tuxedo shirt is too big under the J. Crew tuxedo.
24. Order two more options from J.Crew.com that are not in stores.
25. Second set of shoes are not delivered to your office because of some sort of label failure. Husband calls to sort that out with UPS.
26. On Saturday morning, wake up to find the ORIGINAL pair of shoes at your apartment doorstep. Do not question this.
27. Be awoken on MLK Day at 10am by your UPS man, Ben, knocking on the door to say "Yes, I delivered the shoes to the wrong apartment weeks ago." Fill out some UPS paperwork.
28. Decide that a cummerbund is not the way to go and return the set for a pair of formal suspenders.
29. Second set of Macy's shoes are delivered to your office. Lose it again while trying to figure out how to return the extra pair to Macy's.
30. Husband returns the original Macy's tux and the extra pair of shoes.
31. Go back to Geoffrey Lewis to have a custom tuxedo shirt made. Have them also mark the J. Crew tux for alterations, but take the tux to J. Crew for alterations since J. Crew card holders get free alterations.
32. Go to J. Crew to drop off the tux for alterations, only to have the hipster manager wearing a shawl collar sweater seem inconvenienced by your desire to have their clothing fit properly. Listen to his spiel on not taking advantage of the FREE ALTERATIONS. Contemplate shoving that shawl collar up his ass. Or just writing an e-mail to Mickey Drexler like everyone else.
33. Take J. Crew tux back to Geoffrey Lewis for alterations and button swapping, because of course the buttons on the J. Crew pants are not the right shape for the suspender button holes.
34. Return Charles Tyrwhytt shirt.
35. Receive a refund credit for Indochino shirt.
36. Check in with Geoffrey Lewis about delivery of custom tuxedo shirt. ETA is now Tuesday before the Friday event . . . an event that is in Houston, not Washington, DC.
37. Laugh and resist returning the other $200 worth of tuxedo shirts to J. Crew. Gotta have a Plan Z.
38. Receive an e-mail from Macy's asking why you returned the shoes that were sent to you twice. Shake fist.
39. Geoffrey Lewis shirt arrives on Wednesday before the Friday event. Josh leaves work early, on a day he really can't leave work early, and tries on both the shirt and tuxedo. They look great. Angels sing Handel's Hallelujah chorus.
40. The new tuxedo shirt needs laundered, professionally, before the event because they build in 1/16 inch of room in the collar area that shrinks during the first wash.
41. Josh takes the shirt to be laundered before running to get his eyes dilated, because we are awesome at scheduling our lives.
42. Take Thursday off of work to prepare for the trip (and see Robin Thicke). Run by the cleaners to pick up the shirt after getting nails done.
43. Pack more luggage than for our European trip, grab a cab at 5am on less than 4 hours, and head to Houston for less than 30 hours.
At about 8pm on the night of the event, we looked a little something like this:
44. Return the extra J. Crew shirts.
45. Tell Macy's that, yes, they do need to charge you for the price of one pair of shoes. That would be great!
Consider yourselves lucky I didn't outline my process in finding a dress.
Accomplished
23. Eat at Little Serow
When I moved to DC, I was lucky enough to finally find a salon that caters to those of us who have untamed, curly masses on top of our heads for hair. I've been a loyal Fiddleheads customer since May 2009. The best part of Fiddleheads is the location, right on 17th street between Dupont Circle and Logan Circle. The salon is right next to Komi (which has its own Wikipedia page?!), Chef Johnny Monis' Greek restaurant. I knew about Komi since before we moved to DC; it regularly appears on lists of top restaurants in the country.
Little Serow (rhymes with "sparrow") is a 28-seat, no reservations at all, restaurant serving northern Thailand cuisine opened by Monis and his wife Anne Marler in 2012. The restaurant is just downstairs from Komi, literally down a set of stairs. There is no signage, no valet parking outside. You just have to know that this is the door the line forms in front of:
This was once a Dunkin' Donuts.
No reservations means that you just line up to get a spot for dinner. The first service is at 5:30pm, and the rest of the night is on a rolling basis from that point. They'll text you when a table opens if you are the 29th person in line OR if you don't want to eat dinner at 5:30pm and come back for the "second seating". I see the line every time I exit the salon since I usually get my cut and color done at 3pm. I have quite the collection of Instagrams: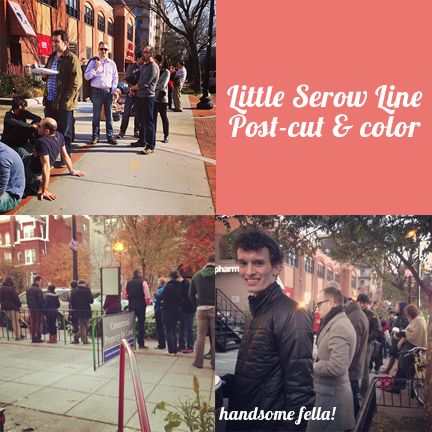 My game plan was to have Josh stand in line while I get my hair done, and then meet him in time for the 5:30 door opening. Now, we could have done this anytime during my 29th year, but of course we were down to the weekend before my birthday, so it was November cold. Josh dropped me off at the hair salon, and we chatted with the stylists about tips and tricks for the line. Josh got a little spooked by their stories and jumped in line at 3:25pm. He was first. No one else joined him until about 45 minutes later.
Josh became the unofficial line ambassador. I'll be honest, this was the longest line I have ever seen post-cut & color. I also didn't realize the amount of questions passersby asked those on line. Later, Josh told me a woman asked if Little Serow was like "Mission" in New York City. I explained what Mission Chinese is to Josh.
Now, if you know me at all, you know I'm not a huge Asian food fan. But this was different. The preparation and presentation were relaxed and perfectly executed at the same time. The menu is $45 pre-fixe, served family style. The final dish, beef short-ribs, was maybe one of the best things I've ever eaten. It was spicy, for sure. Josh's nose did start running at one point. Rumor has it that they have toned down the spice since first opening.
One thing to note, is that the wine and beer list is not extensive or perhaps even the best paired with their dishes. BUT they had a sparkly wine to start with, so all was forgiven. Besides, you really only need to have beer with Thai.
Everyone was so nice. I just don't know why this surprised me; I assumed it would have a slightly stuffy, hipster air. But none of that was present. I chatted with the waitresses about their "uniforms", a mix of actual vintage and reproduction dresses. They asked all about my birthday trip to Turks & Caicos and the rest of my birthday plans. They even put a candle in the coconut rice dessert square for me.
I think I would like to make this an annual trip, or maybe slightly longer than once every year. We can do it in the spring next time so Josh isn't standing in the cold for 2 hours again.
Have I mentioned again how much I love him? Mwah, Josh!
More on Little Serow here:
Things that sucked big fat hairy monkey balls this weekend:
Josh had to work the entire weekend, including late Friday night (He also worked the previous weekend and New Year's Day. I get cranky when I don't see him.)
A package that was to be delivered to our door on Friday wasn't there despite UPS saying it was delivered
Someone stole my e-mail address and sent $121 from my PayPal account to someone in Myanmar
I also was signed up for 55 spam e-mail subscriptions
Signed up for a graduate school program open house, but was too overwhelmed by life to go
Still too overwhelmed Saturday afternoon to go on planned movie trip with friends
2014, do better.
Last night, while watching The Sound of Music: Live! with Alicia and Becky, LO asked if I wanted to go see Peter and the Starcatcher at the Kennedy Center. It's the play that Christian Borle won a Tony. The Girls further explained that it was the story of Peter Pan.
I interrupted them to say I am not a huge Peter Pan fan. The only version of Peter Pan I have ever watched (and no, I have never read any stories either) is the televised version of the musical with Mary Martin. We had a VHS of that version, and watched it numerous times. I actually remember the day Mary Martin died. We were still living in Pennsylvania, and we were driving somewhere. The radio announced that "Peter Pan" had died. I think Bradley cried. *
The Girls quizzed me on this: hadn't I seen the cartoon? Hook? A debate broke out on what parts of Hook are scary.
I realized by the end of the night, my children could be sitting around with friends 30+ years from now discussing The Sound of Music in the exact same way. Would my children think of Maria as having a slightly Okie-sounding speaking accent? Would they think Rolf and the Baroness are suppose to be brunettes? Would they never really know the sophistication of a Christopher Plummer Captain? Be able to sing "I Have Confidence" when feeling down?
This reminds me of Dad's joke about The Sound of Music:
One year, when the Julie Andrews version was on TV, we were not old enough to stay up to watch the whole thing. But this was not our first viewing, so no harm done really. The next day, I jokingly asked Dad how the movie ended.
His response: the Nazi's shot the Von Trapps down on the Alps. They were reincarnated in Utah as the Osmonds.
*Editors note: This could also be combining the story of hearing Jim Henson had died. But I know that I was told somehow that Mary Martin had died.