If you are my friend, and you have fallen in love with someone and decided to be joined in matrimony, I will interject myself and my hot glue gun into the blessed event. You can't stop it, and I won't even apologize for it. This is what comes with a Jillian Sue friendship.
Last April, my dear friend Sarah Tinkler and her longtime beau Timothy O'Reilly decided to get married. Of course, I was ecstatic, but I also knew Sarah would let me railroad her with all my craft ambitions.
The Invitation
This has been my dream forever: design a wedding invitation suite for a friend. Sarah and Tim were married at City Hall on a Friday, but were celebrating with a big family brunch the next day. Sarah wanted to formally invite everyone to the brunch, plus have a tangible keepsake.
Sarah pulled up some watercolor inspiration on an invitation site. I took to my computer and the Internet to figure out how to create the correct effect. Today, one year later, I can tell you I would not be able to recreate the watercolor effect in Photoshop NOR find the tutorial I used to create it. I just wish that Internet browsers had a system for allowing you to collect helpful sites so you can reference them again and again. Wouldn't that be wonderful?
I created the envelope liner with the same watercolor Photoshop technique. Everything was printed at home on my little HP printer. I used leftover cotton cardstock from our wedding programs. That stack of paper has really been a great resource since I over-ordered by about 200 sheets to print 60 programs in 2011. The liner was printed on Paper Source white text weight paper with a textured finish to mimic real watercolor paper. And I know what you are thinking: of course I thought about actually watercolor painting white sheets of paper to create the effect on the liner.  But I figured it would dry wonky to glue into the envelopes.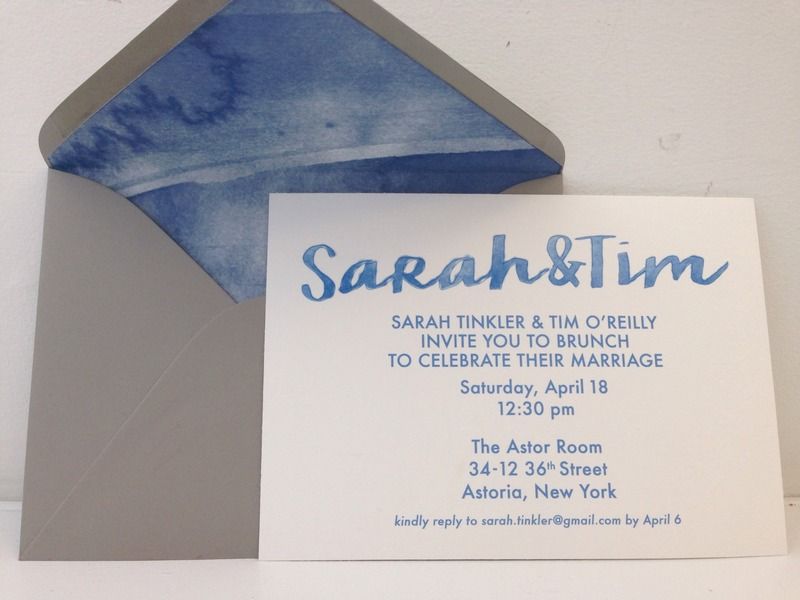 While at Paper Source, I picked up the gravel colored envelopes. I printed Sarah's return address on the back flap and also each mailing address on the front in the same font as the invitation text. Do as I say and not as I do: wedding invitation addresses should aways be handwritten. This one kills me when I see people sending out wedding invitations in envelopes with labels. But! This wasn't a traditional wedding so I printed the addresses directly onto the envelopes. This was tough as my printer liked only every other envelope. I had to print a blank sheet from the printer between envelopes to clean the printer drums. Otherwise, black streaks appeared on the next envelope I printed. Once I figured this out, it was a perfect rhythm.
I am a full service print shop, including postage. I used the Jessica Hische designed Forever postal stamps. Each envelope needed about two and some change stamps, but I wasn't adding metered postage to these beauties. I alternated the red, white, red and white, red, white pattern on each invitation.
I sent Sarah and Tim an invoice for the invitations that Tim complimented as being more professional than some of the vendors he deals with in New York City. I'll be applying for my tax identification number any day now.
Clutch Purse
These purses are my wedding signature. I made Mum, Katie and myself one each for my wedding. Then, five for Tiffany's sister's wedding the next year. The fabric I used for Sarah's was leftover from my wedding, or more accurately, unused from my wedding. This was my wedding color; it matched the ties the guys wore and Katie's dress. But I ended up making Katie and Mum gray purses and lining my own white bag in navy. I have yards of this high quality (read: not purchased at JoAnn's) peachy pink satin still on hand. Luckily, Sarah didn't mind me shopping my fabric stash.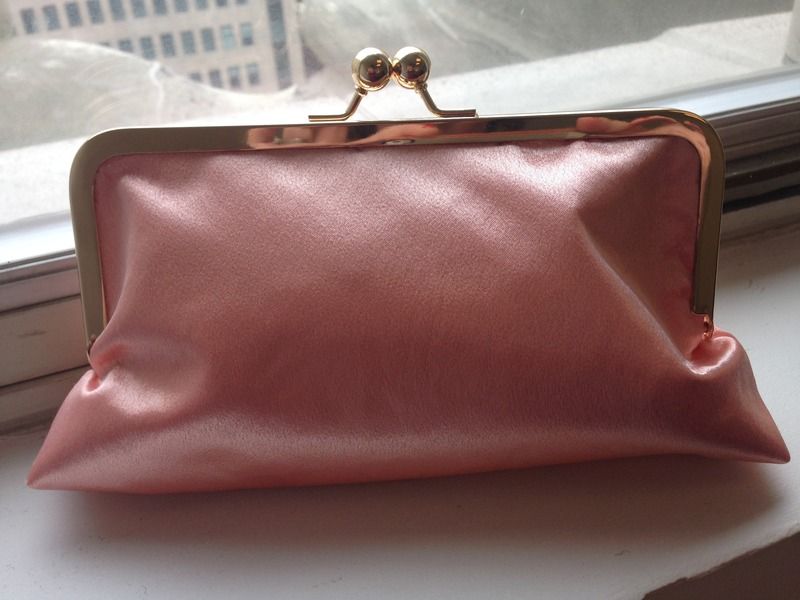 We updated the look for 2015 with gold purse hardware, but lined the bag with gray to keep with the theme.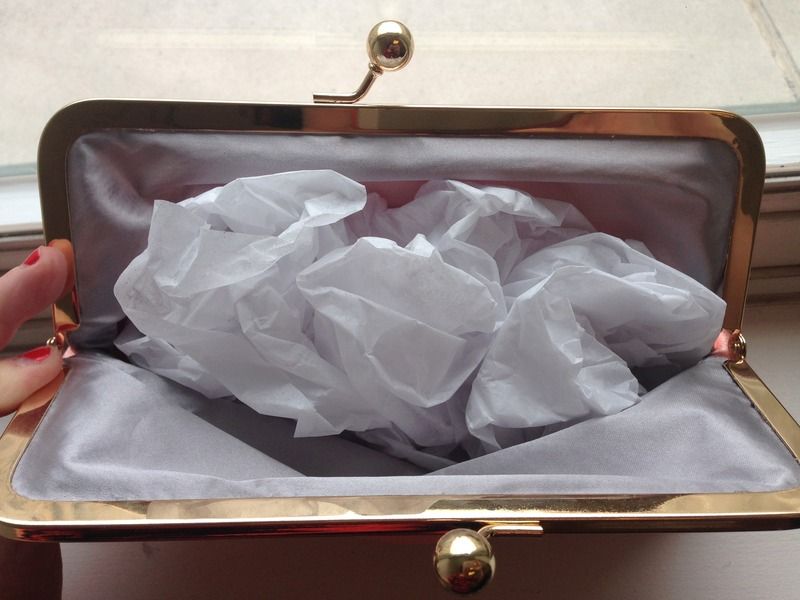 Fauxquet
During my craft research for another project, I found these small pink paper flowers from Paper Mart. I love Paper Mart: they sell things I love to buy, offer no discounts or free shipping, and can't be bothered to update their website past-1998 standards. I ordered three packages of these little flowers for less than $10. I picked up a styrofoam cone at the Dollar Tree for the bouquet base. I took each wire flower and used floral tape to adhere it to a toothpick or bamboo skewer that I cut to size. The domed effect was created by working my way down from tall skewers to smaller toothpicks on the side. I wrapped the styrofoam with green grosgrain ribbon secured with floral pins. Amateur tip: you can't continuously wrap a cone shape with a straight ribbon and have it lay flat. I had to cut little strips, overlap them, and secure them with the pin. This also took a while to figure out.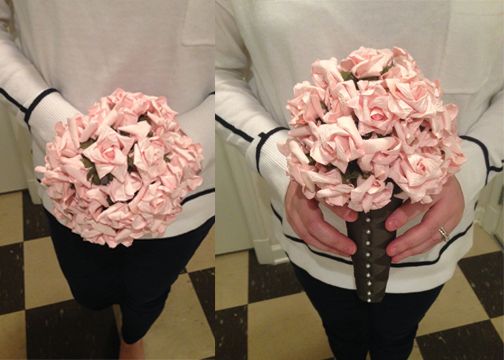 I took a few of the extra flowers and hot glued them onto a pinback for Tim to wear as a boutonniere, which you can see in the photo below. Thanks Paper Mart!
Wedding Announcement
My final wedding paper project was creating a wedding announcement. Sarah wanted to mail these out to friends and family to share the news of their union. Classier than a Facebook post.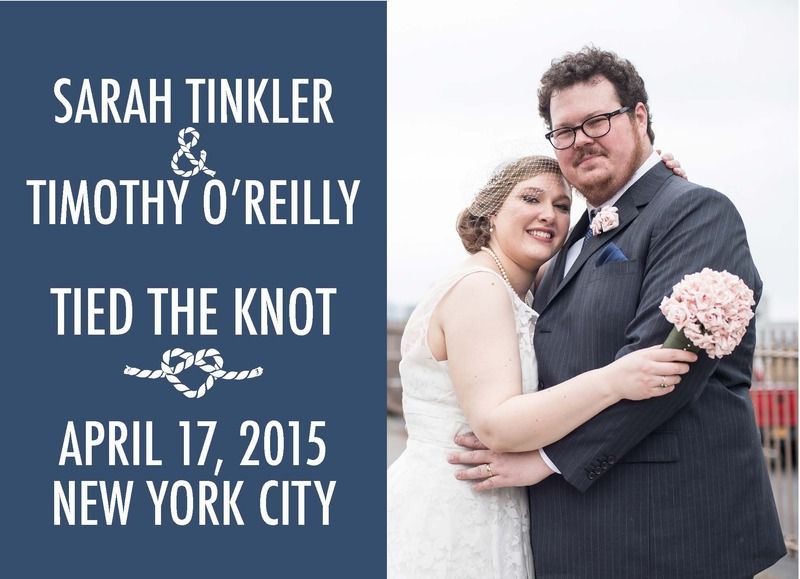 Here is where things got even worse than my printer streaking the envelopes. I could not get the image to size correctly for my design. We all know I have issues with printing resolution. I reached out to the instructor who taught the Photoshop class I took in 2009. He gave me some helpful tips (move this production into InDesign from Photoshop). Once everything was clear, I printed them at Vistaprint (what would I do without them?) as glossy postcards. These were mailed out by Sarah in plain white envelopes. As a finishing touch, I created and had Vistaprint produce coordinating address labels, with the rope "&" used again. This was my first project where I purchased and used vector images. Best part is the images fit perfectly with my personal brand.
In the grand tradition of me biting off more than I can chew for my friend's weddings, I was very relieved when I uploaded the final announcement design to Vistaprint and did not receive a low resolution error. Fist pumps!
Happy one year anniversary Sarah & Tim! Thank you so much for letting me be a part of your special day! (Like you had any choice!)
One Response to Sarah & Tim: One Year Anniversary