Here is the only tolerable Beatles song!
Come at me, bro.
I respect The Beatles but feel like there are much more interesting groups of four musical men (Minutemen, Mission of Burma, Minor Threat, Hüsker Dü, The Replacements, Dinosaur Jr., Fugazi, Wilco, Maroon 5) ((not all those bands have four men in them, but just go with it.)) (((All of those are real bands))). And today's Band: Boyz II Men.
Didn't we all own the II blue covered album between 1994 and 1996? Best track. But this is the best video from that album.
I have a soft spot for cover songs that I think are better than the original song with the original artist. I have a list of favorites, so I'm going to link a few every now and again as I procrastinate on finishing my portfolio and packing. There is no particular order.
"Knife" by Grizzly Bear
I don't really like Grizzly Bear, but this is the best male collegiate a cappella performance of an indie song, IMHO. (Sorry, Whiffenpoofs.)
I bought a piece of nostalgia: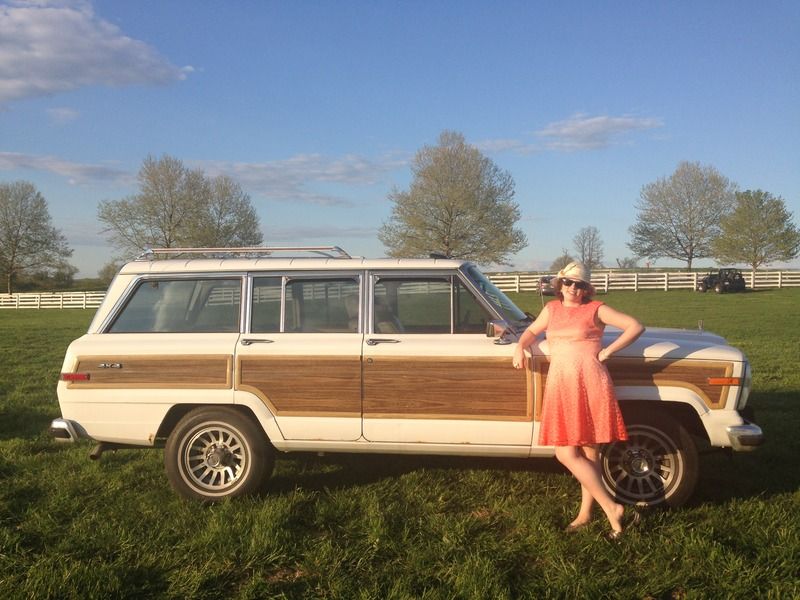 Last fall, we were out to drinks with a co-worker of Josh's and his wife. During a discussion about vehicles, my want of the Wagoneer came up. We showed them photos from last year when we first seriously looked to buy a Wagoneer. The wife asked why I wanted this car.
Why?
Why not?
It was the first time I had to articulate why I wanted to own a late 80s/early 90s 4×4. Josh has always known this to be my "dream car". I always thought everyone had a "dream car" that they would purchase if possible. Sure, theirs might be a newer vintage than my beloved, but cars are an object of desire. Where did my desire come from?
Looking at this car (scroll up! LOOK AT IT!), I first see beauty. It is just a beautiful vehicle. Josh said that I should go down to the garage every morning before work to look at the car just because it makes me so happy. This car looks like a different time, or now, lifestyle. And that is where my desire comes from. When I was a child and this was a new car on the market, I thought "That is the car I will have when I am a grownup." As I child, I made a lot of goals or predictions like this. I wouldn't call myself sentimental, but I am nostalgic. I actually think that a lot of people my age are nostalgic. This explains the popularity of Old Loves and My Parents Were Awesome. There was a line in the last season (or season before last?) of Girls where Hannah says to Elijah something like "All I want to do is go home and Google that one week in the 80s when Glenn Close and Woody Harrelson were a couple." THIS! But instead of petitioning to bring back Crystal Pepsi, I googled for a Jeep Wagoneer.
This car was listed on the Richmond Craigslist but was actually in Sterling, Virginia, right up the road from us. Josh and I looked at it on a Saturday before we had to go to a wedding reception conveniently in the same neighborhood. The color was right (I was more drawn to the white Wagoneers, but was willing to have any color) and the price was right-ish. Of course, there was "someone else" interested in the vehicle, and the original price was reasonable/affordable, so negotiations did not happen. I did the same as last time we bought a car and picked up a money order from the Bank of America down the street from my office. We bought the Volvo in April, and it was April again when the Wagoneer came into our lives.
I didn't know Josh was filming me during our test drive. I thought he snapped some photos and then I went into the zone of focusing on driving a new-to-me-25-year-old car. Later, when viewing the footage, I loved Josh a little more for capturing such an important moment in my life: making the decision to buy this car already!
I want to also thank the following people for their support, in absolutely no particular order:
Alicia Pappas, for riding anywhere and everywhere in the Wagoneer with me and delicately correcting my driving
Jeffery Nelson, for his Photoshop skills
Emilia Gershon, for being unemployed and able to drive out to past-Dulles Virginia and visit the DMV with me
Alan, who I bought the car from, for being that mix of crazy and weird that makes adventures memorable (and for the $200 in cash he gave me once he found out the radio didn't work before the sale)
The lady at the DMV who processed the paperwork in about 4 and half minutes, the entire time musing about what she would get for lunch ("Tuna sandwich")
Kacey, the AAA mechanic who serviced the vehicle when it had its first issues and gently pointed out some of the problems under the hood ("Fixing the exhaust would cost more than the car is worth *beat* I KNOW this is worth a lot sentimentally.")
Dan and Caroline, for being the first backseat passengers who patiently helped find the seatbelts
Tiffany, for once having a dream that Josh would buy the Wagoneer for me (full disclosure: I bought this for myself and only I own it)
As we were getting ready for bed the night I brought the Wagoneer home, I remembered something I had for Josh.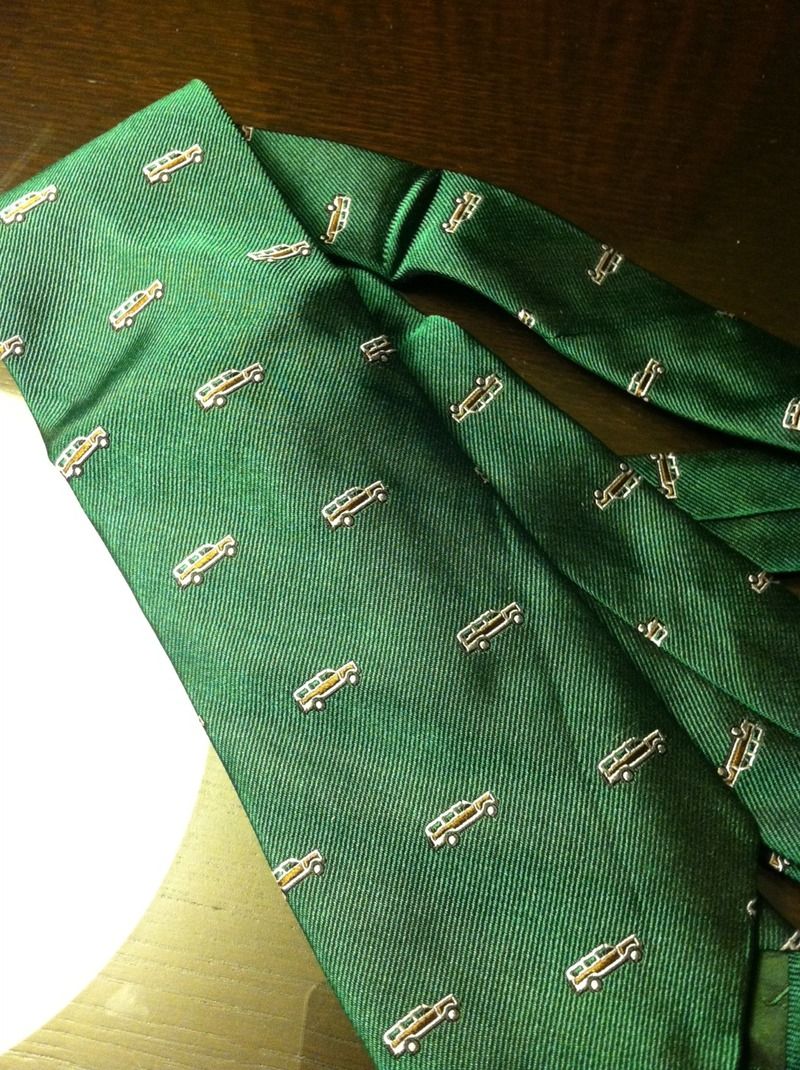 This is a J.Crew tie, that according to the tag, was part of the Holiday 2007 collection. I purchased it sometime around there, maybe at an after-Christmas sale. I intended on giving it to Josh as a gift. It came with me when I moved to DC in May of 2008, tucked safely into the interior zip pocket of my largest suitcase. In January 2014, that suitcase went to San Francisco, full of binders for a trial my office was participating in (winter storms prevented us from shipping all the important documents). My co-worker Kirstin sent me the photo above with the question "Missing something?" I let her in on my two habits: 1. buying gifts when I see them and 2. hiding them everywhere in the apartment.
I meant to pull this out of the suitcase before Josh got home on the Wagoneer's adoption date, but I didn't remember until we were brushing teeth. I ripped open the suitcase, which because we live in a one bedroom urban apartment serves as a supplemental closet full of other items, unzipped all the interior pockets and pulled out the tie.
It was only then that I realized the color of the Wagoneer on the tie was white, just like the one I bought.
Josh laughed one of the best laughs I've heard him giggle in the 10 years of our relationship.
And in closing, a gem I found on YouTube this week when looking for something else:
The Wagoneer definitely has a beautiful soul.
Scenario: I walk out of the bathroom into the kitchen wearing an oversized, old and stained men's undershirt with disposable gloves on my hands.
Me: I need a plastic spoon. *beat* I'm dying my hair.
Josh: I figured it was that or you were making meth.
***
Scenario: Last month, we went on a long weekend trip to Nashville, and I was surprised by hotel prices downtown. I have been surprised by hotel prices since 2005 when Josh and I planned our first overnight trip to San Antonio when I thought a hotel should be about $60 a night, and we paid triple that to stay at the Omni. I hunt for decent hotel prices.
Me: We don't have a hotel yet. My goal is to find something decent with a good cancellation policy, book it, and then Priceline something cheaper the week of our trip to save money.
Josh: Ah, that's the American dream right there.
***
Me: *scrolling through Instagram* Do you know who the most talented human being is?
Josh: Beyoncé?
Me: True, but the second most.
Josh: Who?
Me: Michele the calligrapher.
Josh: She IS the most talented human being.
***
Scenario: The Bachelor starts on TV as Josh is washing the dishes in the kitchen. I am not a Bachelor watcher, but usually gleam bits of season from social media.

Josh: *watching the first few seconds which are a recap* All of these women look like clones of each other. I can't tell them apart. How does he?
Me: There are actually twins competing this season. So two of the people ARE the same!
Josh: That makes me feel better.
1. Remove the superfluous Facebook accounts
Back in the day, roughly 2011-2013, I was involved in volunteer activities at the church where Josh and I were married. I was added as an administrator to their main Facebook account and the young adults account. I am not involved in these activities any longer, but I am also not involved in Facebook much, period. When I log in now, the most activity/notifications I see are for the Cathedral, not my actual social life. I need absolved of my Catholic Facebook.
2. Graduate from my program
Portfolio due May 1.
3. No black dresses
In 2015, I bought:
The Limited black polka dot dress because I liked it (didn't know this was going to create a slippery slope)
Target black dress for Hamlet
Lord & Taylor black dress for a wedding (yes, I wear black to weddings, etiquette be damned)
Ann Taylor black dress at a thrift store for $6
JCP fancy black dress for $30 that I had pinned at a higher price
I am usually known for wearing brighter colors, patterns and stripes. Enough with the black dresses.
4. Improve my vocabulary
I am on two medications to help my brain. The combo does make me a better person, but stunts my mental relay on vocabulary retrieval. The other day, I used about 25 words to describe the one word I was thinking of but couldn't retrieve; that word was "responsibility." I have discussed this with my psychiatrist and my therapist; they suggest reading the dictionary to help. I am a pretty voracious reader, but I agree that I could use some vocabulary support. Flashcards might be utilized.
5. Be able to do percentages mentally
I can't calculate percentages in my head, at all. I have never been able to and would like to. When my children are shopping with me, I want to be able to calculate 40% off sale items at the GAP without pulling out my phone.
6. Visit a museum a month
We live in the capital of free museums, and I volunteer at the National Museum of Women in the Arts. But I don't feel like I take advantage of all the museum cult-chur available. I already went to the National Gallery in January for the Louise Bourgeois exhibit. Check!
7. Buy new Apple products
Josh and I started dating in the summer of 2005, about three weeks after my parents purchased a car for me to have at UT. It was a 1996 Volkswagen Jetta. A few weeks after our relationship started, the car started beeping. I don't remember why it beeped, but Dad might remember. I think it was the security/stereo wiring causing issues. It was a persistent beeping that would start unexpectedly and not turn off until you turned the car off. Josh isn't really a car guy, which means two things: 1. he had no way of helping me with this car issue and 2. he also thought the 9 year old car was brand new. *insert rolling eye emoji*
Josh later had a conversation with his father and mentioned the beeping. I am assuming that they had run out of all other conversation topics in the world, and my broken car came up. Mr. Johnson replied with something like "that would drive me crazy." I responded to this conversation rehash with something like "Well, not everyone fixes broken things immediately." I obviously was not sensitive at all to the different reactions in our families of origin to spending money on broken things.
In the almost 11 years that have followed the beeping Jetta, Josh has evolved in two ways 1. he doesn't always repeat conversations to me that I shouldn't know took place and 2. he now lives with broken things. Josh's iPhone 5 (purchased September 2012) charger port has been delicate for the last year? or so? He has to insert the charger cord just so to ensure it charges. I am typing this post on a MacBook Pro that Josh received as a generous law school graduation gift from Mr. Johnson in May 2009. My goal for 2016 is to replace Josh's iPhone, my iPhone and the MacBook. *insert flying money emoji*
8. No Subway sandwiches
I made this announcement around Christmas when brainstorming on 2016 goals. Josh asked how many times I ate Subway in 2015: 2. But the last time was super depressing for a million reasons. No more depressing sandwiches!
9. Travel

Girls' trip?
Provincetown?
Five year (!) wedding anniversary trip
Alicia's 30th birthday trip
10. Get a haircut
Job = haircut
1. Get LASIK
I went in for the consultation and BOOKED THE APPOINTMENT! Then Bradley, who is his own breed of Debbie Downer, said that I shouldn't do it. He went to college with a girl who really couldn't be in dark rooms because her Lasik made her blind in low-light situations. (His version of this story is more brilliant.) ((Light pun, get it?!)) I cancelled the appointment and bought a second pair of glasses at Warby Parker.
2. Lose 10lbs, develop abs
I am still so soft in the middle.
3. Survive January 2015 at work, then not collapse in February
I collapsed in February, on Presidents Day to be exact. It was a bad scene but really REAL too. A lot of 2015 illustrated how well I know myself and how much I can suck at self care. It was a weird year for me producing for the American economy. But I am extremely grateful for everything that happened because I needed it. I needed to experience something new.
4. Never mindlessly watch an episode of The Big Bang Theory again
No Big Bang Theory, lots of Law & Order episodes. This would be the time to insert my personal story on how I use television to cope with some mild depression, starting with watching QVC as a child. (No one needs to read that; I pay my therapist to listen to it!) Last night Josh said he doesn't like it when he comes home from work, and I have the television on. Well, I hate that he always has Pandora or NPR on when he is home alone, and I come into an apartment with ALL THE LIGHTS ON and something BLARING.
No one is perfect, and we all have our own coping mechanisms. If it isn't doing drugs, we should probably just leave everyone be.
5. Go to London with Josh in October
This trip was wonderful. Josh, unfortunately, experienced his first car accident within four hours of landing in England. We survived it so well! We are both really proud of ourselves. Also, 3/3 of our hotels had pools so we swam outside in England in October, and it was pretty great.
6. Teach Alicia how to make an American quilt
We didn't even attempt this, but I did take a craft shopping trip with McKatie when she spent $26,000 on quilt fabric. Quilting by osmosis.
7. Sell that pile of eBay/consignment store merchandise holding space in the bedroom
Separate post coming on this (for real, it is in draft), but I really cleaned the junk out.
8. Finish the classes for my George Washington University certificate program, complete half of my practicum hours, and pick my portfolio project
I finished all my classes during the fall (thanks, unemployment!) and did the portfolio project. I need to write it up. I am actually getting a little panicky about this, so I am sorry if I jump at you if you ask about it between now and May 1 (graduation deadline). I really appreciate you caring, but those 60 pages aren't going to write themselves.
9. No Coke, no cookies during work and evaluate that ice tea with ice cubes habit
I had one Coca Cola in all of 2015 on December 26. It was a glass bottle Mexican Coke, and it was worth it. I might be addicted to restaurant ice tea, and I need help. Consuming nasty liquid chemicals that someone pours from a pitcher that is probably improperly sanitized and then I pour white sugar packets into for the price of $3.00 a glass needs to STAHP. Drink water like a fish, McMahon.
10. Buy a Jeep Wagoneer
Another post is coming about this (agin, in draft!), but when 2015 is remembered, it will be remembered as the year I brought this home. It has made me so happy to drive and own and look at and talk about and spend money on (seriously).
Also, what a great time to buy a gas guzzler when oil prices are in the toilet. It was all meant to be.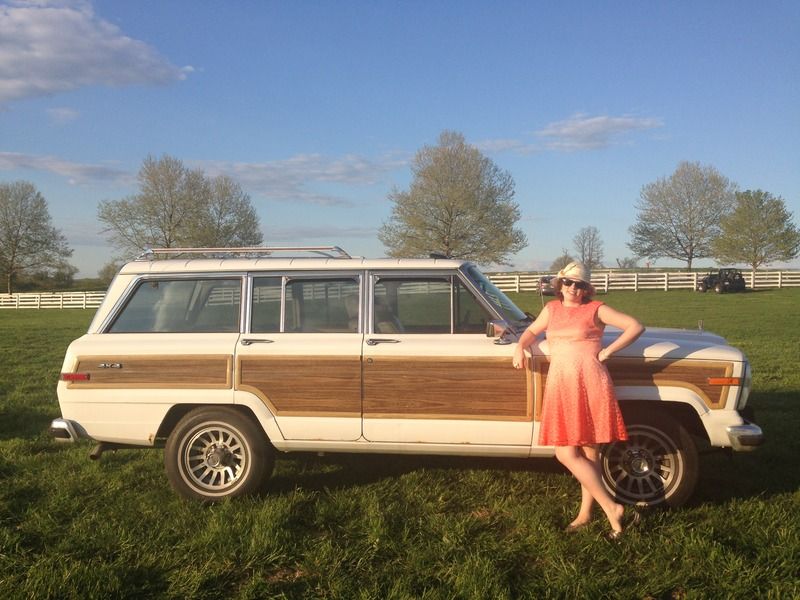 Photo by Alicia M. Pappas
20 years ago today, the three McMahon, children formerly of Oil City, Pennsylvania, had their first day of sixth, fourth and first grade in Flower Mound, Texas. 20 years! I remember the flight from Pittsburgh to Dallas on January 7: it was snowy, and the pilot announced that the only runway open was the shortest. They were going to give it a try!
We made it safely.
We lived in a Homewood Suites for a few days in Las Colinas, then moved into the house in Flower Mound where Mum and Dad still live. The same house that now Mum threatens to dismantle our childhood bedroom furniture to clear out our rooms. If I had known this 20 years ago, I might have asked the movers to just leave my mattress, and I'd keep my clothes in the moving boxes. (In the spring of 2014, when I made a special trip home to remove my belongings from said room, I still found the little numbered moving stickers on things. Mementos.)
Back to January 15, 1996. It was the day after MLK Day, so instead of starting school the middle of the previous week, it was decided starting after the three day weekend was best. That day, I wore jeans, a B.U.M. Equipment salmon, navy, white striped shirt with a denim shirt open over top. Later that year, I realized that a BOY in my band class named Jonathan had the same shirt. I made a bold unisex fashion statement in 1996.
I remember all the colors of Forestwood Middle School, the expansiveness of the band hall, the two professional style gyms. But the most important thing in Forestwood Middle School on January 15, 1996 was my future husband. Just take a moment and take that in. When our family of five was trying our best, and honestly sometimes flailing, to adjust to living in a different state with an entirely different culture, the man I would later choose to spend my life with was one row over in Mr. Bartholomew's world geography class. He was wearing oversized Tommy Hilfiger polos he was STILL wearing when we started dating in 2005. Hand to G-d, this is true.
Josh's family moved into the neighborhood in time for him to begin the school year at Forestwood. His mother still lives in that house too. Meaning, our parents live five minutes apart, and we have the easiest holiday schedule of any married couple. I think I have Mr. Bartholomew's world geography class to thank for that. Speaking of Mr. Bartholomew, I did actually put some effort into locating him to share this story with him. Unfortunately, I was unsuccessful. He occasionally attended mass at St. Francis in Grapevine where my family goes, but I think the last time I saw him there was the last millennium.
Josh and I did not have anymore classes together after that during middle school. Our middle school was divided into two "teams" (maybe where I got my affection for the word). Because I started mid-year, I was just placed onto a team. The algorithm or whatever that made schedules didn't put us together in 7th and 8th. Our last class together was 9th grade geometry (it's a g thang baby). Josh doesn't remember me in either class; he remembers me around the time we graduated high school. Today is the day we met and I remember him, but Josh's 20 year anniversary of knowing me will happen sometime in 2022. Maybe we can find Mr. Bartholomew by then.
For a while, the children in my neighborhood were rezoned to another middle school, but now they are back to going to Forestwood. Before Mr. Bartholomew, I should probably thank Mum and Dad and their real estate agent Mary Helen for deciding on that house, in that neighborhood with that zoning. I actually won't go so far to thank Herb Baum for moving Quaker State to Dallas, because it destroyed a town already on the outs. If he would like to send us a belated wedding gift though, I'll forward my address.
A Quaker State coworker of Dad's said the summer before we moved "I wouldn't trade my children being raised here [Oil City], for all the tea in China." I have thought of that as the years have gone by and thought how shortsighted it seemed. As the 20 year anniversary is the china anniversary, I wouldn't trade all the tea in China for the experience of growing up in two totally different places. I love that my husband was a part of the most defining experience of my life.
Josh's cousins are attending Forestwood next year, which has supposedly gone through a million dollar renovation. This is where I should note that there was a Facebook group "I attended Forestwood before it was ghetto" a few years ago; perhaps the school district noticed, and this spurred the renovation. Facebook sparking change?! Anyway, the cousins remembered that we both went to Forestwood, and I did my standard warning when anyone talks about going there: you might find your future spouse.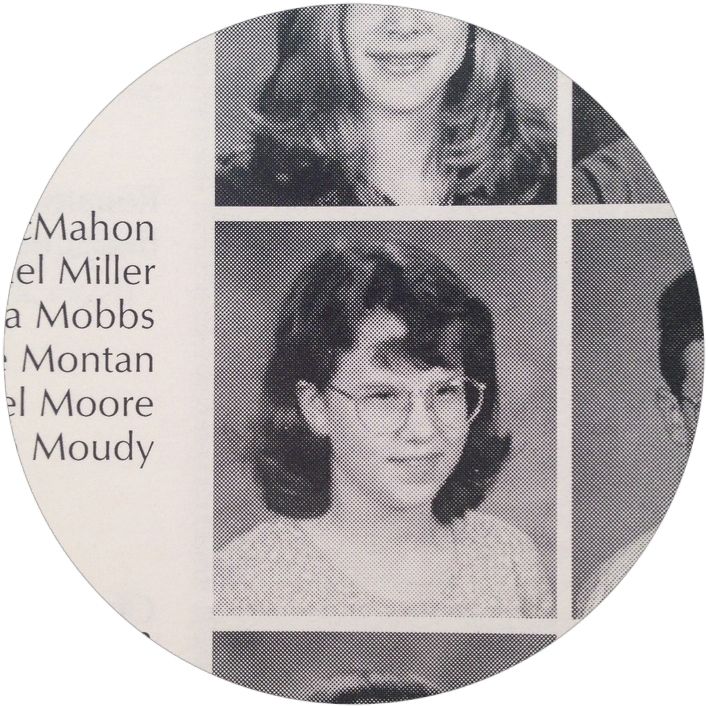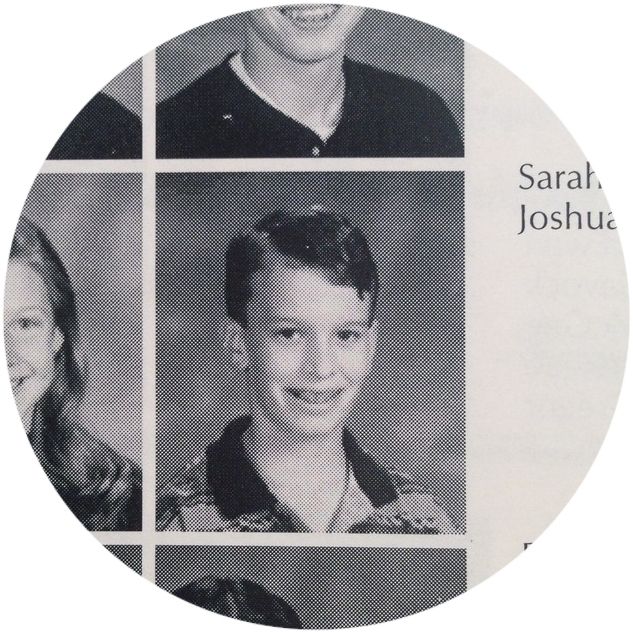 Us, in 1996, via the yearbook
Preservation Hall Band
Kacey Musgraves
Stars
Ex Hex
Sufjan Stevens
Neko Case
Best Coast
Morrissey
Pentantonix
Kelly Clarkson
Watson Family Hour
Band of Horses
Chvrches
Telekinesis
Hottwire (RIP)
Marina & the Diamonds
Joanna Newsom
Honorable mention to concerts that didn't happen in 2015:
Bette Midler (never went cheap enough day of on resale sites)
Everything at the Landmark Music festival that wasn't Band of Horses or Chvrches. I was in a mood that weekend and couldn't deal with a festival environment. Sorry Miguel, Drake and The Strokes.
Built to Spill (we were on our way to England that day)
Dale Earnhardt Jr. Jr. (tickets were purchased, but went to Marina instead)
The cost of sending out holiday cards, since 2011:
2011
This was the first year of our marriage, and I used a Groupon for Picaboo. I only ordered 50 cards, which was definitely not even close to the amount needed (foreshadowing). I had to order 20 more photocards from Snapfish to finish spreading holiday cheer.
Picaboo Order: 50 for $25 (Groupon price)
Snapfish Order: 20 for $14.19
2011 Forever stamp rate: $0.44
Price per card, including postage, for 70 cards: $0.99
[Printed copies of these cards are hiding somewhere in our 700 sq. ft. apartment, but after searching every logical place Sunday afternoon, I came up empty handed.]
2012
This is the year I took a Adobe Creative Suite class and got fancy with my own personal design using an engagement photo from Spring 2011 ¯\_(ツ)_/¯. I printed them at Vistaprint, using their standard postcard size. They sell matching plain white envelopes for a small additional charge. It's a great deal as long as your design and production are perfect from the start (foreshadowing).
Vistaprint order with envelopes, including shipping & handling: 100 for $29.51
2012 Forever stamp rate: $0.45
Price per card, including postage, for 100 cards: $0.75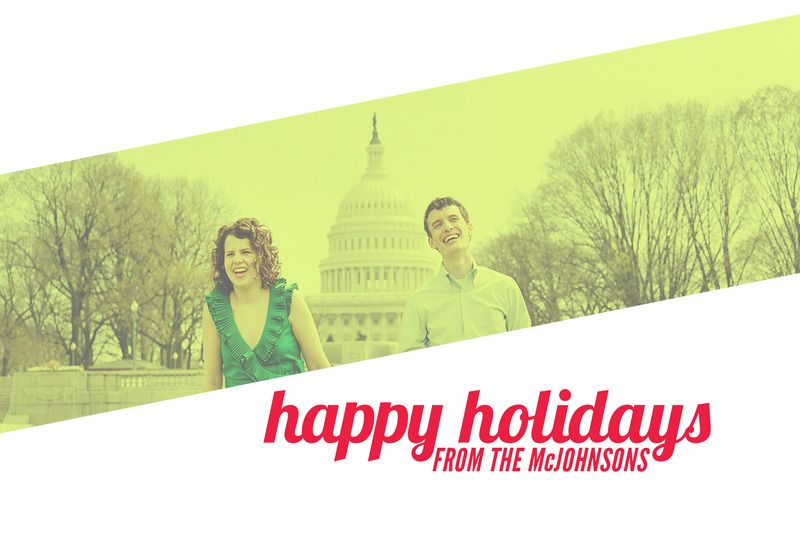 2013
This is the first year I don't use a professional photo. We asked another tourist to take a photo of us in front of the Eiffel Tower when we went to Paris that October. I had been dreaming of this card since we made the decision to go to Paris sometime in 2012.
Vistaprint order with envelopes, including shipping & handling: 100 for $27.86
2013 Forever stamp rate: $0.46
Price per card, including postage, for 100 cards: $0.74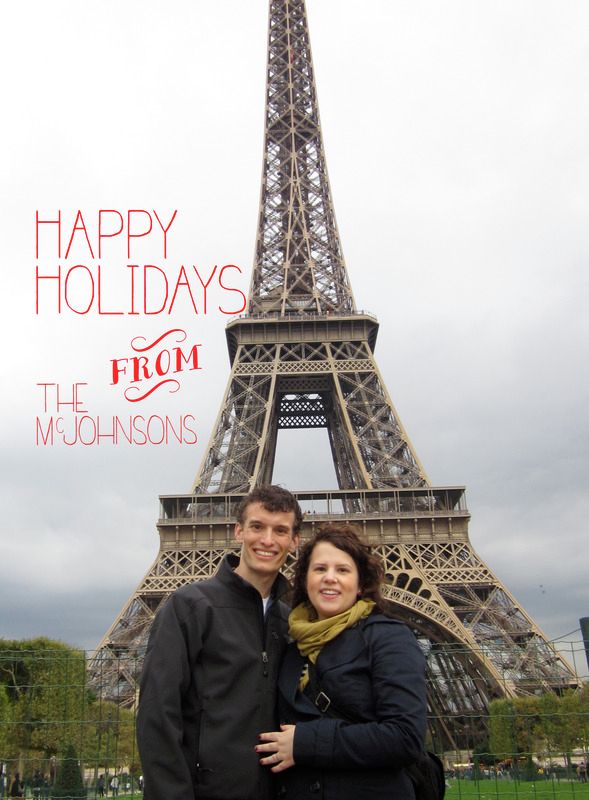 2014
It all broke in half.
2014 brought us back to a professional photo, using a photo taken by Tiffany's wedding photographer. When I uploaded my design the first time, I received the "low resolution" error on Vistaprint. This was a warning that my design might not print clearly. I ignored it because I am an arrogant idiot 90% of the time. Only after hitting submit on my order, I realized that the picture of Josh & I didn't fill the entire square I had created in the design; there was a little white sliver visible at the top. Rats!
A Vistaprint order is like an Amazon order: you can't stop it for anything. I should also mention that I was doing this uploading and ordering after midnight, but I am sure that is obvious from my precision work. I immediately fixed the picture alignment and purchased again, without envelopes. This is where I should note that Vistaprint shipping isn't pricey, but every mistake adds up in the shipping column.
Both orders arrived and looked like #1 blurry, crooked mess and #2 just a blurry mess.
#1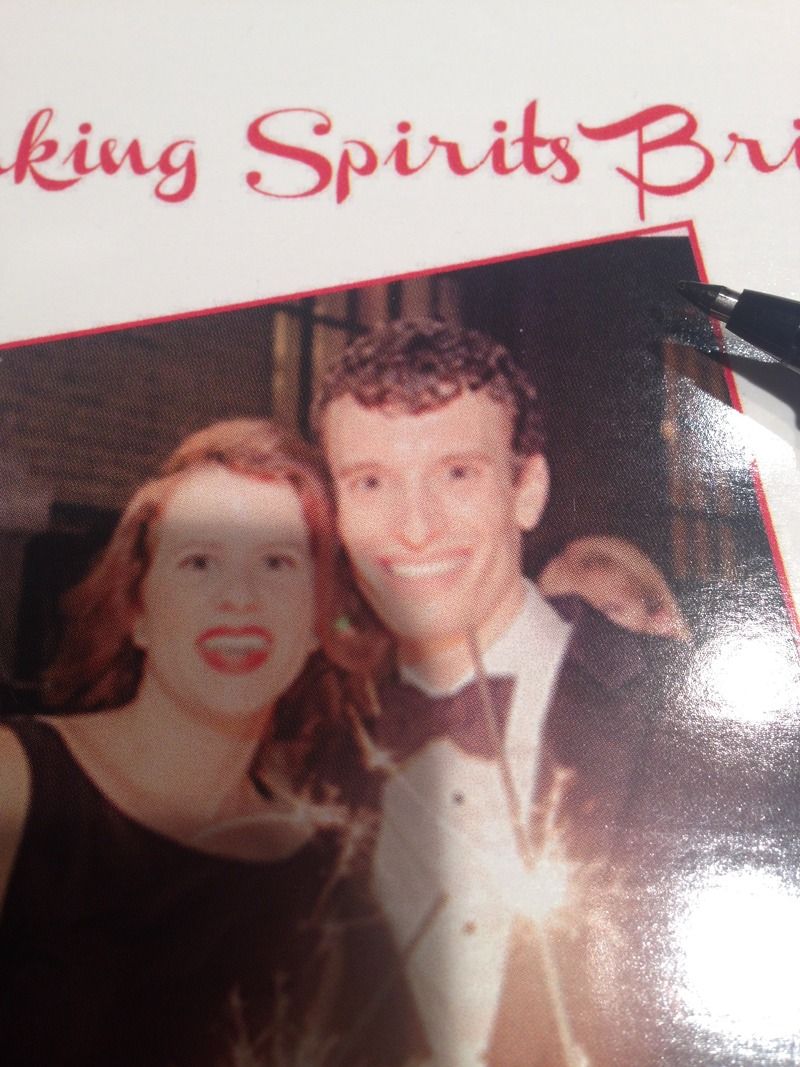 Pen is for spotlighting my Photoshop fail
#2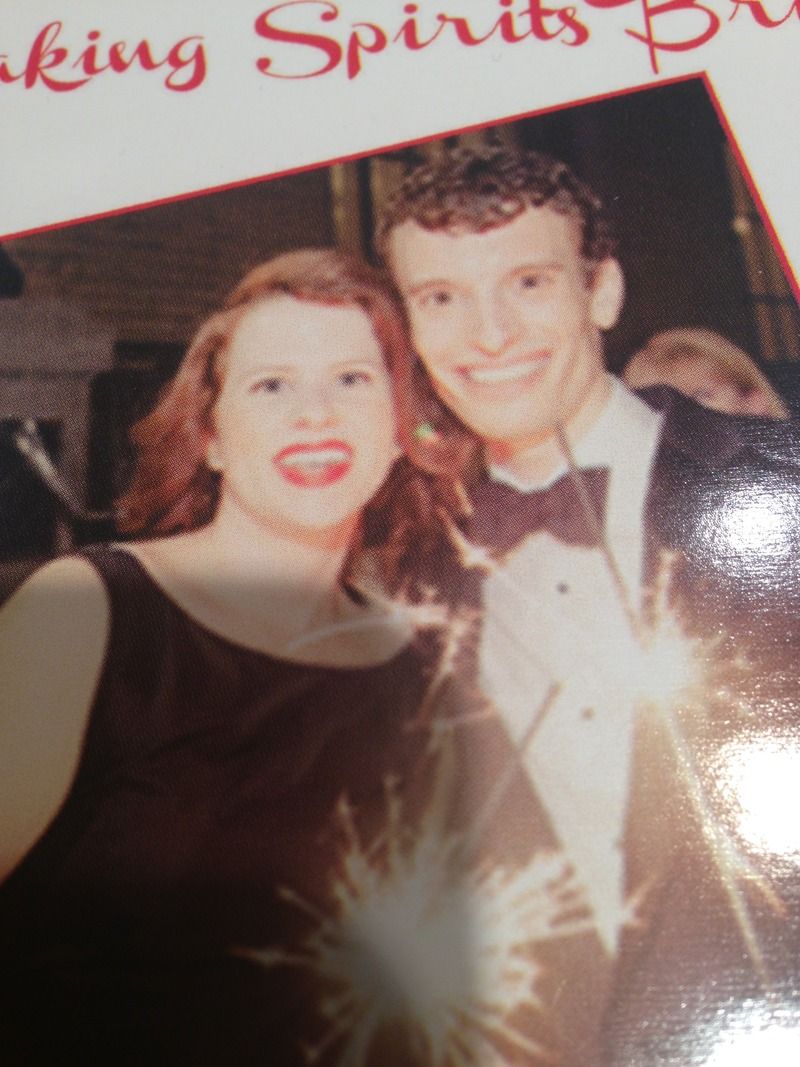 I realize these photos don't highlight the blurriness of the low resolution, but in person it is like looking at a photo when someone smeared Crisco all over the picture frame glass.
I took a few days, consulted some Adobe tips, fixed my resolution issues and ordered again.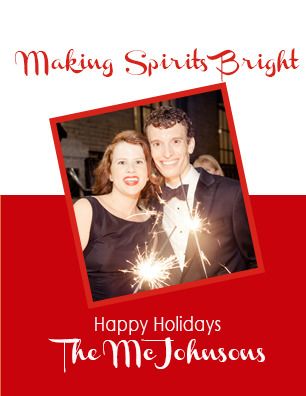 Josh and I got super popular in 2014, and I ran out of cards with people left to receive by hand delivery. (I sometimes use a card or two for attaching to a gift or as a thank you note for co-workers and such). I didn't need 100 more postcard prints from Vistaprint, and no way would I give out one of the 200 uggo misprints. I decided to upload my design and have FedEx Office (RIP Kinkos) print some more cards. I *thought* I ordered 8 postcard size prints. Instead, I ordered 8 glossy 8x10s.
Quarter for scale; I can sign one and send it to you if you provide a self-addressed stamped envelope!
I asked the FedEx clerk for ordering assistance when I picked up my glamour shots. They told me how to properly order 8 postcard size prints (you ask for 4 prints on one 8.5×11 piece of card stock, then they cut them into four postcard sizes for you). Totally logical!
Vistaprint order #1 with envelopes, including shipping & handling: 100 for $25.72
Vistaprint order #2 without envelopes, including shipping & handling: 100 for $19.98
Vistaprint order #3 without envelopes, including shipping & handling: 100 for $14.98
FedEx Office order #1: $8.41
FedEx Office order #2: $7.84
2014 Forever stamp rate: $0.49
Price per card, including postage, for 108 decent cards: $1.17
2015
This year, we returned to the normalcy of 2012 & 2013, with the addition of some prints from Snapfish to bulk up the reserves. I got a little click happy on the order page and said, out loud, "I am not dealing with this again" and ordered 25 photo prints to make sure I did not have to return to the FedEx office on 14th Street.
I really only needed 8 additional cards, just like 2014. Oops! At least each print was only $0.15 each!
Vistaprint order with envelopes, including shipping & handling: 100 for $18.72
Shutterfly order of 25 photocard prints: $3.75
Package of 10 Paper Source envelopes: $3.50
2015 Forever stamp rate: $0.49
Price per card, including postage, for 108 cards: $0.69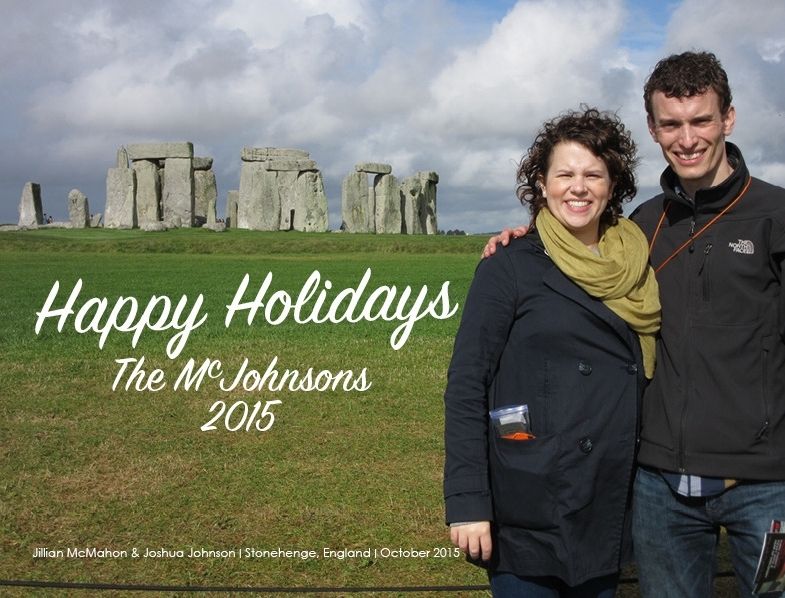 See you in 2016 Vistaprint!
Sporting goods of Hung N. Nguyen I helped pack and move during the Nguyen Family Move 2015:
2 sets of golf clubs*
3 pairs of golf shoes
1 pair of soccer cleats
1 karate dojo outfit
140 tennis rackets
racket restringer
fishing pole
bicycle tire pump**
pair of hiking boots caked in mud
2 kites
8 lb. medicine ball
10 lb. medicine ball
softball/baseball mitt***
3 guitars
3 laptop computers
* 1 set was Tiffany's
** But not the bikes themselves, because I packed the container with the bike locker key in a fit of "we really need to be packing things!" at 9am on Saturday. Only later was it discovered 1. The bikes should probably leave the apartment for the new house and 2. The box with the container had long been packed, taped and loaded to the truck.
*** Possibly Tiffany's but Hung owns one