I haven't been employed since sometime in September. I'm handling this really well for who I am — someone who has panicked about finding myself unfortunately unemployed since I started working steadily at age 19. I would like to give all the credit to the hard work I put in with the Professionals over the last two years. Also, Josh is supportive both financially and emotionally. For someone who isn't feeling super religious currently, I believe that not working was the right thing because it enabled me to be in the right places this October and November. I definitely feel like there was a greater plan at work, and I feel so grateful.
#blessedtobeunemployed
But, I'm still Jillian Sue, and worrying about finances is just part of my personality. (As you would be aware if you have read this blog for more than a hot second.) I'm keeping track of my spending in a more unusual way now. It is a bit of a "one in; one out" policy. Below is a list of "outs" that were unnecessary and avoidable. I am not happy about these "purchases."
-$134.95: Losing my five year old Ray-Bans in Barnsley, England
-$135: Having the Wagoneer towed from Baby Jane's apartment's parking lot for parking without a permit even though I had been told multiple times I didn't need a permit for that lot. Grrr, punch!
-$50: tickets to see Dale Earnhardt Jr. Jr. at 9:30 Club. I couldn't sell these OR GIVE THEM AWAY FOR FREE on Craigslist when I ended up double booked that night (the show I went to instead was awesome and I have no regrets)
-$50: I let ANOTHER free gift card expire in September and didn't realize it until November
That is roughly $370 in unnecessary loses.
BUT! I didn't take this sitting down (in front of the ION Television Law & Order marathon on Wednesdays). Here is how I saved us money, or the "ins."
+$471.95: Hotels.com for 3 nights in a hotel in New York City. Josh's friend had a gorgeous wedding at the Ritz-Carlton Battery Park City this past weekend. The very nice, heavily discounted wedding rate at the hotel was $279 a night. Back in July, when a younger and more fancy-free Team McJohnson booked the hotel, $970.96 (total with taxes) seemed like a reasonable treat. Last week's unemployed half of Team McJohnson went to Hotels.com and booked 3 nights at the DoubleTree, which was just a 7 minute walk from the Ritz. The pre-paid rate was $517 (total with taxes), but Hotels.com was 4% back on Ebates. We saved any additional $17.99 with Ebates cashback.
+$42.28: speaking of Ebates, my November payment came. This payment was for all items that were "necessary" — Halloween costume suppplies, Wagoneer supplies. Sometimes I feel like my Ebates cashback check just rewards my frivolous spending, but not this time.
+$42.25: (why are so many of the amounts in this post the same/similar?) In July, I took a load of clothes to Mint Condition, a resale shop in Old Town Alexandria. EVERYTHING.I.BROUGHT.THEM.SOLD!!! (Separate post coming on that.) They sent me a paper check for the last item that sold since I spent the rest of my credit in August on new work clothes for the job I no longer have.
+$200 (at least): I get a cut 'n color every 6-8 weeks on a pretty regular schedule. I've had this routine since 2009. In September, before we went to London on our adventure, my salon closed temporarily for renovations. I knew this in August, when I had my hair done for the Grand Canyon adventure. My plan, while still employed, was to box dye my roots the week before going to London and then get a cut at the famed Deva Curl salon in New York City while we were in town for the wedding. I didn't get a quote on the Deva cut 'n color, but I pay $175 (went up $25 this year after holding steady for many) + 20% tip in DC. After the unfortunate unemployment, that fancy salon appointment was cancelled. Now I dye my roots in the comfort of my own home with Clariol Natural Insticts and a paint brush form Lowe's. I use #24 Clove/Medium Cool Brown. I also might write a post on dying your own hair at home, but I've done this twice at about $8 a box for the dye with pretty good results. I can't continue doing this forever because I will look a hot mess. But for now, it is covering grays. As for the cut, I can go 12 months without a haircut. We'll see how far I go this time.
+$200: Because I am nothing if not a Basic of a certain modern preppy-ilk, I was also going to treat myself to a pair of Sabahs while in New York. I e-mailed for a fitting and everything. The only thing I treated myself to while on this New York City adventure were 4 $15 flannel buttondowns at Uniqlo. All the more cozier to watch my TV marathons in!
This equates to probably $1000 saved. With the roughly $400 in "outs," I am still about $600 in the black. Which is fantastic since the Volvo needs $2500 of maintenance.
The following discounts/freebies were e-mailed to my junk e-mail account beginning November 1:
Sephora – free Nars lip product sample with purchase
Tory Burch – $50 credit
Victoria Secret – $10 off
L'Occitane – free gift with $20 purchase
Rent the Runway – $25 off, but only good until the 9th of the month (my birthday is the 18th)
Kiskadee (local shop I like) – $25 off
UPDATE
Additional birthday treats that arrived via the United States Post Office:
Sunglass Hut – $25 off or $50 off a purchase of a certain amount
Fresh – free gift with purchase, but only redeemable in store? (wasn't clear)
But my Anthropologie birthday discount hasn't arrived yet, and that is the one I use every year. My Anthropologie birthday discount NEVER ARRIVED, so I didn't use it this year.
A decade ago today, June 23, Josh and I started dating. To help put that in perspective, these were the top entertainment stories of 2005 according to CNN. To make it seem even further away, these were the songs we were listening to that summer/year:
The one that really got me was that "Bad Day" song. Doesn't that feel like it was an anthem just yesterday? I am sure there are more important historical contexts I could include, but let's not dampen this celebration with anything too serious.
June 23, 2005 was a Thursday and today June 23 is a Tuesday. That night, we went to Whole Foods and watched Rear Window. Today, we are going to see the Nationals play the Braves. Then tomorrow, we hop on a plane for an adventure in Maine. In honor of that adventure, and the number of times I had to say to Josh on June 22 "Why are you packing winter dress pants?" "Why are your critter shorts not packed?" "I need to walk away from you now", I'm posting a picture from our first trip, to San Antonio in July 2005.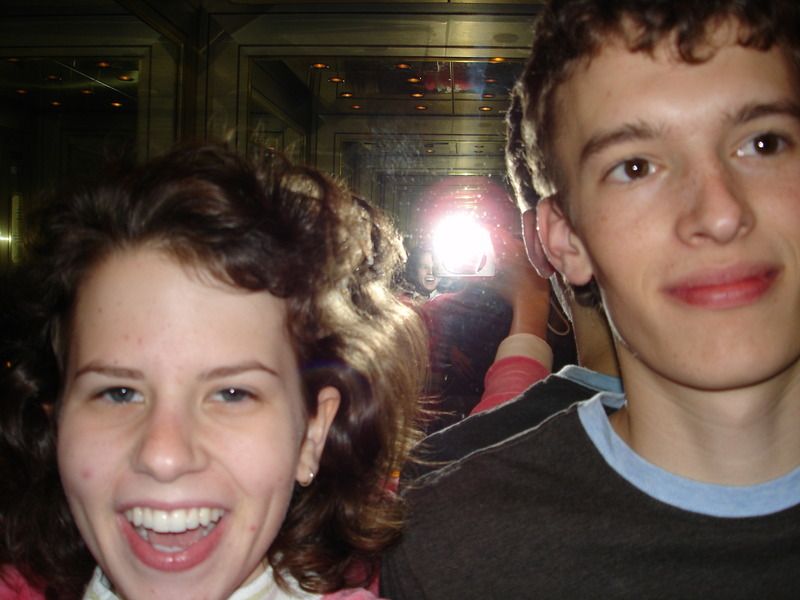 This is from the adventure within an adventure to find a vending machine at a hotel, mentioned in this post. I have on a velour shorts tracksuit from Victoria Secret and have some really horrible blemishes that are uncharacteristic for my normally porcelain skin. Josh purchased that shirt from Express earlier that month, and I pretty sure it is still in his wardrobe now.
This is where it started. In the archives, you can read how we got to today. As to where we are going, you will just have to keep reading to find out!
Confidential to Josh:
Happy Anniversary! I love you muchly.
Setting: kitchen, last night
Scenario: Josh has been working for about 6 weeks on a brief that is due tomorrow, June 12. He worked for about two-three weeks on the draft and has spent four weeks editing it. He has been coming home close to midnight for the last 10 or so working days, but made it home by about 9 last night! We were prepared for this and have been setting our expectations low until noon tomorrow when the brief needs to be at the printer. Then, we will get back to the business of being a functioning adult couple in civilized society.
Josh: I see we are out of dinner plates. Would you like me to run the dishwasher?
Me: *turns to clock and sees it is 10:30pm. I don't like hearing the dishwasher run while trying to fall asleep.* Nah. We'll just eat out of our hands until Sunday. I also don't have any clean underwear! We are making effing due this week, Johnson!
Josh: How's that Duane Reade bag working out for you?
Me: Chaffing. So.much.chaffing.
And when I stopped watching them:
Mad Men, Season 5 Ep 2
Downton Abbey, Season 5 Ep 3
Orange Is The New Black, Season 2 Ep 1
House of Cards, Season 1 Ep 1
But I've watched all of The Newsroom, twice. ¯\_(ツ)_/¯
Setting: bedroom, bedtime
Scenario: We are both in bed, and I have just turned off the bedside lamp.
Me: Ugh, this is the second night this week that I forgot to take my wedding rings off before going to bed! *I reach over to turn the light back on* I need to take them off because if my fingers swell in the middle of the night, you do not have time in the morning . . .
Josh: *interupts* for a little light amputation?
Me: *hysterical laughter*
Things I do when I am avoiding reality:
– Check our/my Capital One 360 savings accounts balances
– Move or plot moving money into said accounts
– Plan an impromptu trip/vacation
– Shop for a Jeep Wagoneer
Setting: our bathroom
Scenario: getting ready for bed, playing music
Josh: What is this?
Me: Two guesses, first guess doesn't count. Just listen and you'll get it.
Josh: *doesn't get it*
Me: It's the new Matt and Kim.
Josh: Ah!
Me: His voice is so distinctive. After this, we are going to listen to the new Alabama Shakes. *Matt and Kim continue to do their peppy dance thing* I don't love them, like I would never buy a whole album. But they are the band that comes up on your Pandora that you don't mind listening to.
Josh: I agree. They are just good enough to not waste a skip on them.
Me: It is like they are sponge worthy.
Josh: That's kinda like the opposite of sponge worthy.
*Matt and Kim ends, Shakes begin*
Josh: Is this the Alabama Shakes?
Me: Listen to the programming notes, Josh! I don't curate this Tiny Desk Concert in the bathroom for anyone else but you!
Josh: NPR loves the Alabama Shakes.
Me: I think they are the worst band that white people like.
Josh: Worse than O.A.R.?
Me: *sincere pause to weigh what he has just said* Yes. Worse than O.A.R. because you know you are getting a bro-gimmick with O.A.R. Alabama Shakes think they are earnest. *shuts off song after 20 seconds*
Kim's dancing in that video is pretty great, tho.
In 2014, I employed 4 women to help me become a better woman myself. I call them "The Professionals" when speaking of them collectively. Individually, they each have a purpose. I'm going to devote a post to each. This is to 1.) promote them as professionals (duh) so others might seek them for their services, and 2.) remember what this period of growth felt like.
The Professionals are:
The Enabler: My talkie therapist
The Muscle: My personal trainer
The Practitioner: My acupuncturist
The Dealer: My psychiatrist
My goal is to write one post per week about each, and the hardest to articulate is definitely my relationship with my talkie therapist.
A little background on why I am in need of so much therapy:
I am very hard on myself. I think everyone knows this, but the standard I set for myself in utero (it seems) is at a bar my 5'2″ self can never reach. I hold a lot of anger towards certain elements of my childhood: Dad's Quaker State job loss years, the car accidents, pretty much despising every educator I had at Flower Mound High School, not getting into a better college, getting majorly depressed at UT and always sorta kinda judging all those around me because I thought they were judging me.
Take all that, which exists in my brain, and add the weight gain from Josh's Supreme Court year. Then, sprinkle on top my biological clock wanting to have a baby.
I needed to take charge of all my emotions and find ways to just be. Still working on it, but here are the people who helped.
Self-improvement: it does a body good.
Pour some out for things that left me in 2015:
Emily, my work spouse, to live in Ethiopia
Emily, my personal stylist at the M Street Brooks Brothers, to live with her boyfriend in Portland, OR
Sanam, Josh's hairstylist of almost 4 years, to live with her boyfriend in Wisconsin (these boyfriends are ruining my life . . .)
The Majestic, my favorite restaurant in Old Town, Alexandria
C. Wonder, the best gift store
Centro-matic, the best ever death metal band out of Denton