Accomplished
23. Eat at Little Serow
When I moved to DC, I was lucky enough to finally find a salon that caters to those of us who have untamed, curly masses on top of our heads for hair. I've been a loyal Fiddleheads customer since May 2009. The best part of Fiddleheads is the location, right on 17th street between Dupont Circle and Logan Circle. The salon is right next to Komi (which has its own Wikipedia page?!), Chef Johnny Monis' Greek restaurant. I knew about Komi since before we moved to DC; it regularly appears on lists of top restaurants in the country.
Little Serow (rhymes with "sparrow") is a 28-seat, no reservations at all, restaurant serving northern Thailand cuisine opened by Monis and his wife Anne Marler in 2012. The restaurant is just downstairs from Komi, literally down a set of stairs. There is no signage, no valet parking outside. You just have to know that this is the door the line forms in front of:
This was once a Dunkin' Donuts.
No reservations means that you just line up to get a spot for dinner. The first service is at 5:30pm, and the rest of the night is on a rolling basis from that point. They'll text you when a table opens if you are the 29th person in line OR if you don't want to eat dinner at 5:30pm and come back for the "second seating". I see the line every time I exit the salon since I usually get my cut and color done at 3pm. I have quite the collection of Instagrams: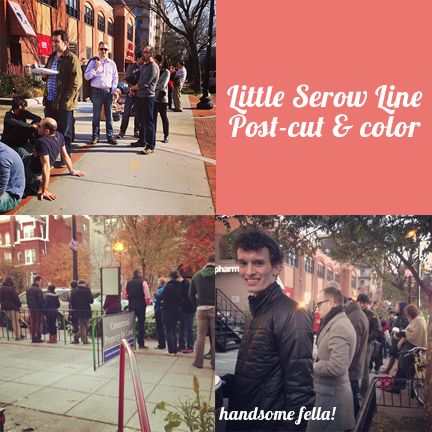 My game plan was to have Josh stand in line while I get my hair done, and then meet him in time for the 5:30 door opening. Now, we could have done this anytime during my 29th year, but of course we were down to the weekend before my birthday, so it was November cold. Josh dropped me off at the hair salon, and we chatted with the stylists about tips and tricks for the line. Josh got a little spooked by their stories and jumped in line at 3:25pm. He was first. No one else joined him until about 45 minutes later.
Josh became the unofficial line ambassador. I'll be honest, this was the longest line I have ever seen post-cut & color. I also didn't realize the amount of questions passersby asked those on line. Later, Josh told me a woman asked if Little Serow was like "Mission" in New York City. I explained what Mission Chinese is to Josh.
Now, if you know me at all, you know I'm not a huge Asian food fan. But this was different. The preparation and presentation were relaxed and perfectly executed at the same time. The menu is $45 pre-fixe, served family style. The final dish, beef short-ribs, was maybe one of the best things I've ever eaten. It was spicy, for sure. Josh's nose did start running at one point. Rumor has it that they have toned down the spice since first opening.
One thing to note, is that the wine and beer list is not extensive or perhaps even the best paired with their dishes. BUT they had a sparkly wine to start with, so all was forgiven. Besides, you really only need to have beer with Thai.
Everyone was so nice. I just don't know why this surprised me; I assumed it would have a slightly stuffy, hipster air. But none of that was present. I chatted with the waitresses about their "uniforms", a mix of actual vintage and reproduction dresses. They asked all about my birthday trip to Turks & Caicos and the rest of my birthday plans. They even put a candle in the coconut rice dessert square for me.
I think I would like to make this an annual trip, or maybe slightly longer than once every year. We can do it in the spring next time so Josh isn't standing in the cold for 2 hours again.
Have I mentioned again how much I love him? Mwah, Josh!
More on Little Serow here: