1. Get LASIK
I went in for the consultation and BOOKED THE APPOINTMENT! Then Bradley, who is his own breed of Debbie Downer, said that I shouldn't do it. He went to college with a girl who really couldn't be in dark rooms because her Lasik made her blind in low-light situations. (His version of this story is more brilliant.) ((Light pun, get it?!)) I cancelled the appointment and bought a second pair of glasses at Warby Parker.
2. Lose 10lbs, develop abs
I am still so soft in the middle.
3. Survive January 2015 at work, then not collapse in February
I collapsed in February, on Presidents Day to be exact. It was a bad scene but really REAL too. A lot of 2015 illustrated how well I know myself and how much I can suck at self care. It was a weird year for me producing for the American economy. But I am extremely grateful for everything that happened because I needed it. I needed to experience something new.
4. Never mindlessly watch an episode of The Big Bang Theory again
No Big Bang Theory, lots of Law & Order episodes. This would be the time to insert my personal story on how I use television to cope with some mild depression, starting with watching QVC as a child. (No one needs to read that; I pay my therapist to listen to it!) Last night Josh said he doesn't like it when he comes home from work, and I have the television on. Well, I hate that he always has Pandora or NPR on when he is home alone, and I come into an apartment with ALL THE LIGHTS ON and something BLARING.
No one is perfect, and we all have our own coping mechanisms. If it isn't doing drugs, we should probably just leave everyone be.
5. Go to London with Josh in October
This trip was wonderful. Josh, unfortunately, experienced his first car accident within four hours of landing in England. We survived it so well! We are both really proud of ourselves. Also, 3/3 of our hotels had pools so we swam outside in England in October, and it was pretty great.
6. Teach Alicia how to make an American quilt
We didn't even attempt this, but I did take a craft shopping trip with McKatie when she spent $26,000 on quilt fabric. Quilting by osmosis.
7. Sell that pile of eBay/consignment store merchandise holding space in the bedroom
Separate post coming on this (for real, it is in draft), but I really cleaned the junk out.
8. Finish the classes for my George Washington University certificate program, complete half of my practicum hours, and pick my portfolio project
I finished all my classes during the fall (thanks, unemployment!) and did the portfolio project. I need to write it up. I am actually getting a little panicky about this, so I am sorry if I jump at you if you ask about it between now and May 1 (graduation deadline). I really appreciate you caring, but those 60 pages aren't going to write themselves.
9. No Coke, no cookies during work and evaluate that ice tea with ice cubes habit
I had one Coca Cola in all of 2015 on December 26. It was a glass bottle Mexican Coke, and it was worth it. I might be addicted to restaurant ice tea, and I need help. Consuming nasty liquid chemicals that someone pours from a pitcher that is probably improperly sanitized and then I pour white sugar packets into for the price of $3.00 a glass needs to STAHP. Drink water like a fish, McMahon.
10. Buy a Jeep Wagoneer
Another post is coming about this (agin, in draft!), but when 2015 is remembered, it will be remembered as the year I brought this home. It has made me so happy to drive and own and look at and talk about and spend money on (seriously).
Also, what a great time to buy a gas guzzler when oil prices are in the toilet. It was all meant to be.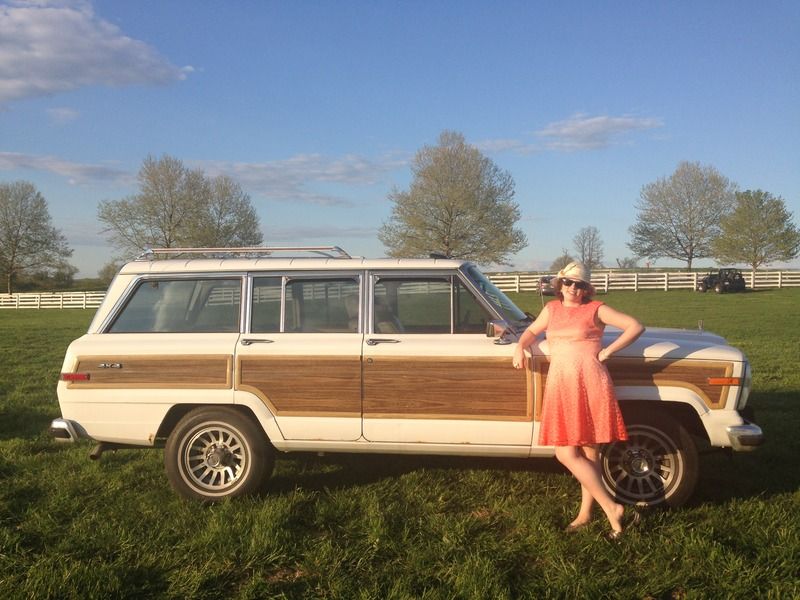 Photo by Alicia M. Pappas