One day in 10th grade, I didn't blowdry my hair before going to school. I specifically remember waiting to get into chemistry class, and Joy Hart said to me "Someone used rollers this morning!" Nope. It's just my natural hairdo.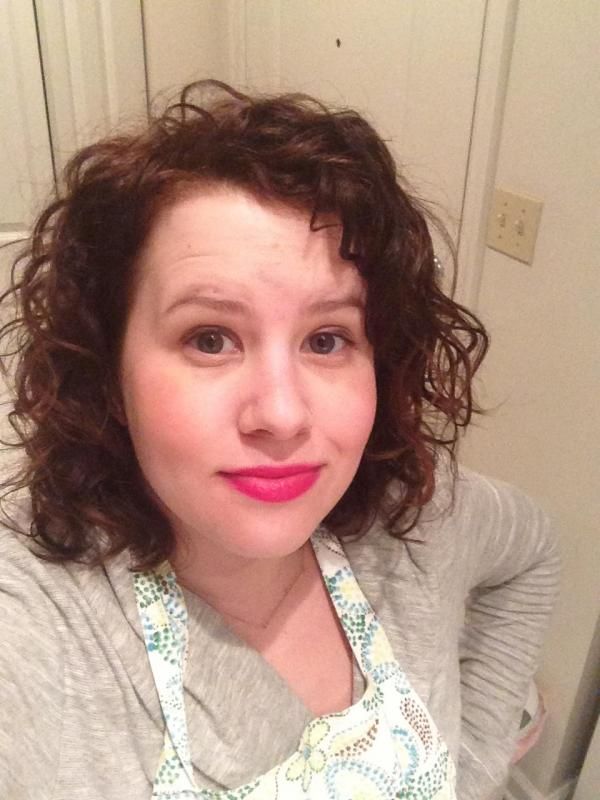 One year in college, I asked for a hair straightener for Christmas and occasionally wore my hair straight. I have not done this at all since 2006. So the above is my daily look, that I maintain now by getting cuts at a salon specifically for curly haired girls and purchasing the expensive salon quality products.
Given my lack of patience and skill with a round brush and hairdryer, I have wanted to try out the Drybar forever. I'm also a sucker for cute branding and any beauty concept that has a gimmick. I decided to trek to the Georgetown location for a blowout before Justice Ginsburg's 80th birthday party.
I booked the appointment online about a month in advance, but given our current hectic schedule, I didn't get around to looking up the exact address until the night before. This is when I realized that by "Georgetown", this location was in more "Georgetown University" territory and not the more accessible M Street Georgetown shopping district. Thankfully, the bus stops right in front of the salon. I made it from the Metro in Virginia all the way up Wisconsin Ave. in about 45 minutes on a Saturday.
My stylist (whose name I forgot) and I did not go over the Drybar menu. We basically discussed that I wanted it to be straight with volume at the roots. I have two cowlicks that make it hard for my hair to lay completely flat against my head.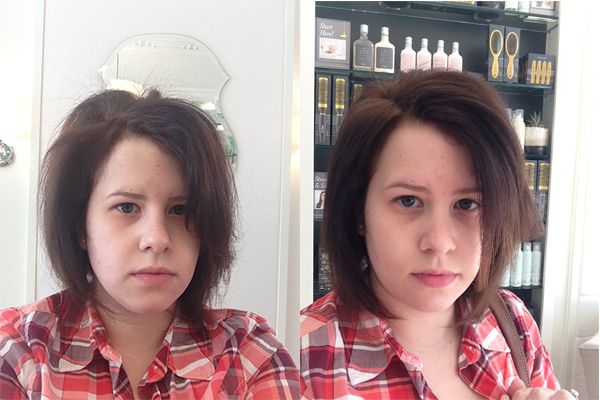 The picture on the left is about halfway through the session, when my stylist left to get more product. The right is as I was leaving the salon. I'm not wearing makeup in either photo.
Here I am all dressed up, posing in the bathroom of the gym at my office. This is also the same place I got dressed for the Easter Vigil the week before. It's my little pied-à-terre in the District.
Outfit details:
Dress – French Connection, purchased at Mint Condition NWT $29
Shoes – Kate Spade, purchased at Marshalls $99
Jewelry – eBay, purchased and worn at our wedding
Lipstick – Nars satin lip pencil in Yu
Every year, the Justice has a reunion for her clerks from her entire judicial career. Usually, it is a family picnic type event. But this year, Justice Ginsburg turned 80 and chambers (with the help of her family) organized a sit down dinner and small concert in her honor held at the Supreme Court.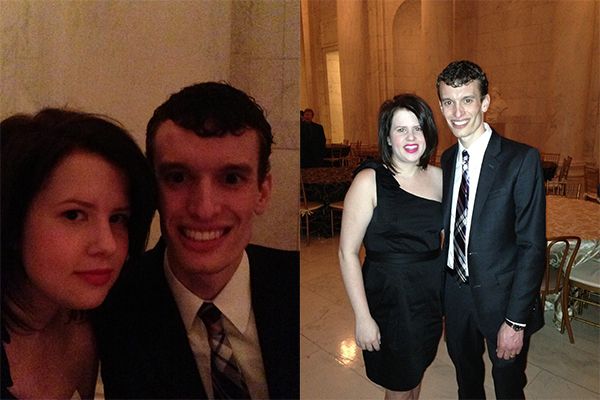 I wish the photo on the left turned out better; I think it captures the 'do best. The photo on the right is at the end of the night. We both look a bit tired and I, a little bloated.
My outfit was ever-so-slightly too dressy for the occasion, but I still came in third for best dressed in the unofficial poll behind the Justice and Darcy Miller, Editorial Director of Martha Stewart Weddings (her husband, Andy, clerked for the Gins). Josh's female co-workers said I looked "hot", which is the curse of curly haired girls. We don't always look "hot" with our hair in its natural state. Cute, maybe (hopefully?), but it doesn't come across as sexy. Or maybe, it's just hot to switch up styles occasionally.
Next switch-up: blonde?! #40before40list