I bought a piece of nostalgia: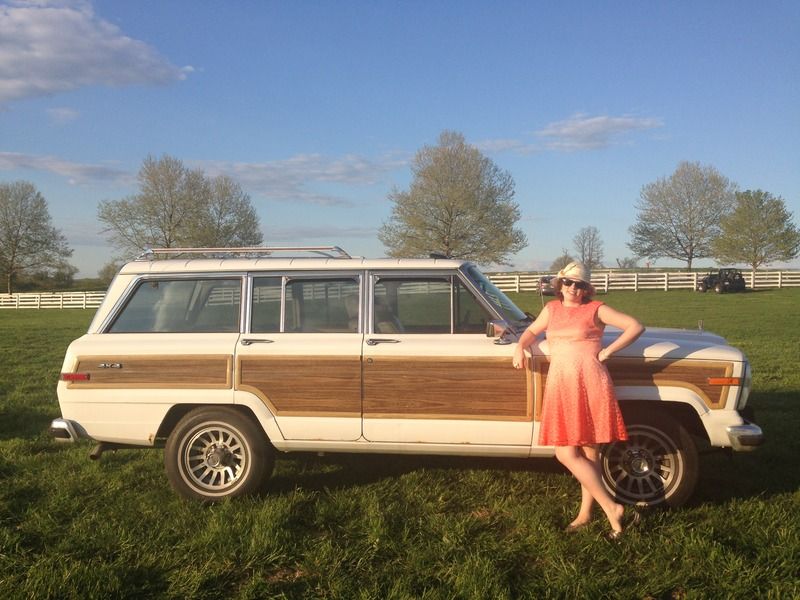 Last fall, we were out to drinks with a co-worker of Josh's and his wife. During a discussion about vehicles, my want of the Wagoneer came up. We showed them photos from last year when we first seriously looked to buy a Wagoneer. The wife asked why I wanted this car.
Why?
Why not?
It was the first time I had to articulate why I wanted to own a late 80s/early 90s 4×4. Josh has always known this to be my "dream car". I always thought everyone had a "dream car" that they would purchase if possible. Sure, theirs might be a newer vintage than my beloved, but cars are an object of desire. Where did my desire come from?
Looking at this car (scroll up! LOOK AT IT!), I first see beauty. It is just a beautiful vehicle. Josh said that I should go down to the garage every morning before work to look at the car just because it makes me so happy. This car looks like a different time, or now, lifestyle. And that is where my desire comes from. When I was a child and this was a new car on the market, I thought "That is the car I will have when I am a grownup." As I child, I made a lot of goals or predictions like this. I wouldn't call myself sentimental, but I am nostalgic. I actually think that a lot of people my age are nostalgic. This explains the popularity of Old Loves and My Parents Were Awesome. There was a line in the last season (or season before last?) of Girls where Hannah says to Elijah something like "All I want to do is go home and Google that one week in the 80s when Glenn Close and Woody Harrelson were a couple." THIS! But instead of petitioning to bring back Crystal Pepsi, I googled for a Jeep Wagoneer.
This car was listed on the Richmond Craigslist but was actually in Sterling, Virginia, right up the road from us. Josh and I looked at it on a Saturday before we had to go to a wedding reception conveniently in the same neighborhood. The color was right (I was more drawn to the white Wagoneers, but was willing to have any color) and the price was right-ish. Of course, there was "someone else" interested in the vehicle, and the original price was reasonable/affordable, so negotiations did not happen. I did the same as last time we bought a car and picked up a money order from the Bank of America down the street from my office. We bought the Volvo in April, and it was April again when the Wagoneer came into our lives.
I didn't know Josh was filming me during our test drive. I thought he snapped some photos and then I went into the zone of focusing on driving a new-to-me-25-year-old car. Later, when viewing the footage, I loved Josh a little more for capturing such an important moment in my life: making the decision to buy this car already!
I want to also thank the following people for their support, in absolutely no particular order:
Alicia Pappas, for riding anywhere and everywhere in the Wagoneer with me and delicately correcting my driving
Jeffery Nelson, for his Photoshop skills
Emilia Gershon, for being unemployed and able to drive out to past-Dulles Virginia and visit the DMV with me
Alan, who I bought the car from, for being that mix of crazy and weird that makes adventures memorable (and for the $200 in cash he gave me once he found out the radio didn't work before the sale)
The lady at the DMV who processed the paperwork in about 4 and half minutes, the entire time musing about what she would get for lunch ("Tuna sandwich")
Kacey, the AAA mechanic who serviced the vehicle when it had its first issues and gently pointed out some of the problems under the hood ("Fixing the exhaust would cost more than the car is worth *beat* I KNOW this is worth a lot sentimentally.")
Dan and Caroline, for being the first backseat passengers who patiently helped find the seatbelts
Tiffany, for once having a dream that Josh would buy the Wagoneer for me (full disclosure: I bought this for myself and only I own it)
As we were getting ready for bed the night I brought the Wagoneer home, I remembered something I had for Josh.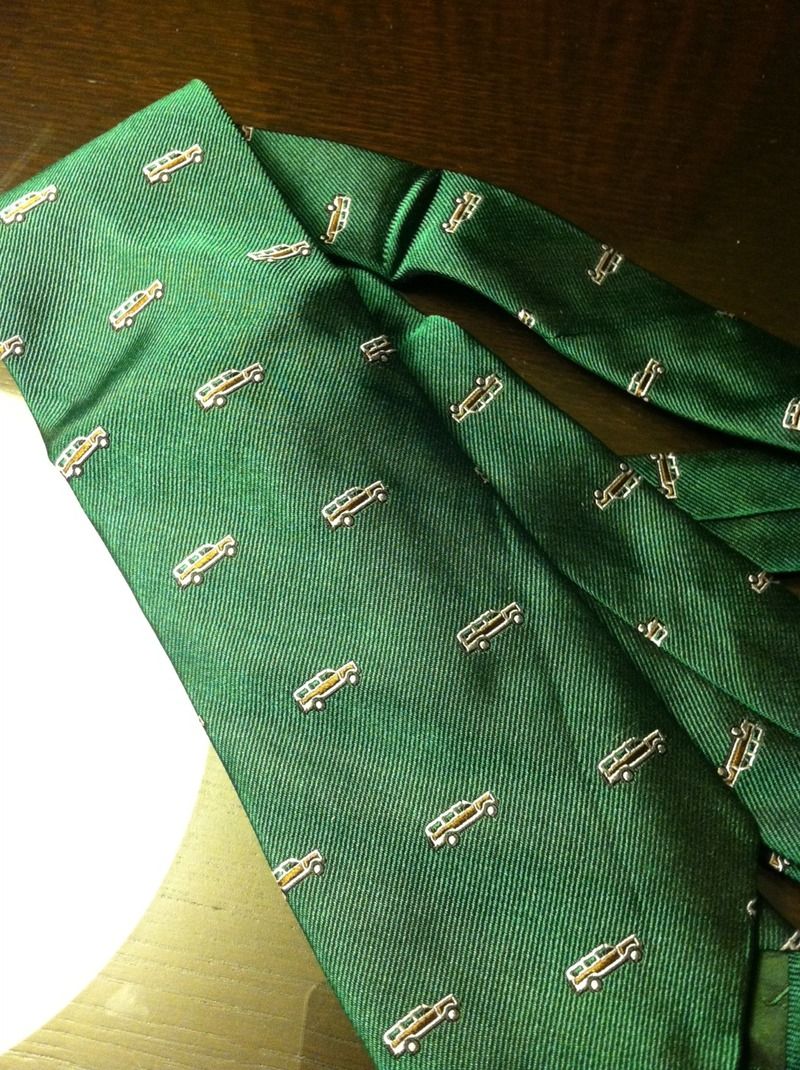 This is a J.Crew tie, that according to the tag, was part of the Holiday 2007 collection. I purchased it sometime around there, maybe at an after-Christmas sale. I intended on giving it to Josh as a gift. It came with me when I moved to DC in May of 2008, tucked safely into the interior zip pocket of my largest suitcase. In January 2014, that suitcase went to San Francisco, full of binders for a trial my office was participating in (winter storms prevented us from shipping all the important documents). My co-worker Kirstin sent me the photo above with the question "Missing something?" I let her in on my two habits: 1. buying gifts when I see them and 2. hiding them everywhere in the apartment.
I meant to pull this out of the suitcase before Josh got home on the Wagoneer's adoption date, but I didn't remember until we were brushing teeth. I ripped open the suitcase, which because we live in a one bedroom urban apartment serves as a supplemental closet full of other items, unzipped all the interior pockets and pulled out the tie.
It was only then that I realized the color of the Wagoneer on the tie was white, just like the one I bought.
Josh laughed one of the best laughs I've heard him giggle in the 10 years of our relationship.
And in closing, a gem I found on YouTube this week when looking for something else:
The Wagoneer definitely has a beautiful soul.
2 Responses to 1990 Jeep Wagoneer