$10 to have neckline fixed on dress for engagement photos
I recently purchased this Max and Cleo dress in green from Rue La La: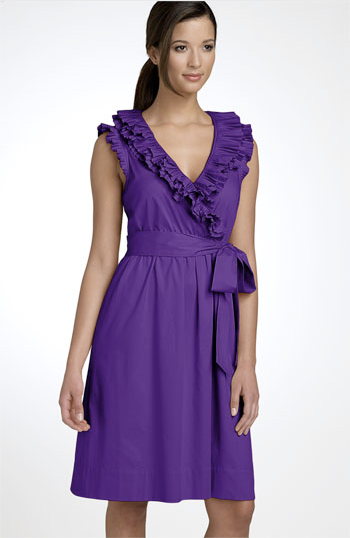 It eventually became a forerunner for engagement pictures. But the neckline wasn't modest enough. So I took it to the dry cleaner in my apartment building. Their alterationist did a fantastic job on my roommate's bridesmaid dress in the fall. I was completely confident in their work.
When the dress came back, it didn't lay properly at all causing a gap to form at the wrap portion of the bodice. I ripped out the stitches. With the help of Mum and McKatie via a video chat, I used a safety pin to raise the neckline to its proper place. The pin showed a bit when we were taking photos, but our photographer said "That's what Photoshop is for!"
$115.82 at my hair salon to have a "trim" + $7.49 for a curling iron
I have a situation going on with my hair salon. Long story short, I switched stylist one day last fall because my stylist was unavailable and my hair was the pits. My salon specializes in curly haired gals, so I wasn't worried about the skill set of the new stylist. Then, because I have the backbone of a jellyfish when it comes to beauty services, I continued going to the new stylist, even though my original beloved stylist was available.
So last weekend I went for a blowdry so my hair would look nice for our engagement photos. Usually they make my curls look fantastic. The day after, I just rejuvenate them with some product, like I did for Chad and Ashley's wedding:
Instead on Saturday, I received this blowdry:
That is a BlackBerry photo and yes, I did cry!
The "cut" was $65, which the stylist said she wasn't going to charge me for but the front desk did (there was a flurry of activity as they were closing for the day and also, see above for spineless jellyfishness). The rest of the money was for a jug of product that was 1. more expensive than the price tag listed and 2. not the smaller container size that I usually purchase.
The Fiancé thinks there is an easy solution to my hairdresser dilemma: go to the new stylist for color, which I think she does well and go back to the old stylist for cut, which I think she does better. I don't think this is how it works, especially in a small salon.
This uncertainty has sent me looking for a stylist for the wedding day that will come to my hotel suite. But given my love for my kidneys and want for them to stay in my body, I might have to make peace at the salon for my wedding day.
Oh, and the Fiancé went shopping with me (at Marshalls of all places) after this disaster to purcahse a curling iron to rejuvenate my curls. I'll be sure to post engagement photos to show my hot tool handy work.
$43.94 at Lands End Canvas on a skirt I will never receive
I waited for this skirt to go on sale, and then I waited for a coupon code for free shipping.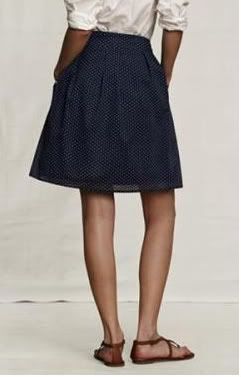 When I realized a coupon code wasn't coming, I bit the bullet and ordered the skirt. I chose to pay with PayPal, mostly because it didn't require any effort on my part to leave the computer and locate my wallet. Somehow, PayPal and Lands' End had a glitch as I pressed submit on my PayPal order. I paid for the skirt via PayPal, but couldn't finish the order on the Lands' End site.
I called Lands' End and PayPal with no resolution. The money is just floating out there, and the transaction will expire in October. The worst part is that the skirt is now sold out in my size and color. I had so many adorable summertime outfits planned with that skirt in mind. I'm heartbroken.
One Response to Disposed Income: Fail Edition