Disposed Income
A continuation from last year's post.
Vistaprint order: 250 for $28.24
2016 Forever stamp rate: $0.47
Professional photo: $200
A retired gentleman in our neighborhood advertised his photography services in the listserv. I was already interested in hiring a professional to carry out my Christmas card vision so I booked a date in October for a session. He was a character and not in a charming way that one could find endearing. He pulled up in his Cadillac and parked it on the wrong side of the street. He then sat in a Redskins camping chair and shot from a seated, relaxed position in our driveway. He called Peach "Pear" and told stories that eventually rambled into him being in the room when the Allman Brothers wrote "Jessica".
Yellow House: $801,000
When we sat down at the realtors' table on March 13 to write an offer for this house, I wrote the offer for $790,000, which was exactly $100 more than the asking price of $789,900. Our realtor looked at the paperwork and said "You aren't going to get this house for that; you need to offer more." I was obstinate. The Yellow house was already $150,000 more than the last house we put an offer on (and lost). I was NOT pleased with giving a penny over $790,000. I told everyone in the room to be quiet (this included Josh and the other half of our realtor team) as a new offer sheet was presented to me for a revised offer. I wrote $801,000, we went to dinner across the street and decided if we didn't win this bid we would take a break from looking for houses. We had only been looking for exactly one month and saw about a dozen houses, most of which were absolute dogs. EXPENSIVE dogs, without garages or just one bathroom for three stories of house. But a very nice family agreed to give us the Yellow House for $801,000.
1990 Jeep Grand Wagoneer: $64.63
The Wagoneer broke down on I-495 a Saturday night in June with me alone at the wheel. AAA towed us out to my mechanic in Chantilly where Josh and Peach arrived in the Volvo. It was one of the most comforting sights I have ever seen in my life: my husband dressed in a madras shirt walking my tiny puppy around the vacant mechanic lot. The automotive diagnosis was that I was out of gas, which is possible since I don't have a working fuel gage. That Tuesday, the Family Nguyen was taking a sick day to help Baby Jane recover from an illness. Tiffany generously drove me to pick up the Wagoneer, and then we all went to get Italian food. Peach hung out at the Nguyen's house while we ate subs. When we piled into the car to drive back home, it did not go well. It all broke in half, actually. The Wagoneer died again, as I was trying to turn it around to head back to the Nguyen's driveway. After two hours, two policeman and a really sour interaction with a neighbor of T's, AAA pulled up towing another car. This did not make Tiffany feel optimistic about the situation; everyone, but I, was sure the Wagoneer was being towed back to Chantilly. This is probably when I should mention that Peach was in her carrier in the yard because she soiled herself as a result of FOMO while we were eating mozzarella sticks. That car-toting AAA mechanic sprinkled some gas on the car filter and the Wagoneer turned on. I did not take the Wagoneer back to the mechanic so the summer total for Wagoneer maintenance was the cost of the empty tank diagnosis, after the use of my $50 Mother's Day mechanic-provided coupon.
Editor's note: the Wagoneer is currently sitting in the driveway with a flat tire.
Cavapoo: $595
Cavapoo knee surgery: $3,637
Luxating patellas are very common in small dogs, especially cavalier spaniels. Peach's loose knee was noted at her very first vet appointment 18 hours after she arrived home. By the end of July, she needed surgery. Usually this is a procedure performed on older dog, at least a year. She had barely turned 5 months when we dropped her off for surgery. She did well, mainly because she was a puppy who didn't really notice she was injured or limited by her cast. She has healed very well, but yes Dad and Mum, now I understand why we never had a dog as children. *flying money emoji*
Bat removal: $995
The Friday night of Memorial Day Weekend, a bat flew around our bedroom ceiling. That lucky bat stayed rent free until August 15, the earliest bats can be removed to protect the bat babies. Our exterminator estimated that 8-12 bats were calling our tiny crawl space of an attic home. The most we ever saw outside the house were three. They all owe us back rent.
Price per card, including postage, for 250 cards: $3,226.50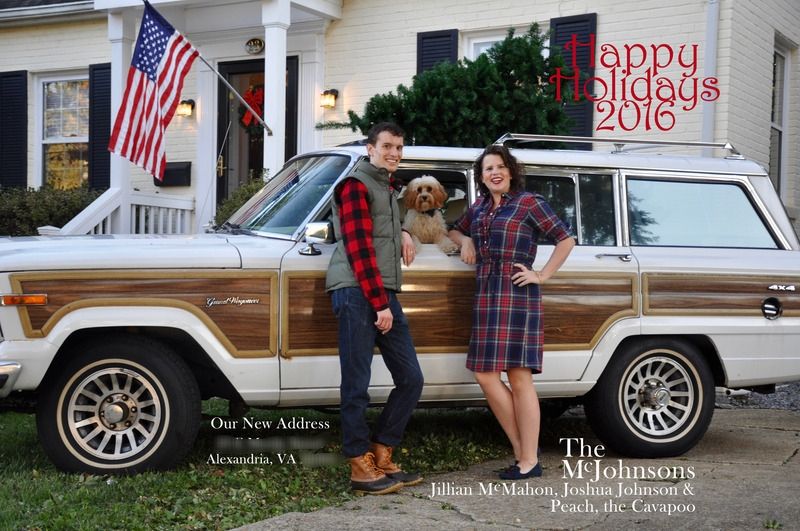 The cost of sending out holiday cards, since 2011:
2011
This was the first year of our marriage, and I used a Groupon for Picaboo. I only ordered 50 cards, which was definitely not even close to the amount needed (foreshadowing). I had to order 20 more photocards from Snapfish to finish spreading holiday cheer.
Picaboo Order: 50 for $25 (Groupon price)
Snapfish Order: 20 for $14.19
2011 Forever stamp rate: $0.44
Price per card, including postage, for 70 cards: $0.99
[Printed copies of these cards are hiding somewhere in our 700 sq. ft. apartment, but after searching every logical place Sunday afternoon, I came up empty handed.]
2012
This is the year I took a Adobe Creative Suite class and got fancy with my own personal design using an engagement photo from Spring 2011 ¯\_(ツ)_/¯. I printed them at Vistaprint, using their standard postcard size. They sell matching plain white envelopes for a small additional charge. It's a great deal as long as your design and production are perfect from the start (foreshadowing).
Vistaprint order with envelopes, including shipping & handling: 100 for $29.51
2012 Forever stamp rate: $0.45
Price per card, including postage, for 100 cards: $0.75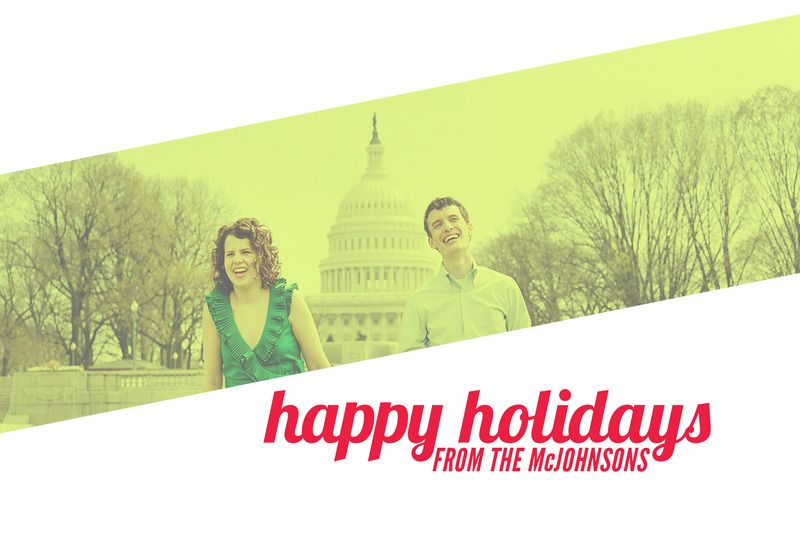 2013
This is the first year I don't use a professional photo. We asked another tourist to take a photo of us in front of the Eiffel Tower when we went to Paris that October. I had been dreaming of this card since we made the decision to go to Paris sometime in 2012.
Vistaprint order with envelopes, including shipping & handling: 100 for $27.86
2013 Forever stamp rate: $0.46
Price per card, including postage, for 100 cards: $0.74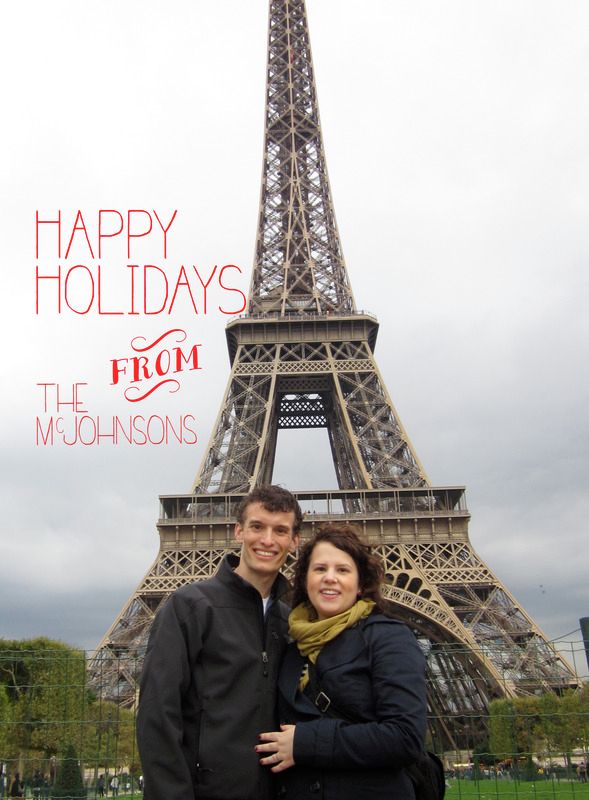 2014
It all broke in half.
2014 brought us back to a professional photo, using a photo taken by Tiffany's wedding photographer. When I uploaded my design the first time, I received the "low resolution" error on Vistaprint. This was a warning that my design might not print clearly. I ignored it because I am an arrogant idiot 90% of the time. Only after hitting submit on my order, I realized that the picture of Josh & I didn't fill the entire square I had created in the design; there was a little white sliver visible at the top. Rats!
A Vistaprint order is like an Amazon order: you can't stop it for anything. I should also mention that I was doing this uploading and ordering after midnight, but I am sure that is obvious from my precision work. I immediately fixed the picture alignment and purchased again, without envelopes. This is where I should note that Vistaprint shipping isn't pricey, but every mistake adds up in the shipping column.
Both orders arrived and looked like #1 blurry, crooked mess and #2 just a blurry mess.
#1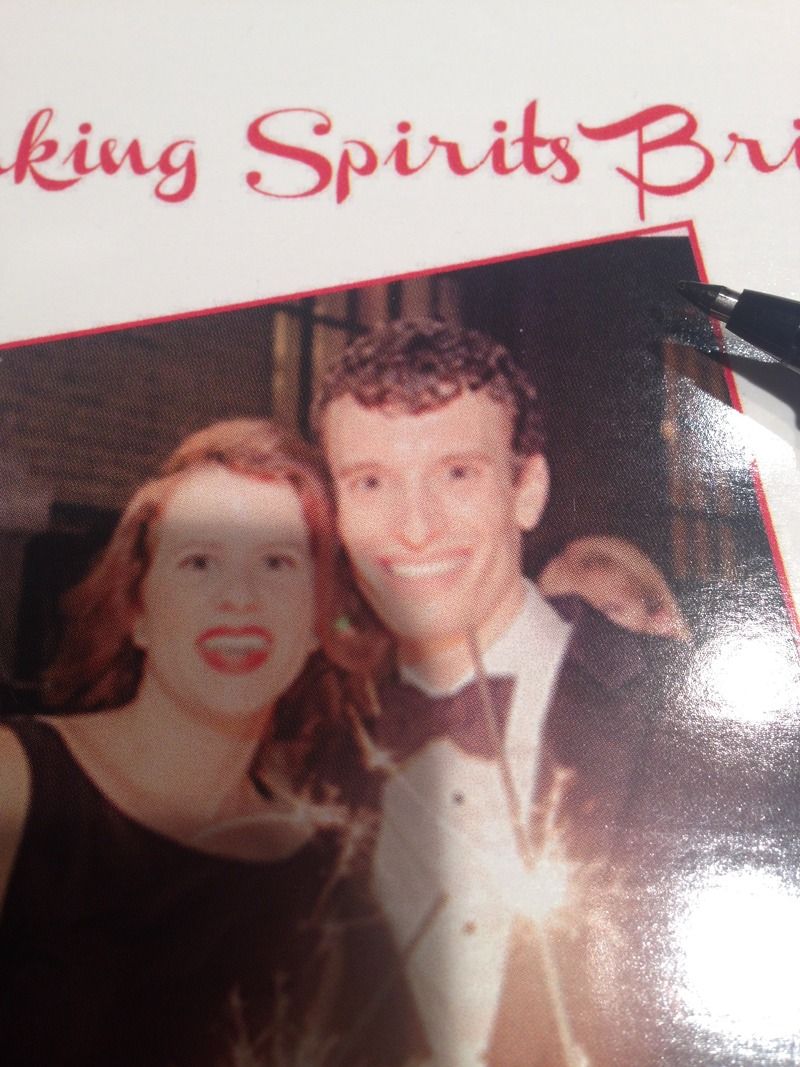 Pen is for spotlighting my Photoshop fail
#2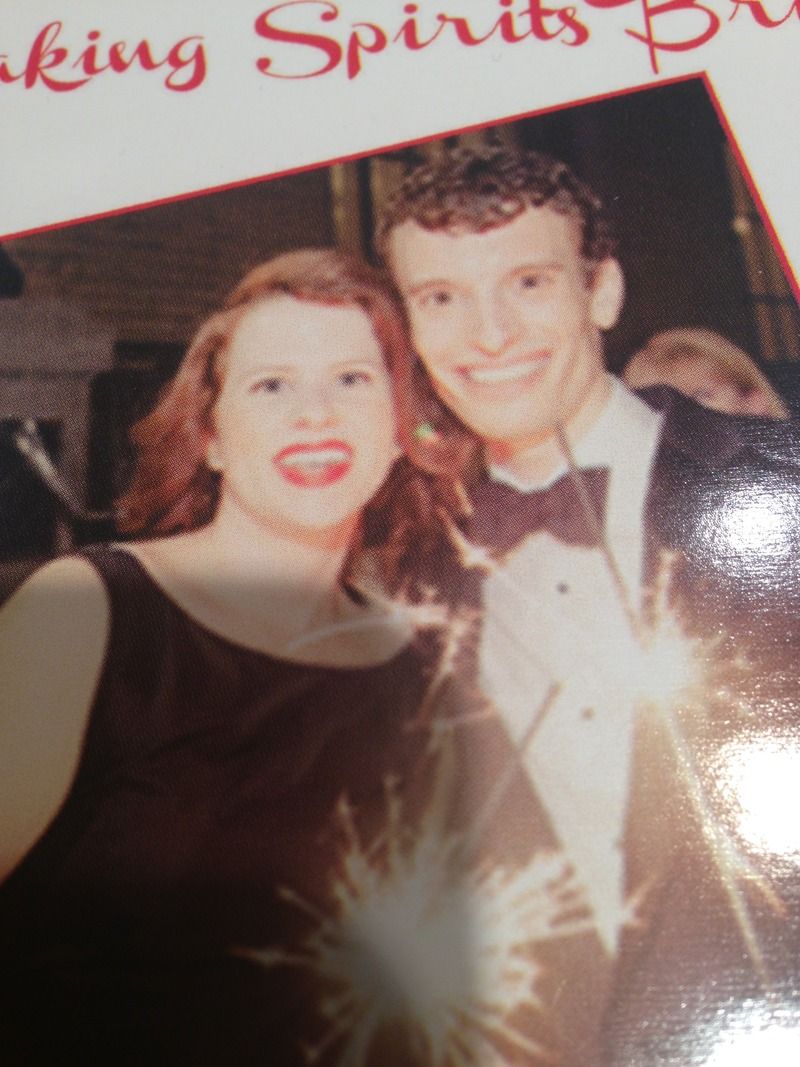 I realize these photos don't highlight the blurriness of the low resolution, but in person it is like looking at a photo when someone smeared Crisco all over the picture frame glass.
I took a few days, consulted some Adobe tips, fixed my resolution issues and ordered again.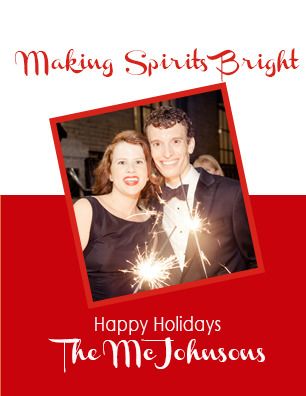 Josh and I got super popular in 2014, and I ran out of cards with people left to receive by hand delivery. (I sometimes use a card or two for attaching to a gift or as a thank you note for co-workers and such). I didn't need 100 more postcard prints from Vistaprint, and no way would I give out one of the 200 uggo misprints. I decided to upload my design and have FedEx Office (RIP Kinkos) print some more cards. I *thought* I ordered 8 postcard size prints. Instead, I ordered 8 glossy 8x10s.
Quarter for scale; I can sign one and send it to you if you provide a self-addressed stamped envelope!
I asked the FedEx clerk for ordering assistance when I picked up my glamour shots. They told me how to properly order 8 postcard size prints (you ask for 4 prints on one 8.5×11 piece of card stock, then they cut them into four postcard sizes for you). Totally logical!
Vistaprint order #1 with envelopes, including shipping & handling: 100 for $25.72
Vistaprint order #2 without envelopes, including shipping & handling: 100 for $19.98
Vistaprint order #3 without envelopes, including shipping & handling: 100 for $14.98
FedEx Office order #1: $8.41
FedEx Office order #2: $7.84
2014 Forever stamp rate: $0.49
Price per card, including postage, for 108 decent cards: $1.17
2015
This year, we returned to the normalcy of 2012 & 2013, with the addition of some prints from Snapfish to bulk up the reserves. I got a little click happy on the order page and said, out loud, "I am not dealing with this again" and ordered 25 photo prints to make sure I did not have to return to the FedEx office on 14th Street.
I really only needed 8 additional cards, just like 2014. Oops! At least each print was only $0.15 each!
Vistaprint order with envelopes, including shipping & handling: 100 for $18.72
Shutterfly order of 25 photocard prints: $3.75
Package of 10 Paper Source envelopes: $3.50
2015 Forever stamp rate: $0.49
Price per card, including postage, for 108 cards: $0.69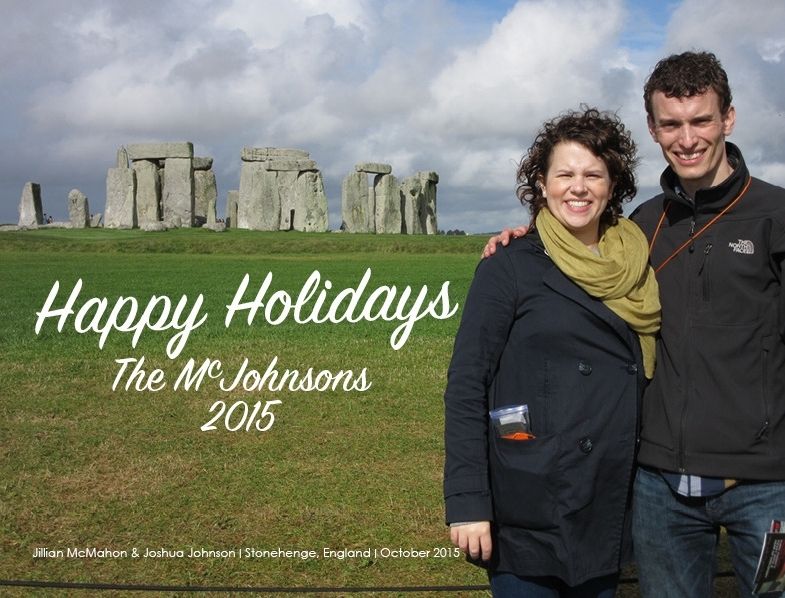 See you in 2016 Vistaprint!
Purchased since Tuesday:
60 Nationals baseball tickets for June with the Cathedral: $1340
7 tickets to see the Postal Service in NYC: $440.05
2 VIP tickets to the Sweetlife Festival to see Phoenix, Passion Pit, the Yeah, Yeah, Yeahs and Solange: $334
$110 for Craigslist Jeff Mangum tickets that were not used; 
$95 on tickets that were used
Jeff Mangum touring should probably be put on a list of reasons why the Mayans were correct about the world ending in 2012. When tickets went on sale in November, we were already too late to purchase them. We discussed going to New Haven, since that show was not sold out. But Josh had an oral argument that week in Denver. The scheduling wouldn't work.
The Thursday before the Friday show in DC at the Lincoln Theatre, I saw a Washington Post write-up where the show was not listed as being sold out for either of the two nights. Tickets were only $45 a piece. False. It WAS sold out at the theatre (that spelling started to wear on my last nerve during this 36 hour ordeal).
I did two things 1. went to Craigslist, and 2. argued with my husband. See, the limited information online about this show was very adamant that your name had to appear on your ticket to enter the show. Jeff Mangum/Ticketmaster/the ghost of Abraham Lincoln did not like scalpers. The tickets I purchased from Craigslist had someone else name on them. Josh refused to use them or let me manipulate the pdf.
After arguing about this for a day and a half with many e-mails and phone calls to various ticket agents and the show promoters, we decided to at least go to the theatre and try our luck. But Josh, in particular, thought we had little chance of gaining entry to the show.
Then at 5 o'clock that day, I checked the 9:30 Club's Twitter and saw that they released a few tickets. (During our struggle to verify the Craigslist tickets, we found out that the 9:30 Club was running the show.) So I purchased two tickets with my name on them. Bye-bye another $100.
And of course no one checked our tickets to see whose name was on them. But, the new seats were about 7 rows from the front. The look on Josh's face when we arrived at our legal seats was worth it. Kinda.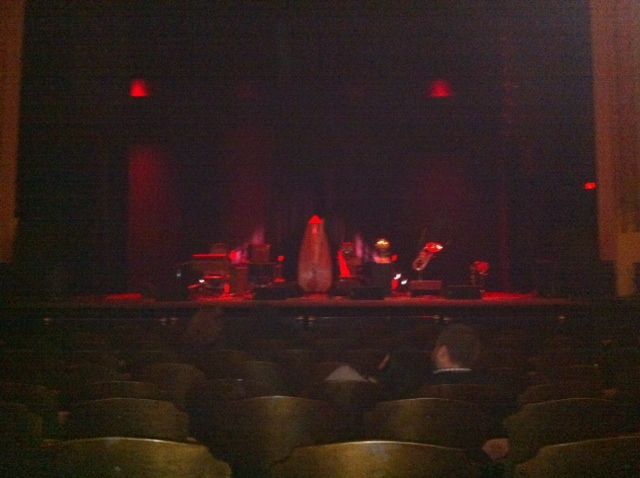 $10 to have neckline fixed on dress for engagement photos
I recently purchased this Max and Cleo dress in green from Rue La La: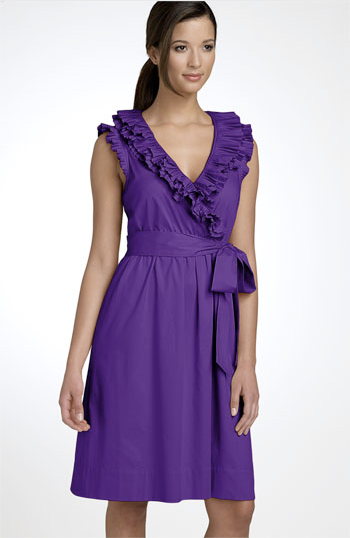 It eventually became a forerunner for engagement pictures. But the neckline wasn't modest enough. So I took it to the dry cleaner in my apartment building. Their alterationist did a fantastic job on my roommate's bridesmaid dress in the fall. I was completely confident in their work.
When the dress came back, it didn't lay properly at all causing a gap to form at the wrap portion of the bodice. I ripped out the stitches. With the help of Mum and McKatie via a video chat, I used a safety pin to raise the neckline to its proper place. The pin showed a bit when we were taking photos, but our photographer said "That's what Photoshop is for!"
$115.82 at my hair salon to have a "trim" + $7.49 for a curling iron
I have a situation going on with my hair salon. Long story short, I switched stylist one day last fall because my stylist was unavailable and my hair was the pits. My salon specializes in curly haired gals, so I wasn't worried about the skill set of the new stylist. Then, because I have the backbone of a jellyfish when it comes to beauty services, I continued going to the new stylist, even though my original beloved stylist was available.
So last weekend I went for a blowdry so my hair would look nice for our engagement photos. Usually they make my curls look fantastic. The day after, I just rejuvenate them with some product, like I did for Chad and Ashley's wedding:
Instead on Saturday, I received this blowdry:
That is a BlackBerry photo and yes, I did cry!
The "cut" was $65, which the stylist said she wasn't going to charge me for but the front desk did (there was a flurry of activity as they were closing for the day and also, see above for spineless jellyfishness). The rest of the money was for a jug of product that was 1. more expensive than the price tag listed and 2. not the smaller container size that I usually purchase.
The Fiancé thinks there is an easy solution to my hairdresser dilemma: go to the new stylist for color, which I think she does well and go back to the old stylist for cut, which I think she does better. I don't think this is how it works, especially in a small salon.
This uncertainty has sent me looking for a stylist for the wedding day that will come to my hotel suite. But given my love for my kidneys and want for them to stay in my body, I might have to make peace at the salon for my wedding day.
Oh, and the Fiancé went shopping with me (at Marshalls of all places) after this disaster to purcahse a curling iron to rejuvenate my curls. I'll be sure to post engagement photos to show my hot tool handy work.
$43.94 at Lands End Canvas on a skirt I will never receive
I waited for this skirt to go on sale, and then I waited for a coupon code for free shipping.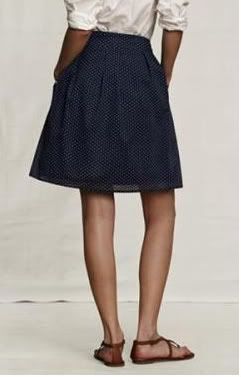 When I realized a coupon code wasn't coming, I bit the bullet and ordered the skirt. I chose to pay with PayPal, mostly because it didn't require any effort on my part to leave the computer and locate my wallet. Somehow, PayPal and Lands' End had a glitch as I pressed submit on my PayPal order. I paid for the skirt via PayPal, but couldn't finish the order on the Lands' End site.
I called Lands' End and PayPal with no resolution. The money is just floating out there, and the transaction will expire in October. The worst part is that the skirt is now sold out in my size and color. I had so many adorable summertime outfits planned with that skirt in mind. I'm heartbroken.
The other two cards I chose listed items I thought would be easy to locate, but instead turned into an online adventure.
Girl's long-sleeved dress size 12-14
I pity you if you have a tween girl. The clothing selection out there is downright disgusting. Dresses were either cheap looking, cheaply made, or inappropriate for this age girl in my opinion. I went to Filene's, H&M, Old Navy (online), GAP Kids, Macy*s, and Marshalls. I came up with one option, which was a Ralph Lauren Polo dress for $36. Once again, I wasn't buying a child a dress more expensive that some of the dreses I wear to work each day.
Enter Land's End's St. Nick's Picks on Cyber Monday. I picked up the dress below for $15 and a pair of matching tights for $3.97.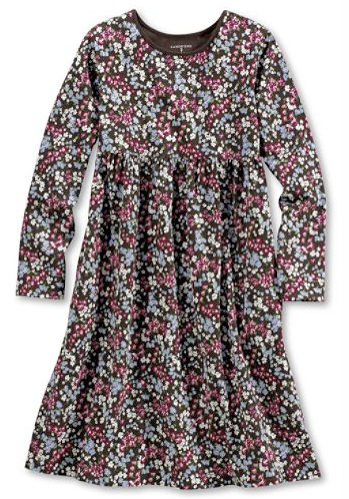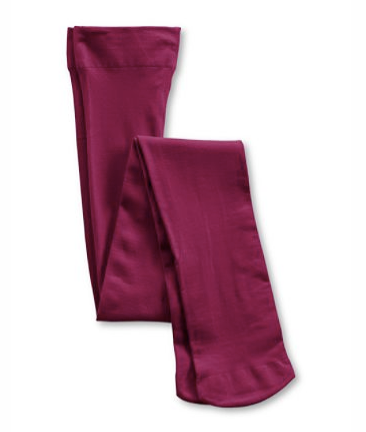 Holy cow Land's End, what is up with your sizing? The dress was large enough, including the length, for me to wear. The Fiancé thought the pattern looked a little like Homer Simpson's muu muu. And then someone at the church gift wrapping party (more on that below) mentioned some girls get party dresses and others get such practical dresses. And those girls are often sisters.
Luckily, I brought my dress wrapped so she couldn't see the hot little number I purchased. I still felt so ashamed!
Girls' long-sleeved white school uniform polo, size 16
I called three different area stores to see if they had polos in stock, but I guess this isn't a big item after the school year begins. I added this to my Land's End cart for $19.50.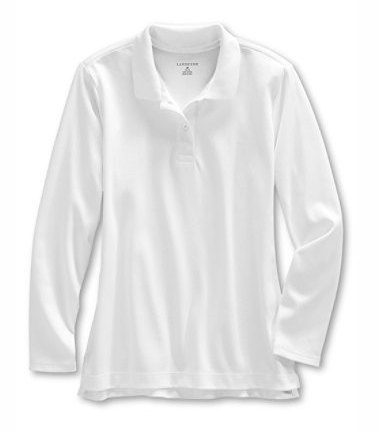 I used Want Not's Land's End free shipping code. My total for all four of my adopt-a-family tags was $97.01 which the Fiancé graciously split with me.
On Sunday afternoon, and then again Wednesday night since we didn't complete it all, I wrapped the donated gifts with other volunteers from St. Matthews. Like I mentioned before, there were 31 families. I spent three hours wrapping Family 17's gifts, alone. Do you know how hard it is to wrap shirts and sweaters when there aren't gift boxes? I was relieved when I discovered my already wrapped sweater dress buried in the pile.
This year, I am getting involved at the church the Fianc&eacute and I are going to have our wedding at next July. St. Matthews adopts 31 families for their Christmas giving. Each family has on average six members, and they aim to give each member 5-6 gifts.
You do the math on that one.
I didn't pick up gift tags the first weekend they were set out, since the table was crowded. I figured I could be laidback about it and wait until next week since there were so many gifts to buy. This was a poor choice. All the fun gift tags were gone the next weekend, like toys or baby clothes. So I basically panicked and called the Fianc&eacute and said "I don't want to find a set of Hannah Montana pjs for a little girl!"
With his encouragement, I picked up four diverse tags, all for different people and families.
Here are the gifts I bought the traditional way: walking into a brick-and-mortar store.
Lady dress (any color) size M – $39.20 at Filene's Basement
The day before I picked up the gift tags, I had been shopping at Old Navy where they had tons of cute dresses for $20. Unfortunately, it's kind of a hassle for me to get to Old Navy (I have to ride a bus) and none of those dresses were featured online. Therefore I ran to Filene's during my lunch and grabbed an aubergine sweater dress and a two pack of tights.
I'm a little uncomfortable with this purchase for two reasons:
1. I don't find the quality of merchandise at Filene's to be high enough to purchase for myself to wear.
2. The dress was $29.99 which was oddly more money than the outfit I had on that day while shopping in the store.
But this kept me from going to Macy*s with their evil coupon programs. I'm calling this even.
Hair straightener – $19.32 at Nordstrom Rack
Leopard. Pink. Done.
In an effort to help the volunteers at St. Matthews with the 1000+ gift wrapping challenge, I decided to wrap my gifts before returning them to church. Please note the recycled pink ribbon from one of my birthday gifts on the box with the dress.
Next: online efforts
I've had my Bank of America account for a little over six months now. Every month, I make an automatic deposit from my primary checking account at Chase into the Bank of America account. The only purpose of the BoA account is for spending cash.
This system really isn't working for me. The amount of my monthly transfer is not enough, but I'm hesitant to transfer more since cash is notorious for being spent without any recollection of what it purchased.
When I was in New York City visiting Melanie and Sarah, I withdrew a larger amount from Chase. When I got home, I took sticky notes and wrote the following on 3 of the $20 bills:
laundry
eyebrow
Josh
It's like my own GTL : I owe the Fianc&eacute $20, I needed to do laundry and I pay my eyebrow threading place in cash. I'm 26 years old, and I had to write reminders so I wouldn't grab a $20 and spend it frivolously.
Then I was still short! I forgot to write "taxi" on a bill to use for a preplanned cab ride. Needless to say, the Fianc&eacute is still waiting for his $20.
A yearly tradition.
The Angel Tree that I have chosen my tags from the past two years is near my Metro stop. It was set out a couple weeks earlier in November than the previous year. But I wasn't sure if I was going to take a tag. My office decided this year to participate in the Angel Tree. The main reason I chose two tags last year was to compensate for the lack of giving on the part of my office.
My office's administration budgeted $500 this year and hoped to gift at least 6 children. That's $80 per child! I couldn't compete with that, and I started to think I should just volunteer to shop for the office's Angel gifts. That would cost zero dollars for me!
Then after my local tree was set out for a week, there were two tags left on it. I made a deal with myself that if they were still there at the end of the weekend, I'd take one.
This is how I ended up shopping for a 9-year-old boy on Black Friday inside the Target in FloMo.
9 year-old boy:
Rock 'n Roll t-shirt- $3
black ski cap- $1
black gloves with skeleton outline- $1
Transformers sleep pants- $5
Lego Star Wars set- $19.99
Target Dollar Spot gift bag- $1
Total: ~$32.00
I wanted to spend less than $50 on the gift, and it needed to be portable back to D.C. in my suitcase. Therefore, the basketball and football my Dad picked out were not options. Yet, still good suggestions.
After spending 30+ minutes in the toy aisle at Target, the following ideas were rejected:
– a Bop It!
– Apples to Apples
– Bakugan
I finally bought the $20 Lego set because Mum witnessed a little boy about 9-years-old begging his mother to buy it for him that instant. We assumed it was a pretty popular gift. It's hottness only increased when the Boyfriend and Bradley's friends all announced they'd love Star Wars Legos themselves and that boy would be so lucky!
Mum found the Transformers sleep pants. We sized up, and the best part was that they rang up at 50% off. Bradley helped me choose the gloves. Lastly, the t-shirt was included since it was only $3 and the most school appropriate (i.e. sans skulls and flames) shirt on the rack.
Things that have changed in New York City since I was last there in June:
calorie counts on menus
$0.05 bottle deposit on bottled beverages
$2.25 subway ride ($0.25 hike)
Honorable mention:
$1.29 to download "Empire State of Mind" on my iPod (instead of the usual $0.99)