Chad chose to wear one of J.Crew's Italian chino suits for his wedding apparel. His three groomsman followed suit (ha!) and paired the same chino pants with white shirts for the outdoor, early fall wedding in New Orleans.
Right before Chad and Ashley moved back to Texas in the summer, we stopped by J.Crew where Chad picked up a chambray bowtie like the tie below.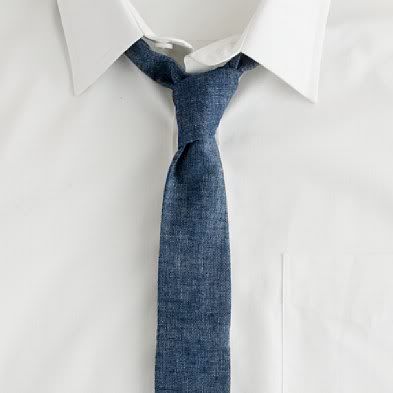 He wanted a similar look, but in green. And not $45-85 each.
I took the biggest challenge of my novice sewing career by committing to make three standard straight men's ties and Chad's bowtie.
I started this adventure in June, when I went to visit Melanie in New York City. At the newly revamped Purl Soho, I picked up a sample of Kaffe Fassett's shot cotton in moss. The staff advised using this over a chambray. I trusted their judgment since the pattern I was using to create the ties was their own.
The pattern was not the best, but it was free. None of the ties turned out the same. At least they looked professional!
I stressed for about a month about finishing the ties, and knocked them mostly out in one intense sewing weekend. The last thing on my to-do list was the bowtie. And that was my sewing Everest. I sat down on Labor Day and wouldn't let myself do anything else except finish this project using the Burda Style bowtie pattern.
A gentleman I work with donated one of his old bowties for me to hack apart for the hardware. These sliding mechanisms are hard to come by, so I was really grateful for his generosity.
The pattern, instructions and tips from Burda Style made this tie go together within a matter of hours.
The Fiancé was nice enough to come over and let me practice my newly-acquired-via-YouTube-tutorials bowtie tying skills out.
A bowtie should look slightly uneven. This way a self-tied bowtie will not be confused with a pre-tied tie. I received high praise for my tying skills from some experts.
I have never felt anything as wonderful as the relief that washed over me once I finished these ties. I pumped my fists in the air and shouted "yes! yes! yes!" as soon as I saw the bowtie completed on the Fiancé.
The groom gave me a thumbs up post-ceremony for his tie. That's all the praise I needed.
One Response to Chashley Wedding: Ties