Family
I have mentioned before that my therapist wants to work through the trauma (read: 80% problems of white privilege that are embarrassing when compared to anything else in the world; 20% actual trauma) of my past so I can get over some issues and live a better life. In the beginning, I argued that wasn't fair to the present. Mainly, my immediate family is no longer as angry as we once were. Angry at the universe, each other, everything. So why would I spend an hour a week discussing that? The years 1983-2007 are probably not going to go down as my favorite when I look back over my entire lifetime as an old, gray haired woman (if I am lucky). I just don't let the past color how I view my family today, nor do I "blame them" for anything or think they owe me anything.
Sure, I came home one day in college and my mother had been so angry with me that she threw my clothing on the front lawn.
And it was a white load with pretty much all underwear.
But I just can't be angry about that.
This is huge, Internet. My parents kept me alive, somehow picked up and moved 3 children to Texas without ever giving up the charge, and provided me with an education. As I get older, I feel like every parent deserves the respect of their adult child, no questions asked. And furthermore, your parents do not owe you anything, especially money. /endrant
I met with my therapist the day I returned from Christmas vacation in Flower Mound this December. I told her in advance our appointment could either be a disaster (due to the stress of visiting both of our families) or wonderful (since I would have been relaxed from a joyous holiday). The first thing she asked at our appointment was how I was feeling having just returned. Wasn't I anticipating some sort of stress related to my visit?
My response was that as an adult, it is hard to tell your parents (and now adult siblings) thank you. And more importantly, they have no idea how meaningful it is to me to have a pleasant, calm, and joyous time together as adults. So maybe I haven't completely processed all the emotions from my childhood to have gratitude for 1983-2007 as a whole, but I can certainly thank them for being one of the better parts of my life today.
In closing, here is a video that Ben Stein did on this topic on CBS' Sunday Morning recently. Right there with you, Ben.
Last night, while watching The Sound of Music: Live! with Alicia and Becky, LO asked if I wanted to go see Peter and the Starcatcher at the Kennedy Center. It's the play that Christian Borle won a Tony. The Girls further explained that it was the story of Peter Pan.
I interrupted them to say I am not a huge Peter Pan fan. The only version of Peter Pan I have ever watched (and no, I have never read any stories either) is the televised version of the musical with Mary Martin. We had a VHS of that version, and watched it numerous times. I actually remember the day Mary Martin died. We were still living in Pennsylvania, and we were driving somewhere. The radio announced that "Peter Pan" had died. I think Bradley cried. *
The Girls quizzed me on this: hadn't I seen the cartoon? Hook? A debate broke out on what parts of Hook are scary.
I realized by the end of the night, my children could be sitting around with friends 30+ years from now discussing The Sound of Music in the exact same way. Would my children think of Maria as having a slightly Okie-sounding speaking accent? Would they think Rolf and the Baroness are suppose to be brunettes? Would they never really know the sophistication of a Christopher Plummer Captain? Be able to sing "I Have Confidence" when feeling down?
This reminds me of Dad's joke about The Sound of Music:
One year, when the Julie Andrews version was on TV, we were not old enough to stay up to watch the whole thing. But this was not our first viewing, so no harm done really. The next day, I jokingly asked Dad how the movie ended.
His response: the Nazi's shot the Von Trapps down on the Alps. They were reincarnated in Utah as the Osmonds.
*Editors note: This could also be combining the story of hearing Jim Henson had died. But I know that I was told somehow that Mary Martin had died.
Confidential to Mum and Dad:
Happy 31st Wedding Anniversary! Hope your weekend trip to Oklahoma was just as amazing as last year's jaunt to the Bahamas.
Confidential to McKatie:

The title of this post is for you. Love, your recordkeeper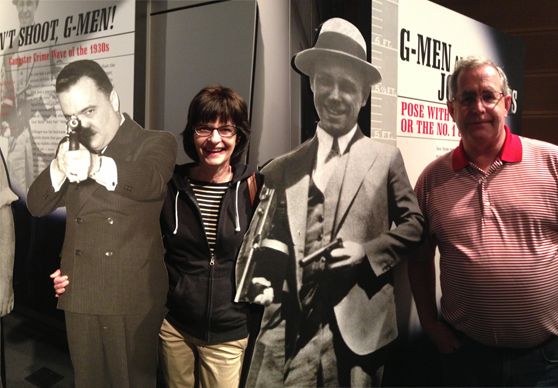 Photoshopped magic from the Newseum April 2013
Confidential to Mum:
Happy Mother's Day!
A year ago, we were both stressed as I planned a wedding in DC, and you were in Texas. Ok, so you were not there to help me glue rhinestones onto my wedding program, but you were there for us from the moment your plane landed.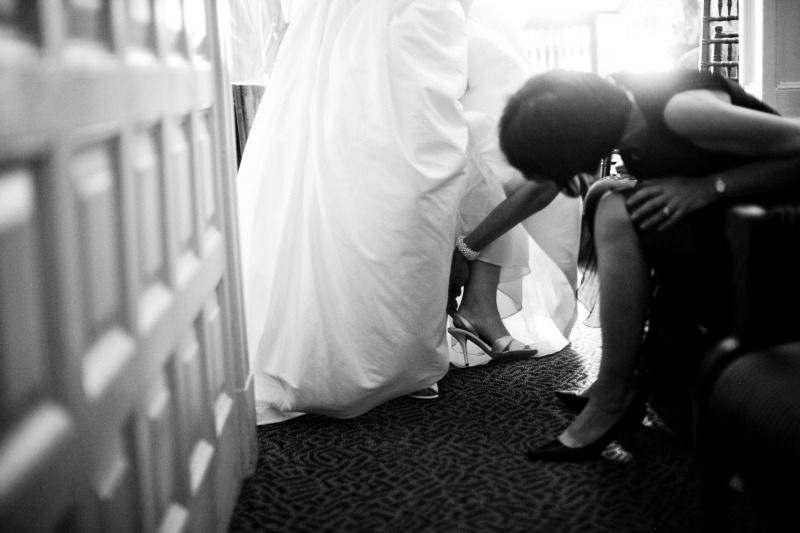 Thank you for all the water bottles ordered through room service and delivered to your hotel room (the upgraded room you insisted on), the cash for taxi cabs, the trips to thrift stores looking for glassware for floral arrangements, taking a pair of scissors to the tulle on my wedding dress, and acknowledging all the hard work Josh and I put into our wedding and sharing your pride with our wedding guests.
Thanks, Mum.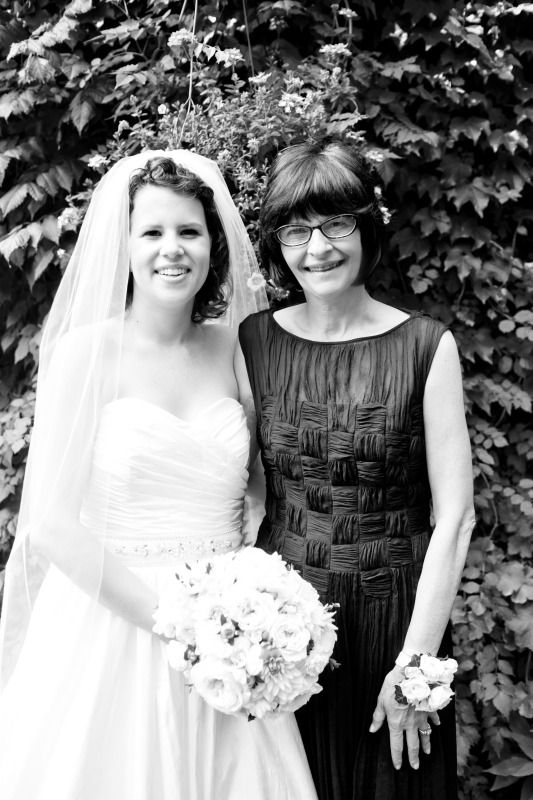 Confidential to my parents:

Happy 29th anniversary!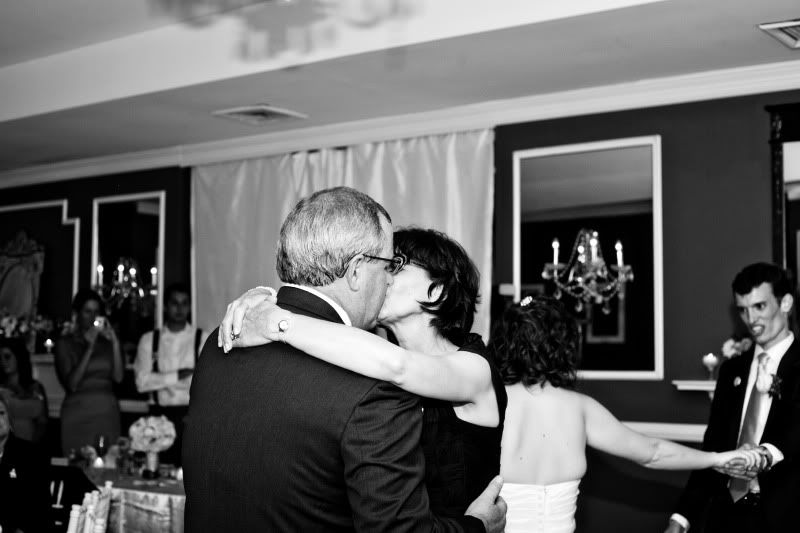 Photo by Katie Stoops, from our wedding
We had a combined father/daughter and mother/son dance to Frank Sinatra's version of Stevie Wonder's "You Are The Sunshine Of My Life". I got very uncomfortable with everyone watching us dance and ended up kind of ruining the whole dance by suggesting an awkward partner switch.
But Mum, in a stroke brilliance, came up to dance with Dad. Because of that, I have some of my favorite dancing pictures from the wedding. And I feel a little less embarrassed about my dancing nerves.
Thanks, Mum!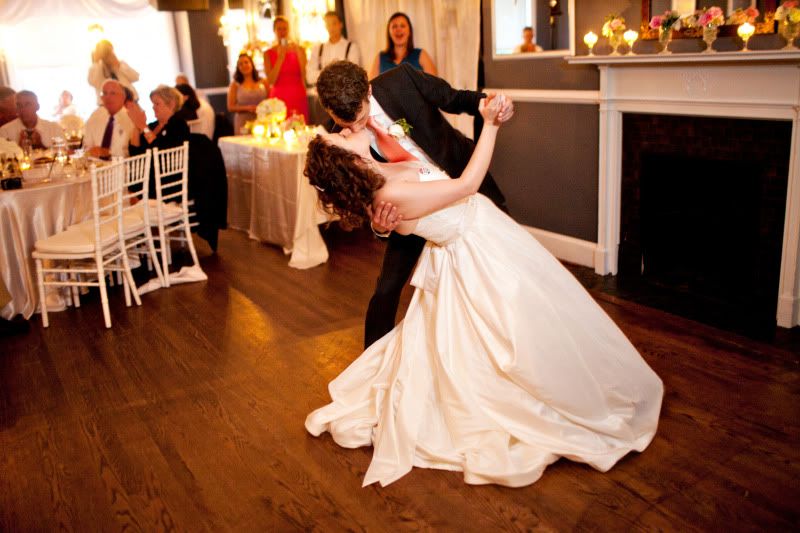 Photo by Katie Stoops
Was that enough kissing photos in one post for you?
Happy father's day, Dad!
Dodgers Stadium, May 2011
All the photos from our family trip to California for Bradley's graduation here. This is the last time we will travel as a family as five, before I get married. Last time I have to sit in the middle of the backseat of the car.
Upside of marriage!

Originally uploaded by prettylittlemess.
My family has several unique phrases we say. I usually end phone call conversations with McKatie by saying "Love you like a fat kid", which has caused more than one person to raise their eyebrows at me. Basically I'm shortening the endearing phrase "I love you like a fat kid loves cake."
And we all know that's a lot of love.
Yesterday, while shopping I found this hanging in a fancy gift store in Georgetown.
I feel like this has a place in the McMahon home.

Recently, Mum went through a box of her wedding mementos at home in Texas. She found her wedding invitations and receipts for pretty much everything they purchased for the wedding. She also found a helpful booklet on ways to save money for the wedding that was given to her by the church when they went through Pre Cana.
One of the hints was to tie a piece of colorful ribbon around regular champagne flutes and those would be the toasting glasses for the bride and groom. Of course, Mum bought special glasses from a mail order bridal catalog in 1982.
This got me thinking: I need toasting glasses! I have been searching eBay for wedding items, and I found these for $11.99 buy it now: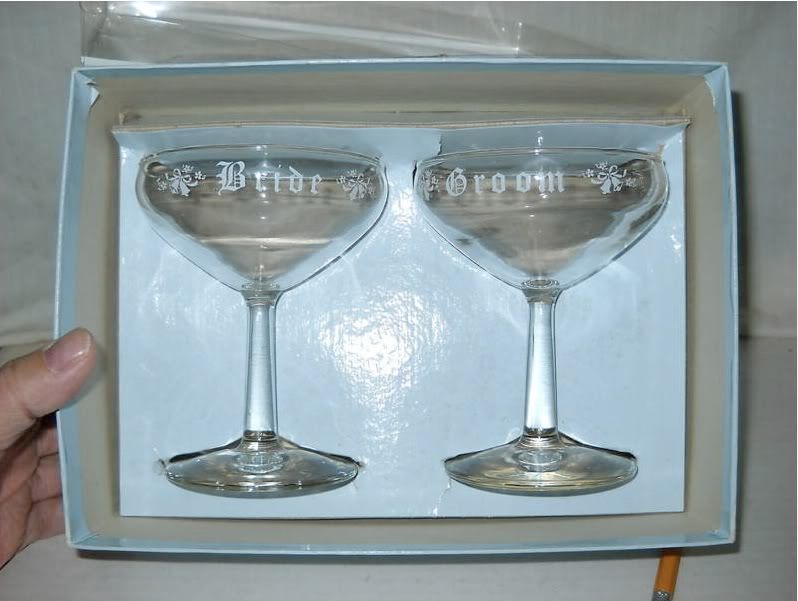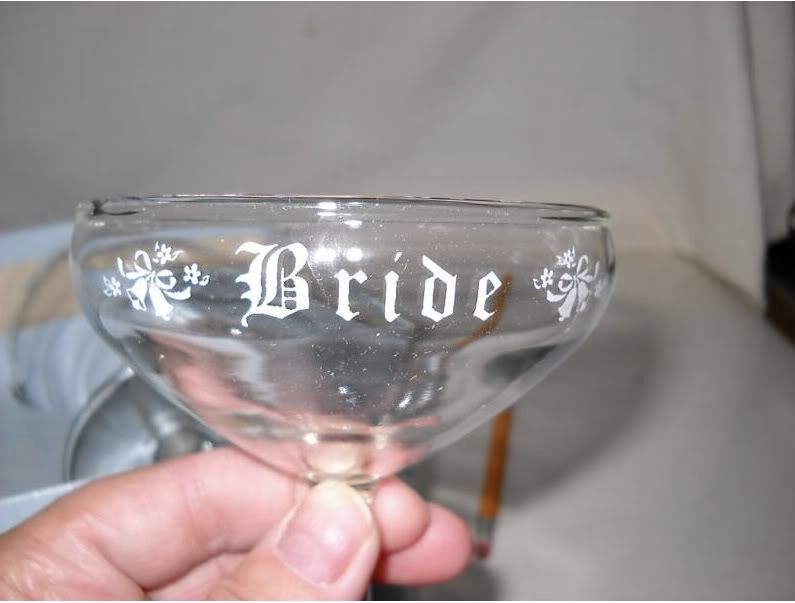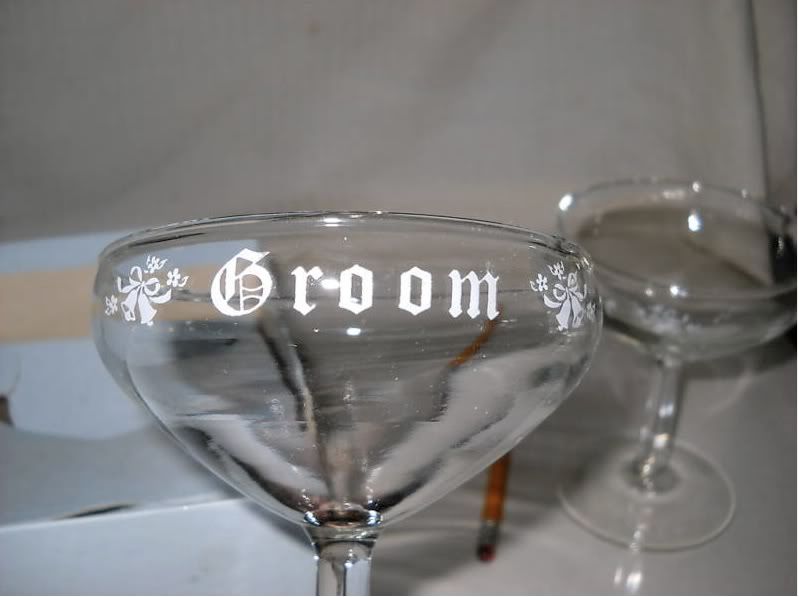 I sent the link to Mum to ask her thoughts. She responded "They look like mine!". Here's the picture of her glasses that she sent to me:
I chose the same toasting glasses as my mother, only 28 years later. She said the Fianc&eacute and I can borrow hers. That's $11.99 saved!
Happy 28th wedding anniversary, Mum and Dad!
Two weeks ago, Bradley came to visit for the first time since I've moved to D.C. And next weekend Mum is visiting for the first time. This makes Dad the last to visit.
I think he's holding out for my wedding.
The timing of this visit meant that Bud was the first McMahon family member to see Sparkly, the Engagement Ring in person. This was just par for the course in our sibling relationship. Not only did we share a bathroom growing up, but he also helped me pick out my prom dress at Dillards.
He said he would NOT visit any wedding stores. But we did pop into my church and visit two potential reception sites.
After exhausting his limited patience for wedding related site-seeing, we visited my favorite Smithsonian. Bradley tried out a potential career post graduation: big rig mail delivery.
I finally made it to the Air and Space Museum after being in D.C. for two years. No one else who has visited wanted to go there. We spent a lot of time at this museum, along with all the other three to six year olds visiting D.C.
The weather in D.C. for June and July has been hotter than I've ever experienced here. During Bradley's visit, a heat wave rolled in with the highest temperatures D.C. has seen in 80 years.
That's always the best weather to truck out to BFE to see Thomas Jefferson.
On the last night, we had drinks with some of my D.C. friends who I think Bradley enjoyed finally meeting after hearing all my stories. It was a really great way to cap off our week of togetherness.
Rest of the photos can be viewed here.
Mum would like you to all know that when I wrote about cleaning my parents' house on this post, I was specifically talking about my belongings that are taking up space at my parents' house. According to Mum, my wording made it seem like she needed to be on the A&E show Hoarders. I regret this insinuation.
I've recently started watching Hoarders on Monday nights. This week's was a doozy because the woman needed to touch everything before throwing it away. And her daughter was the spitting image of me, willing to throw everything away without even opening the bag to see what was inside. But that's not how they roll on Hoarders because they don't want to break the fragile mental psyche of the participants.
I asked Katie if she was watching Hoarders, and she said "No, it hits too close to home." Because Katie couldn't locate her college diploma this week. She thought it was perhaps in her closet and had to climb in there and step on a VCR while searching.
When I offered to help her clean her room, she shrieked "You will throw away all my fortunes!"
Those are fortune cookie fortunes, that she has collected since her first Chinese take-out dinner.