Wedding Bells
Confidential to Josh:
Happy 2nd wedding anniversary!
His favorite part of the last two years: eating dinner together every night during the DOJ year (2011-2012)
My favorite part of the last two years: all of our trips together (New York, Richmond, Charlottesville, Puerto Rico, Florida, etc.)
To more of both in our third year of wedded bliss!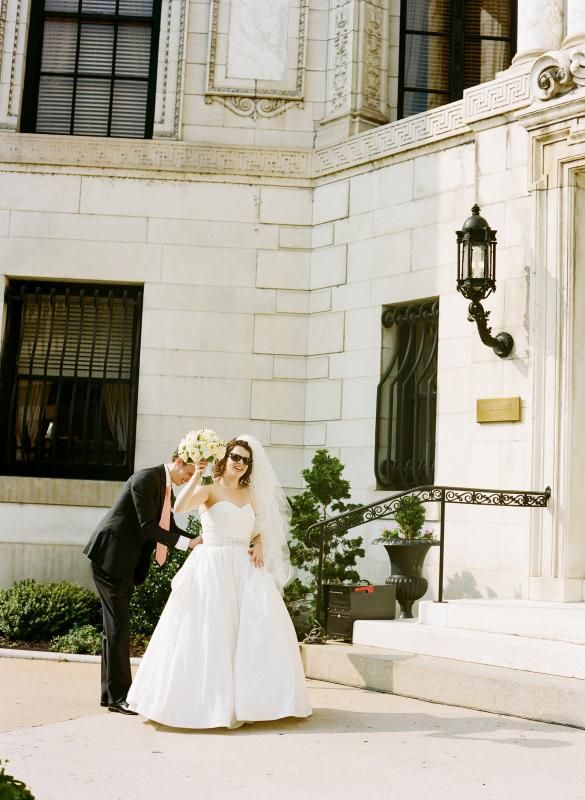 His favorite photo of the day by Katie Stoops
Setting: new apartment
Scenario: while unpacking boxes, we stop to search through my purses looking for a couple iPods that I stashed in purses
Me: *pulls out sandwich size Ziploc bag containing a powdered white substance from a purse* What is this?!
The Fianc&eacute: IS THAT COCAINE?! ARE YOU SELLING DRUGS?!
Me: I don't know! Maybe? *opens bag, smells substance* It smells like Kool-aid. Why do I have a baggie of Kool-aid in my purse?!*The Fianc&eacute is now laughing hysterically. I move to the kitchen to open the bag over the sink.*
Me: *tastes some of the powder* Oh! It's Benefiber. Nevermind. Not drugs.
What a bummer! I thought for sure I could sell the white powder for profit. Now, I'll just have to resort to selling things on Craigslist to make extra money for the wedding.
Setting: Last night, his house
Scenario: We had a fashion show with his complete wedding look.
Me: Hey *yelling at him in the closet* when this is all over, can we plan a wedding? Just for fun? With all the things we want?
Him: No, you can do that for profit if you want.
Me: Ok, fine then. Let's just fantasize about our dream wedding then.
Him: *ducks back into closet*
Me: It would start with guests receiving a quatro-fold — no it would have five folds — what's the word for something with five folds? Cincofold? Anyway. They would receive a multifold, letterpressed brochure outlining the events for the weekend. First up would be the golf scramble on Thursday afternoon.
Him: Why would you have a scramble? If you are going to play golf, just play golf.
Me: You know I don't know what a scramble is, and I'm just using that word. It's either that or a competitve volleyball match on the beach that is overlooking the ocean.
Him: Fine, golf.
Me: And I want a white tent, a Sperry tent!
At this point the fantasy was interrputed as I instructed the Fiancé to try on his wedding day socks as well with his suit. And he looked at me like I had completely lost my mind.
Happy six year dating anniversary, Josh! I can't wait to marry you in 30 (!!!) days. I hope the U.S. Open ticket I got you last weekend makes up for the lack of wedding related golf outings next month.
Photo by
Katie Stoops
A list with reasons why they were axed:
Tabard Inn – same price as my wedding reception
BLT Steak – ditto
Iron Gate Inn – closed
Hill Country BBQ – loud, chaotic, almost the same price as my wedding reception
Rockland BBQ – difficult to locate a venue to hold a catered meal
Casa Nonna – our wedding reception is Italian, too much of a good thing?
Potenza – ditto
Carmine's – ditto, also on other side of town
Poste – other side of town
Co co. Sala – ditto
Beacon Bar and Grill – children can't go to a bar
The Madison hotel – catering manager laughed when I told him my budget
James Hoban's – turns into McFaddens at night (sorry for the DC reference, just know that's not a complement)
After our engagement in June, we needed to share the news with a few people who we don't communicate with on a regular, if ever, basis. Mainly we wanted to tell the families whoose children we babysit while I was living in Austin.
There is a gentleman at my office who has the social graces of a hippo. He wonders past my desk multiple times a day with episodes of awkward chit chat often ensuing. Occasionally, too frequently for my liking, he asks "So, what's the countdown?".
Who says that to a bride? Especially me, a bride who has no clue how many days until her wedding. I usually just say "It's coming!" or "July will be here soon enough!".
But yesterday, I wanted to end the conversation quickly. I said "I don't know, but Macy*s can tell us!" Macy*s.com keeps a countdown clock on our registry page. I pulled it up.
100 days.
March was always going to be a busy month. Everyday in March, I was grateful for its almost five full weeks. I needed each of those days to accomplish everything on my to do list. And for the most part, I feel successful.
I recruited almost 150 volunteers for Taste of the Nation, whose $20 volunteer donation netted our event roughly $2500. In addition to helping spearhead a ministry for parents with young children (don't ask), I organized two Lent soup dinners at the Cathedral on Friday nights. My effort to partner with a local restaurant resulted in having the soup, bread and spoons all donated. Making gallons of soup was not possible in March.
It was also not possible to not be rude. I left a restaurant during a birthday party because I couldn't handle the crowd, the confusion and my time was too precious that night. I still feel bad and hope a friendship isn't effected.
The wedding took a backseat in March. We printed our invitations and shopped for clothes for our upcoming engagement session. The only freak out in March revolved around the wedding, but that's not totally accurate. It was about the rehearsal. The rehearsal issues are worth their own post, because it has caused more stress than any other element of the wedding, hands down.
I learned how to delegate for the wedding in March. Or I learned how to communicate about the wedding in March. There was a period where I kept telling people (the Fiancé and Mum) that they needed to help me with the wedding. Eventually the Fiancé responded with "You keep saying you need help but you won't tell me what to do!" I took a deep breath and asked if he had accomplished the few things I'd previously asked him to do in regards to the wedding. No.
That is fine! I'm not holding it against him! Really, I'm not. But I'm also not going to give him additional tasks to accomplish. He is busy, and I can do things faster anyway. I set out an expectation in March that if you (the Fiancé, Mum, family) want something for the wedding (a shower, a tea, a bachelor party, and at this point, a rehearsal dinner) it is up to you to help me. I will not be disappointed in my wedding if those things don't happen. I am just too busy to get emotionally involved.
By the end of March, rooms were booked at the hotel where I wanted rooms booked, our first wedding gift arrived, and my dress was taken to the tailor for its first fitting. Most importantly, I want to spend every March for the next 60 years with the Fiancé.
That didn't change.
One of my favorite days as an engaged person so far was the last day the Fianc&eacute lived in Boston. I had two appointments at bridal salons in downtown Boston, to try on dresses that I could only find in Boston. So that Friday afternoon, I left him and a friend to move sofas and beds into the moving truck. I had a really wonderful time trying on dresses by myself at both Bella Bridesmaid and Priscilla of Boston. I was even measured for a dress that looked like July 23 at Priscilla of Boston.
The dress was $2800, which I thought I could afford. You have to remember that this was the end of July, and we had been wedding planning for barely a month. I sent photos of the dress to Mum, and she was pleased. Then I went back to the Fianc&eacute's apartment that night and proceeded to freak out. See, I received an e-mail that day from a wedding photographer who quoted her basic services at $6500.
$2800 + $6500 = me awake all night rocking in a corner
No, literally. I couldn't sleep in the Fianc&eacute's room, and he needed to sleep so he could drive to Virginia the next day. So I went into the other bedroom that was now empty since all the furniture had been moved out and laid flat on the carpet. My brain raced with ideas on how to afford a wedding.
Needless to say, my wedding dress did not cost $2800 and our photographer is not the woman who sent me the e-mail that day.
But I love my dress and my photographer.
* * *
Have I mentioned that there are four young women other than myself engaged in my office? And another woman was just married in January. Someone commented that our office is now like the WE channel: all weddings, all the time.
One of those women went to a truck show on Friday, where the designer was present. I told her to keep her wits about her. Trunk shows are notorious traps for brides. Salons will offer you percentages off to entice you into buying a dress right! then! even when you might not be ready to purchase a dress.
She sent me an e-mail at 5:30 Friday with a link to a dress and a message "I think I found the one!" But today, we had three separate discussions about if it was "the one". Because this "one" woke her up Friday night and kept her up for three hours. She felt like such a sucker.
I told her at least she didn't have to go lie on the floor in an empty room.
On Saturday afternoon, I had time to kill before the Fiancé and I were meeting for my quarterly supply run to Target. I happened to be downtown, on the corner of K and 17th to be exact. I decided to cross the street and stop in at Mervis Diamond where the Fiancé purchased my engagement ring.
The store is fancy; you have to be buzzed in and then you have to be buzzed in again from the lobby. I announced that I didn't have an appointment but was interested in getting my ring cleaned and pricing the matching wedding band*.
The manager lead me to a room and took my ring. I could hear the whirling of the cleaning apparatus. She walked back into the room examining my ring.
"Well, it's clean, but I think we are missing a diamond."
If you don't know what my ring looks like, here is a photo courtesy of Heather Ryan Photography: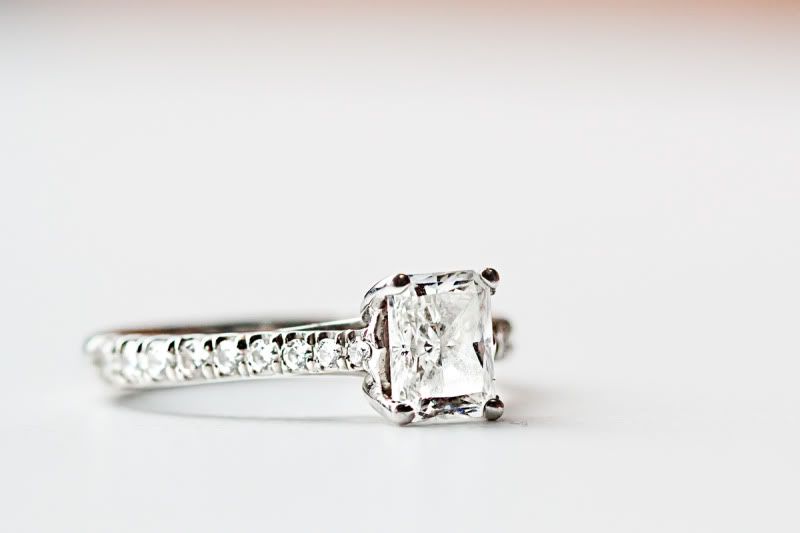 This is a photo of the engagement band from the designer's website, pictured with the matching wedding band and a center stone of a different shape:
Source
The stone that was missing is one of the two little round ones that are on the setting itself. Here's a close-up:

Source
I'm about 95% sure I walked in that day with the stone still in the band. I have heard that these tiny little diamonds fall out easily, especially after being cleaned. But I didn't need to argue that point; Mervis is replacing the stone for free regardless. I could have had it done that day in about three hours, but I didn't want to postpone my Target adventure on account of a silly little diamond. I'm dropping it off today for the repair.
On the very bright side, my ring has never looked so good. It is so sparkly now that my roommate, who didn't know I had my ring cleaned, commented from across the room the other night as I gestured with my hands "Wow! I can see your ring shining in the light from here!"
*Blogger's note: I already have my wedding band from somewhere else, but that is a post for another day.